Poké has arrived in Madison, with multiple new restaurants specializing in the dish opening up in the last six months and at least one more on the way.
When Miko Poké opened on Monroe Street in 2016 it was the lone outpost specializing in the dish that was taking the mainland by storm: a bowl of rice accompanied by raw fish and other garnishes that originated among Hawaiian fisherman who were looking for a quick snack.
Though some mainland restaurants leave off the accent, the word is still pronounced "poh-keh." It has evolved into a great fast casual restaurant concept — a cross between sushi and a salad bar where diners can customize their bowls with a variety of proteins, vegetables and sauces.
Miko Poké remains open, though getting there amidst heavy construction is challenging. Luckily there are three new places to order a poké lunch or dinner, with two restaurants downtown and one on Williamson Street.
FreshFin Poké, part of a Milwaukee restaurant group, is set to open later this summer on Gorham.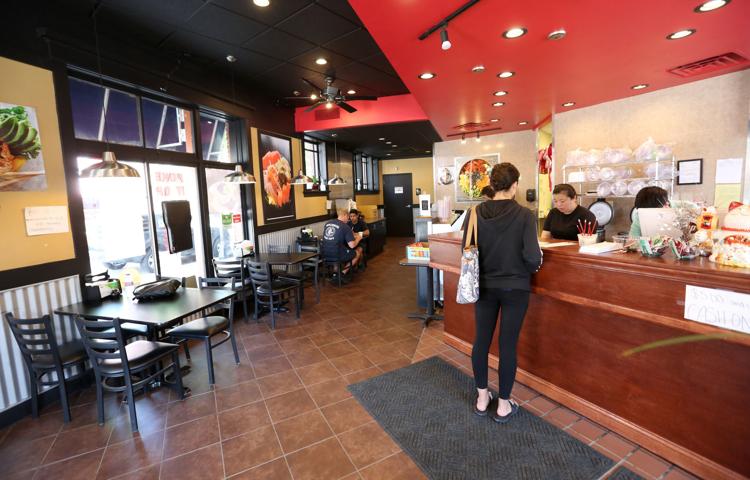 Surveying the newcomers to the poké scene, my dining companion and I first visited Poke It Up in the wedge-shaped storefront on University Avenue that most recently was home to Erbert and Gerbert's Sandwich Shop. Vestiges of the former tenant remain, including a striped awning, but the name has been taped over.
The shop does counter service and there are a few tables for eating in, but based on the restaurant's website and the number of to-go bags stacking up, it seems to do a more lively take-out and delivery business. Customers fill out a checklist, then wait for their food at the end of an assembly line.
There are three sizes of poké bowls available, five options for rice and/or greens, a mix of raw fish and cooked proteins, a maximum of seven veggie toppings and seven aioli variations to finish the dish. A small bowl ($8.50) with sushi rice was just the right size for a light lunch, prepared quickly and filled with fresh ingredients.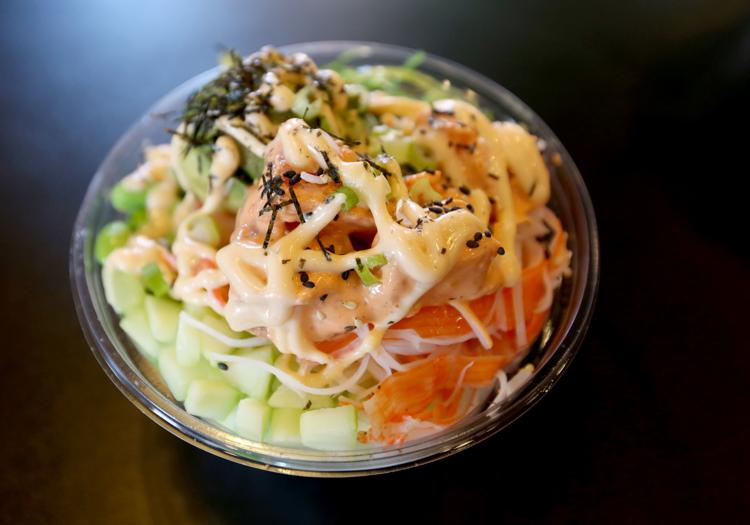 The spicy tuna was tastier than the limp cooked shrimp or the imitation crab meat we tried. Diced cucumbers, a scoop of mashed avocado and bright green seaweed salad were a cool contrast to the rice underneath. Both sauces we sampled — spicy aioli and volcano sauce — were surprisingly piquant, which livened up the dish.
We added tempura flakes for crunch, but noted that the menu also offers Doritos as a topping for the truly adventurous (or stoned).
Next we headed down the block and around the corner to Poke Plus & Teriyaki on State Street. According manager Yan Z, the small space was jammed with students just after it opened in April. Some even ate at the communal main table or at the bar twice a day in the weeks leading up to finals.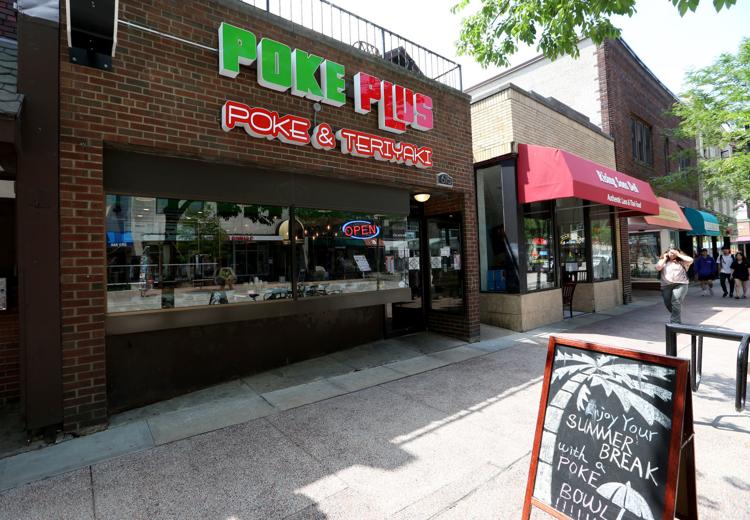 The restaurant is quieter now, but Z is hoping year-round residents will discover the custom made lunch entrees over the summer. Similar to Poké it Up, there are no set combinations here — just an expansive counter filled with brightly colored ingredients to choose from. Poke Plus considered having a few signature bowls on the menu, but realized quickly that their patrons were more interested in customization.
For example, one diner requested only raw fish in his bowl. Another patron asked for his poké on a bed of edamame instead of rice.
"We'll make your poke bowl how you like it," said Z. "Whatever you want, as long as you come back." She smiled.
The compact restaurant also offers cooked dishes, but one look at the array of toppings for your poké bowl will probably sway you in that direction.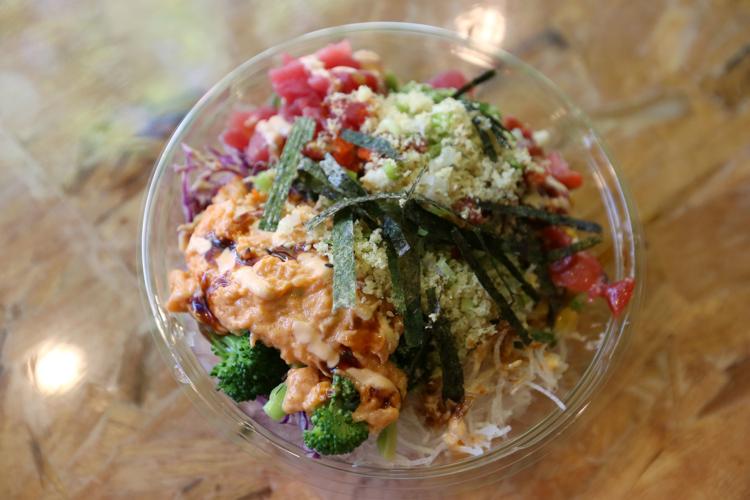 We asked Z to construct a perfect poké bowl, and soon the bed of rice in a large container was covered with a gorgeous mélange of fish and vegetables. A large size poké ($11.99) comes with three proteins and unlimited extras, although a few, such as the masago (capelin roe), tamago (Japanese omelet) mango and avocado have a 50 cent upcharge.
Our ultimate bowl contained a whopping 17 ingredients, including baby octopus, two kinds of seaweed, purple cabbage, corn and eel sauce. It was fun to try different taste combinations as we worked our way around the substantial bowl. The biggest surprise was the octopus — pleasantly chewy and absolutely delicious.
Our last visit was to Poké Poké in the Gateway Mall on Willy Street. With a more composed menu, wider selection of Japanese beverages, seasonings like furikake and sweet treats in a cooler, this restaurant was the most welcoming for a sit-down meal.
With a larger dining room decorated in a kitschy beach theme, the space playfully pays homage to the cuisine's Hawaiian roots.
For the do-it-yourself diner, Poké Poké offers slightly more elevated raw and cooked protein options, including scallops, chicken, and unagi (Japanese eel) in addition to shrimp, tuna and salmon.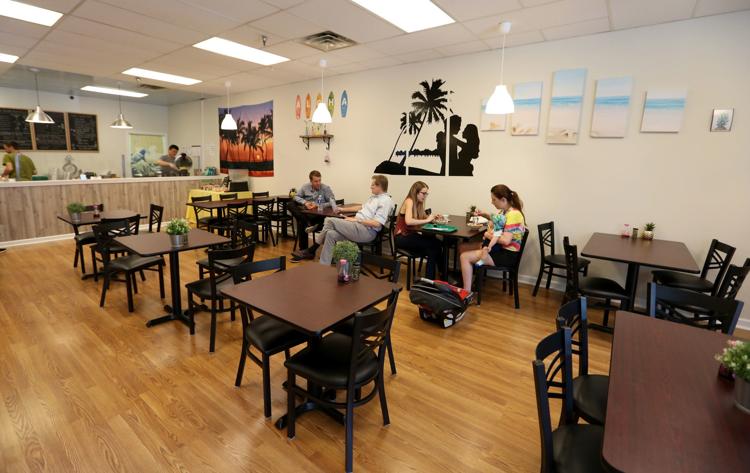 Customers can then add up to 16 veggies and other toppings, including pink pickled ginger, macadamia nuts, tropical fruit and cilantro. A regular sized bowl with two proteins costs $10.99.
Those who would like a chef-devised poké experience can pick from six house creations, among them the Signature Ocean Feast ($14.99) and the Hawaii Green ($10.99).
As the name suggested, the Ocean Feast was packed with well-prepared, fresh seafood, including two types of tuna, delicate scallops, perfectly cooked shrimp and baby octopus. Crispy fried onions added some savory crunch, as did pops of orange tobiko (flying fish roe). Wasabi mayo sauce was complimentary and not overwhelming.
The Hawaii Green had a base of brown rice topped with chunks of raw salmon and a plethora of green vegetables, including kale and seaweed. Chili mayo bound the ingredients together and added a bit more kick.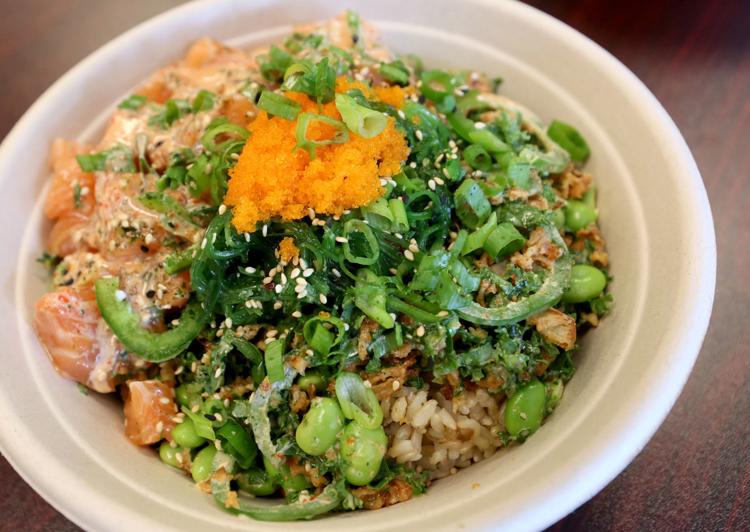 To compliment your poké adventure, Poke Poke offers beer, canned or bottled tea and Japanese desserts like dorayaki (sweet pancakes and red bean filling) and mochi (ice cream with a sticky rice-based wrapper).
Husband and wife owners Judy Zhu and Mike Wang are first time restaurateurs. They are pleased with the reception Poké Poké has received in its first two months of business.
They want to focus on high quality fish, which the restaurant receives from a variety of suppliers every other day. And they are confident the restaurant's following will keep growing.
"Soon we're hoping to add some more luxury ingredients," said Wang. "More snow crab and crab salad."
It's hard to imagine even more seafood in one poké bowl, but if necessary I would be happy to come back and try that out.