As legend (and many newspaper stories) have it, Tom Gresser, the longtime owner of the Roxbury Tavern, threw out the bar's TV after some Badgers fans got too rambunctious one Saturday afternoon.
Gresser had already ditched the bar's jukebox, chucked the pool table and put the kibosh on swearing. He wanted to encourage civil conversation, to "bring in a certain clientele, and to discourage others," he said in 2016.
Today that bar, renamed The Roxbury Bar and Grill, is under new ownership. The television, pool table and jukebox are back. One recent Saturday, the Facebook page advertised free shots after every Badgers touchdown.
New owners Eric Stonehocker, 29, and Nick Kroeger, 35, are not terribly interested in keeping up the bar's old traditions. They do want to keep a sense of community and conversation alive — albeit with more profanity allowed.
"I like to bullshit and everyone else does," Kroeger said, "and the way I was always raised is when you sit down at a bar, you should talk to the person to your left and to your right. It's your obligation.
"That's kind of a thing we want to keep going."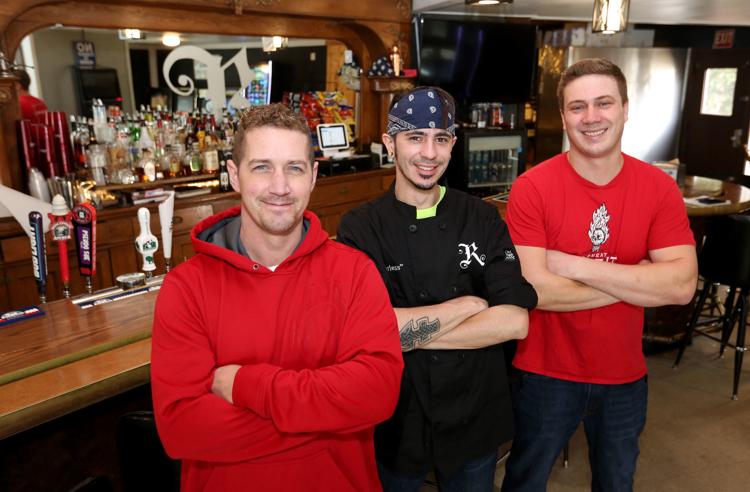 The Roxbury Bar and Grill, at 8901 Co. Hwy Y, is in the small Town of Roxbury, with a population of not quite 1,800. Roxbury is surrounded by rolling farmlands in the northwest corner of Dane County.
When Gresser owned the Roxbury Tavern from 1989 to 2018, it gained notoriety as a place to talk politics. Patrons came back for the rotating menu (Mexican on Tuesdays, Italian on Wednesdays, Cajun and Creole on Thursdays and Saturdays) and for annual piano burnings on the summer solstice.
What started out as a fun way to get rid of the bar's unused piano turned into a beloved fundraising event covered by news outlets, with a turkey in tin foil placed on top of piano as a loophole around an ordinance banning bonfires.
Gresser, now in his 70s, suffered a stroke that limited his mobility in 2014. When he retired this year, Stonehocker's fiance suggested that Stonehocker take over the tavern.
Kroeger has worked mostly in sales, and Stonehocker most recently worked as a machinist. Previously, Stonehocker tended bar and cooked part-time at restaurants like the burger chain Johnny Rockets.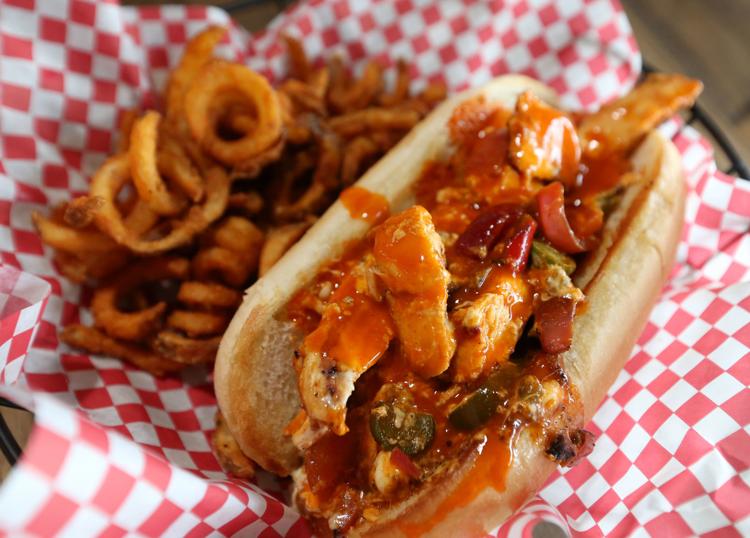 The new, younger owners are trying to attract game day crowds and offer hearty meals for farmers on a quick lunch, Stonehocker said.
The new menu offers typical bar food, like a build-your-own burger, cheese curds, jalapeno poppers and grilled cheese. While the old Roxbury didn't serve standard lite beers, Busch Light is the bar's new bestseller.
The Roxbury Burger ($11) is topped heavily with sliced ham, fried egg, bacon and colby cheese, all piled on "the biggest, happiest bun I could find," said chef Adam Cobb. The result is a big, happy, satisfying burger.
Worcestershire sauce, Sriracha and jalapenos gave the perfect amount of heat to a Buffalo chicken hoagie ($7), made with red and green peppers and onions fried "with a bunch of vinegar" and buffalo sauce. It was a winner.
Walk in any given day and customers may find something "unbelievably different" than typical bar fare, Kroeger said.
When I visited, Cobb had followed a whim to make creamy chicken pesto fettuccine. The 32-year-old chef regularly stays up playing video games "until some ridiculous time," then comes in the next morning, guzzles coffee and decides on the specials he wants. 
"I need something that's going to make me feel better about the fact that I didn't sleep last night," he joked. Cobb's chef coat says "Tearless," a nod to his gamer username.
Kroeger and Stonehocker have given Cobb free reign, and Cobb is delighted to take on any food challenge customers throw at him.
"If you can dream it, I can probably make it happen," he said. "I didn't write this menu to tell people no."
On my visit, Cobb introduced two patrons who walked in as friends from Waunakee.
"These two fine gentlemen have challenged me to a spicy wing, so I'm going to make them regret that," he said with a grin, and showed me a bottle of pure capsaicin, an extract of chili peppers.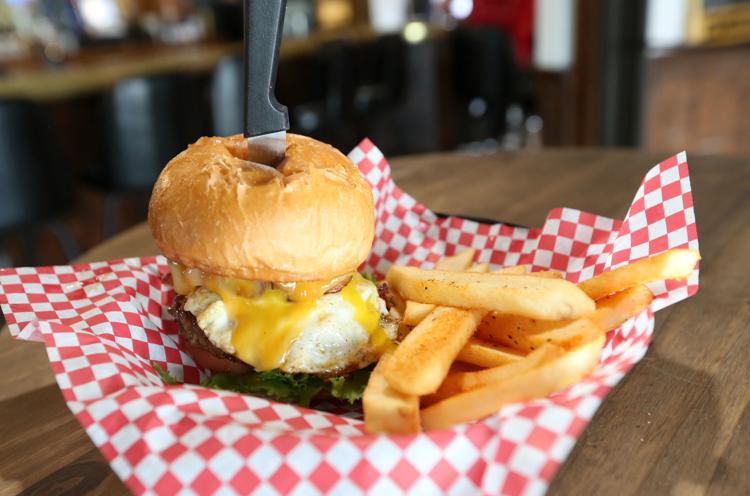 Roxbury Bar and Grill had its official grand opening on Nov. 17. Asked if they were nervous about owning a bar, Stonehocker and Kroeger simultaneously answered "the roof" and "the building falling apart."
There was a lot of deferred maintenance in the building, they said. The tavern was built as a grocery store in 1869, with a 1950s addition. Stonehocker and Kroeger found the old eclectic look inside the tavern "claustrophobic," with its trombones and trumpets hanging from the ceiling above the bar.
The two tossed mismatched paneling, installed bigger windows, new light fixtures and ceiling tiles. They cleared out the kitchen ("we didn't need 35 pots hanging from the ceiling," Kroeger said).
What remains from the old Roxbury is the bar and a church pew, creating what Stonehocker calls a "cleaner, more open look."
"There isn't a wall that hasn't been changed in this building," Kroeger said.
This new, refurbished Roxbury may no longer host readings of James Joyce, but there are still plenty of ways to engage with the bar. Next year, there are plans for dart and pool leagues. Horseshoe pits are coming in the spring. Kroeger brought in a round table to accommodate a group of locals who like to play poker.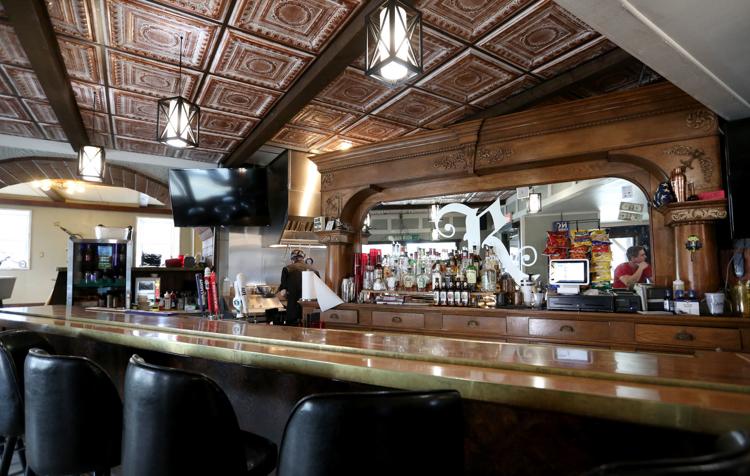 Kroeger, Stonehocker and Cobb bring a decidedly different energy to the tavern. Cobb and Kroeger connected through a mutual friend who met Cobb online playing Grand Theft Auto. There are now arcade-style gambling machines in the bar, and a sign above the jukebox bans "Stairway to Heaven," a reference to the movie Wayne's World.
As for the piano burnings, don't bet on those continuing. 
"We'll find something cool to burn at some point," Kroeger said.
So much has changed at the Roxbury, but the new owners are decidedly not worried that longtime regulars will be disappointed.
"They're loving it," Stonehocker said.
"There's an ass in every chair every night. So I can't complain about that," Kroeger said. "We must be doing something right."