Juan Perez has a taqueria inside his La Rosita Mexican grocery store on Monona Drive, and that taqueria does not hold back on the meat.
"He's not scared to take some losses, he stacks his tacos, too. He'd rather take some losses but give the customer what he wants," said Eric Zuniga, the marketing and outreach strategist for the Latino Chamber of Commerce of Dane County, translating for Perez.
That generous taco-stacking spirit sums up what Perez is about. Perez has a history of helping out in the Latino community with donations and sponsorships, making La Rosita a Mexican supermarket that serves up outstanding Mexican fare and community in equal measure.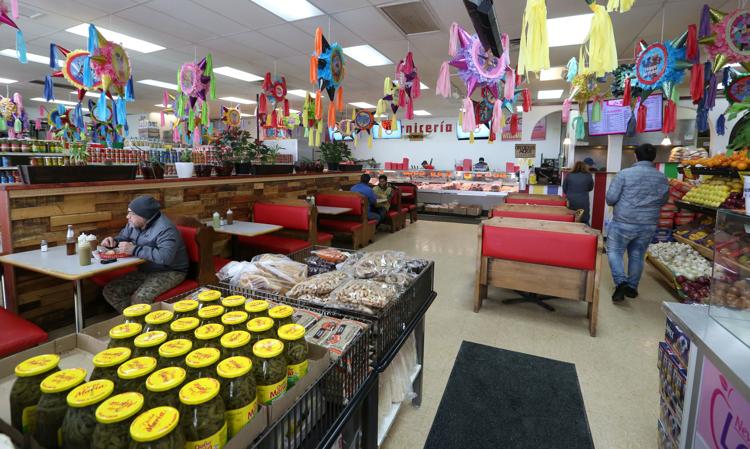 Perez owns both La Rosita grocery store at 6005 Monona Drive and the La Rosita all-you-can-eat Mexican buffet next door at 6001 Monona Drive.
There's actually a chain of La Rositas in Illinois owned by Perez's aunt and uncle. Perez, who is originally from Michoacán, Mexico, lived in Illinois but moved to Madison seven years ago when he realized there was less competition in Wisconsin, he said.
The business has grown quickly, and was just named the Latino Chamber of Commerce's Latino-owned business of the year.
"That's one of the cool things about his business," Zuniga said. "It has reached also my generation, more millennial Latinos. It's not just like your traditional Mexican store where just older people are coming." 
And they're coming for the food, Zuniga said.
"He's known to have like the best tacos in town, so everybody wants to try the best tacos in town," he said. With tacos, "there's going to be a lot of competition, but right now he has the crown."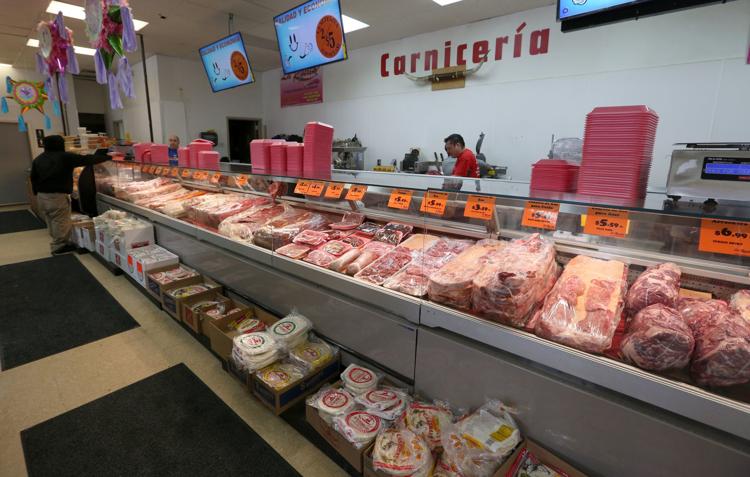 To visit the taqueria in the store, walk past the rows of spices and salsas and under the dangling piñatas. Look to the right of a butcher counter stocked with plentiful meats like carne para guisar (for meat stew), chuleta de puerco (pork chops) and bistec adobado de puerco (marinated pork steak). There are seven wooden booths and a counter cheerfully painted in rainbow stripes, adorned with a sign that says "ordene aqui" and beneath, "order here."
The menu at the taqueria is similar to the one you'll find at any of the eight Illinois La Rositas, Perez said. Because he uses the La Rosita name, he wanted to "stick to the same things La Rosita has been famous for in Illinois."
That includes tacos, gorditas, burritos and tortas with a variety of proteins; there are 13 different meat options for the tacos. Few items cost more than $7, and the tacos are almost all less than $3.
Tacos come plain or with onions and cilantro, and each booth holds a trio of salsas: a green traditional tomatillo salsa, a dried red chile salsa and a lighter green avocado sauce.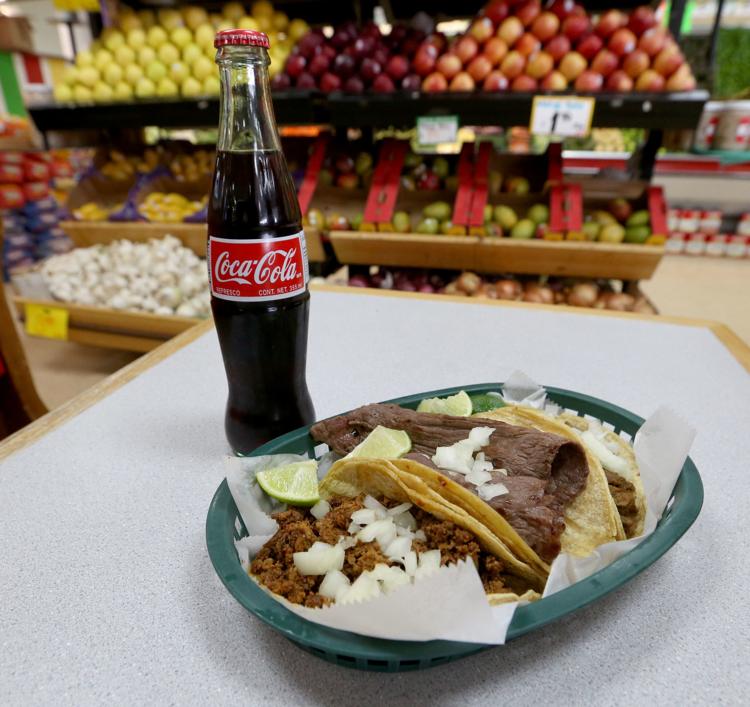 Take that beautiful taco, squeeze on some acidity with a lime wedge on the side, dollop on the spicy and creamy salsas (I recommend both). Then bite into impeccably seasoned meat, crunchy onions and soft corn tortillas. I tried the chorizo, cecina (a dried and salted beef) and steak tacos. My favorite was whichever one was currently in my mouth.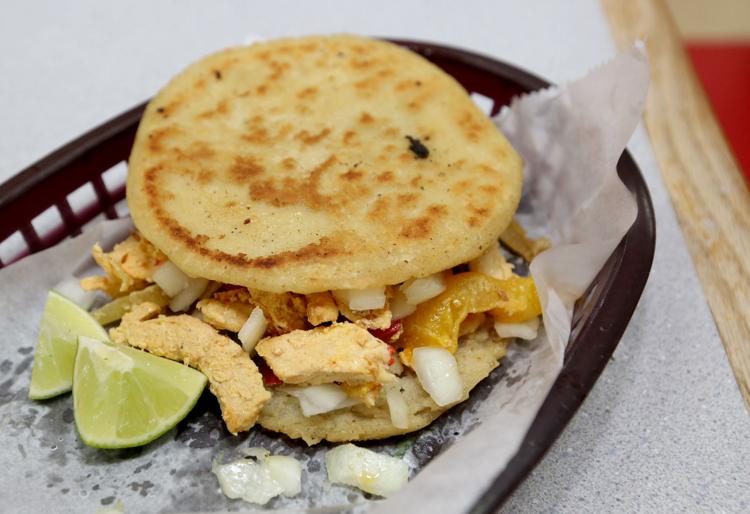 The asada, or steak, tacos ($2.65 each) are one of the taqueria's most popular dishes and Perez's favorite.
Steak tacos are not the only reason Perez is beloved. Whenever Zuniga reaches out to Perez through his work at the Latino Chamber to ask Perez to sponsor an event, Perez is in.
"If you see anything that is Latino-related, you will most likely find a La Rosita logo as a sponsor," Zuniga said. "He doesn't even ask about the (return on investment), he's just about how it will be helping the Latino community."
Perez has provided meals to moms on Mother's Day. He lets the little kids in the Latino Chamber's Junior Chamber program visit to learn how a retail food vendor works. Lupita Montoto, account executive and on air personality for La Movida Radio, said La Rosita gives away prizes and goody bags at Christmas.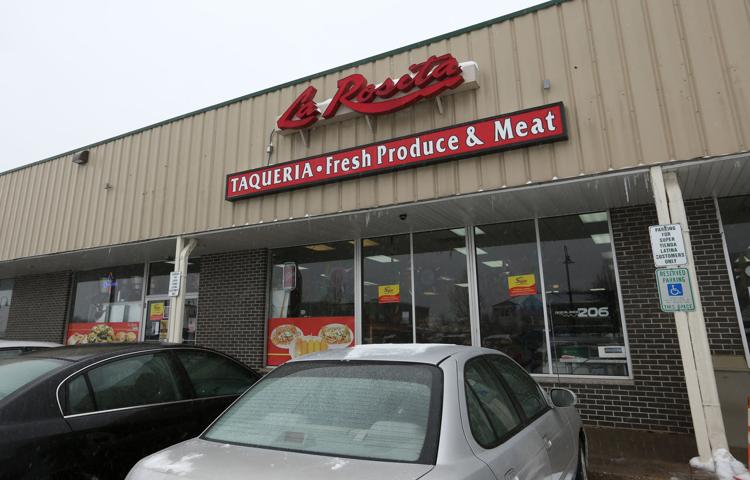 Madison poet laureate and Omega School Executive Director Oscar Mireles remembers helping load supplies when Michael Johnson, CEO of the Boys and Girls Club Dane County, was organizing a trip to Texas in the wake or Hurricane Harvey. La Rosita showed up with a semi truck and donated about 15 palettes worth of food and water, Mireles said. And La Rosita also helps out in smaller ways he said, like donating gift cards for raffle prizes.
"It does add up," Mireles said. "Those are the kind of things that you don't read about in the paper and kind of go unnoticed."
Perez' business promotes economic development in the community, said Jessica Cavazos, president and CEO of the Latino Chamber of Commerce, who had coincidentally eaten at La Rosita the day before our interview. (She loves the chicken tortas and says the lengua tacos are the best in town.) The supermarket and buffet employ 21 people.
"He's the most fastest growing Latino supermarket in Dane County right now," Cavazos said. "He has the biggest store and the most activity."
And he's looking to do more. Perez wants to expand to a second supermarket location, but he hasn't found the right building yet, he said.
"I think it's a staple in the community for Latinos," Cavazos said. "There's a lot of little supermarkets, but I'll say, that's one people travel to."