During this frigid season when the Midwestern world is blanketed in white and gray slush, we're looking for a little culinary color. Madison's sushi restaurants aim to please with ever more enticing ingredients, from kiwi sauce to sweet potatoes and tobiko in a rainbow of colors.
This week, we're looking at seven specialty rolls worth bundling up for. It may be freezing outside, but these rolls are hot.
Sushi restaurants around town have been making their rolls more "fruitful" with the addition of apples, mango and more. Red, a sushi restaurant on West Washington Avenue, pairs strawberries and tuna on its Mermaid Roll.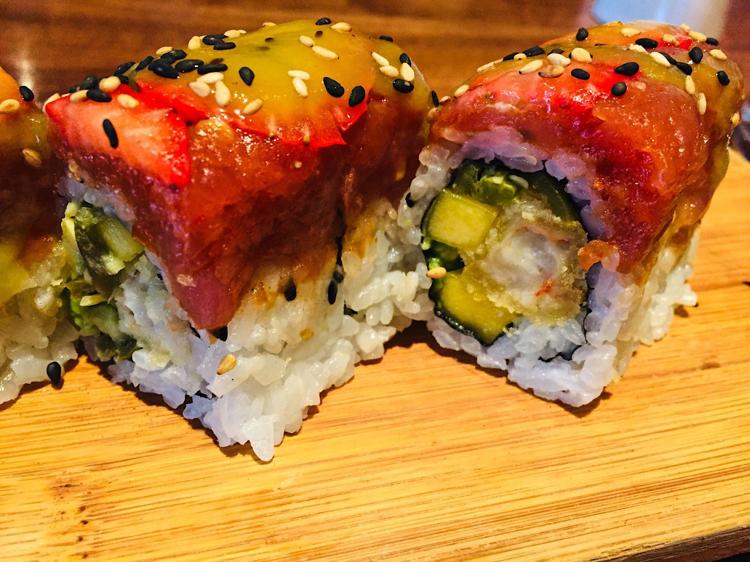 "Fruit and tuna — it's an unlikely combo but it's amazing," said Rachel Laseke, a manager at Red. "The roll has been a guest favorite for years, especially with people who are new to sushi and don't like raw fish. Plus, it's a great pick-me-up during the winter months.
Red's Mermaid Roll starts with familiar elements like shrimp tempura and spicy tuna, but the roll is ultimately Red's own design. In a Latin American spin, the Mermaid Roll includes pickled jalapeño, mango and avocado. Sushi chefs pour kiwi sauce over more spicy tuna and strawberries layered on the top. The result is perfectly balanced flavors of sweet acidity and southern spice.
"To me, it feels like summer all year long," Laseke said.
Red isn't the only downtown eatery that steals the show with fruit-centered sushi. Tavernakaya's T.K.O. Roll adds tropical flavoring to their dish with pineapple tempura.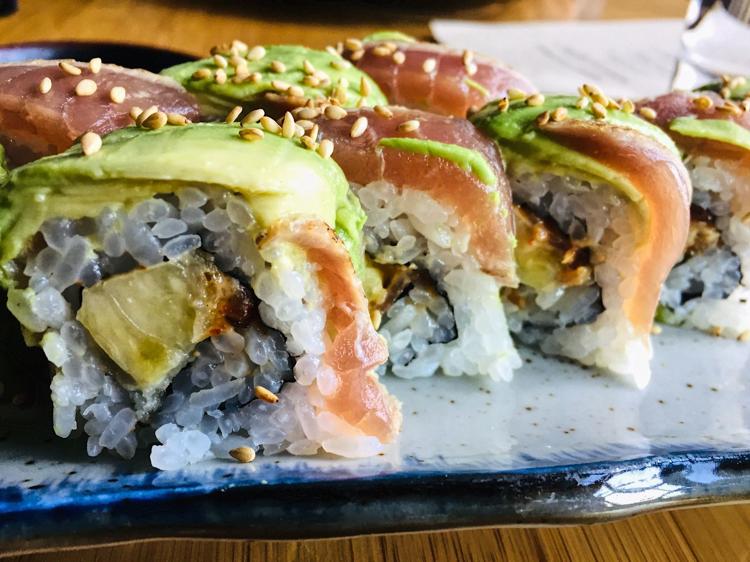 "It's east meets west with a little bit of Hawaii in the middle," said Mike Ding, owner of Tavernakaya. "Tempura-frying the pineapple tones down its sweetness while providing a nice crunchy texture."
That crunchy tempura texture couples well with the cooked bacon, an ingredient that pays homage to Wisconsin and the unwritten rule that bacon "makes everything taste better," Ding said. This is a sweet and savory roll with a delayed spicy kick.
While yellowfin tuna is a topper for the T.K.O, it also has loads of avocado, so the fish really just tastes like butter. Some may debate the age-old question of whether pineapple does or does not belong on pizza, but Tavernakaya makes a winning case that it does belong on sushi.
A pursuit of flavor may draw diners to the sushi-filled table as much as pretty presentation. Fuji Sushi & Hibachi in Middleton makes a Fancy Rainbow Roll that steals the show with both, beauty and taste.
"The colors make this roll popular with customers," said Lia Kusuma, a server at Fuji Sushi who calls the Fancy Rainbow her personal favorite roll. "Sometimes we will put flowers with it and make hearts on the plate for special occasions, but that's our chef's creativity. It's a very soft roll with strong flavors so if you like sushi, you'll like this roll."
Topped with four different colors of tobiko (flying fish eggs), each roll is layered with white tuna, salmon, red snapper and avocado, then drizzled with chili, mayo and wasabi mayo. Salmon and tuna make up the center of this roll. Mounds of black, green, red and yellow tobiko cluster on top, each with its own unique flavor.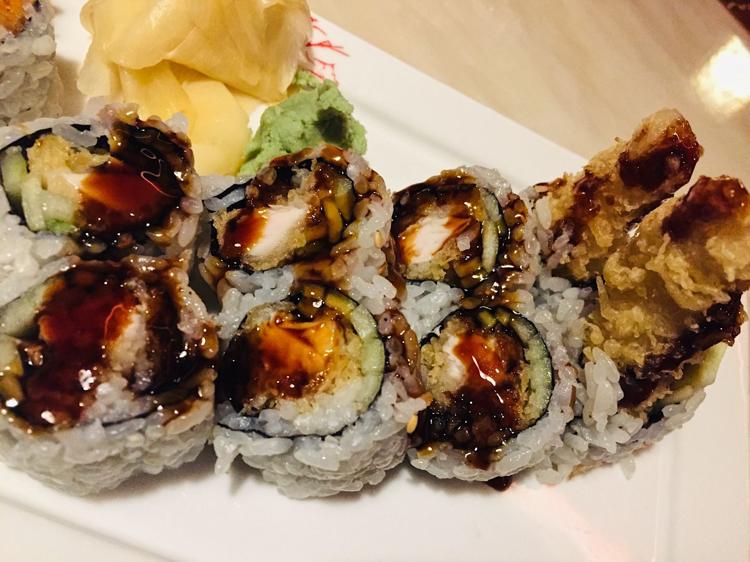 There's a pretty thin layer of rice so 90 percent of the flavor is crunchy, white-meat chicken fried to a golden brown. Sumo also makes a Sweet Potato Roll, topped with a drizzle of eel sauce (based on soy sauce, sugar and mirin). Have one of each roll and it's like Japanese food meets an American Thanksgiving.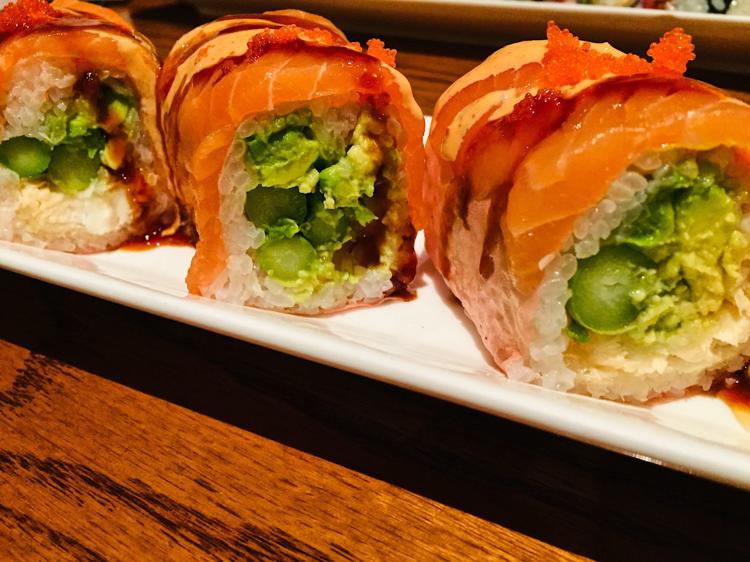 Sauces are a staple with sushi rolls, often used to add decadence to the dish. Madison's Takumi Japanese Restaurant is fairly well known for the head chef's cutesy sauce designs painted alongside the customer's ordered sushi. From dragons to butterflies, guests can request an edible masterpiece to go with their meal.
What's less known is the restaurant makes a spicy honey sauce that's as beautiful as it is delicious.
"The honey sauce is something the chefs made here from scratch," said Takumi manager Michael Sofyan. "People ask about it a lot but we're not allowed to say how it's made. There's a secret ingredient no one is supposed to know about."
Whatever the secret ingredient is, it has served Takumi's Sakana Roll well. Made with deep fried whitefish and asparagus, the roll has subtle flavors which allows the spicy honey sauce to be front and center. The sauce has, as the name suggests, a spicy kick but with a syrup flavor that gives it a sweet aftertaste.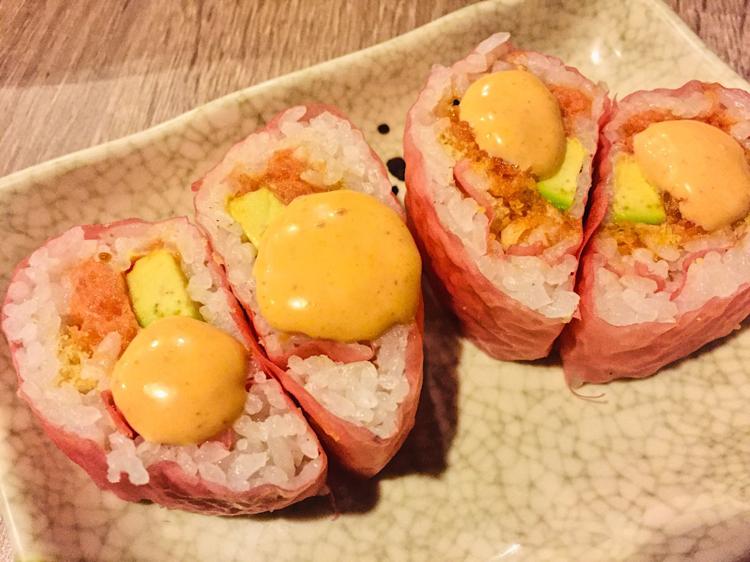 Contrary to its name, Sushi Express's Hot Girl Roll is not all that hot. Even with spicy tuna, spicy mayo and spicy salmon, it has only a mild kick that's quickly subdued by the rice and avocado. What makes this roll stand out? It's adorable.
Wrapped in pink soy sheets, two sushi rolls are formed together in the shape of a heart. Also known as "The Sweetheart Roll," there are other versions of this sushi at Madison restaurants like VIP Asian Cuisine's Lady Gaga Roll which also includes cream cheese. Spicy mayo enhances the salmon's sweeter flavor and puts the Hot Girl roll a cut above her counterparts.
As an added bonus, Sushi Express delivers. The Hot Girl Roll might be worth keeping in mind for a Valentine's, or Galentine's, night in.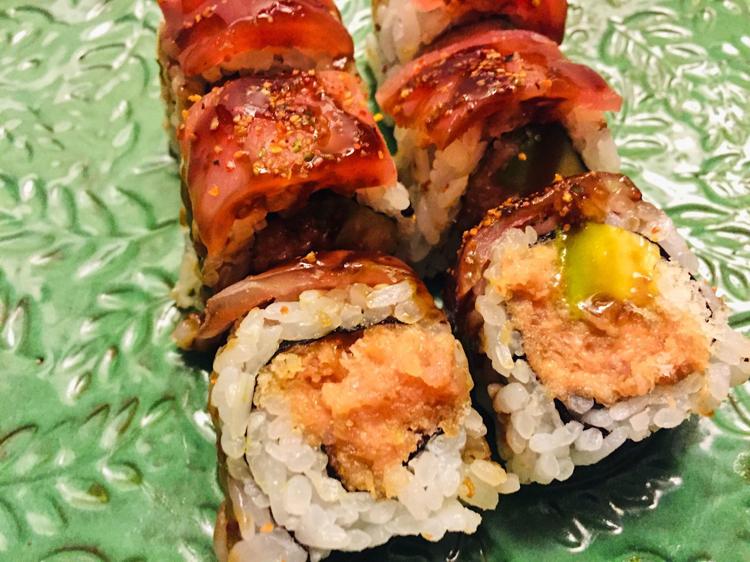 In addition to the hot pink Lady Gaga Roll, VIP Asian Cuisine has another specialty sushi roll that distinguishes itself with spice. The Hell Fire Roll is made with crunchy spicy tuna and avocado, but then it's topped with more spicy tuna, hot sauce and seven different kinds of spices.
"It's from an older Japanese recipe and is one of our most popular rolls," said Ada Zheng, a server at VIP. "Together with the sauce it's really spicy so you can ask for both on the side. But almost every customer we have orders this. Everyone likes it."
It's not hard to see why. The sushi roll has a soft center with crispy flakes to give it more texture. Other than the avocado, the roll has a prominent earthy taste and a smoky punch. The Hell Fire would pair nicely with either a red wine or, to get that spice to climb the Scoville scale, pair it with a hot sake.