When Francisco Armenta hitched his fortunes to his brother's food cart three years ago, the customer base was slim. 
But within a year, he said, he and his partner Maribel Perez had built a following by meeting customers where they are both literally and figuratively. Whether they're parked on State Street after midnight or at an office building at lunch hour, Armenta and Perez put in long hours to bring Mexican food to customers across Madison.
Armenta spends his shift at the plancha grill preparing orders. Perez and their two teenage children, both of whom are fluent in English, work the window. Three nights a week, Sabor Queretano parks on State Street to catch a late night crowd. By 9 p.m. each Thursday, Friday and Saturday, they're set up in front of burger restaurant MOOYAH near Frances Street, where they serve a variety of tacos until 3 a.m.
The truck's menu is short, offering a limited selection of items from the menu of Taqueria Sabor Queretano on East Washington Avenue, the restaurant owned by Francisco's brother Mario Armenta. There customers can order tacos, nachos, quesadillas, burritos and burrito bowls. 
"It's simple food, but people like it," Armenta said.
Armenta and Perez are both from the Mexican state of Queretaro — namesake of Sabor Queretano — and they have more than 50 years of cooking experience between them. Tacos, the cart's specialty, have earned the approval of Latinos and non-Latinos alike, Perez said. She recalled a Latino man who visited the cart one Wednesday at the Capitol View Farmers' Market off Cottage Grove Road.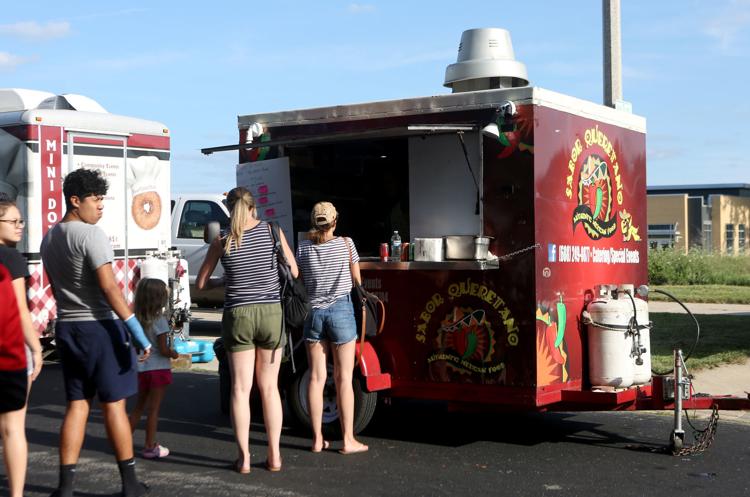 "He ordered two to try them," Perez said, then got two more. He, his wife and his child ended up eating ten tacos, then asked when he could find them there again, telling Perez "we'll see each other here more often." 
Tacos, like all other items on the cart's menu, can be ordered with beef, pork, chicken or rice and beans ("vegetarian"). The pork, cooked in al pastor style with onion and pineapple, is especially tasty and tender. 
A traditional Mexican taco is topped with onion and cilantro. For diners who want the middle American style with lettuce, cheese, tomato, avocado and/or sour cream, they're happy to oblige.
At first, the cart's State Street visits drew few customers, and Armenta would work alone. Now, he said, the clientele has grown so much that they often need three people working. 
"They seek us out," Armenta said of their fans. "Now everyone in the street knows us."
Lines are especially long after 1:30 a.m., drawing the post-party crowd that used to go to La Hacienda restaurant on Park Street before that restaurant shifted its closing time from 4 a.m. to 2 a.m.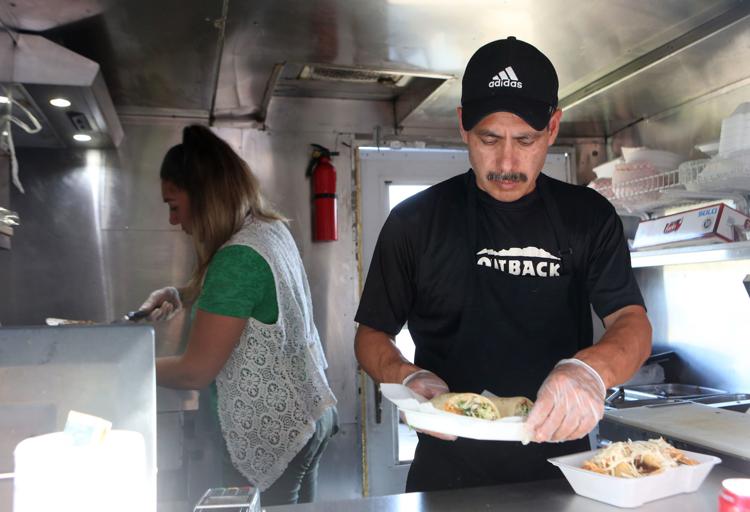 Providing quick service can be taxing, especially with the late crowd. Customers have often spent the night drinking, which can lead to late night fights and shouting. Perez tries to calm difficult customers without arguing. 
"It would be like arguing with a child," Perez said. "They don't understand what they're doing."
Perez said they've seen drugs and weapons and have even been given fake money. "There's some of everything downtown," she said. "You have to be very careful."
Armenta broke in. "We've also made a lot of friends," he said. "A lot of people appreciate us and love us and like our food." 
When Perez skips late night shifts, customers ask for her, she said. "They ask him, 'Where is she? Where is Maribel? I like when Maribel takes care of me.'"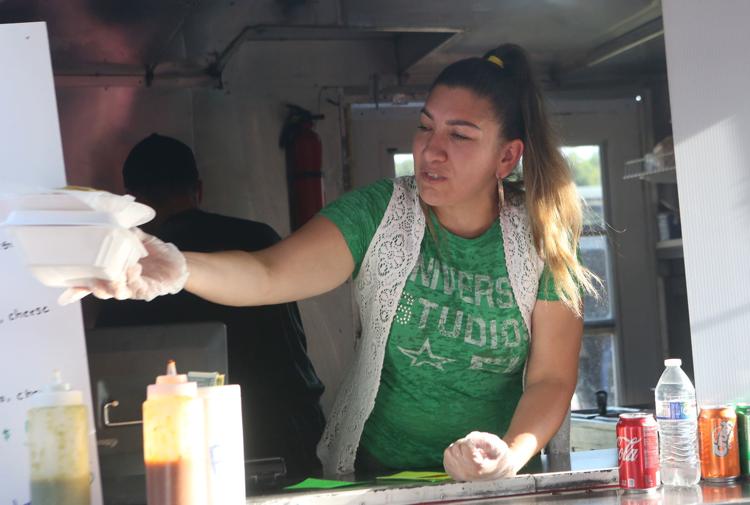 On days when Armenta cooks for lunch, prep may begin as early as 5 a.m., and he returns to the restaurant to cook again if he's serving dinner. On days when he's working late on State Street, Armenta said, he might work around the clock. 
"It's like a restaurant," Armenta said. "It takes a lot of time, a lot of effort."
Currently, the cart serves lunch at three locations each week. For dinner, the cart parks at the Capitol View Farmers Market (5901 Sharpsburg Drive) from 4 to 7 p.m. each Wednesday from June to October as part of the Let's Eat Out food truck rotation. They'll also be at Taste of Madison on Aug. 31 and Sept. 1, serving tacos, tamales and chimichangas.
In  November, Armenta will close the cart for the winter and return to his off-season job at Oasis Cafe. The two are thinking about next year ("not planning yet") and the start of food cart season in April 2020. They might just strike out on their own. 
"I've been telling him that instead of working for someone else, he should buy his own cart," Perez said.
If he does, they've already agreed they'll focus exclusively on expanding the options for their best-selling item. That future cart would sell puro taco — tacos only.