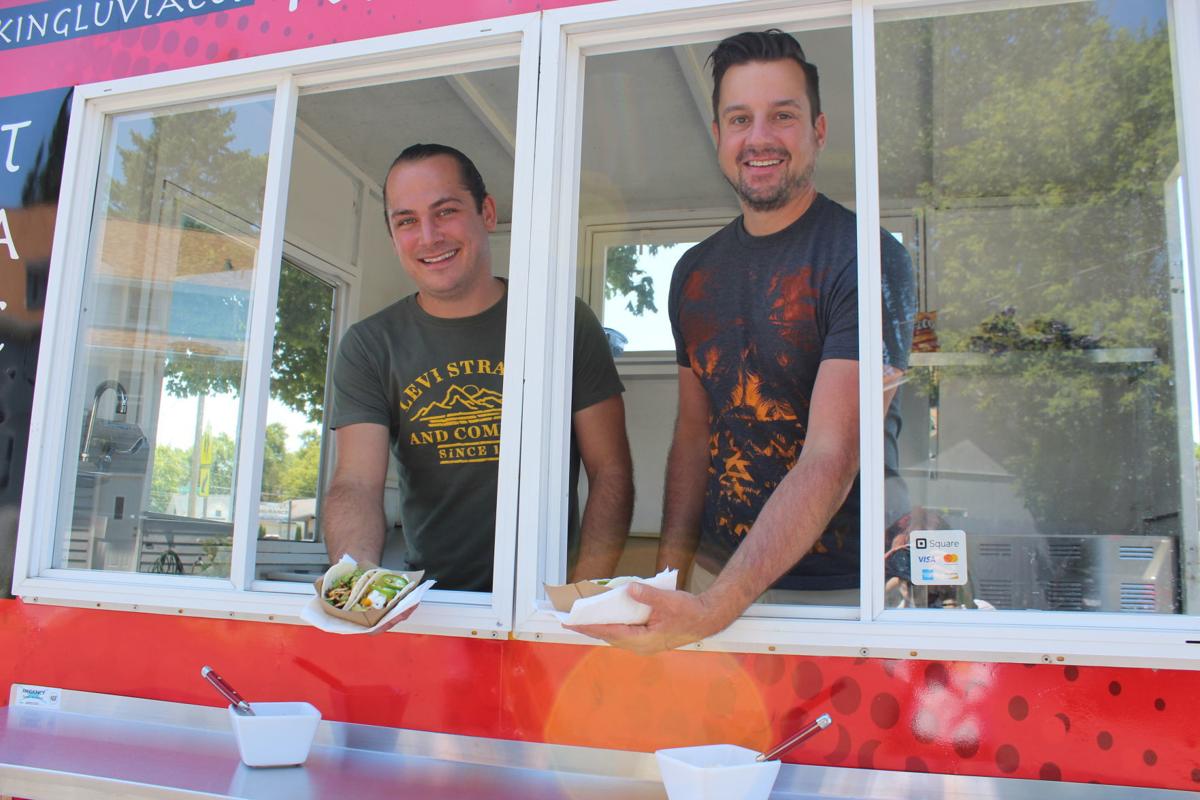 With its bright red truck and giant blue alligator mascot, the Kingluv Tacos cart is hard to miss. Saucy, spicy and succulent tacos, filled with Korean short ribs or ginger garlic chicken, make Kingluv even harder to forget. 
Kingluv debuted in spring 2018 at Stoughton's Norwegian Syttende Mai festival and hit the ground running. It makes its Capitol Square debut next weekend at Taste of Madison, where co-founder/chef Sam Eifert hopes his tacos' bold flavors will stand out. 
"Some of our tacos pack a lot of heat, but none of it is overpowering," said Jason Whitley, Eifert's partner and Kingluv's co-founder. "You can still taste all the other ingredients." 
Kingluv's street tacos (all $4 each) are tiny and fiery. Each element packs a mighty punch. A Puerto Rican pork taco with jalapeno garnish and homemade adobo-style seasoning is by far Kingluv's spiciest creation. The chicken taco, Whitley's favorite, gets jazzed up with ginger-garlic jerk seasoning, a pineapple-peach-mango mix and Sriracha sour cream sauce. It tastes a bit like shawarma with a zesty kick.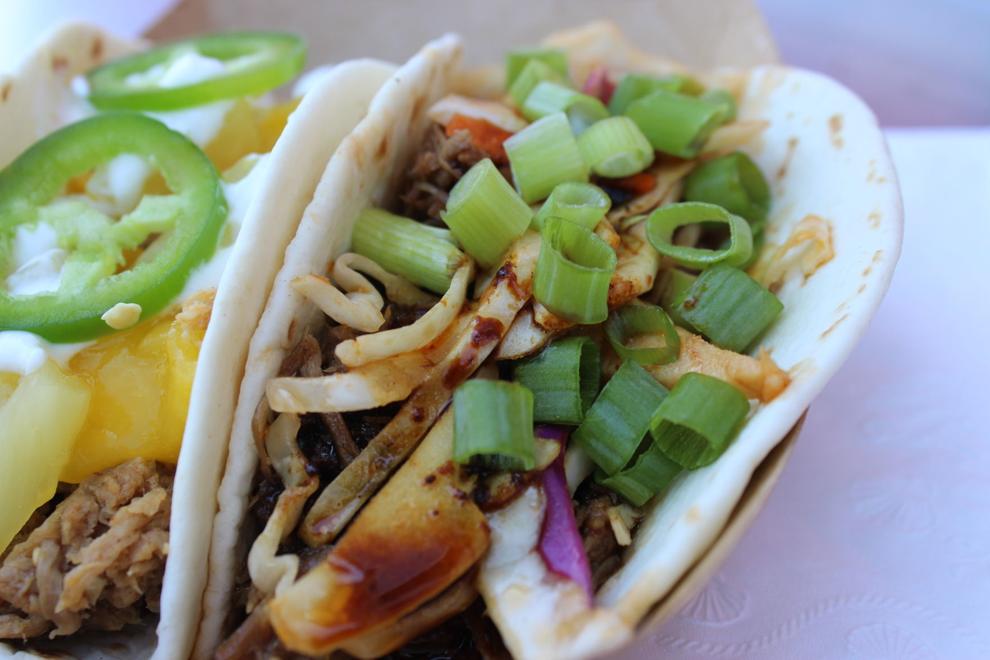 Eifert cooks the short ribs for over eight hours in soy sauce, rice wine vinegar, ginger, garlic and sesame oil. The tacos are then topped with Asian-style slaw, a reduction of the marinade from the meat and green onions. The taste is deliciously salty.
"Our Korean short rib is the crowd favorite for sure," said Eifert. "Which is cool because that's the taco that started this whole idea."
Kingluv didn't officially open its cart windows until 2018, but the idea for Eifert and Whitley to have their own taco cart first sprouted back in 2015, when they discovered Korean tacos. 
"Jason and I started dating when he lived in Chicago and there was this really good Korean taco place called Del Seoul in the city," Eifert said. "The flavors were amazing. ... We started to joke about starting our own taco cart."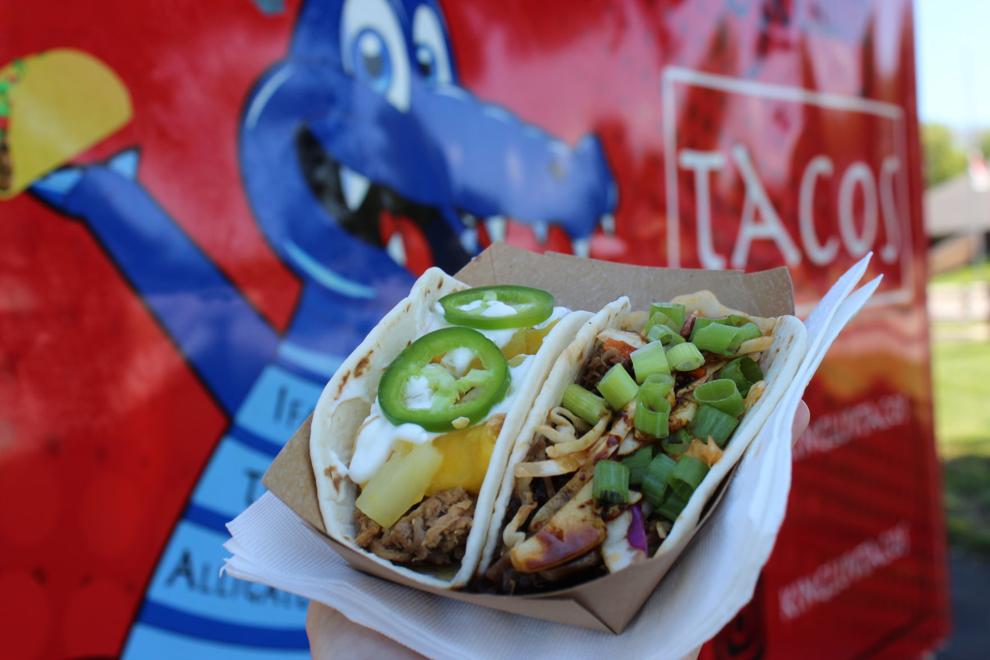 "Food has always been a passion of mine, but I never thought I could turn it into an actual job," added Whitley, who is now head chef at Nauti Norske in Stoughton, where Kingluv cooks their meat. "But here it worked out really well."
Eifert says he and Whitley often would spend time cooking during their dates and enjoyed experimenting with recipes. The other driving force behind the taco truck was that Eifert had always wanted to be a business owner like his dad, Larry Eifert, who ran a screen printing company and was a real estate broker and builder in Stoughton. 
Sam says his father was supportive as the two home cooks got "all entrepreneurial" with their taco business. Larry helped with ideas for where to get the cart and what to name it. Then in January 2017, the same year Eifert and Whitley bought their taco cart, Eifert's father, then 61, passed away suddenly. 
That's when they chose the name "Kingluv," to pay tribute to Larry's Christian faith and his role in making the business a reality.
Eifert identifies as a Spiritualist. Whitley is a progressive Christian. As Eifert described it on the Kingluv cart Facebook page: "My dad was a man passionately devoted to Jesus and the spreading of His love and grace, and we felt Kingluv on its own paid tribute to my dad's love for his King." 
At Syttende Mai, Kingluv supported the charity Larry Eifert founded, Buddy of Mine, a pet-focused nonprofit in Stoughton.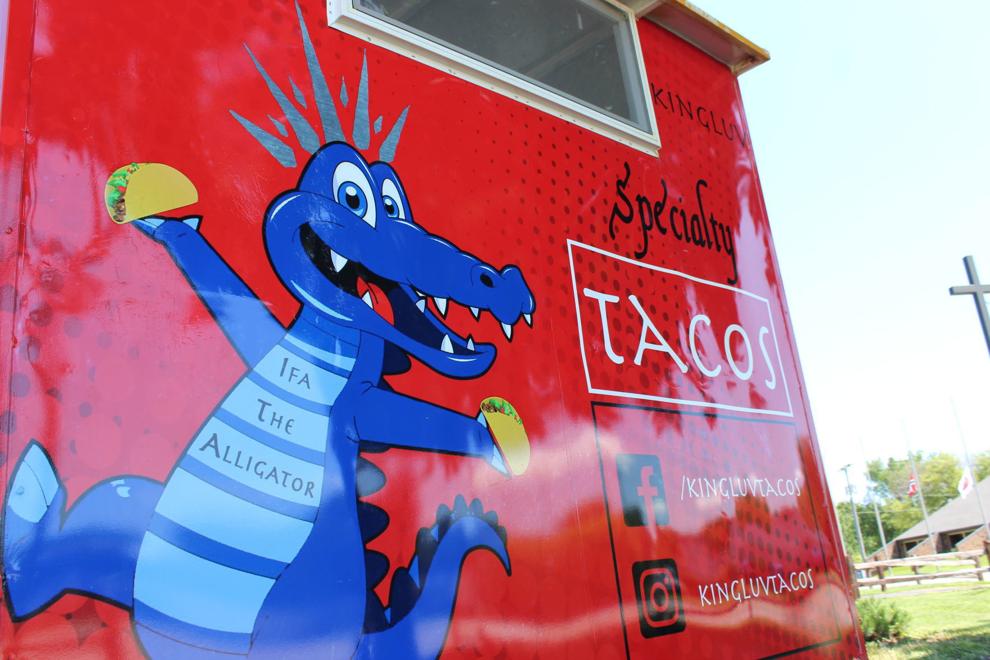 Kingluv vended at AtwoodFest, the Dane County Fair and Great Taste of the Midwest, bringing intense yet balanced flavors as well as variety. In addition to spicy pork shoulder, gingered chicken and saucy Korean ribs, Kingluv also offers customers a vegan option for their $4 tacos. It's the most time intensive taco to prepare: roasted sweet potatoes, black beans, corn relish and chipotle salsa, with pickled onions on top. 
"It looks really pretty, it's vegan, it tastes good and it's fun," Eifert said. 
Through some trial and error, Kingluv found a way to give diners a gluten-free option in addition to the street corn in a cup ($4). Customers can order any taco combination on top of a cup of Fritos corn chips. 
"At first we wanted to do corn tortillas because they're more authentic, but our tacos are a little too juicy for that," said Whitley. "They would just fall apart."
Kingluv's serving season mostly ends in mid-September, finishing with Madison's downtown food festival this weekend. But Eifert and Whitley stay busy during the off-seasons, catering business luncheons, weddings, graduation parties and birthdays.
"When we started, we had no idea how popular it was going to be," said Whitley. "It's been a lot of work, but I know Larry would be proud to see Sam doing this and how much the business has already grown.