At the hottest new lunchtime pop-up in downtown Madison, chewing is optional.
Three stories of windows frame a sunny corner triangle in the lobby of the Madison Museum of Contemporary Art. Until March 16, this is the temporary home of Good Broth, a "broth bar" from the Food Fight-owned Fresco on the museum's rooftop.  
Tuesdays through Fridays from noon until 2 p.m., a staffer from Fresco ladles rich, savory brodo into paper coffee cups ($5-$9). For a few extra quarters, diners can boost the broth base with add-ons like Calabrian chili, coconut milk, red curry paste and lemon zest, with a hunk of baguette ($1.25) for dipping.
On an unseasonably warm winter day, Rich Kruszkowski still pitched the Italian-style brodo as "broth to warm your bones up." MMoCA's bright lobby can act like a prism, heating up his little stand, but the visibility can't be beat.
"Oftentimes I'll see people walking by and kind of glance over, and they stop and turn around and come back inside," Kruszkowski said.
For patrons like Doreen Kunert, a cup of broth makes for an entire lunch. Kunert had come downtown for a Valentine's Day "Handmaid's Tale"-inspired flash mob at the Capitol and remembered reading about the broth pop-up in the paper.
"It's not something I would make at home," said Kunert, cradling her white pointy hat and red cape under one arm. "It seems like a cool thing. I just need a light lunch, so this is what I'm going to have."
Built on beef and chicken bones, aromatics, vinegar and herbs, brodo is at least twice as concentrated as chicken soup broth. It takes at least two days of simmering to make, some 48 to 60 hours in a massive pot.
"I like it with curry paste and lemon," said Giovanni Novella, Fresco's executive chef and a native of Naples, Italy. "It's kind of like stew. Brodo really jellifies. Stock is a little more loose."
One difference between Italian brodo and similar long-simmered Japanese ramen stock is the former is made with roasted bones. The latter — at Morris Ramen, for example — uses raw bones. Roasting changes the flavor in both the chicken/beef broth and the chicken-only brodo. 
For his brodo, Novella buys grassfed beef from Grass Run Farms and Bell and Evans chicken, sourced through Neesvig's in Windsor. He chooses beef shin bones and knuckles ("the marrow helps me to get a smooth consistency") as well as whole chicken thighs, back bones and feet. Chicken feet add gelatin, which makes the broth velvety and cause it to congeal after it cools.
Roasted bones simmer in water for at least 24 hours, with additions of more water along the way. Novella skims, removes the bones and, just like with chicken soup, adds celery, carrot, onion and bay leaf.
The broth incorporates tomatoes three ways — paste, canned San Marzano tomatoes and fresh romas — and turmeric, all of which give the brodo a yellowish-red color. Ginger gets added twice, in chunks early on and minced very fine at the end for a touch of heat.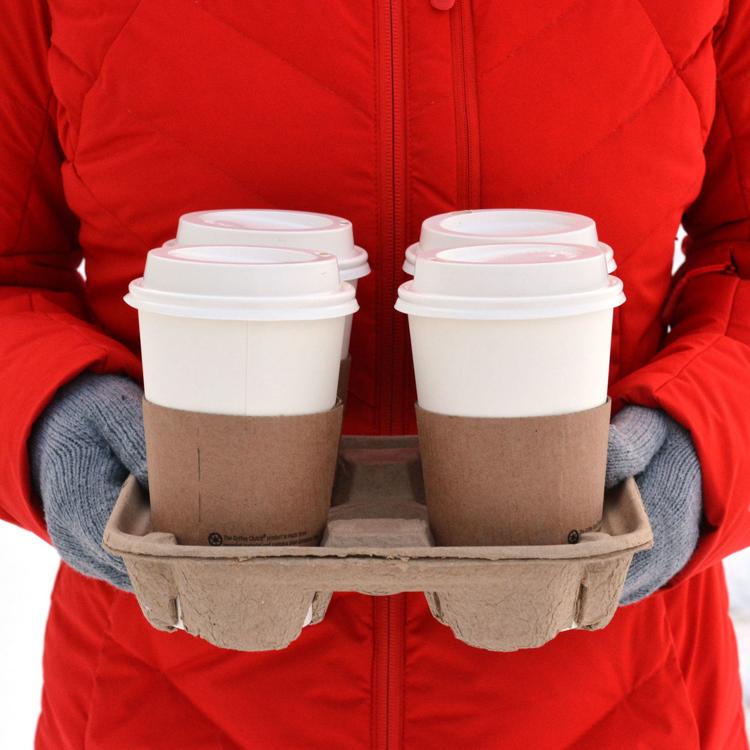 When the broth is nearly done, Novella's team strains it three times. They finish it with a splash of apple cider vinegar for brightness and adjust with salt and pepper.
Sometimes Novella will do a second pass on the bones, resulting in a less intense broth that he can use for other things in the kitchen.
Fresco offers the broth for delivery through EatStreet during extended hours (noon until 8 p.m.) on days the pop-up is operating. A big box of broth (96 ounces) can be dropped in a downtown office with paper cups for $42 or $54. Frozen, 30 ounces of the broth costs $14 for chicken and $18 for chicken/beef.
"I've been selling a lot of the 30-ounce frozen containers, so people can bring it home," Kruszkowski said. "They'll try it here and they like it so much ... it inspires people. You can put noodles and scallions in there, or make it like ramen."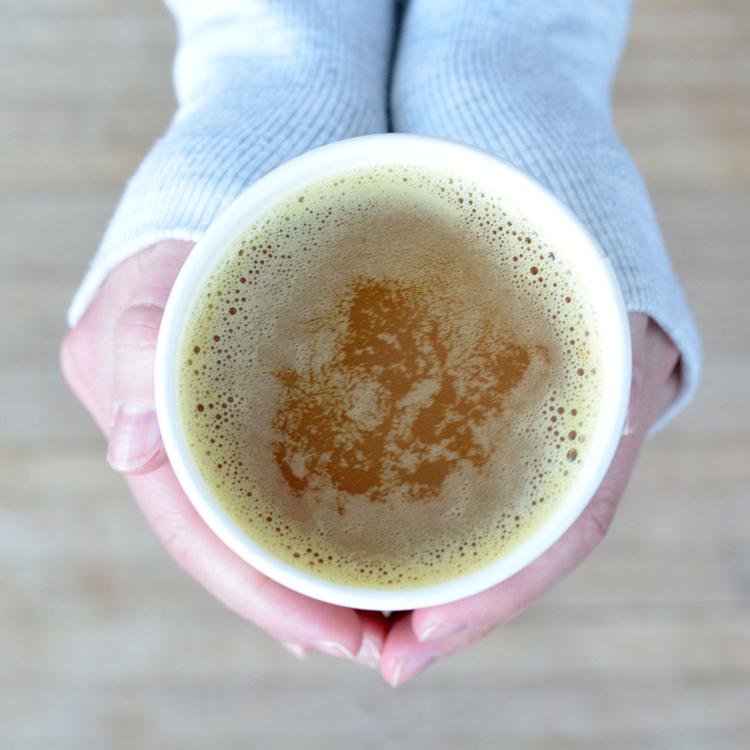 A cup of the chicken and beef broth ($6 for 10 ounces, $9 for 16 ounces) bloomed with the addition of a ginger and garlic "immunity boost." Lemon added a bit of brightness, while scallions recalled miso soup but made it a little harder to drink.
Like a latte, brodo benefits from a few minutes to cool. Then drink relatively quickly. There's no spoon, so when the additions sink one may be left with a cloudy, chewy mass of ginger at the bottom of the cup.
Over the past four years, thanks in part to efforts by New York City chef Marco Canora, broth made from long-simmered roasted bones has taken on a sheen of good health. (An inevitable backlash has critics calling it "hot carcass water" while noting that brodo's arrival as a trend in Madison means it's gone "mainstream mainstream.")
"I'd definitely heard about the trend," said Kate Allen, who swung by for a lunchtime cup of broth. At home, she said, she's a "frozen wild salmon from Costco" kind of person, and she knows the broth is labor intensive.
"I was just walking to the Soap Opera down the street and I saw the sign and thought, you know, that sounds really good," Allen said. "This is a fabulous location. It's one of the things I love about working downtown."
Even Novella has taken the broth home.
"Sunday I was off and I was cold," Novella said. "I cooked tortellini in the broth and shaved a lot of parmesan on it. It was to die for.
"My wife said, 'This is the best dish you've ever made for me. You should serve this at the restaurant.'"