There are too many holidays crammed in to the end of the year.
The final mad dash of October to December is book-ended by Halloween and the one-two-three-four punch of Hanukkah, Kwanzaa, Christmas and New Year's Eve.
Nestled among these is the comparatively sedate celebration of Thanksgiving, which brings with it a massive traditional meal of turkey and at least a half dozen side dishes. Ian's Pizza, which never met an oddball topping concept they didn't give a fair shake, has managed to distill the spirit of that great big family dinner onto a single slice.
Ian's Thanksgiving pizza is a seasonal stunt pie that has been on the November menu in some form for over a decade at least. The earliest reference to it I could find was from 2007 when it was paired with a dessert pie topped featuring "sweet potato, caramelized pecans, and mini marshmallows" which, it must be noted, I would love to see make a return.
The Thanksgiving pizza isn't unique to Ian's, with other inventive restaurants around the nation having also tackled the challenge in their own ways. 
The "Green Gobbler" at Glass Nickel for instance, is that pizzeria's second holiday-themed pie in two years. It includes not only turkey and stuffing, but also rosemary potatoes, green beans and gravy.
Still, Ian's is probably the highest profile turkey-day themed pie in Madison, and it's the only place you can get Thanksgiving by the slice.
The Thanksgiving slice as we know it today was established around 2010 by Jeff Bach, the general manager of the Ian's Pizza Food Lab (or the Mad Scientist of Pizza Toppings, as he's better known within the company).
I caught up with Bach right before this year's Thanksgiving slice was set to hit the menu. I wanted to know how the slice had evolved over the years and discuss his thoughts on its unusual allure.
Bach overhauled the Thanksgiving slice early on in his tenure at Ian's commissary kitchen. The version that predated him relied on mashed potatoes and gravy to hold everything together.
"I looked at it form the point of view of college students and what they'd be missing from home cooking and a traditional Thanksgiving dinner," Bach said. "We went with things that were comfort food and remind people of home."
Bach's idea was to build the slice up around a sort of deconstructed green bean casserole, the workhorse creamy crunchy all-around feel-good side dish.
"I took that all apart, so when we put it on the pizza the components served different purposes for texture and moisture," Bach said.
Out with the mashed potatoes and in with cream of mushroom sauce (made from scratch), fresh green beans and thin curls of crispy fried onions. Moist nuggets of stuffing dotting each slice are meant to approximate the Stove Top™ brand mouthfeel that's been imprinted on so many Thanksgiving memories.
"We thought about cutting our own bread and making our own stuffing," Bach said, "but in the end people want to eat what they're used to."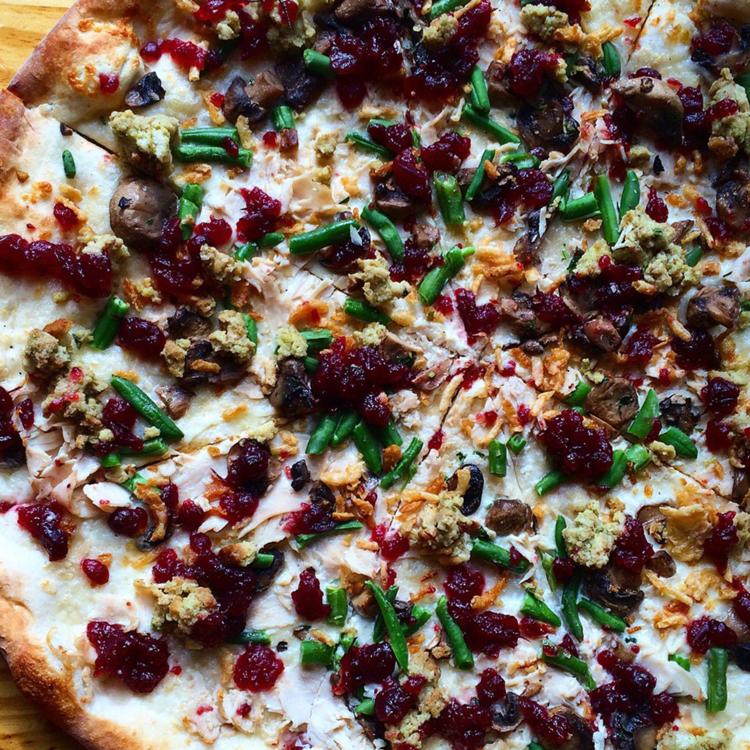 Despite re-focusing the soul of the slice more toward side dishes, you can't have a Thanksgiving meal without turkey. Earlier iterations used shredded leg meat, and the food lab dabbled in cubed turkey for a year.
The current version relies on sliced turkey, roasted and prepared at the commissary.
Rounding out the slice is a handful of canned cranberries which, like the stuffing, were not overly fussed with so as to trigger as many sense memories as possible.
Incredulous folks might be put off by such an outside the box approach to both pizza and Thanksgiving. But I cannot oversell how solid of an experience this one-slice meal is.
The fried onions crunch just right along with green beans that squish, just so, before giving way to a satisfyingly toothsome snap. The turkey's in there, but while it may be the MVP for your Thanksgiving meal at home, here it's a solid utility player working to elevate each bite as part of a winning team.
The creamy mushroom soup is balanced nicely by the bright acid of the cranberries. And, perhaps the least appreciated element of all, that yeasty dinner roll essence is baked right in, thanks to Ian's chewy crust.
This is the slice that's been on the menu and will likely remain that way for Thanksgivings to come. You've got until the end of the month to give it a shot. At $4 per slice, it's a solid ratio of risk to possible reward.
With all the comfort of Thanksgiving but none of the awkward political conversations, it's an all-in-one, handheld tryptophan triumph.