One of the most exciting new dining experiences in Madison doesn't have tables or chairs. It's open for 2 1/2 hours a day and the menu offers a mere three entrees.
But oh what entrees they are. These pasta dishes taste like they should be served at a high-end café instead of through the window of a food cart.
Common Pasta, built, managed and staffed by chefs Brian Baur and Thomas Durbin, is currently vending for weekday lunch in front of the University of Wisconsin-Madison's Education Building at 1025 W. Johnson St.
Decades of culinary experience between them, Baur and Durbin have worked at Nostrano and in the kitchens of Chicago restaurants like Curtis Duffy's three-Michelin-starred Grace (one of the most expensive restaurants in the city) and The Bristol in Bucktown. 
Now, they've taken their training and gorgeous dishes mobile.
"We wanted to make fine dining style food and serve it without the overhead," Baur said. "We decided to try a food cart." 
When constructing the cart, the chefs knew their workspace would differ significantly from the average food stand on wheels.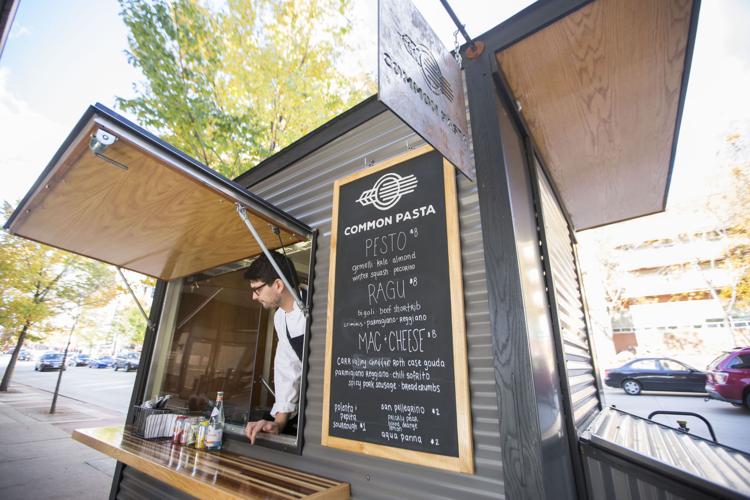 "We wanted the interior space to be large enough for us to work in, and to accommodate a full-size gas stove," said Baur. "Instead of having customers order through a tiny window, we made the entire front area glass so they could see their food being prepared."
Even the polished butcher block countertop for napkins and plastic silverware was fashioned by hand by the Common Pasta team. It's a dedication to craft that one can taste in their nuanced dishes.
All three of the menu offerings feature fresh pasta that the duo prepares in rented kitchen space adjacent to A Pig in a Fur Coat on Williamson Street. They boil the pasta to order on a back burner of the industrial gas stove, simmering sauce ingredients in a sauté pan on a front burner.
They serve ample portions right off of the stove in under 10 minutes for a reasonable price.
"We were very conscious of the price point," said Baur. "We wanted to offer great tasting food that students could afford.
"So far the response has been tremendous."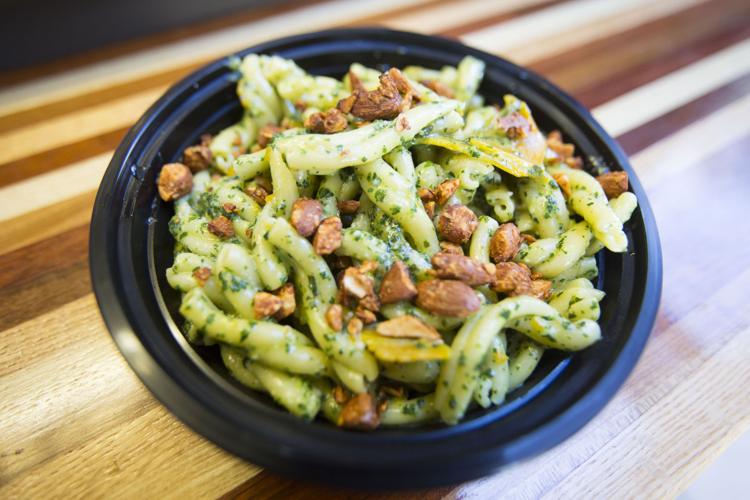 The menu will change subtly with the seasons. For fall, Common Pasta features a kale almond pesto ($8) on a twirled pasta called gemelli. A hint of garlic and basil mingled with paper thin sheets of orange winter squash and a generous amount of pecorino cheese.
Topped with toasted almonds coated in smoked paprika, it was a festival of fall flavors, presented in a variety of textures.
The beef short rib ragu ($8) was served on bigoli, a thicker version of spaghetti.
The meat had been slowly braised with cremini mushrooms until it was velvety tender and packed with concentrated flavor, garnished with Parmigiano-Reggiano cheese. Decadent comfort food, it was the perfect dish for a cold November day.
And then there's the mac 'n' cheese ($8). The Common Pasta version of this college staple redefines and elevates the dish.
"We'll probably always have a version of mac 'n' cheese on the menu," said Baur. "It's a definite favorite with customers."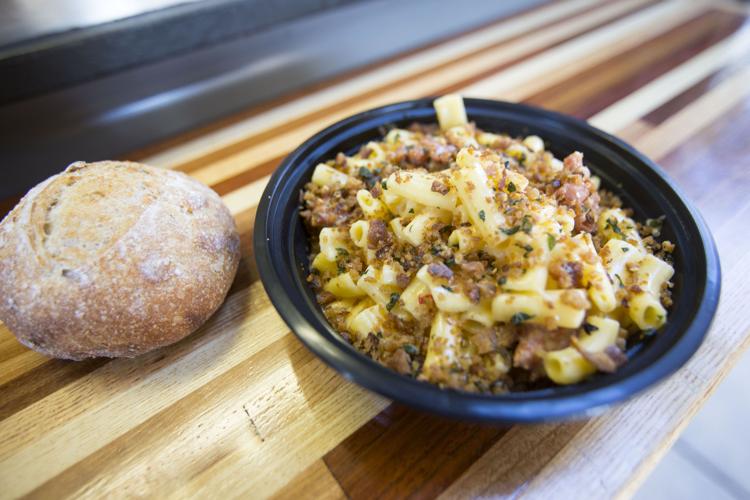 Large tubes of al dente pasta were bathed in a creamy, balanced cheese sauce made from Carr Valley cheddar, Roth Kase gouda and Parmigiano-Reggiano. The light, perfectly cooked pasta was accented with the spice of red pepper and the crunch of toasted breadcrumbs.
Under a few layers of noodles, I found chunks of pink pork sausage with the salt and smoke of bacon that punctuated the dish but didn't overpower it.
Sprinkled with fresh herbs, this mac was worlds away from the bloated and soggy noodles covered in a congealed, grainy orange sauce that normally passes for lunch.
This was not a gooey side dish. It was a meal to be savored.
On the side, housemade sourdough rolls ($1) were delightfully chewy, with big yeast bubbles harboring bits of polenta, pepitas and rosemary.
"We make 15 each day, and when they're gone they're gone," said Baur.
If you do happen to order after the rolls have been snatched up, take comfort in the fact that you still have dessert. Each pasta order comes with homemade, wax paper-wrapped salted caramels.
There may be no better bargain, or better tasting lunch, on campus.