A year ago, Madison had one restaurant dedicated to serving poke, a Hawaiian dish of marinated raw tuna reinterpreted on the mainland as quick, customizable bowls of fish, veggies and rice.
Food Fight Restaurant Group was first on the scene, opening Miko Poke on Monroe Street in 2016.
By the time FreshFin Poké made its local debut in The James apartment building on the University of Wisconsin-Madison campus in September, poke had proliferated into a school of five fishy joints serving build-your-own bowls.
Poke, pronounced "poh-keh," is basically the biggest thing since kale. Wisconsinites can get poke at the grocery store. They can scoop up raw fish while watching "The Meg" at Flix Brewhouse. It's on the menu at sushi places, where it's a natural fit, as well as overpriced bars with "global" aspirations.
Fast casual poke, as a trend, is attractive to entrepreneurs for how it blends Chipotle's wildly popular counter service with dietary flexibility. Most poke is naturally gluten- and dairy-free, and Midwestern spots all have cooked and vegan options.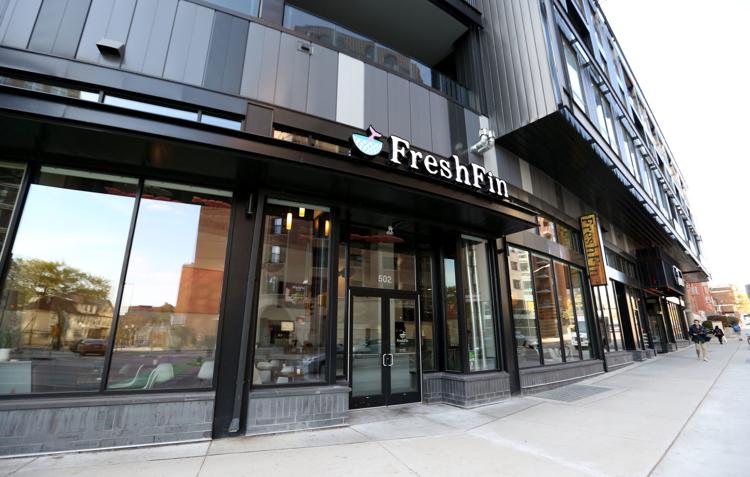 Poke is quick to assemble. Farmed salmon brings the cost down. And the mainland version of poke with its pretty yellow mango, clusters of ruby tobiko, vibrant green wakame and dusting of sesame seeds looks as curated for Instagram as a unicorn Frappuccino.
Most mainland poke is more preoccupied with being quick, fresh and easily scaleable than authentically anything. FreshFin is no exception to this. The menu, on three large screens, features curry coconut (cooked) shrimp and cilantro chicken "signature bowls," placing FreshFin in the realm of burrito bowl/ grain salad — another hot trend, represented around the corner by Salads UP and Forage Kitchen.
"We always say the FreshFin menu is a fusion menu," said Andrew Foster, a recent UW-Madison MBA grad who co-owns FreshFin and lives in The James above his Madison shop.
"It's taking things from traditional Hawaiian poke and trying to fuse it with Asian spices and ingredients and a mainland influence," Foster said. "We want to be considered a poke restaurant and competitor, but our true competitors ... are Chipotle and Panera."
Foster jumped on the poke bandwagon with founder and co-owner Nate Arkush not long after Arkush opened the first FreshFin in January 2017 in Milwaukee's Third Ward.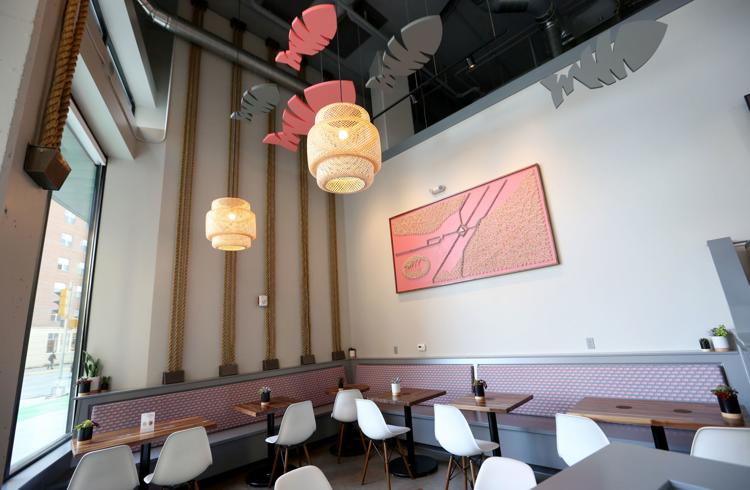 Arkush was already moving fast. In the past 18 months, FreshFin has opened five shops. A stall in the new Bucks' arena, Fiserv Forum, opened in late August.
At 2,100 square feet on University Avenue, FreshFin is probably the biggest poke restaurant in Madison yet. Destree Design Architects designed the space with clean lines, soft gray tones and woven light fixtures.
FreshFin offers just two varieties of raw fish, farmed salmon from Nova Scotia and Southeast Asian ahi tuna. There's also cooked shrimp, sous vide chicken and the Kalua Pork ($9.95 regular/ $13.95 large), slow-cooked pork shoulder paired with mango for sweetness and pickled veggies for crunch.
As a point of comparison, Poke it Up offers yellowtail. Poke Poke adds escolar, scallops and cooked octopus to the lineup, as well as purple rice as a base. Most FreshFin bowls are built on white rice, brown rice and/or baby salad greens.
"Right now, people are so happy with the tuna and salmon, and it's easier for us on efficiency and sale-ability," Foster said. "I'm not sold on the fact that everyone wants to see octopus on the menu, or scallops. There is a small market that wants to see that variety."
Where Miko Poke offers marinated tofu, FreshFin's vegan bowl is built with shiitake mushrooms, sweet potato and avocado. Kohlrabi noodles, for $1 extra, offer another base option for those cutting carbs.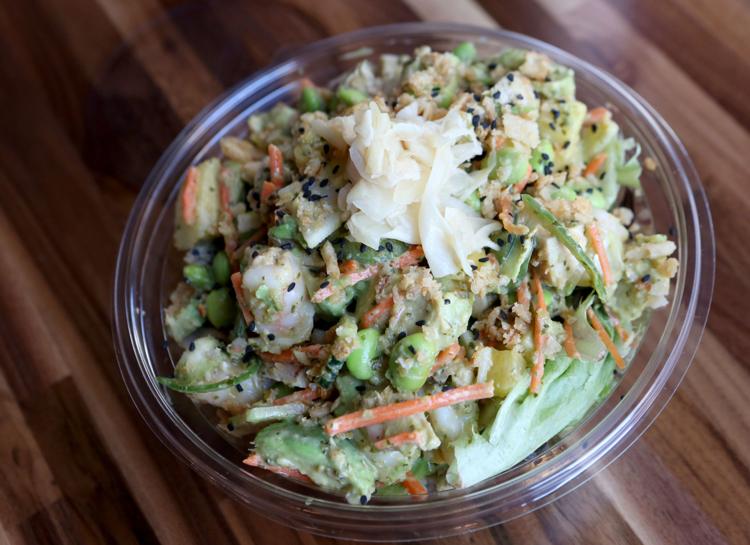 FreshFin made a few tweaks to the usual poke model. Instead of watching a staffer assemble salmon, mango, edamame and avocado on a rice-and-greens Mango Tango bowl ($10.95/$14.95), diners place their order and wait for it to be prepped behind a counter. It's more like Noodles & Company than Subway.
Foster said that style of service means less waiting in line. Choosing between Thai chili ginger sauce and Sriracha aioli up front instead of one element at a time speeds up the process, too.
In the Midwest, some people might still be squeamish about raw fish, Foster said, and the counter keeps it tucked out of sight. He also noticed that, compared to Milwaukee, Madison diners like having a choice.
"In Milwaukee, we do about 70 percent signature bowls and 30 percent BYOB," Foster said. "The first week we were here, we did over 50 percent BYOB. People were used to the market here, with Poke It Up, Poke Plus, Miko Poke and Poke Poke, where you build your own bowl."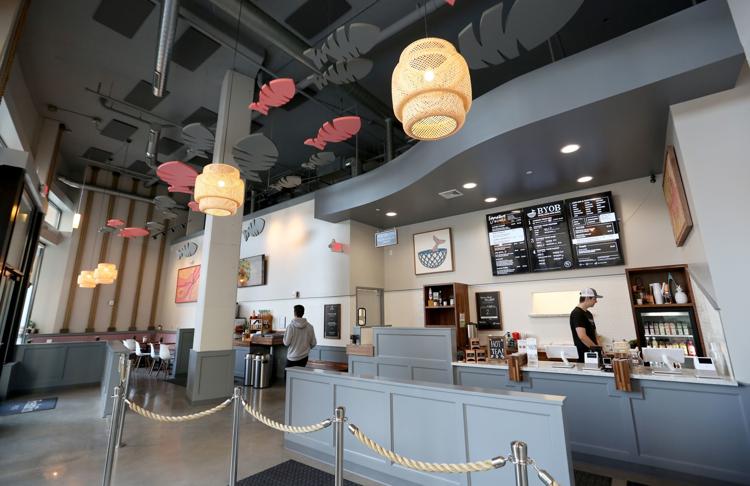 FreshFin wants to do more catering, aiming to distinguish itself among its many competitors with speed and consistency. It recently added a cold pressed juice line with flavors like citrus kale, sweet beet (carrots, beets, pineapple and lime) and ginger lemonade, all $4.95 each. A soup, probably a Thai curry, is set to be added soon.
The poke trend follows a similar burst of ramen shops, taquerias and wood-fired pizza spots, with a smaller sprinkling of Thai rolled ice cream, savory waffles and activated charcoal. (Dear future entrepreneurs: Let's turn up the pierogi trend and give rainbow bagels a miss? Thanks!)
But like any trend, poke has already begun to peak and should level off soon. Foster knows this. He and Arkush have talked about moving forward without "poke" on the sign, but for now it's still a valuable selling point.
"We're not trying to exploit anything, but there's some strength in the poke name," Foster said. "Madison is our first market away from the greater Milwaukee area so we felt like we needed that on the name. Poke is popping up all over the place."