LODI — Fran and Gary Hether didn't get into the hot dog business to make big bucks. The couple opened Frannie's Franks in downtown Lodi to meet people and, as a bonus, afford an extra week of vacation per year.
They picked a good spot to do it. The Frannie's Franks trailer is parked in front of the Marathon gas station, on Main Street at Portage Street. Locals in this town of about 3,000 north of Madison call this intersection "the four corners" or simply, "the four-way stop." It's the only one in Lodi.
The gas station shut down last year, and until the holding company that owns the property decides what to do with it, the couple has reign over the corner lot. The Hethers rest on lawn chairs in the shade of the gas pumps when they're not busy in their trailer grilling and dressing Chicago-style hot dogs, Italian beef sandwiches and brats.
A mix of townies and vacationers at nearby Lake Wisconsin line up at Frannie's Franks for lunch and a chat on summer days. Three umbrella-shaded tables provide seating for those not eating on the go. The stand is open 10:30 a.m. to 3 p.m. Mondays through Saturdays, mid-April to mid-October.
"I think it's the best gig ever," said Fran. Gary agreed.
"We've met so many nice people," he said. 
The menu isn't an afterthought to socializing. What Fran calls "the best darn hot dog ever" comes from Chicago-based Vienna Beef, where Frannie's gets most of its meats. The all-beef Chicago dog ($3.65) goes down easy on a warm steamed poppyseed bun.
Fran dresses it in the classic "dragged through the garden" style with yellow mustard, chopped onions, tomato slices, spicy sport peppers, neon-green relish, a pickle spear and dash of celery salt.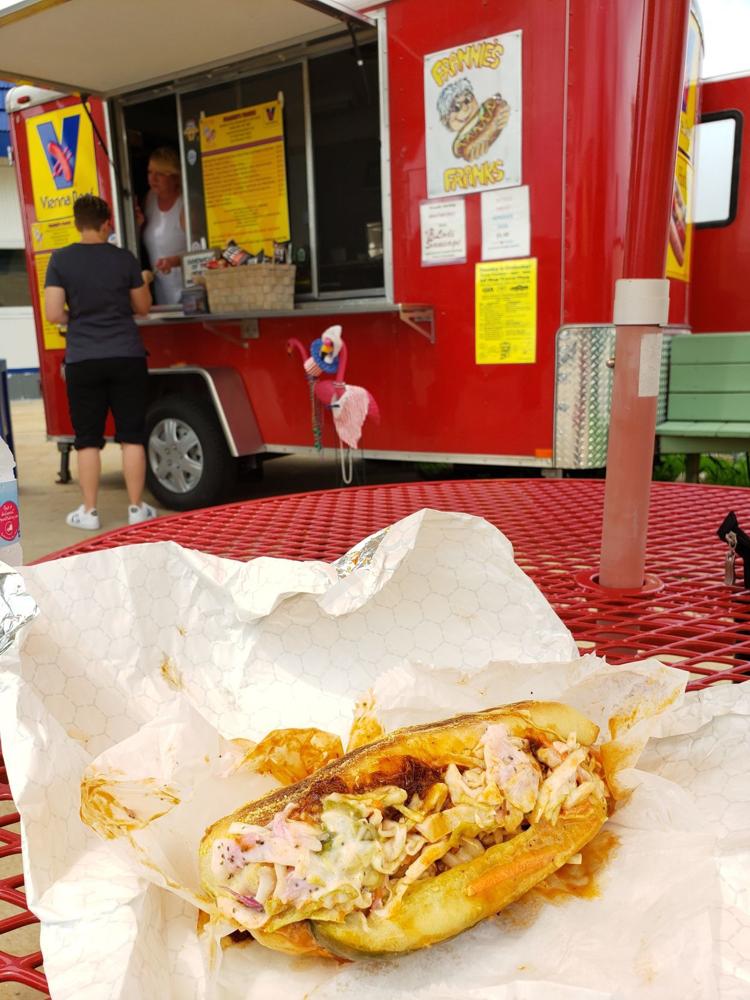 No ketchup is the first rule of dressing a Chicago-style hot dog, but not everyone in Wisconsin knows that. 
"We have people who come in and say, 'I want a Chicago dog with just ketchup,'" Gary said with a chuckle. (He and Fran don't judge.)
Vienna Beef has been around over 125 years and markets itself as the definitive expert on the Chicago-style hot dog, even going so far as to offer a two-day "Hot Dog University" course to prospective street vendors. Fran said their Vienna Beef sales rep, John Cuccinotto, stops by Frannie's Franks twice a year to make sure they're serving hot dogs "according to the specs."
When reached by phone, Cuccinotto said his visits to Frannie's aren't really quality assurance checks, just sales support. Still, he does have opinions on hot dog quality. A bad dog is "soggy, brown or cold." For a good one, "the bun is steamed in a nice fashion," the meat is hot and the condiments are fresh and have a "nice presentation."
It's "the personality of the hot dog cart," Cuccinotto said, that matters most. In Frannie's case, "they're great with the kids."
Frannie's version of a McDonald's Happy meal is the Hot Diggity Dog meal ($2.75), a three-inch hot dog in a bun, Goldfish crackers and a juice box or water. 
The "toy" is a paper Vienna Beef hat or hot dog temporary tattoo, and the latter has been popular. One mom told Fran that her son started taking baths with his hand up because he didn't want to lose his hot dog tattoo.  
Other sandwiches on the menu include Italian sausage ($5.10) and a Chicago-style Italian beef ($7.10), both served with sweet peppers and a choice of hot or mild giardiniera. The only meat not from Vienna Beef is the bratwurst ($4.10), purchased from Lodi Sausage Company and Meat Market half a block down Main Street. It comes standard with mustard, onions and sauerkraut
The Hethers also sell a monthly sandwich special, recently a roll filled with saucy barbecue pulled pork and topped with creamy, crisp coleslaw.
Amy Fink, a Lodi resident who stopped by Frannie's with her family on a recent Friday, ordered the pulled pork for herself. She said she loved the sandwich so much it was her eighth that month.
Coming next is an "Italian sausage pizza sandwich" with Italian sausage, mozzarella, pizza sauce, sautéed green peppers and onions on a French roll. 
Fran, 64, and Gary, 74, moved to Lodi seven years ago to be close to their kids, grandkids and now, great-grandkids. Both have service experience — Gary worked for 34 years in beer sales and Fran managed a sub shop in La Crosse. The sandwich stand made sense, but it was getting out in the community to interact with people that really drew them to it, Fran said.
Now in their third season operating Frannie's Franks, the Hethers said word-of-mouth advertising has led to catering for office staff, a family reunion and even a wedding. In the winter, they return to retired life, watch their grandkids and take a vacation to Cancun.
In summer, though, "nothing makes me happier than to look out and see all three tables full of people eating," Fran said.