In an industry where margins are razor-thin and risk is sky-high, Forage Kitchen is something of a unicorn among restaurants.
Most dining spots are lucky to establish their footing just three years from opening. But three and a half years after launching their first Forage Kitchen on State St. in 2015, Doug Hamaker and Henry Aschauer cut the ribbon on their second vegetable-forward establishment. The third opened in early October, as part of The Current development at 800 W. Broadway in Monona.
The original was a hit from its inception. While many restaurants geared toward lightning-fast service focus on slices, sandwiches or burgers, Forage Kitchen homed in on trends like build-your-own salads and grain bowls featuring thoughtfully prepared dressings and sauces.
The vegetable focus was inspired by Hamaker's and Aschauer's shifting dietary desires, but Hamaker said it resonated with hungry diners.
"In general, most of the population is craving and looking for things that are healthier but also still have a lot of flavor," Hamaker said.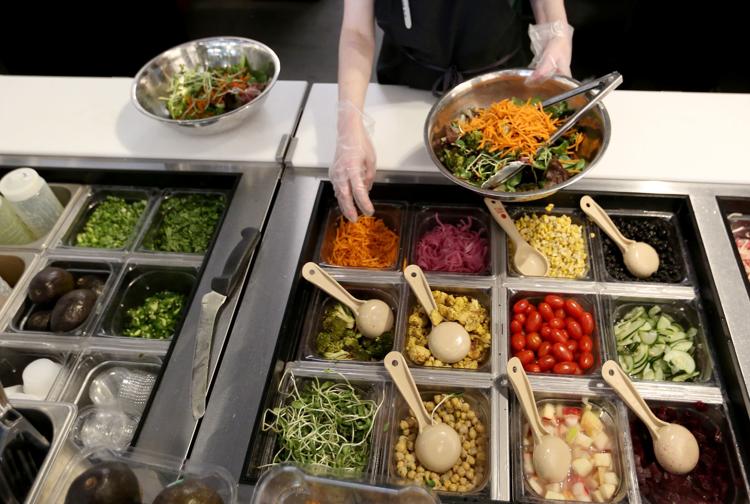 Forage Kitchen Hilldale, opened in March at 715 Hilldale Way, capitalizes on the health-conscious focus of the State St. original, while expanding and improving on it. The increased space in both the Monona and west Madison locations—Hilldale has nearly 1,000 square feet over the original—has allowed for more menu experimentation, Hamaker said.
Protein add-ons are greater, including a braised roast chuck and a vegan lentil meatball flavored with tamarind ($4.50 and $3, respectively). The latter makes a hearty addition to the number-one-selling power bowl ($8), which pairs a base of black rice with sweet potatoes, lentils, poblano-cabbage slaw, guacamole and green goddess dressing.
The menu has also benefited from an expanded warm bowls section. Hamaker said the mole bowl ($9.50) is a personal favorite. Quinoa is paired with black beans, rice and corn and comes slathered in a perfectly spicy guajillo mole sauce. Toppings like red onion, feta and cilantro balance the richness of the dish with much-needed acid, creaminess and crunch.
Forage echoes the popular fast-casual chain Sweetgreen in its vegetable-centric approach and close partnerships with local farmers. Hamaker said he is particularly inspired by the Los Angeles-based company's supply chain practice of purchasing a grower's full crop for the season, citing the supportive relationship as a "win-win."
"That's kind of how you can actually be fully local, for example," Hamaker said. "They are definitely doing it the right way, so it's fun to watch them grow and kind of learn from them."
As Forage business grows, he and Aschauer are looking at similar ways they might be able to expand and evolve their relationships with local producers like Vitruvian Farms or Raleigh's Hillside Farm, with whom they currently partner.
The pair's success doesn't stop at the grain bowl. Hamaker and Aschauer also have a hit with their kombucha, which has grown in popularity thanks to its smooth taste and less abrasive profile, Hamaker said.
Flavors of Forage Kombucha run the gamut, from the zingy ginger made with organic white tea to the boldly fruity and sweet tropical brewed from oolong. At $2.75 for 12 oz, the fermented tea beverage rings in at a lower price point than many other kombuchas on the market, owing to the fact that it's canned rather than bottled in glass, Hamaker said.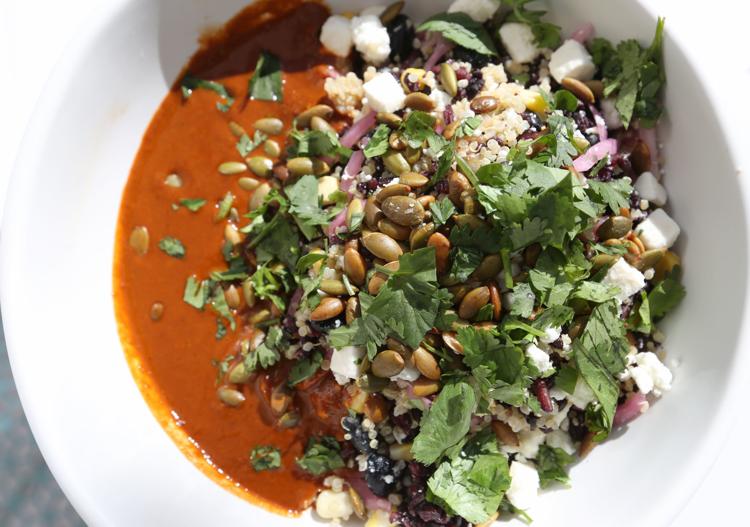 The kombucha, which began as Aschauer's pet project at Forage's State St. location, is now an 11-state enterprise with sales at 600 stores. The duo now operate out of a 4,000-square-foot facility in Fitchburg to keep up with the demand.
It's a lot to juggle, but Hamaker credits long-term staff with keeping each ship on course.
"We've been really lucky that, especially at State St., we've had some individuals that have been with us for literally four years now," Hamaker said. "So I think that the beauty of growing the business is that we are able to promote people who otherwise might have not been able to be promoted without the growth of the company."
The pair doesn't seem ready to slow that growth any time soon: Hamaker said he sees "a lot of opportunity" in bringing the Forage Kitchen concept to Milwaukee and Minneapolis.
But if it sounds like Hamaker and Aschauer are building an empire, they say they're not quite there.
"I don't think it's an empire yet," Hamaker said, continuing, "We want to keep growing, as long as we can do it the right way and have the right people to help us through it."