Maggie Jingga may be a long way from her Indonesian homeland, but Jakarta Cafe is full of family familiarity.
The soy sauce is a recipe from her grandparents' home business. Other recipes are hand-me-downs from her mother and grandmother.
The food cart next to her is run by Jingga's sister; they collaborate and help each other out.
And Labor Day weekend, at the downtown Taste of Madison festival, Jingga's family stood with her behind the table. Jingga enlisted her daughters, nephews, brother-in-law, boyfriend, good friends and neighbors to help at the event.
"I dragged all my close family to work for me," Jingga said, laughing.
This is a family that sticks together. Jingga's sister, Dewi Jingga, moved to Madison first. After visiting a few times, Maggie followed, making the long move from Indonesia to the Midwest.
The two started the Jakarta Cafe food cart in 2013, with Maggie Jingga taking charge of promotion, marketing and grocery shopping, and Dewi Jingga in charge of the kitchen.
Jakarta Cafe serves Indonesian food "with a twist," Jingga said, because she experiments with recipes to make them tastier and healthier. Jakarta's most popular item is chicken curry. Dumplings, spring rolls and spicy mango salad also appear on the menu.
The chicken curry is a simple dish with perfectly done carrots and potatoes in a sweet curry sauce served on white rice. It comes with a "crunchy hashbrown" on the side, made of shredded and fried potatoes, all served with roasted peanuts and homemade chili sauce.
The slivers of bejeweled potato come out in shades of amber, burnt orange and brown. It looks like candy, if spicy potato candy were a thing, but way tastier than "spicy potato candy" sounds.
The chili sauce was the source of many literal tears for Jingga, who makes everything from scratch. The chilies irritated her eyes, but she wanted to perfect a spice to balance out the sweetness of the curry. (Spoiler alert: she was successful.)
When Jingga says her food is all from scratch, she means it, including the soy sauce that comes with the pork dumplings. Her grandparents had a home soy sauce business in Indonesia, and making it herself means she can cut down on the sodium content.
Jingga still visits Indonesia to see her brother, vacation and pick up inspiration for new recipes. Last year, she spent five weeks in Indonesia and a week in Thailand, where inspiration basically smacked her in the face.
She decided she had to bring back Thai ice cream rolls, sometimes called stir-fried ice cream. The rolls, vertical tubes a la Fruit Roll-Up (or, if you're classy, a sushi roll) are made in front of the customer, which is a big part of the appeal, Jingga said.
It's a trend that's only hit the big cities in the U.S. When Jingga saw them in Chicago, enthusiasm for Thai ice cream rolls generated a 45 minute line in the rain.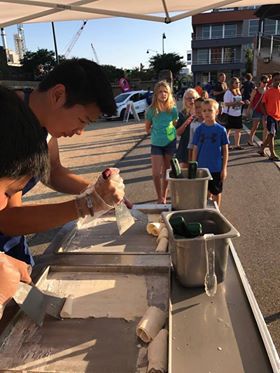 It is a mesmerizing process to watch, as liquid ice cream made of heavy whipping cream, yogurt, soy milk and sugar is spread out thinly on an ice pan like a crepe, and mixed with ingredients like strawberries, Nutella or peanut butter.
It's allowed to solidify, then scraped from the edge and rolled in one fluid motion.
Jingga debuted the rolls at Taste of Madison last weekend, where people were also willing to wait in long lines. Customers repeatedly asked her when could find it again, and she told the Willy Street Fair this coming weekend.
Jakarta Cafe continues to evolve. When Maggie and Dewi Jingga decided to start a second cart under Dewi's leadership, they intentionally chose a very different cuisine — a barbecue cart serving ribs and wings, appropriately named "Jakarta Barbecue Station" — so that they could vend at the same events and set up next to each other.
The Jingga sisters are very close, Maggie said. When she moved from Indonesia, she didn't know many people when she came to the U.S. Their parents also moved to the U.S., but have since passed away. They told the two to stick together.
"They left us a special message that we have to support each other," said Maggie Jingga. "We have to be a team."