Family is everywhere at El Panzon. Tucked into a strip mall on South Midvale Boulevard around the corner from Le Tigre Lounge, the restaurant opened last year as a "loncheria y panaderia," serving Mexican sweet breads and three types of cemita, a huge sandwich common in the central Mexican state of Tlaxcala.
Tlaxcala is where co-owner Anahi Rojas Muñoz grew up. She named her business in honor of her father, who owned another Madison Mexican restaurant, Antojitos San Francisco on East Washington Avenue, with his wife.
"El panzón," or potbelly, was her children's nickname for their grandfather. Abelardo Rojas Corona passed away two years before the business opened.
Rojas came to the U.S. in 1997 and worked in her parents' restaurant until it closed. She then took up cleaning work and later became a stay-at-home mom while her husband worked long hours at Culver's in Verona. Rojas would make cemitas at home for family and friends, hoping to one day make a business of it.
"I saw that my husband was working all the time," Rojas said. "I said, 'One day I'd like to have a business so that we can have something of our own, so that our children will learn how to move ahead and not always be stuck in the same position.'"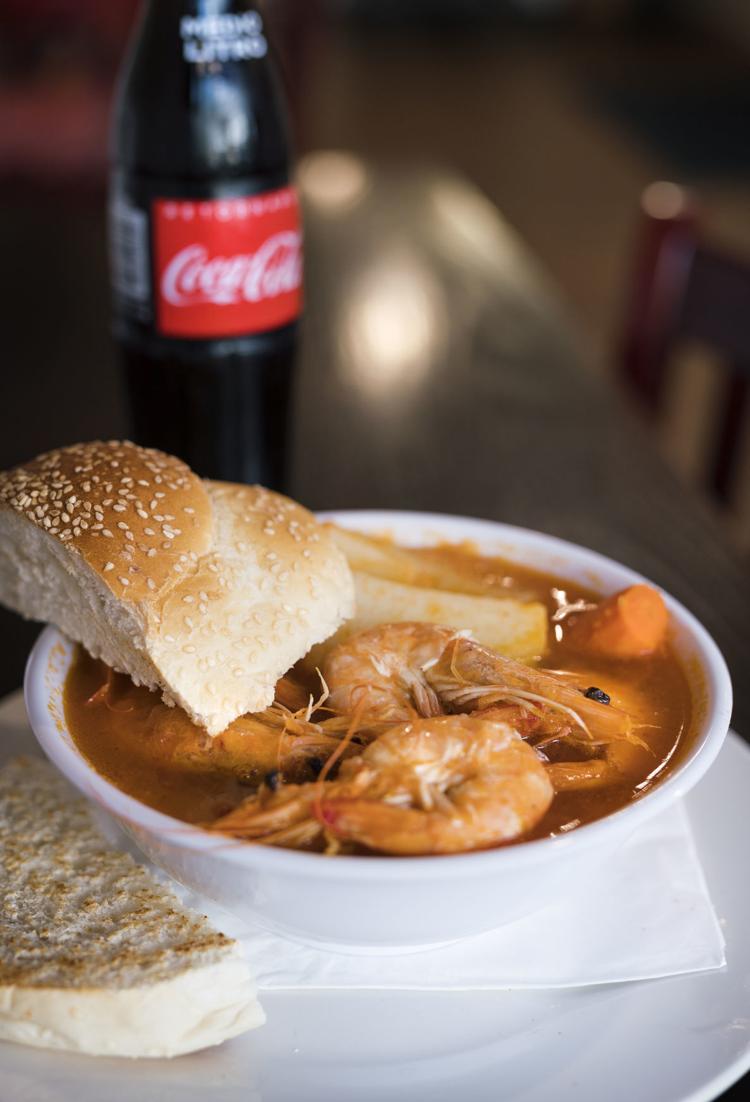 In 2018, the dream became a reality. On March 17, Rojas' mother's birthday, she and her husband, Jose Antonio Vazquez, opened El Panzon.
For months the business attracted a primarily Latino clientele, but late last year, Rojas noticed they were beginning to draw non-Latinos too.
"Lots of Americans were coming," Rojas said. "They would say, 'We saw an article in the newspaper that you have sandwiches bigger than my head.'"
The new customers didn't know how to pronounce cemitas but they'd come in holding the Isthmus story, asking for "one of these." Rojas was delighted.
While the menu is written in Spanish, Rojas answers questions in English. She calls their  14-year-old son David "our translator." He waits tables on the weekend. 
"Don't worry," Rojas said with a laugh. "My English isn't good but I try."
Meanwhile, customers began asking them to expand their limited menu, which at first offered only three sandwich options: chicken Milanese (milanesa de pollo, $11.99), pickled cow's foot (pata de res en vinaigre, $12.99), and arabe (a seasoned, Middle Eastern-inspired pork, $11.99).
Rojas and Vazquez slowly added more options — first informally, with Vazquez accommodating special requests, and later by officially expanding the menu. Six months ago, they ceased baking operations and became a full restaurant. That meant fully remodeling their space and walling off the once-open kitchen.
The restaurant's specialty, or strength ("lo fuerte de la casa") is still the cemita that got them started. These enormous sandwiches begin with a sesame-topped bun nearly as big as a plate, packed with one of 11 different meat preparations.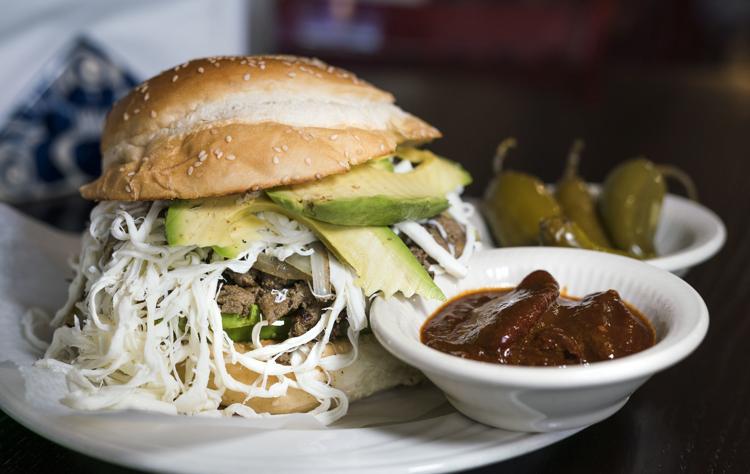 The milanesa cemitas with either chicken ($11.99) or steak ($12.99) are most popular. On the beef version, the thin steaks are breaded and fried and served with sliced ham, a touch of mayonnaise and either smoky chipotle chiles or pickled jalapeno.
No matter the meat, a few things are constant in the cemitas. Each includes quesillo, a mild Mexican cheese with a texture similar to mozzarella, and stacks of sliced avocado. Every sandwich's description on the menu lists "aguacate" and "mas aguacate" — avocado and more avocado.
The defining cemita ingredient, Rojas said, is papalo, a fresh herb that El Panzon serves on sandwiches when it's in season.
"That's when you say, 'I'm really eating a 100% good cemita,'" Rojas said. Papalo season is here, Rojas said, though rain and cold may have delayed the harvest.
Though the sandwich is enormous, it's easy to handle because the bread is thin. More surprising still: leftovers remain undiminished, barely a hint of the sogginess known to anyone who's made the sorry decision to save half a burrito. This is good news, since most eaters probably couldn't finish this sandwich in one sitting; unless you're extremely hungry, a half would do for lunch.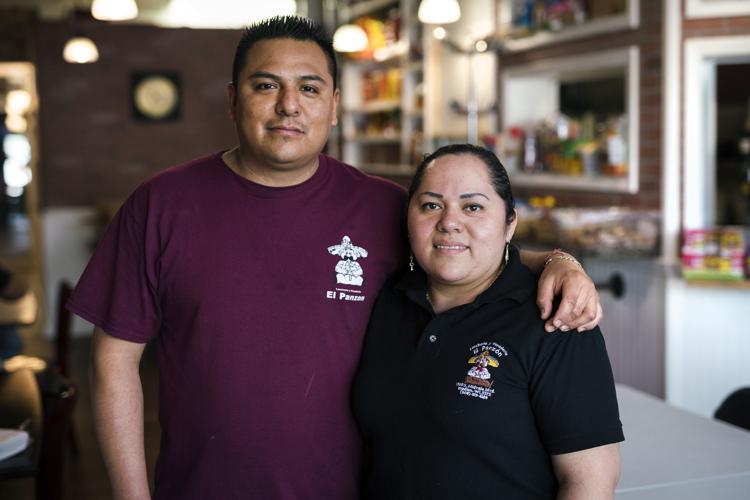 Another signature at El Panzon is arabe, a style of meat preparation common in the Mexican state of Puebla. Like its cousin al pastor, arabe is traditionally cooked over charcoal on a vertical spit from which the cook shaves off pieces, an approach inspired by an influx of Lebanese immigrants to Mexico in the 1920s.
Arabe is often beef, but Vazquez, following Rojas' mother's recipe, uses bite-sized chunks of pork. They fall from the cemita arabe ($11.99) as you eat, so you'll want a fork.
For those who can't make up their minds, the cemita campechana combines three meats (carne asada, al pastor and arabe), topped with grilled onions and pineapple. The most adventurous options include pickled cow's foot, hog's head cheese and tongue.
Another specialty is the shrimp soup (caldo de camarón, $14.99), which Vazquez, who grew up in Ecatepec near Mexico City, makes in the regional style from his mother's recipe.
The restaurant's expanded menu also includes just about every item you might expect at a Mexican restaurant, including tacos and quesadillas as well as mojarra (whole fried fish, $14.99), shrimp cocktail ($13.99), menudo (soup made with tripe, $10.99), pozole (soup made with hominy, $10.99), and the ubiquitous Mexican street corn, esquites (corn with mayonnaise, cheese and lime, $4.99).
Options for house-made aguas frescas ($4.99), refreshing drinks made with fruit, rice or flowers, rotate seasonally. In addition to a melon version, they offer jamaica, brewed from hibiscus flowers and horchata, sweet rice milk. Desserts include gelatin, flan, tres leches cake, and strawberries with cream.
One year in, sitting beside her husband in one of the half dozen tables, Rojas said she's proud of what they have created.
"It's really nice to start your own business," Rojas said. "Starting with something small, and even if it stays small forever, it's good to enjoy and be planning for our children's future, because they are our future."