Madison is anything but a dessert desert. Bakeries abound. It's boom times for chocolatiers. And with spring's arrival, ice cream shops across the isthmus have begun slinging their first scoops.
But when Arom Wichitchu went in search of sweets traditional to his native Thailand, he found the city coming up short.
That changed six months ago when Wichitchu, the owner of Sa Bai Thong, was approached by his business partners, sister-in-law Taratip Buchli and Maihoua Xiong. Their aim was simple: build something to fill the gap.
"At some point, we were thinking, oh, we did not see any dessert, Asian dessert around," Wichitchu said. "We did not see (those kinds of) desserts around here a lot. And then we think this should be something that would be very, very good for people to have and try to explore it and taste it."
Enter Bambu, opened in mid-April at Hilldale Shopping Center. 
The first storefront in Wisconsin, Bambu (550 N. Midvale Blvd.) is one in a small line of national franchises making Southeast Asian dessert drinks, coffees and teas. Menu items include treats like Vietnamese coffee, smoothies, milk teas, mochi and waffles made with chewy, aromatic pandan jelly.
The star at Bambu is the Vietnamese dessert chè.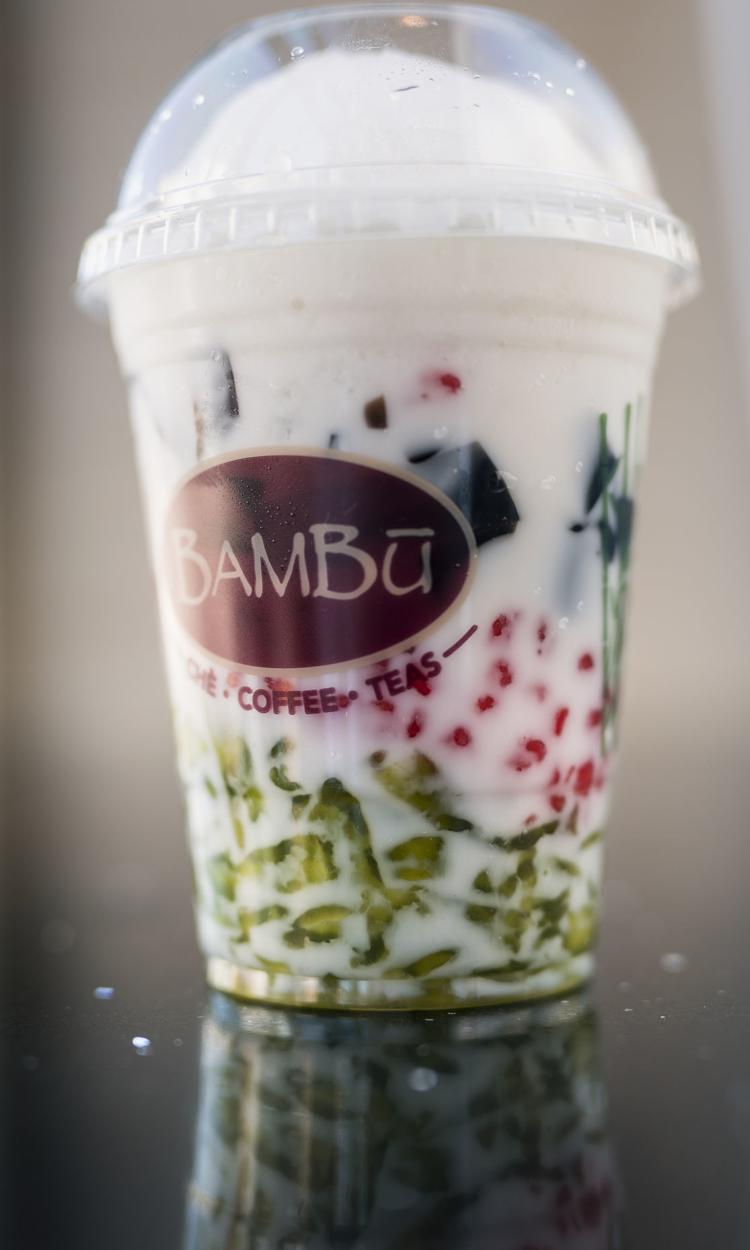 Chè is a category of desserts that encompasses puddings as well as iced beverages. Bambu focuses on the latter. Similar to tapioca pearls in bubble tea, chè begins with layers of colorful jellies flavored with Southeast Asian botanicals such as pandan, sweetened beans or tapioca.
Some iterations are scattered with syrup-soaked basil seeds, fleshy coconut meat or fruits like jackfruit or longan, a tropical fruit similar to lychee. The drink is finished with a blanket of coconut milk or water and topped with shaved ice.
The result is a feast for the senses: lush and vibrant in look and taste, with springy, chewy textures from the jellies. The beverage is meant to be admired briefly, Wichitchu said, then quickly mixed to meld the syrupy layers with the coconut topping.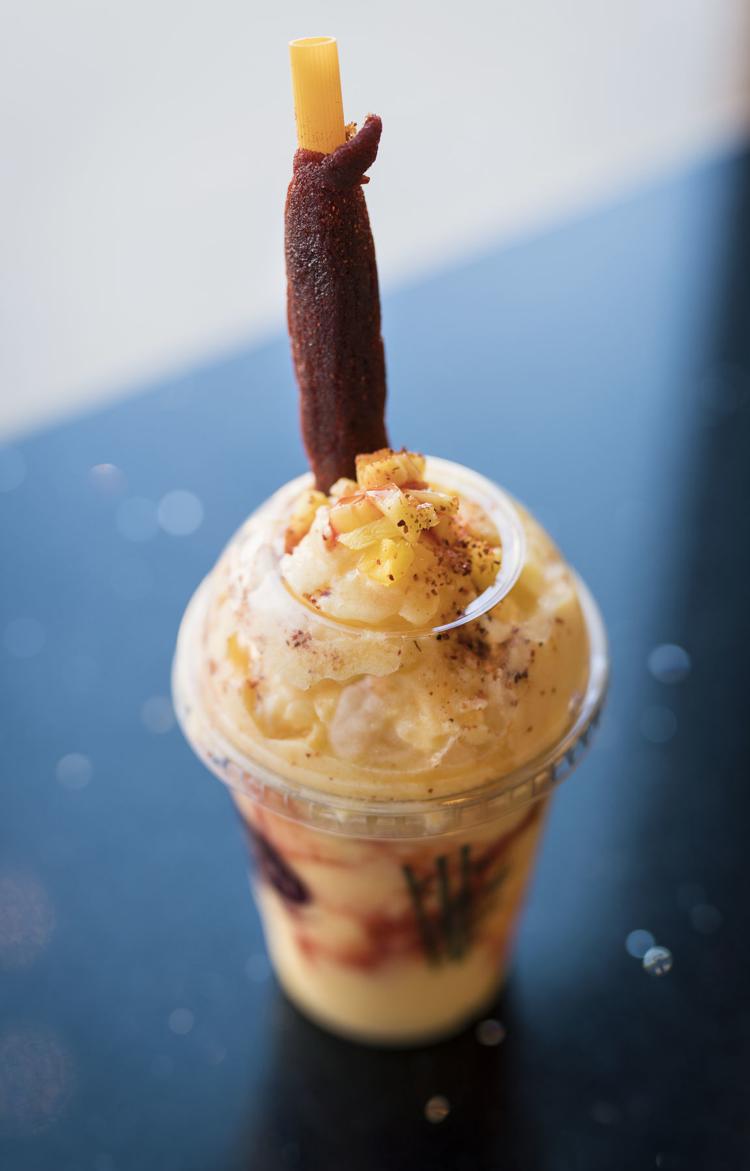 The drinks at Bambu benefit from the freshness of their ingredients: The boba and jellies, prepared in house daily, are flavorful and fragrant but not overly saccharine. Young coconuts are broken down by hand before each day's service, Wichitchu said, and the resulting milks and waters have a rich, toasty quality. Flavors are balanced and bright, and though the chè are indeed filling, they don't feel weighty or overwhelming.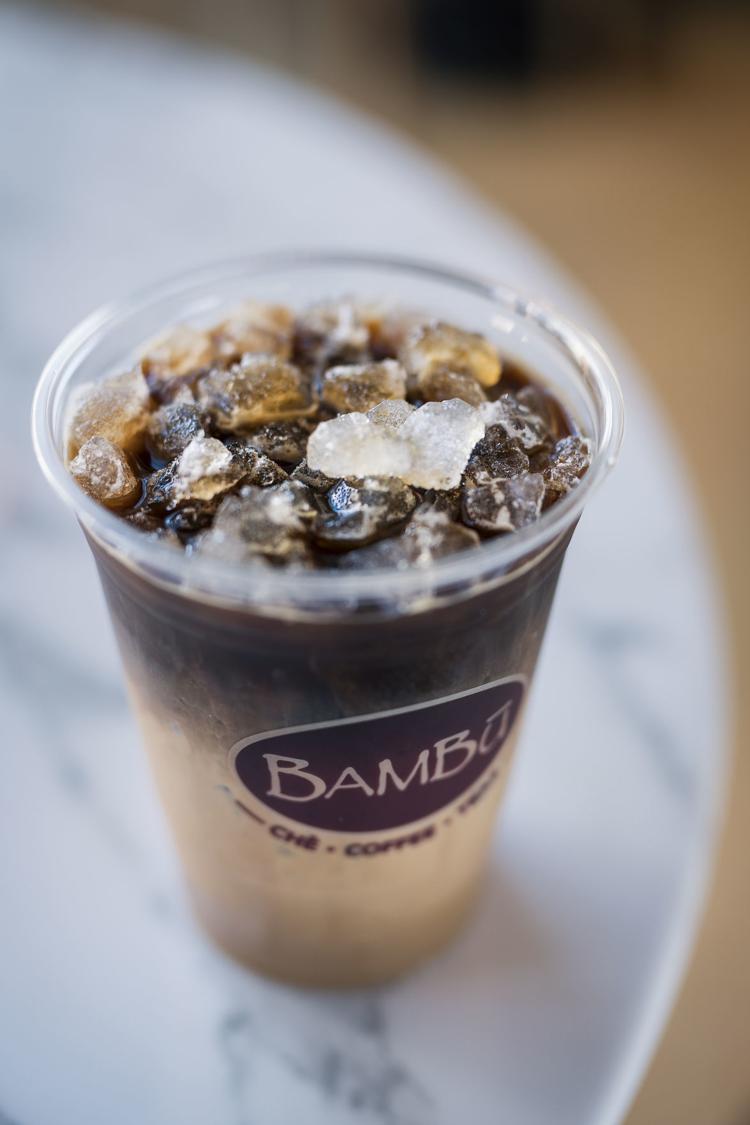 Bambu's chè range from the vibrant and complex Bambu Favorite ($6) to the fruity and floral Taro Lover ($6). The shop also has a create-your-own option (starting at $6.50). Wichitchu encourages customers to experiment with variables like sweetness or toppings.  
"We just try to offer something that I think maybe people will like, but you get a choice," Wichitchu said. "And then you can change it, whatever you like. You just pick what you like."
While many items on the menu are dairy-free by design, customers may substitute for non-dairy creamer, soy or almond milk for dairy-based beverages. Caffeine-free options are also plentiful.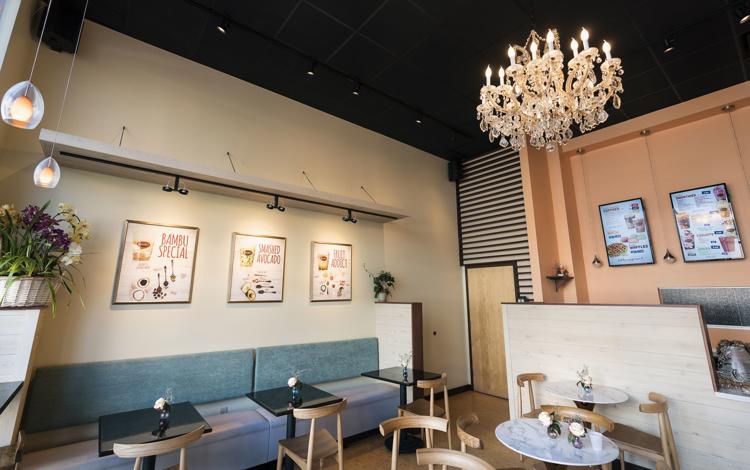 Bambu's storefront, sandwiched between Muramoto Hilldale and Gigi's Cupcakes, also aims to please. Decorated by Buchli, the interiors are airy and open, with high ceilings anchored by a vintage chandelier. A garden setup, complete with miniature waterfall, greets customers at the door, setting a tranquil tone for the students, shoppers or post-dinner guests who gather there.
With the arrival of summer, Wichitchu hopes to add outdoor seating for optimal people-watching. He's looking ahead to fall, kicking around concepts for hot drinks better suited to autumn's chillier temperatures.
In the meantime, though, Wichitchu's goals for Bambu are uncomplicated.
"I hope people can come and enjoy the meeting place," Wichitchu said. "I hope people enjoy the place and enjoy the drinks and enjoy the desserts."