It clearly made an impression. Last week, Neal started frying up chicken, Nashville-style and otherwise, for pickup and delivery out of his restaurant, The Tin Fox at 2616 Monroe St. He's calling this new "sister project" The Angry Rooster.
The Tin Fox has been open less than a year, but the addictive Nashville fried chicken trend still has some heat to it, and Madison is an untapped market.
The Angry Rooster launched Dec. 5 in The Tin Fox kitchen with Neal and one other employee cooking up the chicken, which customers can call to pickup or order via EatStreet delivery.
"Day number two of this delivery service has been pretty fun to experience with the minimal PR that we did," Neal said. "It's already taken off, which is really neat."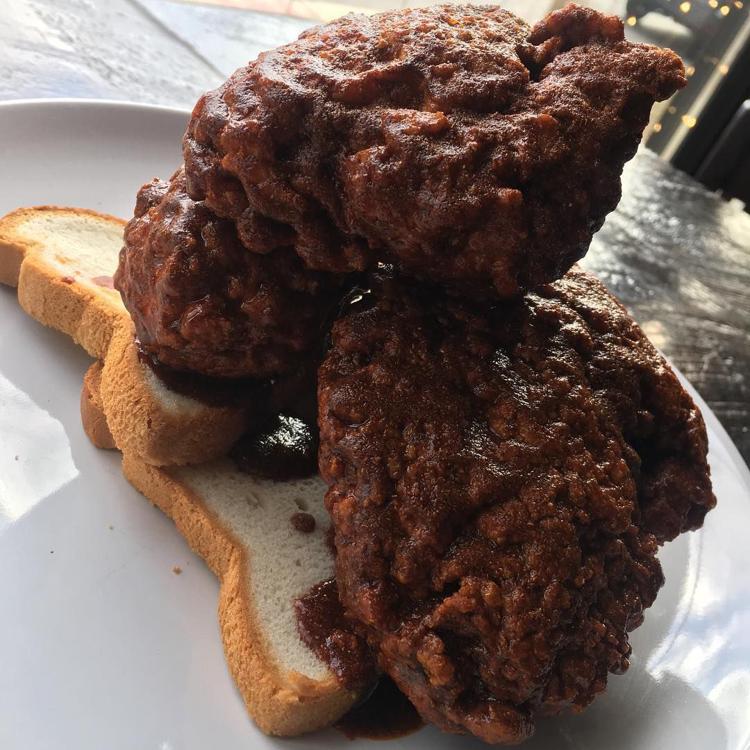 The Tin Fox took over the former Freiburg Gastropub space and is run by the Neal family, including chef Justice Neal, his wife Berenice Fragoso-Ayala and his parents Marissa and Greg Neal. It labels itself "New American fare" and serves dishes like pancake-battered cheese curds, a smashburger, crab cake po' boys and beef short ribs.
The Angry Rooster is a more approachable alternative to the "higher end" Tin Fox experience, Neal said. Fried chicken seemed like a perfect way to experiment with his passion for Southern food. 
The Angry Rooster's small menu offers fried chicken of different flavors (two pieces for $7, four pieces for $13, 10 pieces for $34). Sides range from $3 to $6 and include cheddar grits, cornbread, coleslaw, mashed potatoes and gravy, Southern baked beans and biscuits.
The Angry Rooster specializes in Nashville Hot chicken, Neal said, but also offers Carolina Gold, Southern Fried, Mommas BBQ, Honey Butter and XXX Hot. Everything is made in-house and it's all gluten free — chicken, biscuits, bread and all.
 

A post shared by The Angry Rooster (@theangryroostermadison) on Dec 7, 2018 at 1:21pm PST
Monroe Street has become a gathering place for the gluten-intolerant; Neal said about 75 percent of the Tin Fox menu is already gluten free. Before it closed, Jacs Dining and Tap House across the road had a gluten-free menu. Bloom Bake Shop further down Monroe has a bakery case of gluten-free and vegan treats.
At Angry Rooster, Neal marinates the chicken in buttermilk, Tabasco, salt and pepper for 24 hours, then dredges it in a gluten-free flour mixture. Then he repeats the process, putting the chicken back in the marinade and back in the flour before it's fried in lard.
Nashville hot chicken prides itself on being punishingly hot; it claims its origins as a revenge dish for an unfaithful man. Traditionally, cayenne pepper packs the punch, but Neal adds garlic powder, onion powder and a pinch of habanero powder. Once the chicken is done cooking, he mixes the dry spices with hot lard and slathers it on. Neal said that based on talking to people who've tried the real Nashville hot chicken, "mine is on the much more mild side."
This is the type of spice that immediately gives me the hiccups, but the Nashville Hot chicken was also tame enough for me to pick all that deliciously seasoned meat off the bones.
If you are really searching for a punishment for a cheating partner, may I recommend the XXX Hot chicken?
It was out of pure hubris that I didn't think twice about ordering and eating this chicken, which is explicitly labeled "Extremely Spicy." It was way out of my spice range, and I regret feeding this to my husband, who, for the record, has been faithful and also has a lower spice tolerance than me. Taking a solitary bite of this chicken — which I later found out is dusted with ghost pepper, cayenne and habanero powder — basically killed him.
"It's like you turned a skillet on max and held my tongue there," he said.
The spice-averse should try milder flavors like the Honey Butter or Carolina Gold chicken. The Honey Butter magically tasted like chicken and waffles, though there were no waffles to be found. When Neal told me the sauce is literally just butter and honey, it blew my mind. It tasted like waffles!
The Carolina Gold is glorious Dijon and yellow mustardy goodness, and all of the chicken was perfectly fried. Neal said that because it's not made with with standard flour, the chicken isn't as flaky as traditional fried chicken, but I had zero texture complaints.
Hot chicken has been popular in Nashville's African-American neighborhoods and restaurants for decades. An origin story from around the 1930s says the chicken was the invention of a woman attempting to punish her man, Thornton Prince, whom she suspected of cheating on her. She cooked him fried chicken for breakfast, but dumped on the spices.
"Without noticing the devilish amount of peppers and spices she had sprinkled on the chicken, Prince dug in," Prince's website reads. 
The legend goes that Prince ended up loving it and opened a restaurant (today called Prince's Hot Chicken Shack) dedicated to the daredevil dish.
The trend has crept into the Midwest, with a few Milwaukee restaurants and the Chicago-area chain The Budlong Hot Chicken. As it migrates north, the chicken may not pack the same punch.
"The dish's drop in temperature is almost as drastic as the weather's," wrote Matt Mueller, culture editor for OnMilwaukee, in a review of the dish at O Yeah Chicken and More.
In the next few months, The Angry Rooster may hold pop-ups at the restaurant on Mondays, when The Tin Fox is closed. Neal may eventually add more to The Angry Rooster menu, like barbecue ribs. Asked if he would ever expand The Angry Rooster into its own restaurant, Neal said it's "up in the air."
"The sky's the limit. I think if the demand is there, it might be something we would look into," he said.