Jason Kreutzer had one condition when longtime Brennan's Market manager Tim Mulcahy hired him to run the expanded deli and meat counter at Brennan's Cellars on Watts Road.
"As soon as Tim contacted me, I said, 'There's one guy I have to have with me,'" said Kreutzer. "We're kind of like an old married couple."
That guy is chef Adam Naumann, a fellow meat connoisseur and former employee at the business Kreutzer owned on Whitney Way from 2003 to 2009, Artamos Specialty Meats and Deli. They have a similar mindset when it comes to meat, Naumann said — to "preserve Old World techniques" while staying current with food trends.
"Adam and I have been talking for years about having a meat market with a restaurant," Kreutzer said.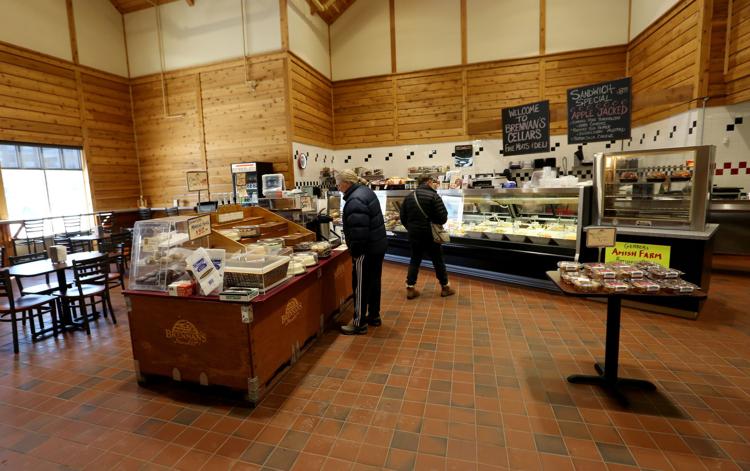 Since Brennan's Cellars rebranded and reopened Dec. 1 with its own in-house meat counter and deli, Kreutzer and Naumann have a chance to do just that. (Previously, Jacobson Bros. ran the meat counter and deli).
Brennan's Cellars is the new incarnation of the popular specialty grocery. The bigger deli setup, with the addition of a full kitchen serving to-go orders and a 20-seat cafe, is key to Mulcahy's business model to attract a broader audience into the market. Mulcahy bought Brennan's after the previous owner shut down all five Brennan's Market locations in southern Wisconsin last summer.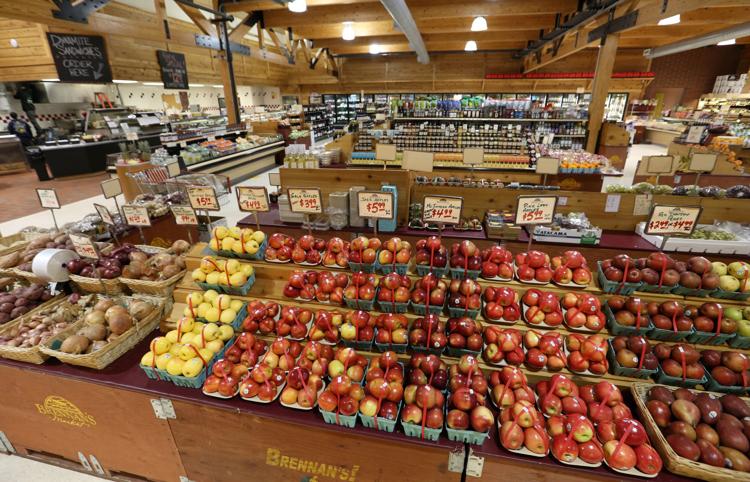 The rest of the market looks much the same as its predecessor, with fresh produce, specialty products like the popular Brennan's-brand Sweet & Hot Pepper Relish, and a large selection of cheese, wine and beer. Mulcahy said he has no current plans to open more Brennan's Cellars in the area.
In the coming months, Naumann and Kreutzer will start offering catering, daily fried chicken, a Friday fish fry with wild-caught Alaskan cod and educational wine pairing dinners.
In the meantime, they're focusing on deli sandwiches and a hot bar with a rotating menu of sides, entrees and meats, including mac 'n' cheese ($5.99/lb.), sliced meatloaf ($5.99/lb.) and shredded meats like Carolina barbecue pork and hickory-smoked chicken ($7.99/lb.).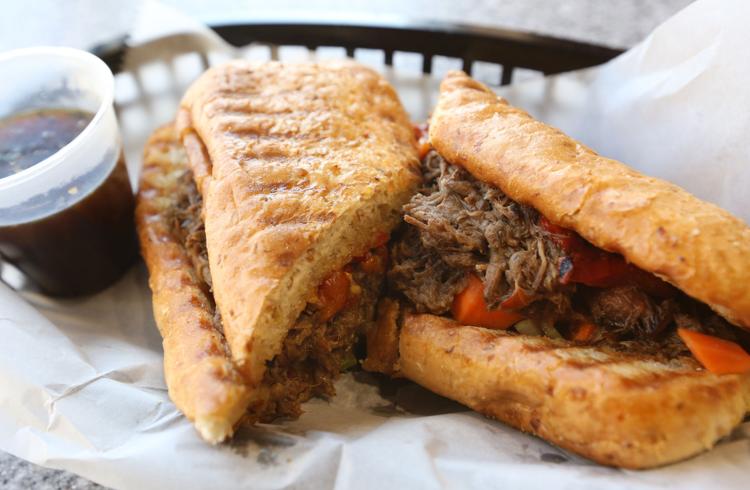 The Brennan's Cellars kitchen has an electric smoker that can handle up to 120 pounds of meat at a time. Kreutzer said he loves smoking meat.
"The first smoker I made at home was made out of two terracotta flower pots," said Kreutzer, 38, who's been working in or running butcher shops since high school, including 17 years at Jacobson Bros.
Brennan's Cellars' star sandwich, advertised on a sign outside as "the best in Madison," is the Cuban ($7.99). It was inspired by the Cuban sandwiches that sustained Naumann, now 34, while he was studying at a music college years ago in Tampa, Florida.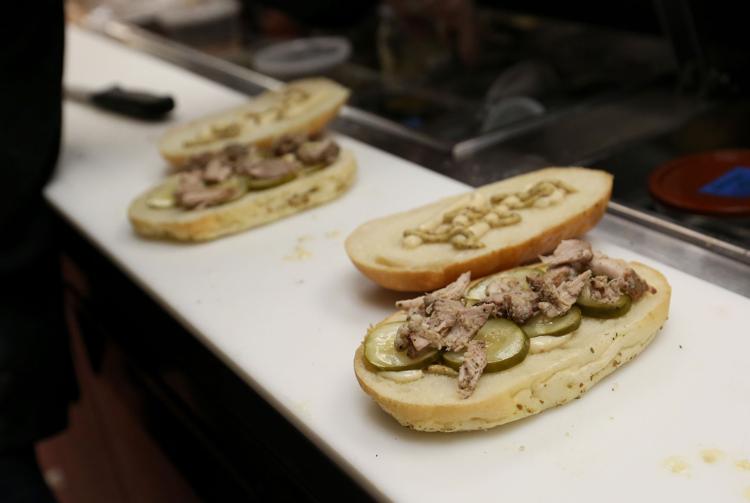 To demonstrate how big the sandwiches were, Naumann held out his hands wide like he was carrying a moving box.
"That's why I ate Cubans," he said. "It was such a good deal down there. I grew a pretty big fondness for them."
To make his version, Naumann starts with smoked pork rubbed down with "tons of black pepper and coriander, fresh lime juice, garlic and salt." This goes onto a roll with garlic aioli, mustard and Deppler's Baby Swiss.
Before Naumann closes the lid on the roll, he adds a layer of shaved salami. That's a deviation from the traditional recipe, but the Cuban Naumann loved in Tampa had salami.
"It just adds to the all-around porkiness," he said.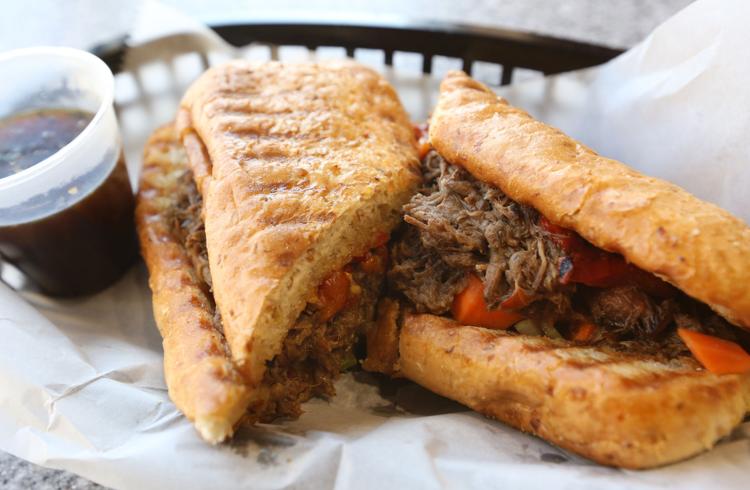 He ladles clarified garlic butter on top of the roll, then presses the sandwich into a hot plancha press — similar to a panini press but with a smooth instead of corrugated surface.
A soak of that melted garlic butter goes on the hot Italian beef sandwich ($7.99), too. Naumann grills the roll, then fills it with beef that he's braised overnight. This joins soft, sweet roasted red peppers and a crisp giardiniera that he pickles every three days.
Diners can eat the sandwich "dry" or dunk it au jus-style in a side of braising juice. To eat it like a Chicagoan, ask for it dipped.
"They're gonna pull it out soaking wet," Kreutzer said.
"It doesn't look great but it tastes awesome," Naumann added.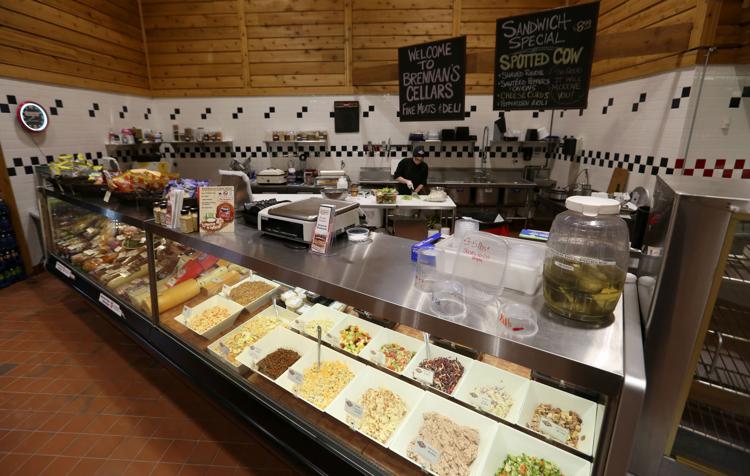 Brennan's green chili ($5.49/lb.) with chicken and kidney beans gets its name from tomatillos and "just a ton of fresh herbs," Naumann said. For every three gallons of soup, he adds 10 bunches of cilantro and parsley, plus celery leaves to brighten and amplify the other flavors.
Sandwich-loving vegetarians aren't out of luck at the Brennan's Cellars deli. Naumann makes five varieties of grilled cheese on sourdough ($5.99), only one of which has bacon. He and Kreutzer plan to enter the "Bucky Basil" in the 2018 Wisconsin Grilled Cheese Championship in April. It's filled with Brennan's Farmer Basil cheese, marinated tomatoes and arugula.
To re-introduce the market to shoppers, Brennan's Cellars will host a grand opening celebration on Super Bowl weekend. Friday through Sunday, Feb. 2-4, will feature wine, beer, cheese and "meet the maker" tastings as well as deals on fresh cheese curds and sliders.