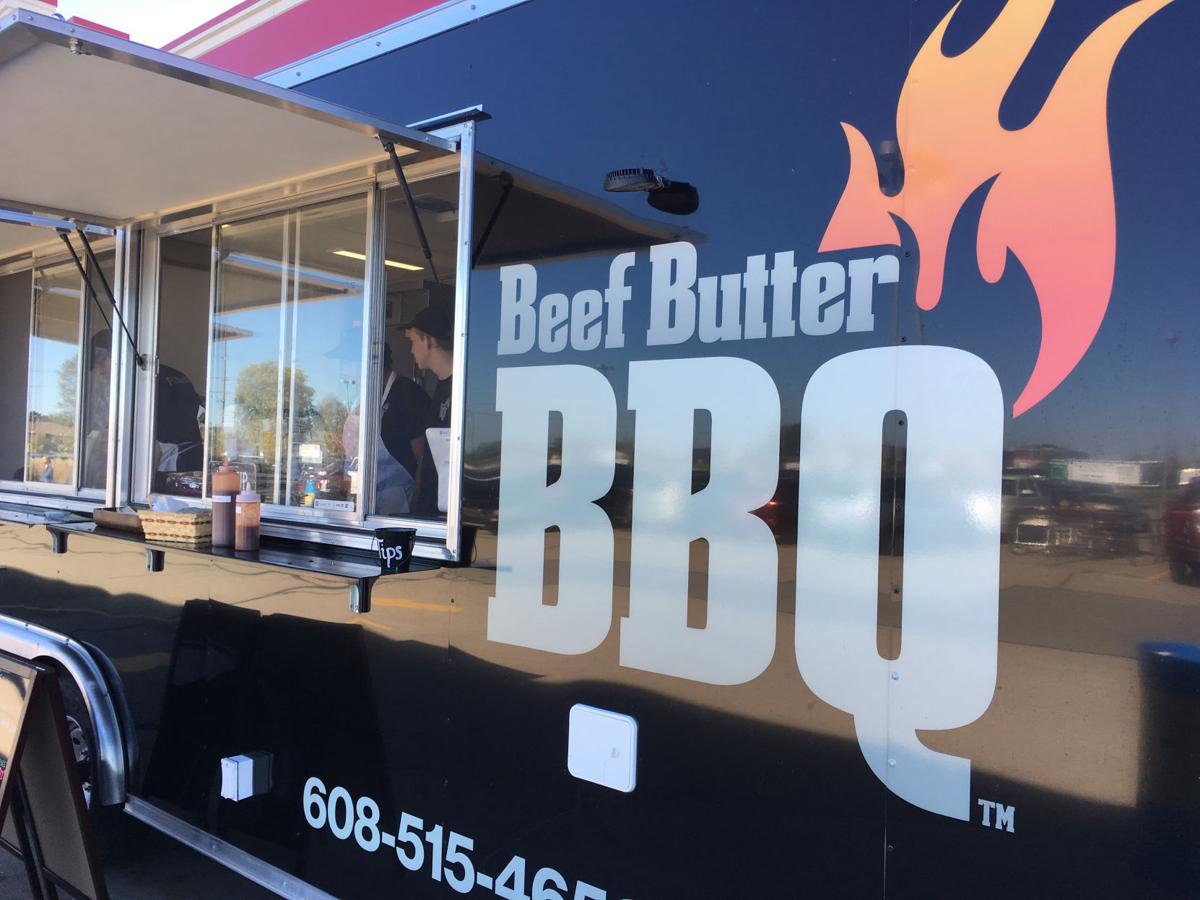 Patrick Riha did not plan to start a food truck specializing in barbecue. Beef Butter BBQ happened, as he tells it, after a reconnaissance trip to Texas.
As a marketing executive, Riha was already an expert in sales. He'd been living in Chicago for 20 years, eating out at least five times a week. Riha developed a fascination with restaurants — particularly niche establishments that drew critical raves and crowds clamoring for a reservation.
Intrigued, Riha booked a flight to Texas and waited in line for four hours to try the restaurant's signature melt-in-your-mouth brisket. After his meal he was hooked.
"The food was worth the wait and then some," Riha said. "From that moment I knew I needed to bring real Texas barbecue to Wisconsin. I wanted to blow people's minds."
Beef Butter BBQ launched in July and vends most weekends in the parking lot of the Woodman's in Sun Prairie from 10 a.m. until 2 p.m.
The name, Riha said, is Texas slang for retaining just the right amount of fat in smoked meat to make it moist and delicious. He summed up his formula for success like the marketer he is: "Fat + salt + sugar = sales."
For lean and fatty brisket, Beef Butter BBQ's most popular proteins, Riha starts with beef from UW Provisions, seasons it with salt and pepper, then smokes the brisket for 12 hours using a mixture of wood pellets and seasoned oak.
"It will change the way you think about barbecue," said Riha. "I have had people who spent 20 years in Texas tell me that this brisket is the best they have had."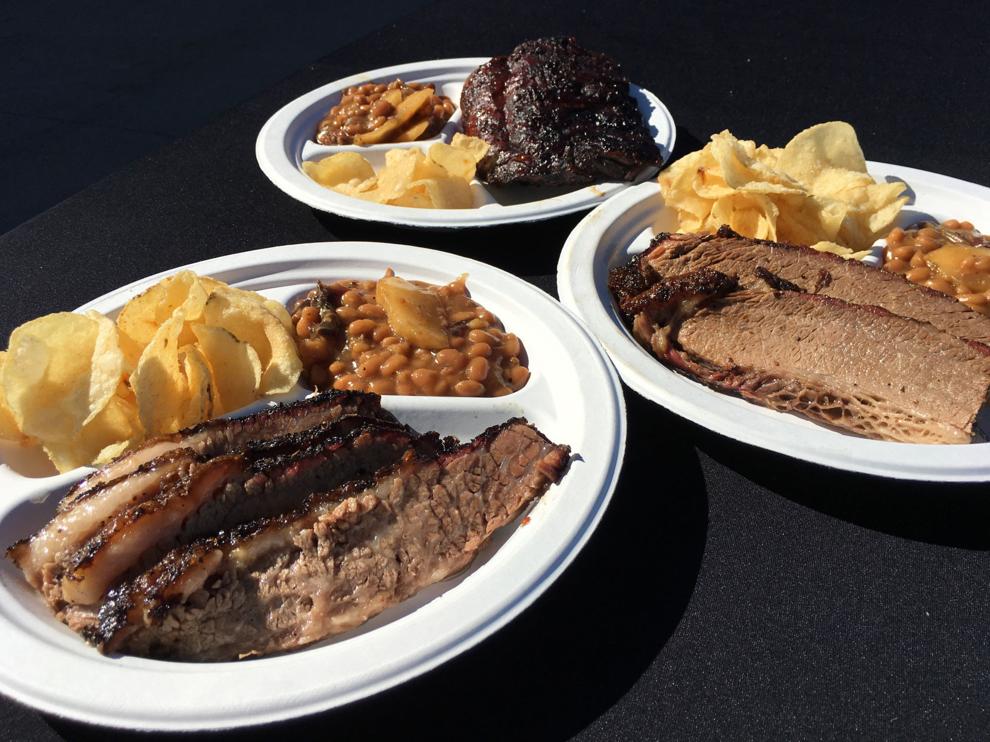 Smoked pulled pork, pork ribs and chicken thighs are sold by the pound or as a meal with two side dishes.
Recently Riha also added to the menu a jalapeño and cheese bratwurst from Jim's Meat Market topped with pulled pork. Two homemade barbecue sauces are available to add sweetness and zip to any of the dishes: Sweet Amy's sauce, a basic vinegar-forward recipe, and a spicy version amped up with extra cayenne.
Vending in front of Woodman's in Sun Prairie, the aroma of smoky ribs and pork greets consumers long before they reach the counter of Beef Butter BBQ. On a recent visit, the dishes were just as delicious as they smelled — perfectly seasoned and full of flavor that can only be achieved after a lot of time and care. Portions were generous, and the meats are so beautifully cooked it was hard to pick a favorite. Fortunately, you can ask for samples from the staff before making your final decision.
After eating dry or overcooked ribs in other restaurants, the Beef Butter BBQ ribs were a revelation — tender, juicy, and glazed with just enough fat to amplify the flavor ($10 for a dinner).
Similarly, both types of brisket erased memories of tough, chewy, dry brisket I've had elsewhere. The lean version was dense and meaty, with a distinctive red "smoke ring" on the edge of each slice. The fatty version was also delicious, with extra marbling. Like good braised pork belly, the fat on the brisket added flavor ($17 per pound, $12 for a dinner).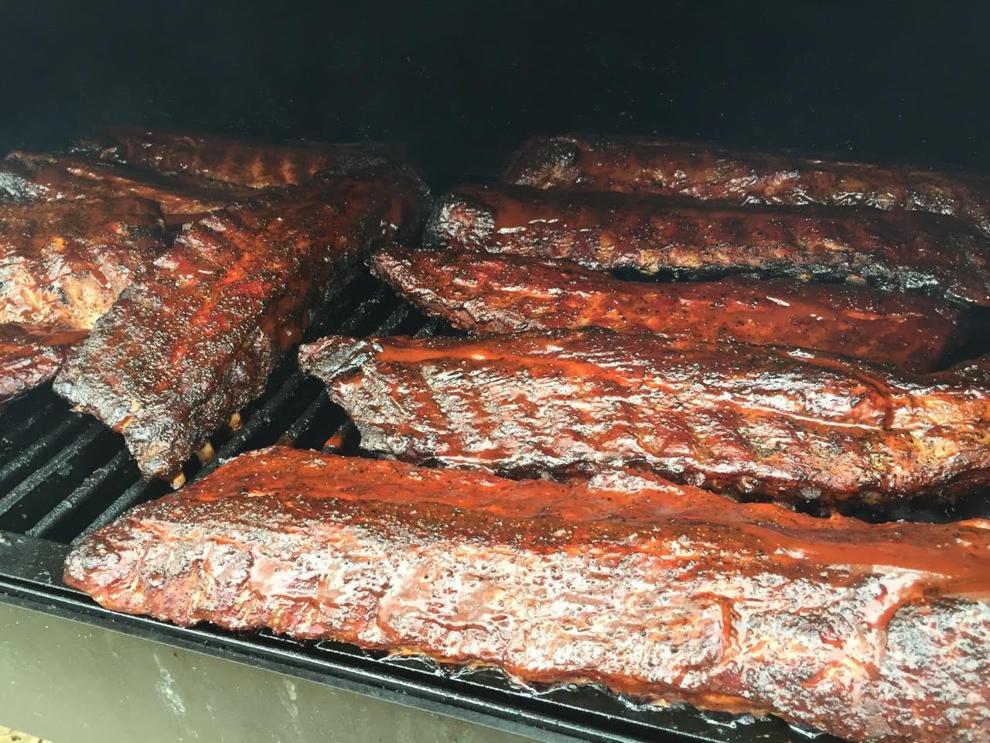 Skinless boneless chicken thighs held their own with the red meat options, taking on a bronze color after 12 hours in the smoker ($14 per pound, $10 for dinner).
For a hand-held dish, the "green and gold" brat piled high with pulled pork was a festival of meat, and for $10 felt like a steal. The sheer height of the sandwich made it hard to get all the ingredients in one bite, but eating from the top down turned out to be a great approach.
Sides at Beef Butter were simple but undeniably tasty — the beer flavored kettle chips added extra crunch and salt to our lunch, along with a bitter, hoppy note.
On the sugary end of the spectrum, apple pie baked beans were an unlikely but excellent complement. It combined traditional baked beans, bits of brisket and large sliced apples that had been stewed in sugar and cinnamon. These beans tasted like the best dish you could ever take to a picnic potluck.
A certified commercial kitchen, Riha's operation is too big to vend on the Capitol Square, which limits the size of carts. Still, Beef Butter's size gives Riha a lot of flexibility for catering special events.
The truck has already gained a following and Riha is pleased with the catering jobs he's secured, mostly through positive word of mouth. In the coming months he'd like to grow the catering side of his business and develop additional recipes for barbecue sauce.
This Thanksgiving, he'll be smoking a lot of turkeys — 40 to benefit a local nonprofit, and a dozen or so for his neighborhood.
"I make one turkey for my family and invite all our neighbors to bring theirs over to put in the smoker," Riha said, smiling back at his rig. "I've got plenty of room!"