The inspiration behind Surya Cafe, a new vegetarian restaurant open since April at Perennial Yoga in Fitchburg, started with a crop of potatoes in Australia.
In 2013, Lauren Montelbano, chef at Surya, was winding down her 20s working in retail merchandizing at a department store in Portland, Oregon.
Disillusioned and bored, Montelbano, now 33, was looking for a career change. Life had to have more purpose than the "shallow industry" of retail, she thought.
So Montelbano left her job, her boyfriend and her friends and moved to Australia through a farm-placement program for international visa-holders.
"They teach you how to muster (herd) cattle, use a chainsaw, drive a tractor," Montelbano said. "They guarantee you a job for a year."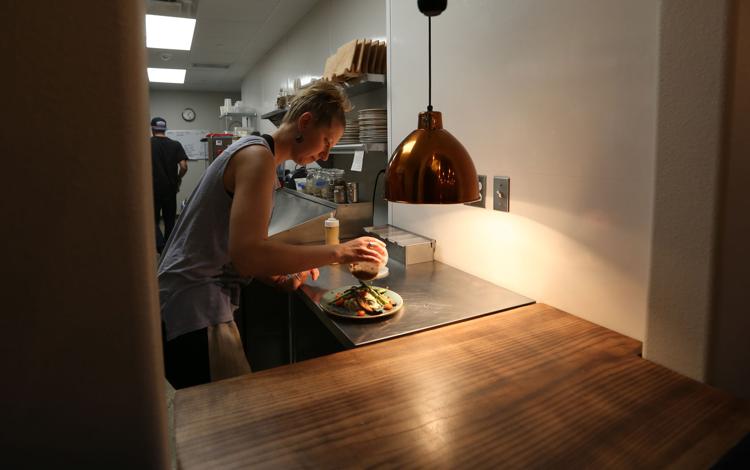 She picked an organic vegetable farm, and the first thing she grew was potatoes. She planted them, watched them grow and then cooked them for her host family. That's when she had an epiphany.
"It was one of the proudest moments of my life for me to be involved in that entire cycle," Montelbano said. "That's when I knew that cooking and food were my next path."
There was one part of the food cycle missing from her education: meat. A vegetarian since the age of 18, Montelbano decided to test her convictions. For her next farm placement, she chose one of Australia's largest beef producers, a 30,000-head cattle ranch.
"I was in the middle of the outback cooking beef three times a day for a bunch of cowboys," she said.
Not wanting to shelter herself from the full experience, she participating in butchering the animals, too. That reaffirmed her commitment to eating a vegetarian diet, and she now follows a vegan diet.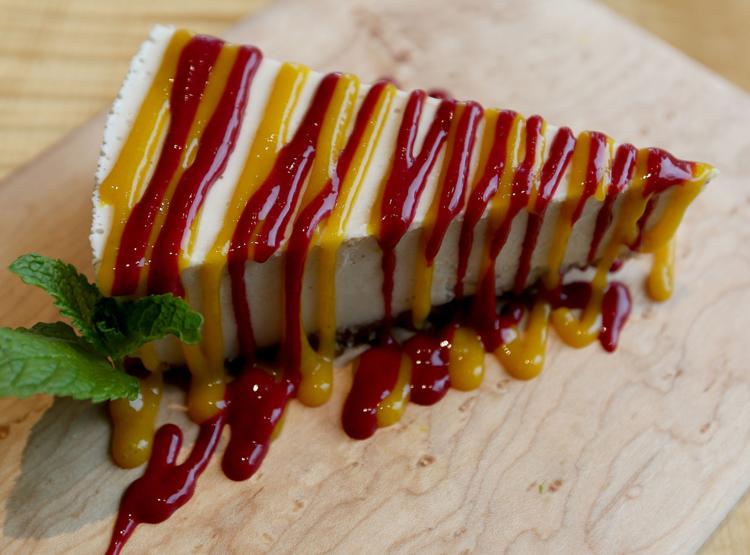 The Surya Cafe menu is vegan too, almost exclusively. But there are no labels or dietary buzzwords. The cafe advertises itself as "nourishing plant-based cuisine" and leaves it at that.
"I feel like putting titles on everything is redundant," Montelbano said. "I want our food to be approachable for everyone.
"Everyone's going to have opinions about the best way to eat," she added. "My opinion on that is, 'Listen to your body.' I don't want to push my values on anyone. That's not my place as a human or a chef."
Since opening, Surya Cafe has expanded from breakfast and lunch to dinners, and it's open to walk-ins and yogis alike. Perennial Yoga students can place an order for food to be ready when they're done with class.
"Surya" is Sanskrit for sun, and Meg Sirchio, owner of Perennial Yoga, likes to think of her yoga studios in orbit around the restaurant.
"In yoga, the sun is what gives us life force, or prana," Sirchio said.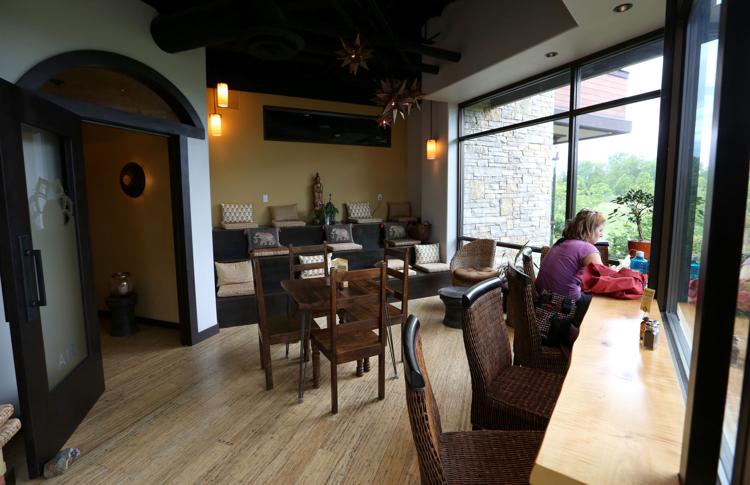 An on-site restaurant has always been at the back of Sirchio's mind since she opened Perennial in 2012, and she included plans for it when expanding the facility last year.
She was close to giving up on that plan when Montelbano wandered in and signed up take a yoga class last fall.
It was fortuitous timing. Montelbano, who grew up in Mazomanie, had returned from her travels to the Madison area and spent time in the kitchens at Oliver's Public House and Green Owl Cafe, Madison's vegetarian restaurant.
Her ears perked when she heard Sirchio mention the cafe.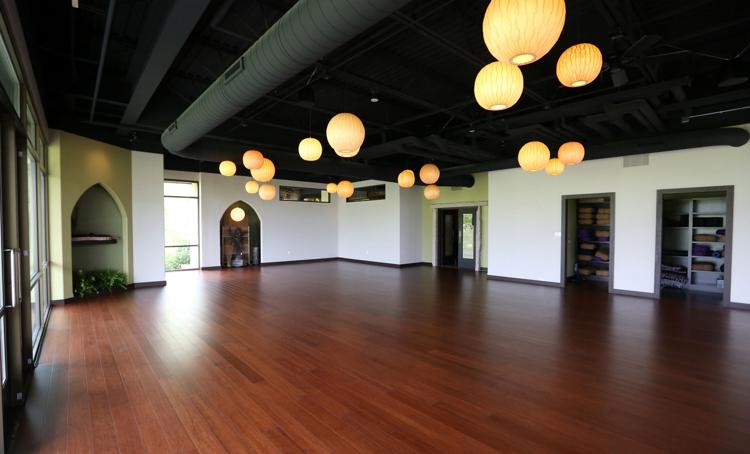 "We had a two-hour conversation. After that I pretty much had the job," Montelbano said.
Montelbano developed Surya's recipes from her experiments and from cooking classes she took in India and Thailand.
"I learned that cooking does not necessarily have to be about precision and technique," Montelbano said. "The women and men I learned from were all about intuitive cooking."  
"One of the women who taught me how to make masala dosa didn't even speak English. She would take my hands and move them in the motions they needed to move in."
Surya's menu includes dishes like the Abundance Bowl($12), a brown rice pilaf with shiitake mushrooms, kale, broccoli, Asian slaw and pickled red onions, topped with creamy ginger-miso dressing and sesame seeds.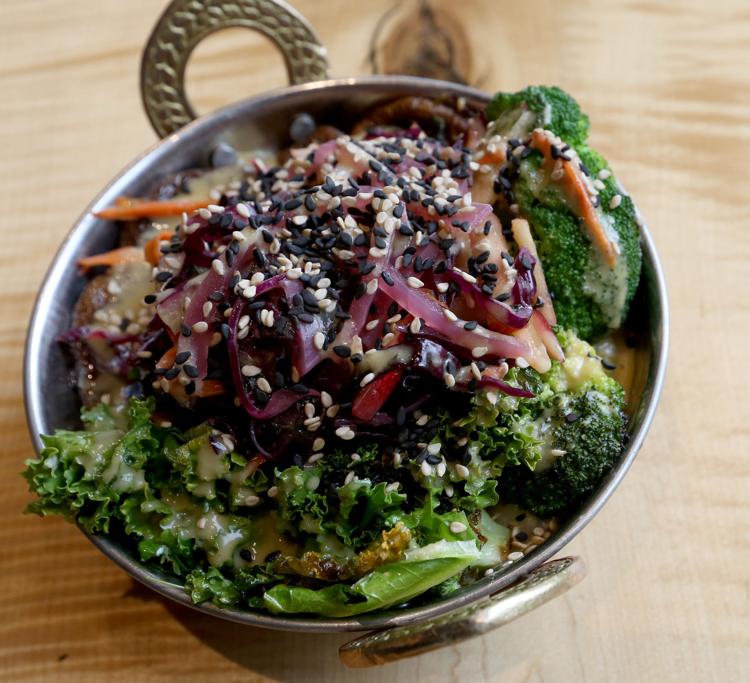 Smoothies ($8-$9.50) incorporate ingredients like spinach and mango, dates and coconut milk and, in the kid-friendly Chunky Monkey, peanut butter, banana and cocoa powder.
There are snacks for hungry yogis, like a "peckish platter" ($5.50) with nut butter, veggies and hummus, and samosa tartlets made with a quinoa-cauliflower crust ($6.50).
The only non-vegan exceptions on the menu are optional milk and yogurt. Montelbano bakes a breakfast quiche ($9) with eggs from her backyard ducks, Lucy, Wanda and Jewels. Duck eggs are bigger and richer than chicken eggs, with larger yolks.
"I have eaten their eggs in the past out of curiosity, just to see what my ladies do," Montelbano said.  "Since they just lay eggs intuitively and I don't eat them, I wanted to share them with everyone else."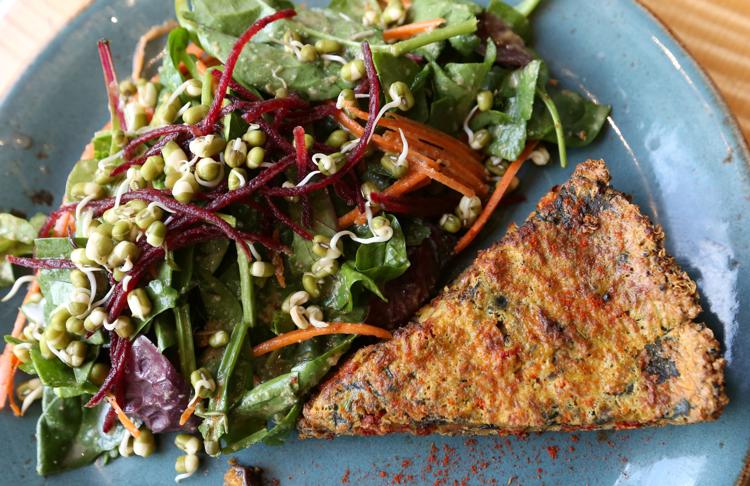 Standout dishes on the dinner menu include a garlicky and ultra-creamy zucchini noodle alfredo made with cashews topped with thick spears of asparagus, strips of portabella mushrooms and crunchy pecans ($13). Surya garnishes a sunflower beet burger ($12.50) with caramelized onions, radishes and avocado.
Nuts and seeds appear in nut breads, in walnut and pepita paté and on smoothies. Montelbano grinds cashews to achieve a dairy-like creaminess in raw mango-turmeric cheesecake ($6.50).
Sprouts — a "powerhouse of nutrition" — show up in many dishes, as do spices that Montelbano uses for taste as well as medicinal properties. For example, turmeric is a cancer preventative, she said, and fennel seeds act as a digestive aid and mild pain reliever.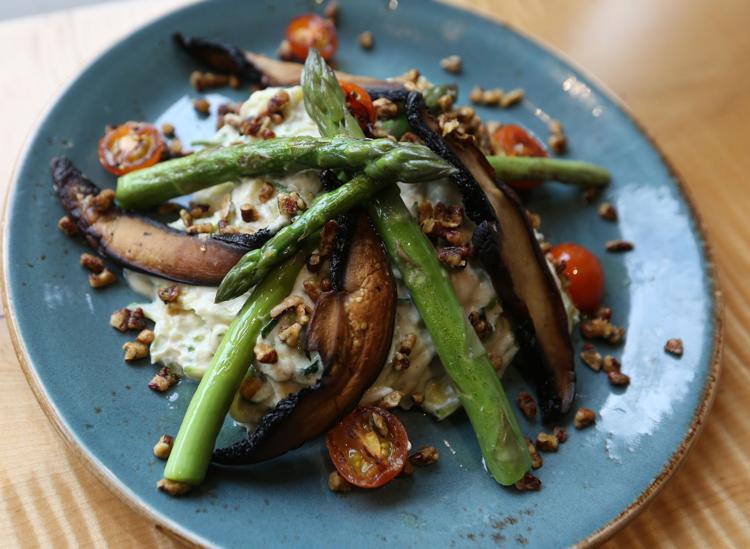 In July, Montelbano plans to start teaching cooking classes at Surya Cafe. Topics may include fermentation, desserts, how to cook vegetables and an introduction to vegan cooking.
That's why she got into cooking in the first place.
"I really wanted to come at it from a health standpoint. I didn't just want to feed people, I wanted to teach people," Montelbano said.
But though Surya reflects a deep commitment to a plant-based diet, Montelbano never wants to be preachy about it.
"If I can have people incorporate more vegetables into their diets, then that's great," she said. "I really do believe in the way that I eat and the way that I cook. ... We're all different and that's OK."