Jeff Cui was cooking food from his native Singapore for friends of both Asian and American descent at a Chinese New Year celebration when they convinced him to share those dishes with the public. 
Cui and his wife, Jessica, own Red Lion Singapore Grill & Japanese Cuisine on Cottage Grove Road, which opened about two months ago. They plan to draw customers in with foods they know while slowly introducing the dishes of Singapore as the restaurant gains a customer base.
Singapore is a sovereign city-state off the southern tip of Malaysia. Cui described it as a multicultural, multi-racial community. Singapore has four official languages — English, Malay, Mandarin Chinese and Tamil — and the food is a patchwork of flavors and spices. Chinese five spice, Malaysian coconut, Indian cumin and Filipino calamansi lime mix together in a uniquely Singaporean way. This cuisine is an actual melting pot, as flavors from diseparate cultures create a new cuisine. 
Jeff Cui worked as a pastry chef in Singapore before moving to the savory side of the kitchen. In the U.S., he spent most of his time working in Japanese restaurants. At Red Lion, he isn't sure how Madisonians will embrace the food of Singapore, so he chose to combine the dishes of his youth with the cuisine he's spent much of his adult life cooking — Japanese food.
For the Singaporean cuisine, Cui wants to introduce it "slowly, step by step, to make sure that you receive consistent food and flavors. I want to make sure everything comes out the way I want it to be and it will forever be that way." 
Right now he serves only three Singaporean dishes:Hainanese chicken, usually available on Wednesday and Thursday ($10.95), a Singapore-style curry ($10.95), and pork ribs ($13.95). The latter recipe has roots in China with Jeff Cui's grandparents, who raised pigs.
"Everyone grew up with Hainanese chicken. You get it almost everywhere. It's a must-try dish," he said.
Hainanese chicken is served lukewarm or at room temperature, something Cui said customers aren't accustomed to. The springy texture of the chicken is crucial, accomplished by poaching a whole chicken — slow-cooking it in hot water, not over direct heat, then cooling it in an ice bath. The method results in the closest Cui has been able to come to the wild chickens of Hainan that are traditionally used in the dish.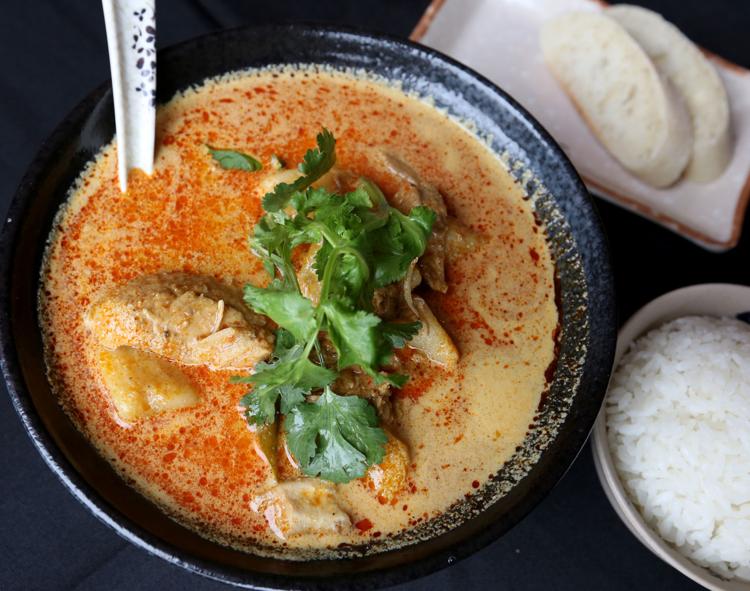 "Traditional Hainanese chicken is chicken caught wild in the fields. The meat is tender and flavorful. There's a different texture and the real taste of chicken," Cui said. "No matter what sauce you have, the chicken has to be cooked right and the rice has to be cooked right. That's the main thing."
Cui serves the chicken at Red Lion atop what Cui "chicken seasoning sauce." The recipe is a secret and most places have their own blend of aromatics and oils, but it starts with sesame oil and soy sauce. The plate is served with margarine rice, prepared with chicken fat and margarine and made fragrant by the addition of ginger, garlic and pandan leaf, a tropical plant that adds a floral aroma and flavor. Chili and garlic sauces complement the dish. 
The thick-cut pork ribs come coated in a slightly sweet, sticky sauce that cuts through some of the fat, served with steamed vegetables. There are hints of honey, soy and ginger. This plate is a good gateway to Singaporean food, Cui said, as it mixes the idea of American barbecue with the spices and flavors of his home.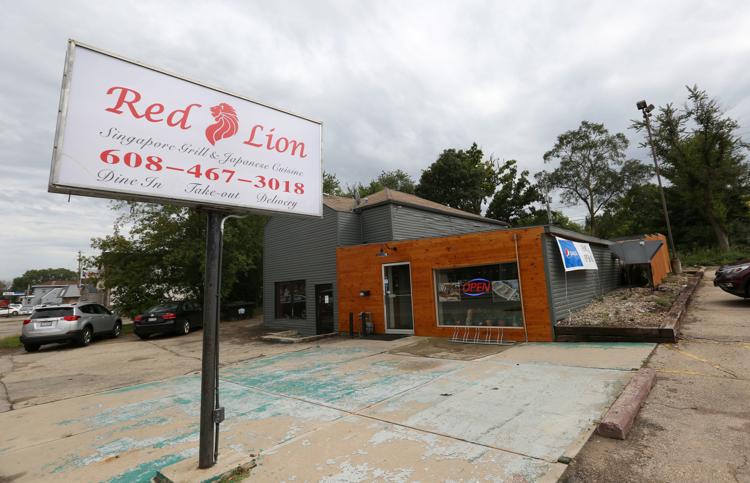 Cui's curry is thin and soup-like, strong in coconut milk and chock full of potatoes and chicken thighs. He described as a mix of Indian and Malaysian-style curries. 
Red Lion has a cozy space, with just a few seats and a dining room thick with the aromas of the food being served. It's Cui's chance to share parts of himself and the recipes that have been passed down in his family.
"If I'm going into a coffin, I can't bring (these recipes) with me. I want to pass them on. Whoever is keen to learn, I'm willing to pass it on," Cui said. "I just hope that someone appreciates my art of cooking and that's it."