It takes a lot of heart to open a small local restaurant. For Marissa Holmes, divine intervention might be a better descriptor.
Holmes opened her takeout spot, Marie's Soul Food, on Monroe Street last July while working full-time as an IT specialist. She hasn't had a day off since.
"It has been very challenging," Holmes said. "I'm just glad I have the motivation and support around me that's ready to help with everything."
Open just Thursday through Sunday for dinner, Marie's has a streamlined menu, all meant for quick pick-up. Three meat options include ribs and baked and fried chicken ($6.25 each). On the side, she makes collard greens, baked macaroni, dressing, yams ($3.25 each), corn on the cob ($1.50 each) and corn muffins ($1).
Diners can put together a Southern style meat and three, with two sides and a corn muffin. A can of soda brings the meal to $11.50.
Holmes — the eponymous Marie; it's her middle name — said the dream of a restaurant wasn't originally hers. It began with her boyfriend.
"It started with him really liking my food and him knowing that I wasn't really happy at my job anymore," Holmes said. "He was like, 'Well, maybe we should try to do a restaurant.'"
"At first, I was like, 'No.'"
But he made a convincing argument: Soul food restaurants are in short supply in Madison, and especially on Monroe Street, where the former storefront of Maurie's Fine Chocolates was newly vacant. The two businesses' similar names felt like serendipity, and the large neon sign out front drew her in.
"It was like, You take the 'u' out, and it's Marie's. And then, with the big 'M' out there, I was just like, 'OK, well ...'" Holmes said.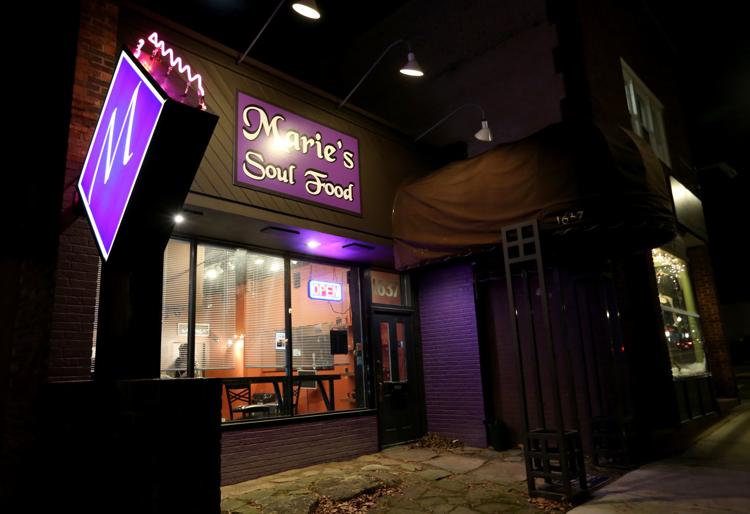 Holmes signed the lease at 1637 Monroe St. in June 2018. Plumbing setbacks, including a burst pipe during winter 2018's polar vortex, delayed the restaurant's launch until this summer.
Much of the restaurant's buildout happened behind the scenes, so the front-of-house at Marie's will be familiar to fans of Maurie's. Holmes has maintained the interiors' purple and earth-toned walls, which add cozy character to the space. Seating includes a window counter with four chairs.
Holmes hopes her brief menu sets her apart from other restaurants that offer a laundry list of options. It also helps her deliver a product she's proud of.
"Soul food is more than what I have on there," she said. "But it just kind of puts me in a spot where I'm not overwhelmed. I'm still learning. I'm also able to get quality food."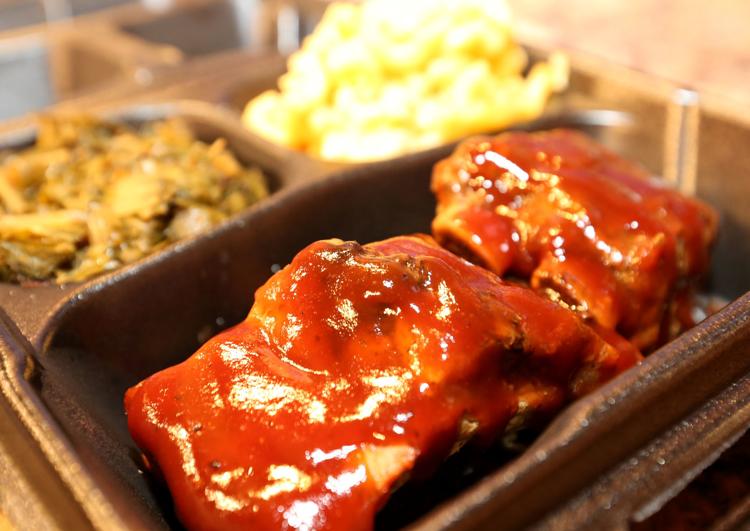 Dishes are prepared in advance and kept hot, suited to people in a hurry, though Holmes isn't offering delivery just yet. Each dish speaks to Holmes' definition of soul food. 
"It just makes you feel full," she said. "It's warm, comforting — and you get tired when you're done."
The ribs are perfectly sauced and practically fall off the bone. Try the spicy collard greens, which are toothsome yet maintain their bite. They're cooked for five hours with turkey tails for a subtly smoky flavor. The baked macaroni is also something to tuck into, creamy with layers of nuanced flavor in a smooth cheese sauce.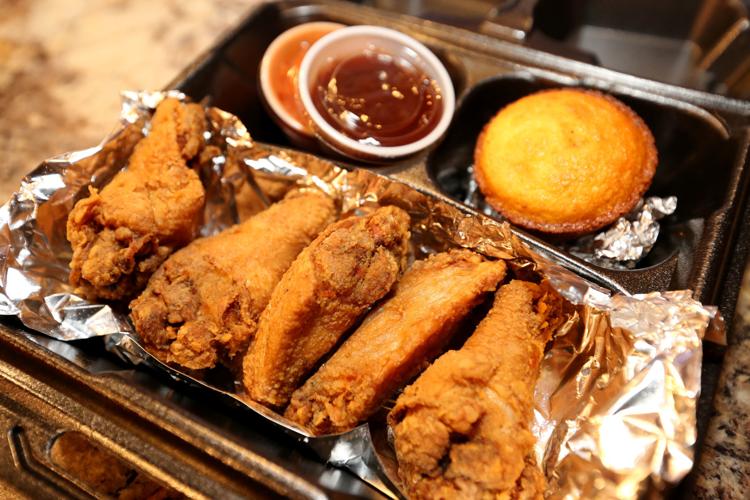 The outlier on the quick-service menu is fried chicken, which takes 15 minutes to prepare. But it's worth the wait. Succulent dark meat chicken was gently spiced and delicately crisp, even after a drive home.  
Holmes opened Marie's with dishes like baked ham and spaghetti. She's since removed them from the menu to prevent waste and tamp down costs. She may bring some of these dishes back as specials because "people who have had it, they like it."
As Holmes settles in on Monroe St., she's examining room for growth. Dine-in is on the table, as is the possibility of additional menu options. A career switch is also just around the corner, as she plans to leave her IT job in early January. The move should mean expanded hours at Marie's, like added lunchtime service.
Her current operations have garnered her fans in Madison — and recently, a couple from Nebraska.
They couple told her, "We heard about you all the way in Nebraska, and we already had a trip planned here. And we said we're coming to you first. You're the first stop when we make it to Madison," Holmes said. "So that made me feel really good."