LODI — Sunday is the busiest day of the week at Lucy's Family Restaurant. 
It's the only place in this city of about 3,000 north of Madison that's open at 6 a.m. for food besides gas stations, let alone a sit-down breakfast. It's also one of the few businesses in Lodi open on Sunday, period.
The sky was still dark on a recent Sunday when waitress Nina McConnell arrived at 5:30 a.m. to brew coffee, set up the kitchen salad bar and turn on the soup warmer.
Meanwhile, cook Diku Nuredini prepared for the morning rush by frying 400 strips of bacon and cracking five dozen eggs, two at a time, for French toast batter.
He took a break from the eggs to make a single order of oatmeal in a pan. The oatmeal is for the day's first customer, Roland "Smiley" Neumaier, 77, who said he typically comes in daily and twice on Sundays.
"This is for my blood pressure," he said of his oatmeal. He shook a generous tablespoon of cinnamon on top and stirred in a pitcher of creamer. "That's good for ya." 
His coffee mug stayed turned upside down on his place mat.
"I'll have that when I come back for lunch at 10 a.m.," after church, he said.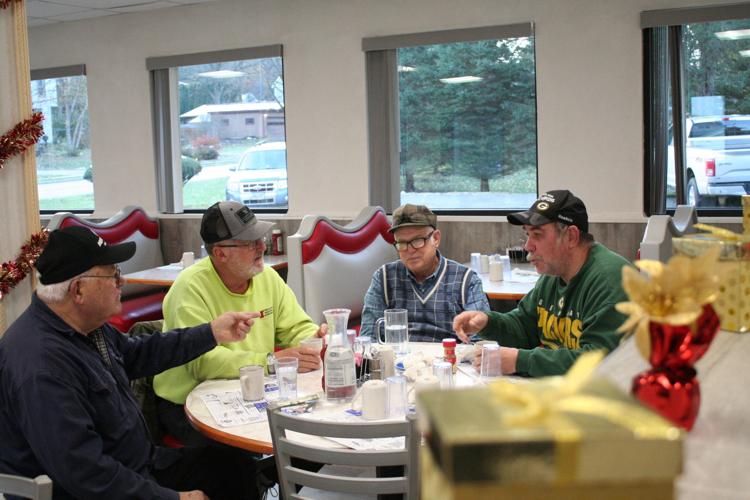 Neumaier, born and raised on a nearby farm he still owns, has been meeting with his buddies several times a week at Lucy's for breakfast and gossip. They call themselves "The Smart Table."
Bill Clemens, the first to join Neumaier, ordered an English muffin. He comes to Lucy's, he said, because his wife doesn't want to get up early and make breakfast. Plus, he likes to get out and be social.
In the recollections of Neumaier, Clemens and other members of the "Smart Table," Lucy's has changed hands and names several times over the years, but it's been a restaurant since the building went up in 1957 as an A&W drive-in with car hops. 
Co-owners Duli and Rose Ibraimi, Albanian immigrants from Macedonia, took over in 2012 from Duli's brother, Nik, and last year renovated and expanded the restaurant.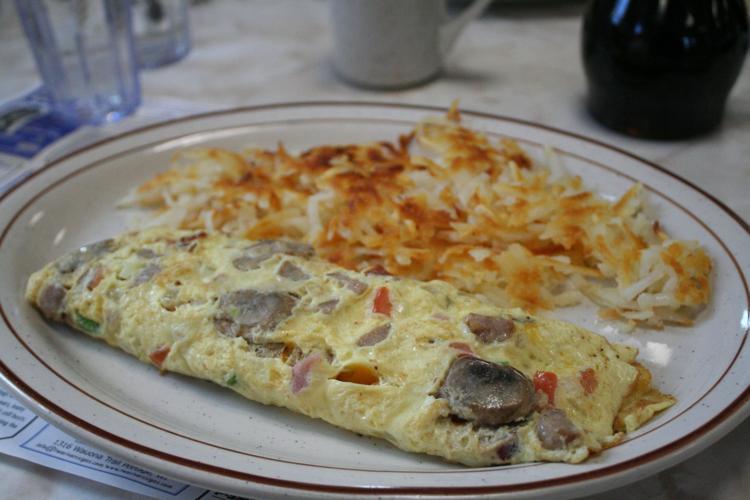 The menu at Lucy's is standard American breakfast and lunch diner fare, with Friday fish fry as its sole night for dinner. There are a few nods to the Ibraimis' Albanian heritage, like a Navy bean soup and the paprika-sprinkled lunch special of corned beef and cabbage ($8.99-$9.99), which in Albanian translates to "lakra me mish."
Duli Ibraimi said his extended family owns and operates diners across Wisconsin. It started with his father, who emigrated to the United States in the 1970s to escape a communist regime in Macedonia. His father worked in Chicago steel mills before moving his family to Wisconsin and getting into restaurants. 
On Nov. 15, 1999, when he was 16 years old, Duli joined in the family business with his older brother to run Kristina's Cafe in Ripon.
"I remember the dates like my birthday," he said. Now his eldest child, Asime, is 16 and waits tables at Lucy's on Sundays. He has another daughter, 12-year-old Fatime, and a son, 9-year-old Ibrahim. All three attend school in Lodi, where the Ibraimis live.
Duli has always enjoyed running restaurants but he hopes his children choose to leave the family business, go to college and pursue another career. "Anything medical," he said.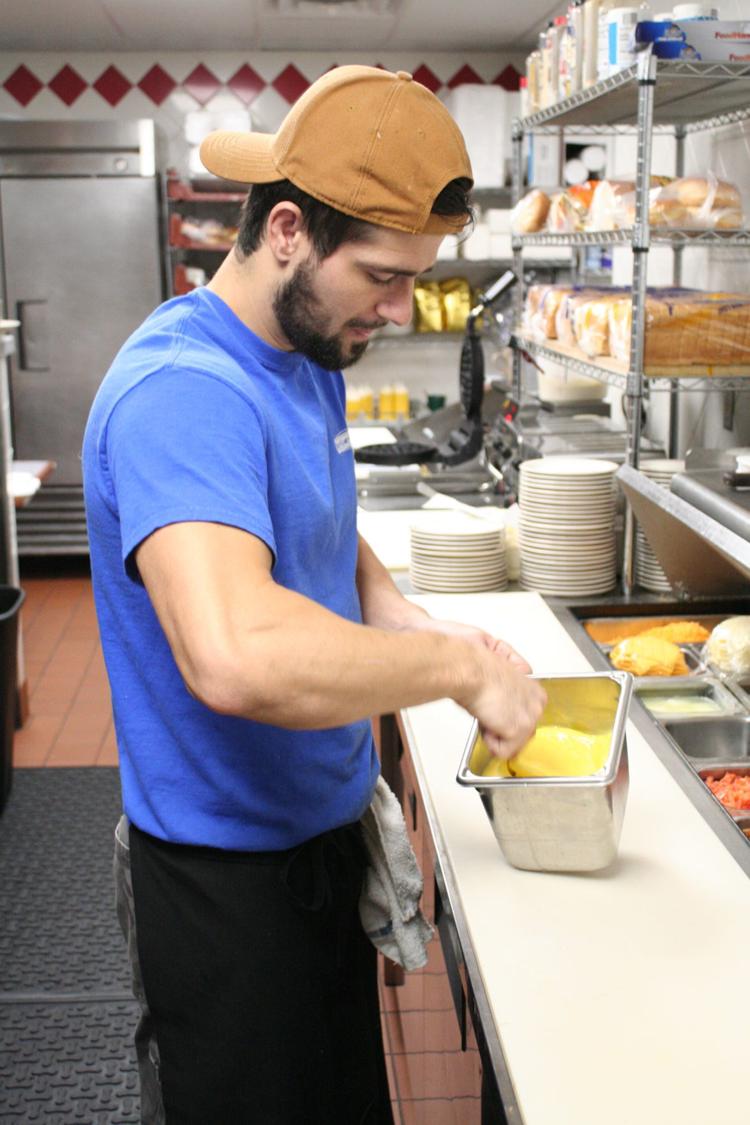 By 7:30 a.m., Lucy's was filling with families. Orders off the kids' menu for the Mickey Mouse Pancake ($4.99) lined up on the kitchen window. The Disney mouse-shaped pancake has chocolate chips for eyes and a mouth, with optional whipped cream, and comes with bacon strips or sausage links.
Dan Horkan, a regular who lives on nearby Lake Wisconsin, came in before church with his youngest daughter, age 10, and 6-year-old granddaughter.
Horkan asked for a bottle of Cholula hot sauce to shake over his Lucy's Omelette ($8.99). It's filled with three meats (ham, sausage, bacon), big sliced mushrooms, diced tomatoes, onions and green peppers and a layer of cheddar cheese. He chose a fruit cup for his side. 
It's his usual order at Lucy's, but the Cholula is a new habit.
"I tried dieting about a year ago, and everything got really boring without hot sauce," Horkan said.
By the time the sun was bright outside and most tables were full, the members of "The Smart Table" had left. It's a small group these days.
"There used to be 16 of us," Neumaier said. They've lost members over the years. Neumaier observed that younger people aren't joining, either because they're too busy or they just don't go to restaurants unless it's with their families.
But Neumaier would be back. He hadn't had his morning coffee yet.