After two years of planning and a year of noodle-based study in China, Chaofu Lin and his wife Xia (Tina) Jia have opened their restaurant, Ru Yi Hand Pulled Noodle, on State Street. 
It's been a month since Ru Yi's grand opening in January and the Chinese restaurant has already attracted a wide range of regular customers.
"We've gotten some students from the university who are originally from Lanzhou, and they say that the noodles taste like home," said Lin through interpreter Holly Chen. 
The restaurant allows Lin and Jia to show off the skills they learned while studying the art of hand-pulled noodles for a year in Gansu. 
"Hand-pulled noodles are an art form in China," Lin said. "When you're pulling on the noodles to shape them for the dish, it gives you a sensation that's hard to describe. Every day as you're pulling the noodles and your technique is getting better, there's a sense of accomplishment."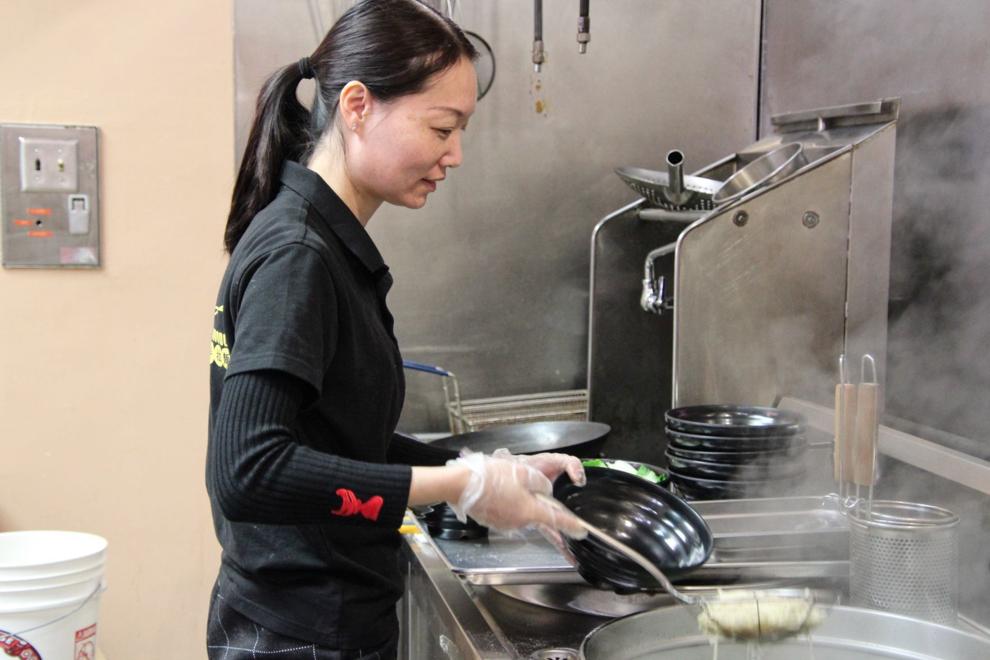 After allowing the dough to rise, Lin shapes it into long ovals and then quickly and carefully cuts out smaller sections. He then weaves the dough through his fingers and starts to pull in fluid strokes. 
Once the doughy noodles are long, stringy and fine, he plops them into boiling water, later to be lifted out by Jia and put into a large soup bowl with meat, lettuce and shio (salt-based) broth. 
The whole process takes about four or five minutes. After the bowl is served, there's a condiment station with scallions and chili oil for those who want to add a kick.
Hand-pulled noodles originated from China's Gansu province, specifically from the area's city, Lanzhou. While Lin and his wife are both from Fujian, they grew up eating the dish during dinner outings with family to nearby shops that sold this type of noodle.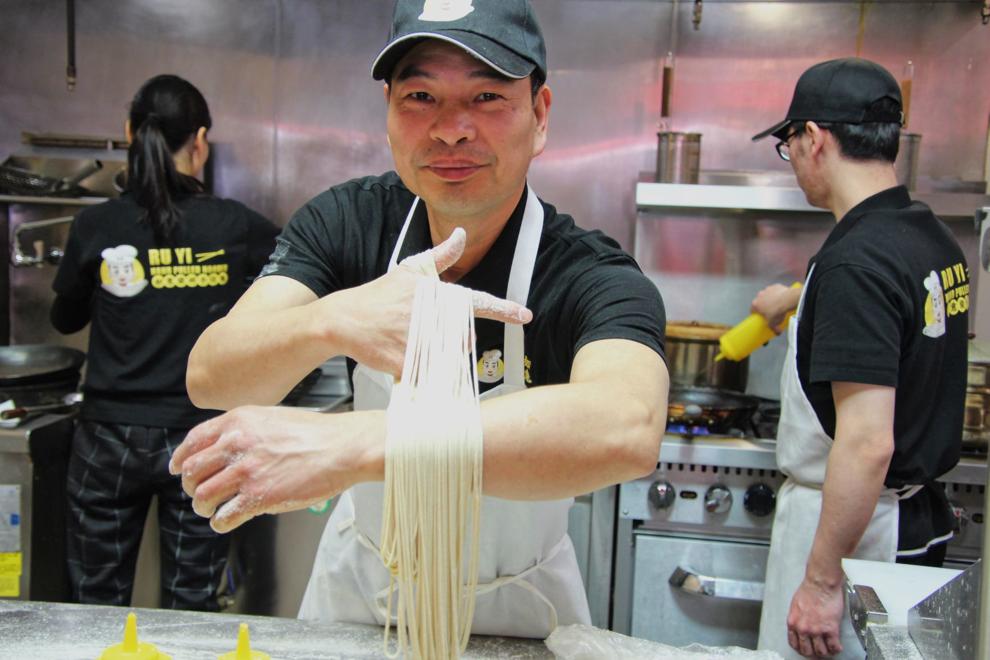 The ramen-style meal has been something they've sought out since moving to the U.S. 10 years ago. Lin and Jia have worked in the restaurant business their entire working lives, including being part owners of cafeteria-style Chinese restaurant Madison Cuisine.  
"Here in Madison, most people have never seen hand-pulled noodles being done," said Lin, whose restaurant offers 12 meat and vegetable variations on the noodles. "The closest place to find that would be in Chicago. And even in Chicago, all the noodle pulling is done in the back where people can't see. That's what makes our restaurant different."
Ru Yi's location at 334 State St. was most recently Crandall's Peruvian Bistro, which closed last year. Crandall's had a large mirror that blocked guests' views of the kitchen.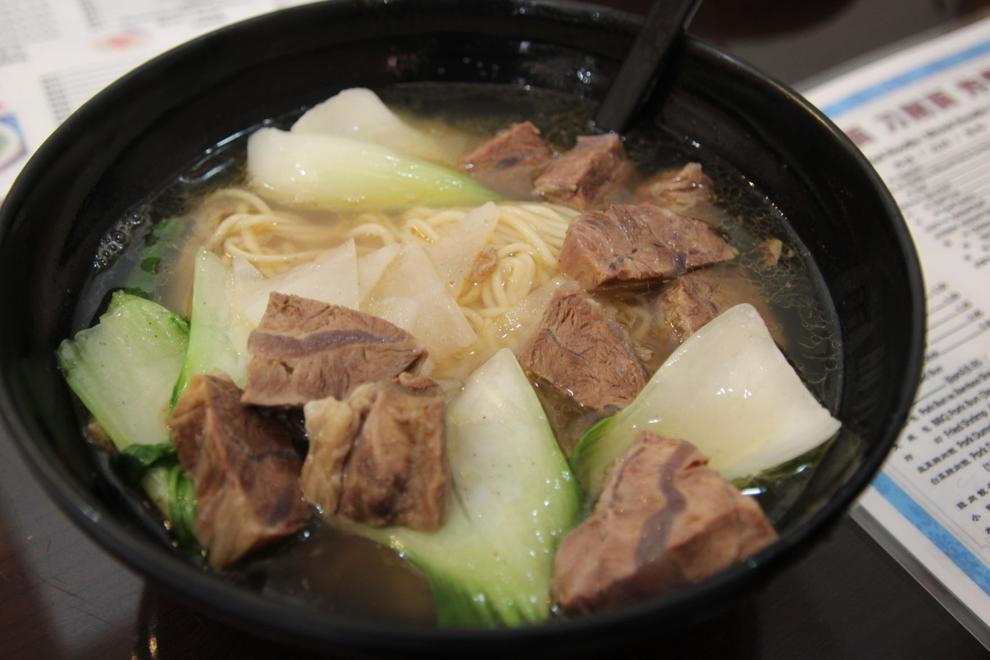 That mirror was one of the first things to go in the remodel. Lin and Jia wanted those ordering noodles to be able to see how the noodles are made. In addition to the savory beef ($10.95), chicken ($10.95), duck ($11.95) and shrimp ($11.95) udon noodle bowls themselves, the spectacle has been one of the restaurant's biggest attractions. 
"A lot of people come and see my dad make the noodles," said the Lin and Jia's 17-year-old daughter Melody Lin, who hopes to learn the skill one day herself. "Everyone is really curious about how it's done. They'll often tip and take photos and videos. It's nice that we can show how everything is made fresh.
"Seeing the success we've had and the good reviews online makes us happy," Melody added.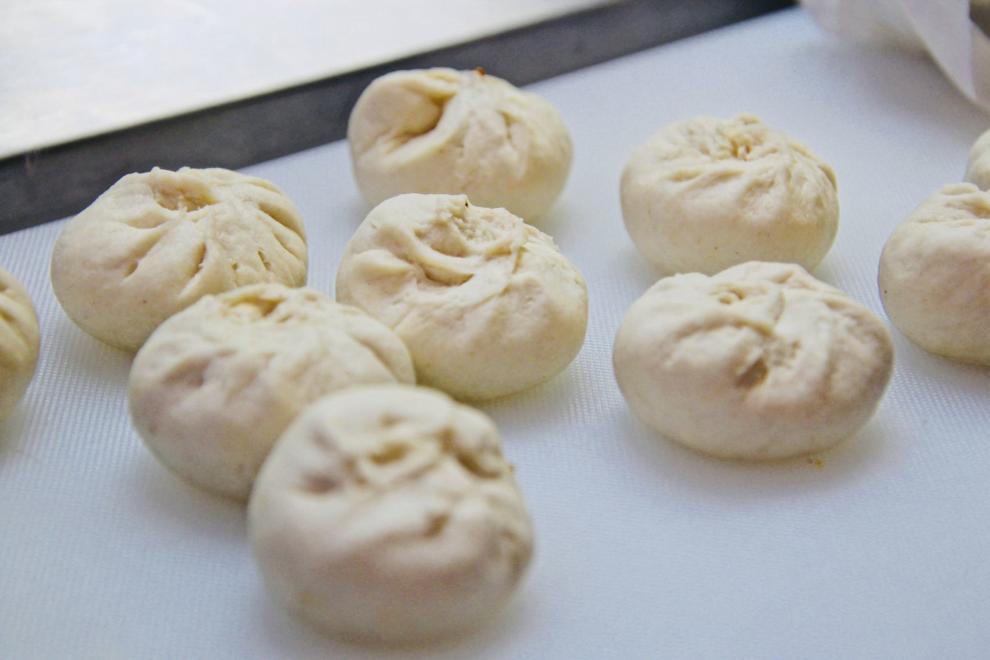 Ru Yi serves pan-fried pork ($4.25) in a homemade dumpling-like bun, scallion pancakes ($2.95) and crystal shrimp dumplings (​$8.95). But the shop is, first and foremost, all about the hand-pulled noodles. Their most popular and traditional dish is beef noodles, of which there are six styles ranging from spicy beef to braised beef.
"It's nice to have a specialty we can master," said Chaofu Lin. "Initially when you're learning, the noodles you make are not very even, and after a year you still don't get it completely uniform. But we're getting better every day and we're excited to share this part of Chinese food culture with Madison."