Those looking for more vegetarian takeout options in Madison will increasingly find them at Little Tibet on East Johnson Street, thanks to a persistent Buddhist monk in New Zealand.
That monk is an uncle to Namgyal Ponsar, who owns Little Tibet with her brother Therten Tsering and brother-in-law Thinley Tenzing. Since 2016 when the trio started Little Tibet as a food truck, their uncle has pressed them to go vegetarian or, if they must serve meat, serve just one kind.
"He's like a father figure to us," she said. When it comes to encouraging vegetarianism, "he always talks about that type of stuff."
Vegetarianism is a complicated topic in Buddhism. Avoiding meat is the ethical ideal, but it is not widely practiced in Tibet due to the local geographic challenges of growing vegetables.
Ponsar herself is not vegetarian. At her restaurant at 827 E. Johnson St., she relishes traditional Tibetan meat dishes like shogo phingsha ($13), a beef and mung bean noodle stew with a rich bone-broth base.
Yet, as a Buddhist, she feels a spiritual draw toward vegetarianism, or at least honoring the animals we eat.
When she cooks meat for herself or for a customer, she prays. She thinks about the killed animal and the person who will enjoy eating it. She offers a blessing to both, "may they both benefit from each other."
Economics have held back Ponsar from turning Little Tibet fully vegetarian. Meat sells, and she worries about losing business.
This past Thanksgiving changed her mind a bit. To Ponsar's surprise, Little Tibet's holiday takeout menu — mostly vegan, all vegetarian — was a hit.
Since then, "I have a lot of ideas about how to change the whole menu into vegetarian," she said. "Deep down, I can see our restaurant changing into a vegetarian restaurant. If we can survive the pandemic, maybe. If we are still here in five years, I can see that happening."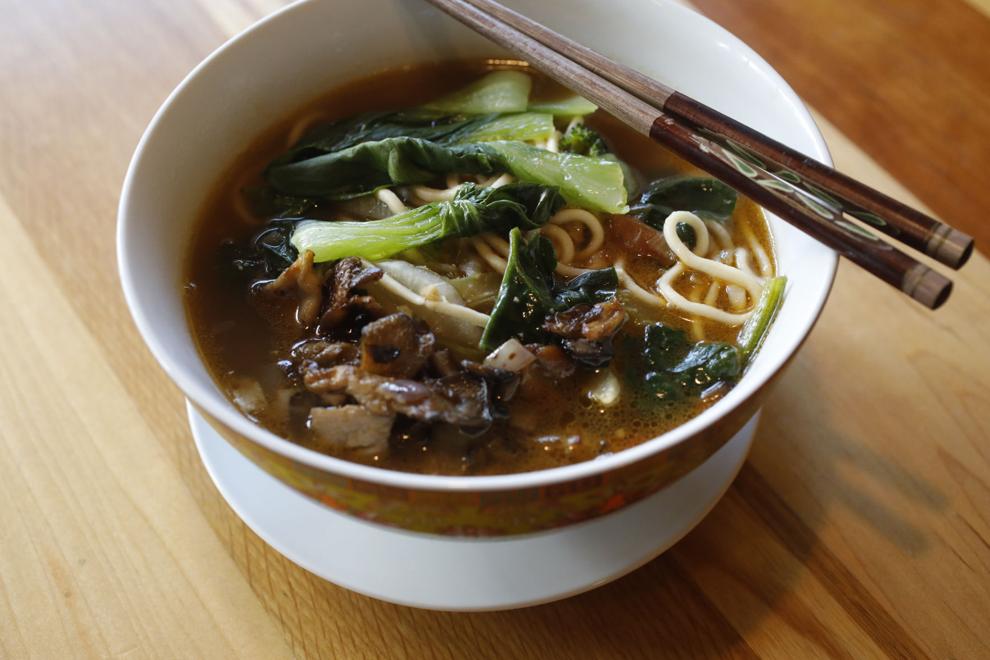 Plant-based recipes often call for more flavor and spice than traditional Tibetan meat dishes, so Ponsar looks for influences from other cuisines. Little Tibet already serves dishes from India, Nepal and Bhutan.
In January she started exploring more styles of momo, a dumpling native to Tibet and the surrounding region. To the standard menu of chicken, beef and vegetable momos, Ponsar added a momo filled with cheese and "soya chunk," also known as texturized vegetable protein ($9-11).
Also new to the menu are tofu momo ($10-12), adapted from a recipe her sister makes at home in Minnesota. Ponsar combines three flours for the dough — bajra (millet), jawar (sorghum) and all-purpose — and wraps it around a filling of fried tofu, asparagus, chayote squash, chives, scallion, garlic and cashew cream.
For an extra couple of dollars, any momo can be ordered on a bed of spicy green jhol or red jhol sauce. The red jhol is made with tomato and sesame, while the nontraditional green jhol, a blend of jalapeño and tomatillo, is inspired by Ponsar's love of Mexican green salsa. Ponsar is studying up on sauces and has a goal to develop more nontraditional sauces to serve with momos.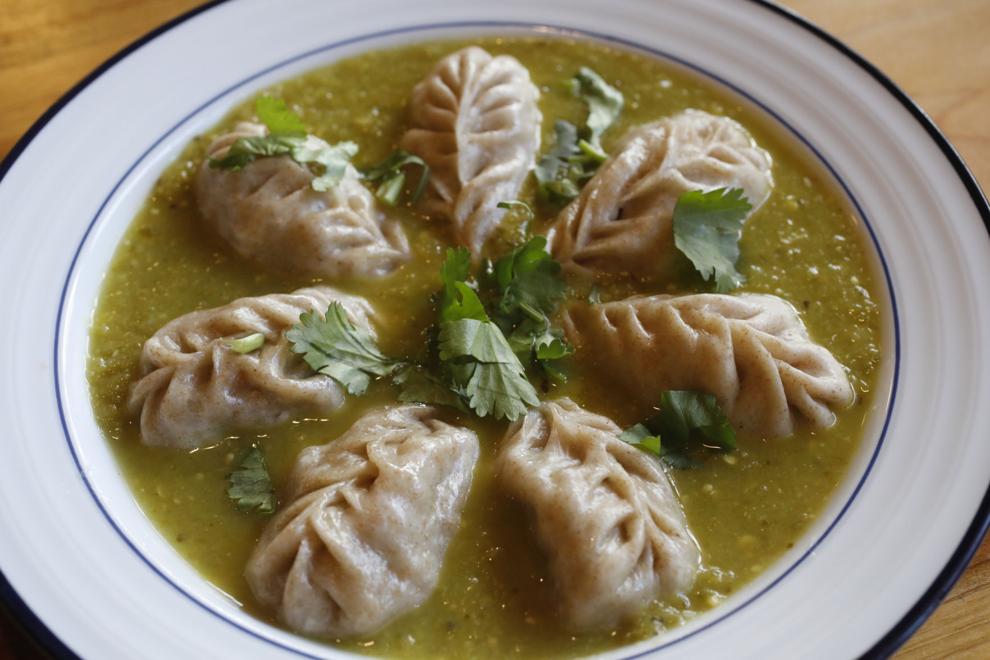 Frozen momos to steam or fry at home are available either for pickup at the restaurant or delivery through Christine's Kitchens (christines-kitchens.com). For home cooks the restaurant also sells house-made sepen ($6/jar), a simple but powerful Tibetan hot sauce made with Sichuan peppers, oil, garlic and salt.
Even before Ponsar's quest to add more vegetarian options, Little Tibet served several meat-free staples. Bhajiya ($6), a common Indian street food, are deep-fried fritters of spinach, cabbage and onion with a tangy tamarind dipping sauce.
Two of the spicy, cheesy Bhutanese datshi stews ($10-11) are also meat-free. The vegetable thukpa soup ($11) is "comfort food for Tibetans," Ponsar said. The spaghetti-like noodles in the thukpa are made fresh on-site four times a week.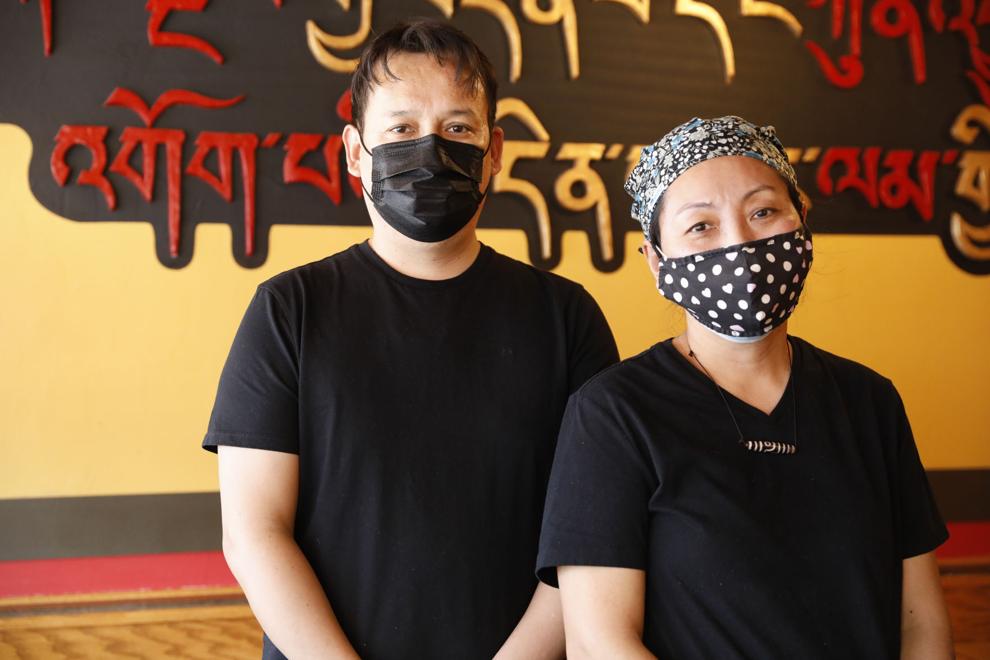 Ponsar started Little Tibet in part to serve Madison's small Tibetan community. She was born and raised in another community of Tibetan refugees, in the central Indian state of Chhattisgarh. Her brother-in-law went to culinary school in India.
At the age of 27, she moved to New York City. Soon after, in June 2001, she opened a small store in a flea market near Times Square at 47th Street and Broadway.
Three months later, the terrorist attacks of Sept. 11 shut down tourism in the city and dried up business. So she moved west to Madison and eventually found work in healthcare. Today, while running Little Tibet and caring for her 7-year-old child, Ponsar works 20 hours per week as a nurse.
Since the beginning of the COVID-19 pandemic, Little Tibet has taken a 60% hit financially, Ponsar said. She had to lay off over half the restaurant's employees.
But she sees hope for the future. Little Tibet was one of the first five vendors selected for Madison Public Market, expected to open in 2022. As part of that venture, Little Tibet received money to invest in a Chinese dumpling-making machine, which she plans to one day use to supply cafeterias, hospitals and other institutional kitchens with big batches of momos.
"Overall I feel kind of optimistic. Even though the pandemic is very brutal," Ponsar said, "maybe we can make it through. I feel very grateful to be part of this Madison community."
Share your opinion on this topic by sending a letter to the editor to tctvoice@madison.com. Include your full name, hometown and phone number. Your name and town will be published. The phone number is for verification purposes only. Please keep your letter to 250 words or less.