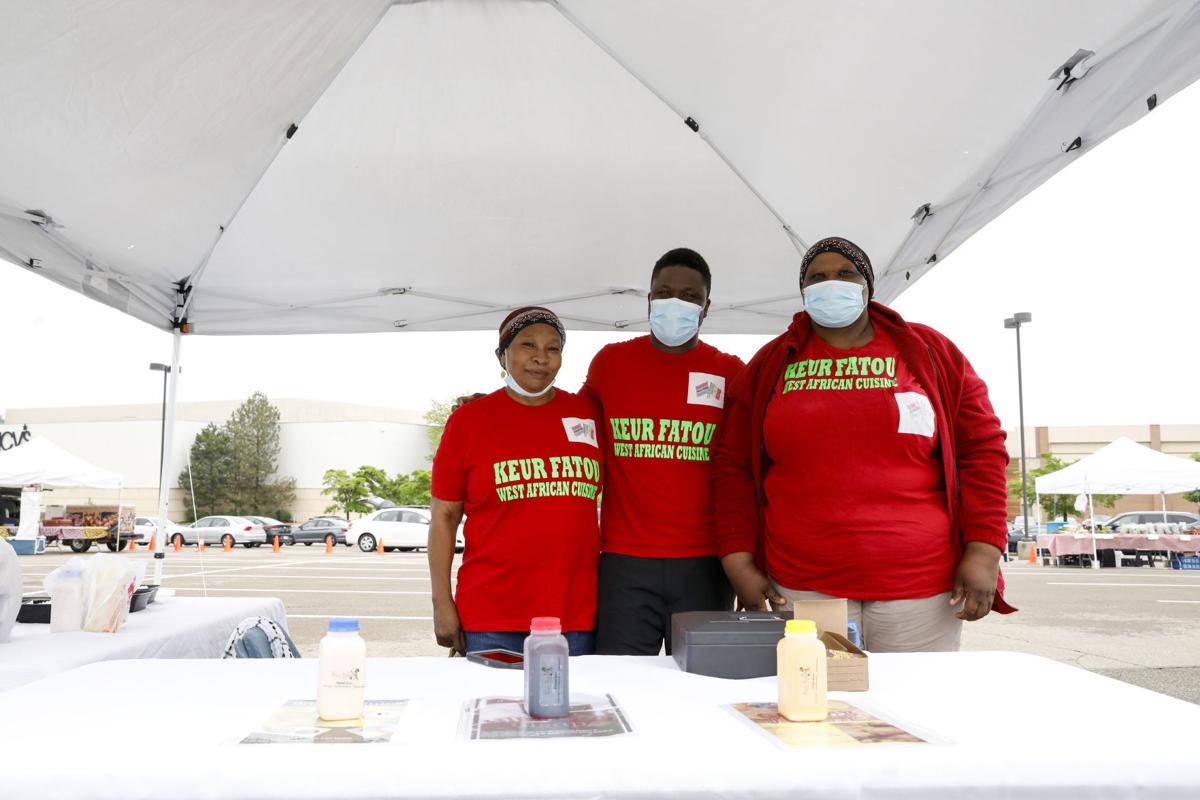 The first thing that hits you about Keur Fatou's juices is the color. There's the deep garnet red bisap ($2.50) — made from the brilliant flowers of the roselle hibiscus — which gracefully straddles the line between sweet and tart. There's the bright citrine yellow ginger juice ($2.50) that pairs the sharp bite of fresh ginger with the refreshing cool of lime juice.
And then there's the baobab juice ($3.00). With its pearly white color and melted soft serve texture, it would be all too easy to write it off as bland-looking compared to the other two gorgeous jewel-toned drinks. But it somehow manages to pack all the sweetness of a perfectly ripe summer strawberry and the tartness of a fresh-squeezed lemonade into each sip.
The earliest version of Keur Fatou emerged in August 2017, when Harriet Gomez, her husband Malick Joof, his brother Assan Joof, and brothers Babacar Kone and Papa Kone set up a table at the annual Africa Fest to sell Senegalese and Gambian food cooked by the Joof brothers' and Kone brothers' mothers, both of whom are named Fatou.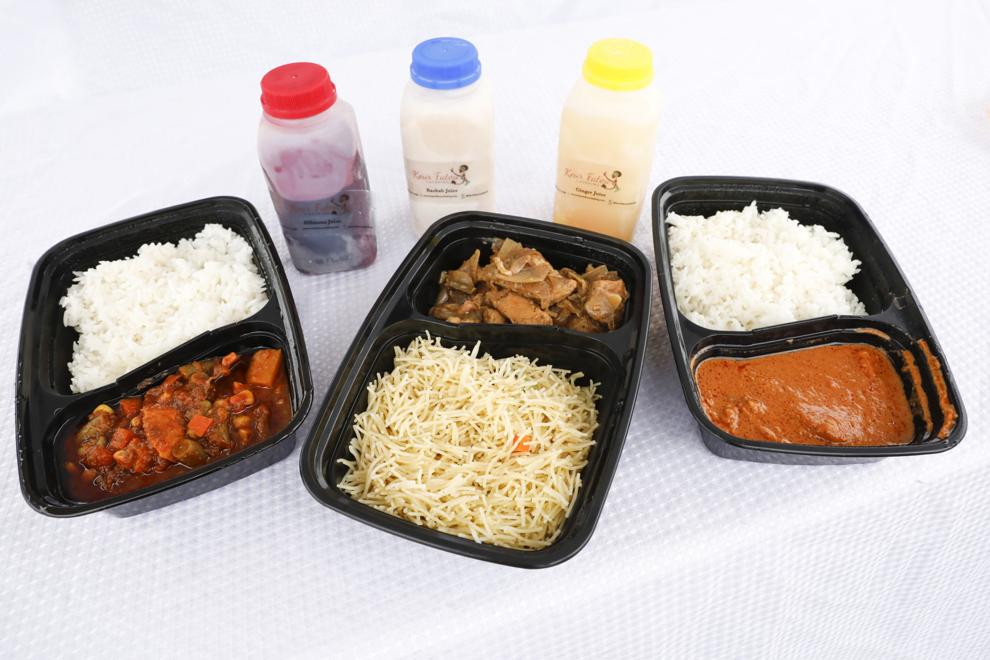 "We decided to go to Africa Fest just because we noticed that not a lot of people sell African items or food, and that's the whole purpose of having a whole festival that's attributed to Africa," Malick said. "It was a hit, so that's when we decided to start Keur Fatou."
After spending some time planning, in February 2018, the group of friends-turned-co-owners decided to officially launch Kaur Fatou as a business. The name, which comes from the Joofs' and Kones' mothers' names, means "Fatou's house" in Wollof. 
Today, the five still run the business together alongside their full-time jobs. "It's hard," Gomez said, "but we've managed to make it work over the years because this business means a lot to us." It's their close friendship that she credits with making the demands of running a business alongside full-time work a manageable feat.
"We can always communicate with each other," she said. "When it comes to the five of us, we don't have off time. We can call each other any time of the day to talk about the business and we know that we at least have that."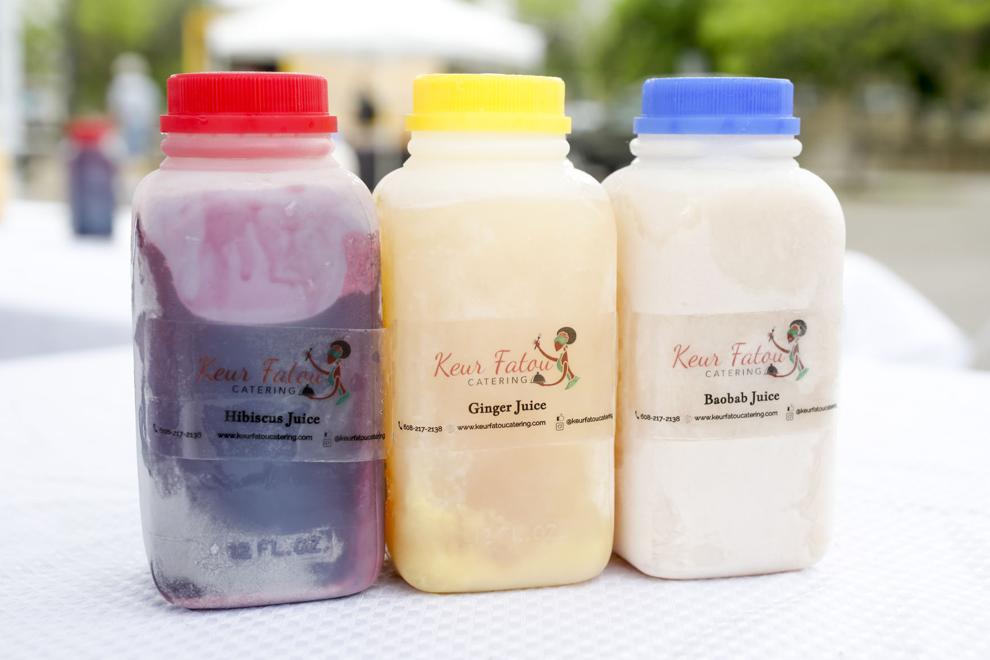 Most of Keur Fatou's business has come from catering events and large public outdoor events like Africa Fest, Taste of Madison and Wil-Mar neighborhood events. After spending the past year having to adjust to most larger public events being cancelled due to the pandemic, Keur Fatou is ready to pick back up right where it left off. This year, they'll be setting up shop at the Hilldale Farmers' Market each Wednesday and Saturday until October.
At most public events including the farmers' market, Keur Fatou has to make some ruthless decisions when it comes to paring down the menu. "We have at least six different food items," Malick said, "and at most events you're limited in terms of how many items you can bring, so we go off our previous experience."
For Keur Fatou this means their two most popular dishes — chicken yassa ($9.99), grilled chicken and caramelized onions served over vermicelli, and mafe ($9.99), a savory and meaty peanut butter-based stew served over white rice — aren't going anywhere. "We always want to make sure that we always have those two," Gomez said.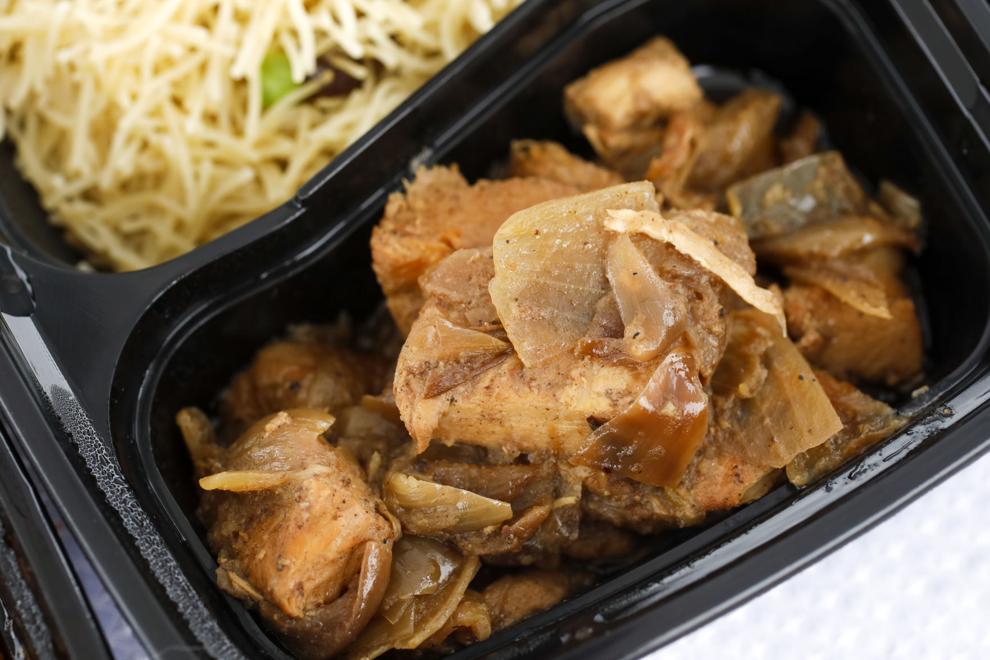 The veggie sauce ($9.99), a spicy tomato-based vegetable stew served over white rice, created by Keur Fatou for vegetarian and vegan customers, is a mainstay too. According to Gomez, the dish was specifically created for customers who want the flavor of chicken yassa, but not the meat. "We created at least some sauce that does not contain meat but still has that flavor," she said.
Moving forward, Gomez says that Keur Fatou is looking into branding their drinks. Those little bottles of juices, once only available at outdoor events, could be finding their way onto shelves one day soon. In the meantime, the team at Keur Fatou is looking at some shorter-term goals as well, including looking at putting together live cooking shows.
At the end of the day, it's carrying on the idea and ethos of running a family business that Gomez says is most important. "We're super duper passionate in what we do," she says. "We're close. At the end of the day, it's a family thing."
Share your opinion on this topic by sending a letter to the editor to tctvoice@madison.com. Include your full name, hometown and phone number. Your name and town will be published. The phone number is for verification purposes only. Please keep your letter to 250 words or less.