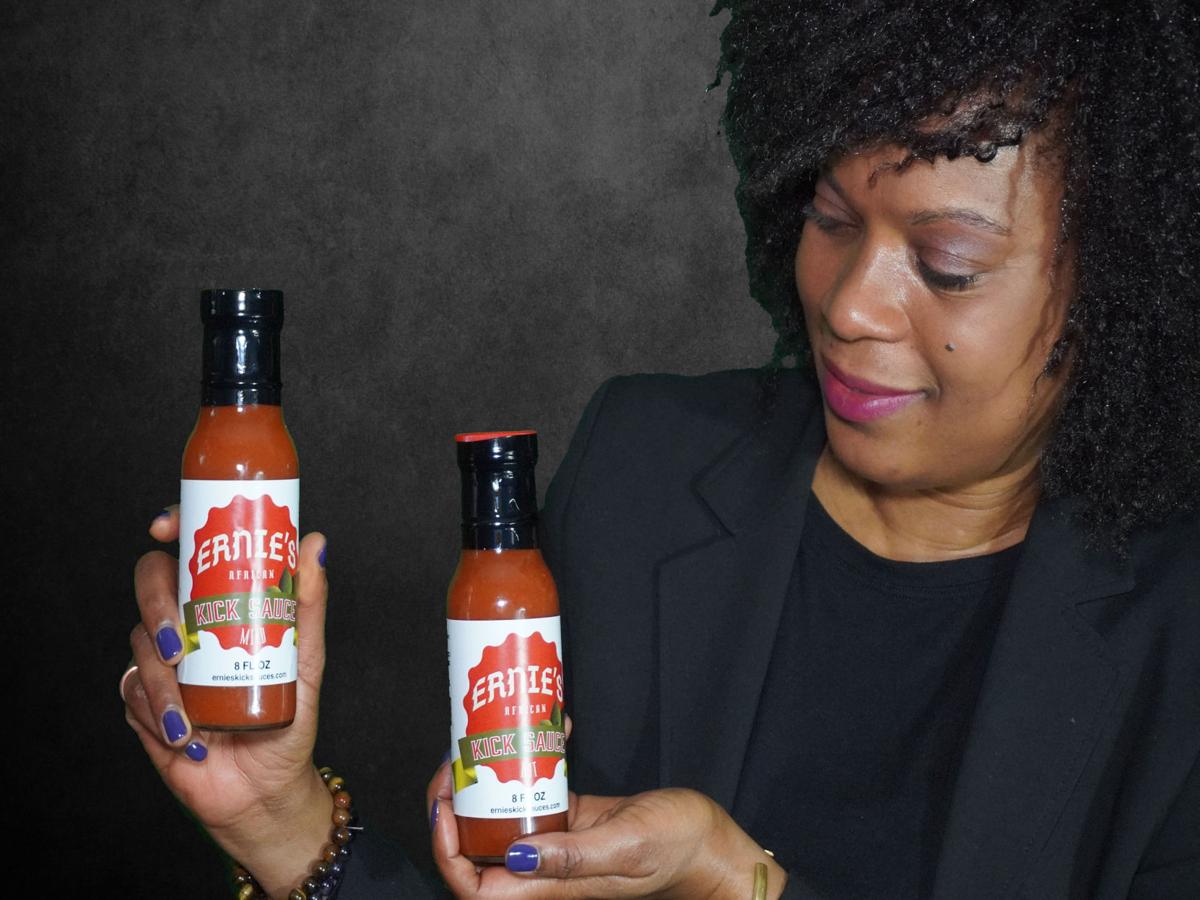 Sandra Morris has always enjoyed her mom Ernestine's tomato-pepper sauce. When Morris lived in other cities, she would visit her mom in Madison and leave with enough sauce to share with friends.
Those friends loved it. They told Morris, "maybe you guys should start packaging and selling this stuff," Morris said. Her mother didn't take it seriously until a coworker said the same thing. "We decided we're going to go for it."
Once they decided to package the sauce, mother and daughter had to learn about food safety, bottling and operating a business. They took classes and obtained the necessary licenses to start selling Ernie's African Kick Sauce, named for Ernestine, whose nickname is Ernie. They now make and bottle their sauce at FEED Kitchens on Sherman Avenue.
The Morrises are originally from West Africa. Ernestine has been in Madison for more than 20 years. Sandra lived in Chicago, Atlanta and St. Louis before joining her mom here several years ago.
Kick sauce ($10.95/8 oz.) is made with a blend of spices, tomatoes, peppers, onions and vinegar. The sauce is made to enhance the flavor of a meal but not overpower the food.
The makers don't call it "hot sauce" for a reason. Hot sauce scares people, Morris said, so she and her mom chose the word "kick" instead. Some customers "flinch when they hear the word hot," she said.
"You don't just get heat from us," Morris said. "You get flavor. You get spices. When we eat back home we eat with our hands so when we're eating, we're really tasting the food."
The idea of Ernie's African Kick Sauce was born in 2016, but it wasn't until May of 2019 that the Morrises brought their product to the Hilldale Farmers' Market. And it didn't start out as planned.
"I didn't have my labels ready," Morris said. "Nothing was ready, but I decided to just show up with two bottles of my mild kick sauce and hot kick sauce, and a bowl of tortilla chips. I wasn't selling it, I was giving samples."
Morris didn't let a rough start discourage her. The labels and brochures eventually were ready, and week after week, she returned to the market to sell the sauce and her homemade couscous. Morris also started selling at Northside Farmers' Market.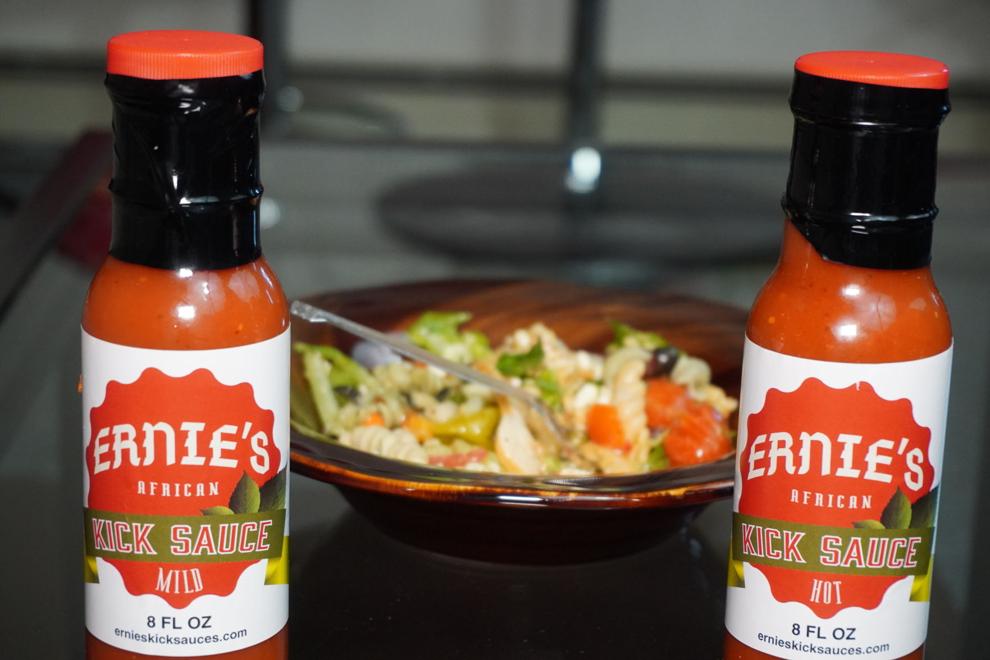 With the success of Ernie's African Kick Sauce at the farmers' markets, the Morrises were invited to sell at the MMoCA Art & Gift Fair in November 2019. A month later, they joined the Good Day Market: Holiday Edition at Garver Feed Mill. Now, the Morrises sell their sauce at all three Willy Street Co-op locations, Orange Tree Imports on Monroe Street, on Christine's Kitchens website, and on their own website, ernieskicksauces.com.
The kick sauce can be used in a variety of ways. You can use it as a condiment, a dip for appetizers, on foods like eggs and pizza, and you can use it to marinate and cook your food. Morris says you can even use the sauce in your bloody mary.
Ernie's African Kick Sauce is available in mild or hot, and they are developing a super hot variety at the request of customers. They plan to roll it out this spring.
Like many businesses, last year, the Morrises had to rethink the way they operated. Once the pandemic hit, they could no longer give out samples, which cut down on her interactions with customers.
"Our business went down a little bit because we couldn't do those events," Morris said. "They bring in a lot more sales and revenue for us. COVID has slowed everything down."
Although their business has faced challenges, Morris believes this is what she is meant to do.
"It took me a long time to find out what I want to do and I feel like kick sauce is giving me that. I'm in my element," she said. "And my mom is retired and needs my help."
Despite a challenging 2020, Morris is hopeful for this year. She plans to continue selling at the Hilldale and NorthSide Farmers' Markets. She's also applying for grants and working with the Madison Black Chamber of Commerce.
The grants will help Morris and her mom purchase a processing machine so they can produce more sauce. Right now, they're bottling about 500 units a month. They're also hoping to find a co-packing company to work with.
Morris wants to grow the business nationally and says she wants to go global too. Right now, they're looking for capital to expand their business, as well as focus on social media marketing.
"We like making the sauce because people love it," Morris said. "It's hard work but we're not going to stop. We don't plan on quitting any time soon.
"Kick sauce is here to stay."
Share your opinion on this topic by sending a letter to the editor to tctvoice@madison.com. Include your full name, hometown and phone number. Your name and town will be published. The phone number is for verification purposes only. Please keep your letter to 250 words or less.