Jessica Wuesthofen's family business is baking. Her grandfather, Rolf, opened Clasen's European Bakery in Middleton with his brother Ernst in 1959. Now, her mom, Michelle, runs the bakery. Wuesthofen remembers lending a hand during the holidays, packaging cookies and helping her grandfather with production. 
"I've always thought that I was going to be in the food industry," Wuesthofen said. "I didn't really think about doing anything else. I just loved it so much."
Wuesthofen went to culinary school and considered either taking over Clasen's or opening her own spot. But in the back of her mind, she kept thinking about how to take ingredients she loved from Clasen's and create something to sell retail. In September of 2020, Wuesthofen launched Imperfekt Bites, small clusters of fruits and nuts covered in chocolate. 
"We make a traditional German confection called a 'Mandelsplitter' that is either a milk or dark chocolate cluster combined with slivered almonds," she said. "I wanted to play around with that idea. There's so many possibilities with this product. You can literally add a combination of any nut and dried fruit or seeds and spices."
Imperfekt Bites launched with three flavors. All of them use the same dark chocolate Rolf Clasen chose for the bakery more than 50 years ago. The nuts in each cluster are roasted to bring out a deeper flavor — Wuesthofen said that's the part of the process she's most obsessive about. 
Go Bananas is made up of banana chips, blueberries and cashews. Texas Twist has Texas pecans, mango and chili powder. Tropical Mix combines almonds, sesame seeds, red currants and coconut.
Surprisingly, Texas Twist has been more popular in Wisconsin than in Texas (Wuesthofen splits her time between Austin and Madison). Early versions had more kick until she dialed back the chili powder. Now each cluster has more of a warming sensation than a sharp bite. Earthy roasted pecans blend with sweet mango and chocolate to balance out the heat.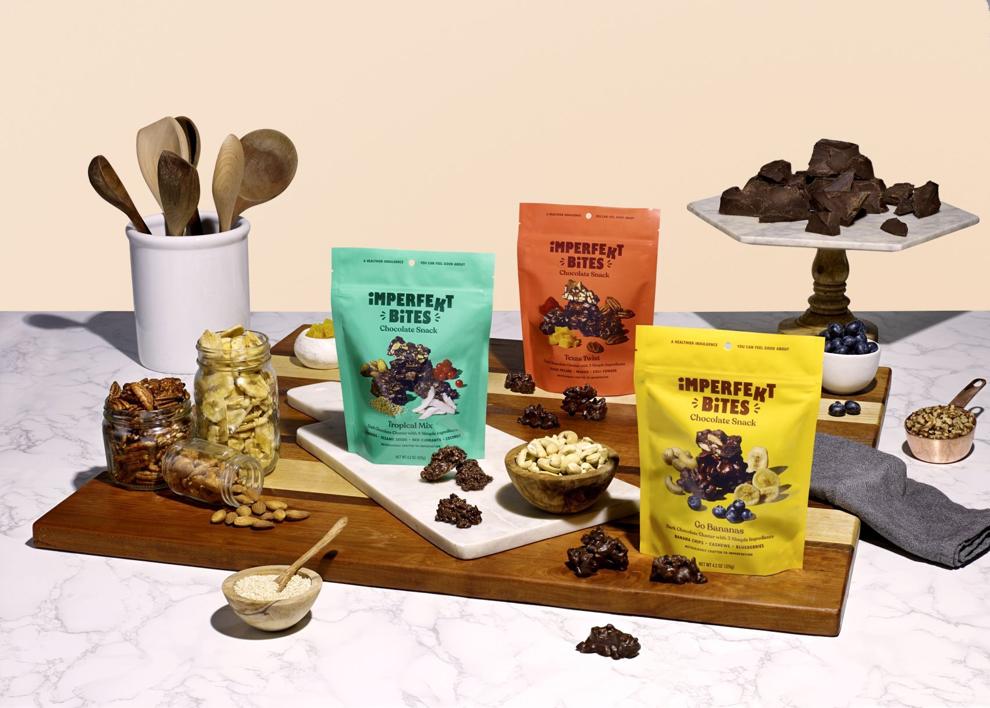 Imperfekt Bites' name is reflected in the company's motto: "Meticulously crafted to imperfektion." The name proved prescient. Launching during a pandemic wasn't in Wuesthofen's business plan, but she was well into the process by the time COVID-19 sent everyone indoors. 
Coronavirus disruptions forced Wuesthofen to be adaptable and flexible as a business owner, something she said does not come naturally to her. Baking and confectionery require strict adherence to recipes. The ever-changing landscape of the past 13 months forced Wuesthofen to go with the flow in a way she wasn't always comfortable with. But it has been a good learning experience. 
"I had to adapt," she said. "My dad always tells me I need to be more flexible, so I'm working on that." 
Imperfekt Bites can be purchased on the company's website, but are also being distributed to small groceries and convenience stores in Wisconsin and Texas. In the Madison area, they can be found in Metcalfe's Markets, Brennan's Market and Clasen's European Bakery in Middleton. They're also on the shelf at the Metcalfe's in the Milwaukee suburb of Wauwatosa.
Further expansion in the Madison and Milwaukee markets is a priority, but selling the product to retailers and customers has been more difficult during the pandemic. Wuesthofen can't take her product to store managers and ask them to try it. She can't offer samples for shoppers to try as they shop.
She's finding retailers don't always taste the bags of Imperfekt Bites she sends them and customers' shopping patterns have changed. People seem less likely to try a new product right now, she said. Shoppers are also spending less time inside stores, which lowers the prevalence of impulse purchases. Add in more frequent use of online grocery orders and it has been difficult to get her product in front of potential customers. 
One expansion she'd like to make to the business soon is to offer her products in smaller packages. They're currently sold in 4.2 oz packages (3 for $19.50 online) that contain about four servings. Putting Imperfekt Bites in single serving packs that cost less and can be displayed near checkout by the candy bars could introduce them to new customers. 
For now, she splits production between Austin and Madison, as the warmer months in Texas do not lend themselves to chocolate. The whole process of launching the product has itself been a bit imperfect, but Wuesthofen is up for the challenge. 
"I'm just kind of going to go with the flow and see where it takes me," she said. 
Share your opinion on this topic by sending a letter to the editor to tctvoice@madison.com. Include your full name, hometown and phone number. Your name and town will be published. The phone number is for verification purposes only. Please keep your letter to 250 words or less.