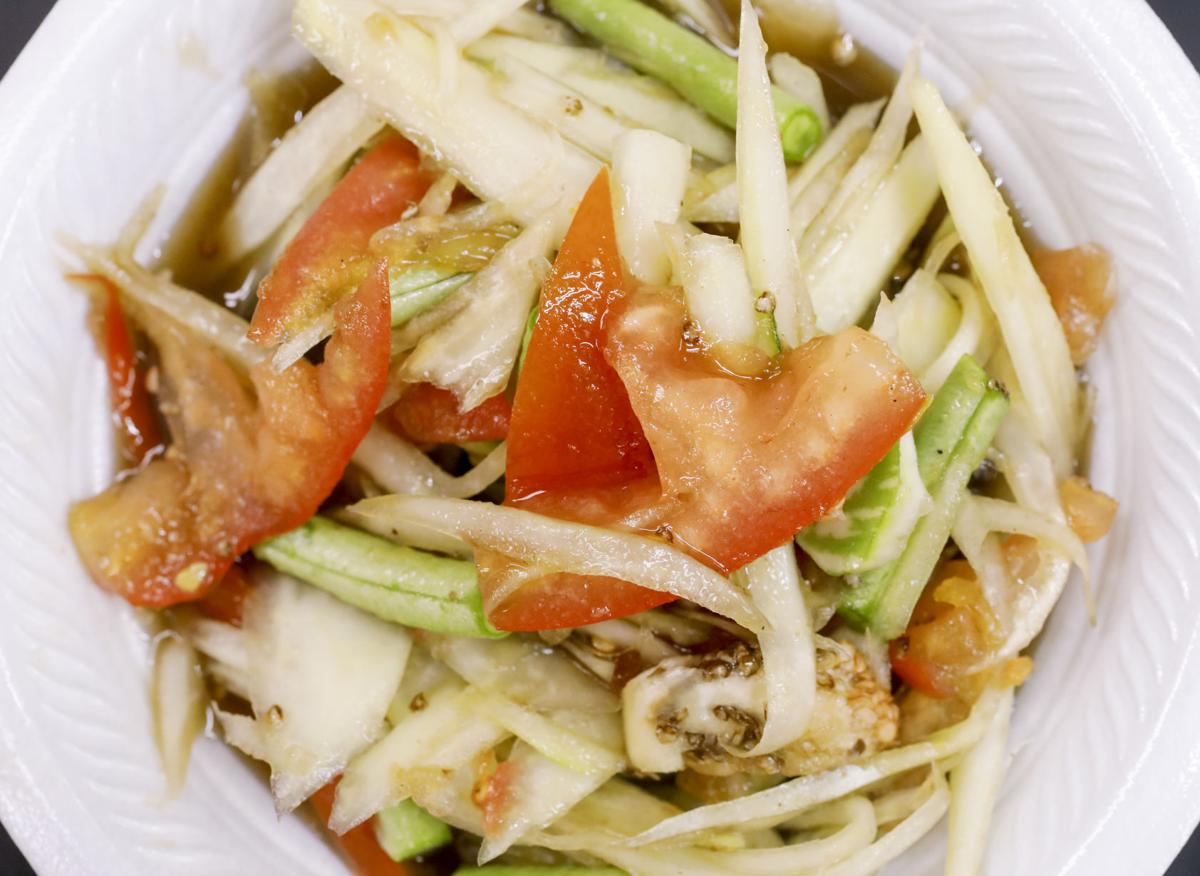 Tammy Phommachanh is chopping lemongrass. The blade comes down rhythmically as the aroma of lemongrass, galangal, makrut lime leaves, cilantro, garlic and chili fills the silent kitchen. Phommachanh is focused. She is making Lao sausages.
Phommachanh is the chef of Hot n Spicy, a modest counter nestled at the back of Viet Hoa Market, 4602 Monona Drive. The dine-in area has three small tables. Two chalkboard menus hanging on the green wall greet customers with a list of lively dishes that Phommachanh cooks.
On Wednesday, Hot n Spicy does not open until 3 p.m. Phone calls break the silence in the late morning anyway. Phommachanh's son, Newton Sam Phothiboupha, picks up the phone.
"Pad Thai?" he says. "What spice levels do you want, mild, medium, hot and spicy?"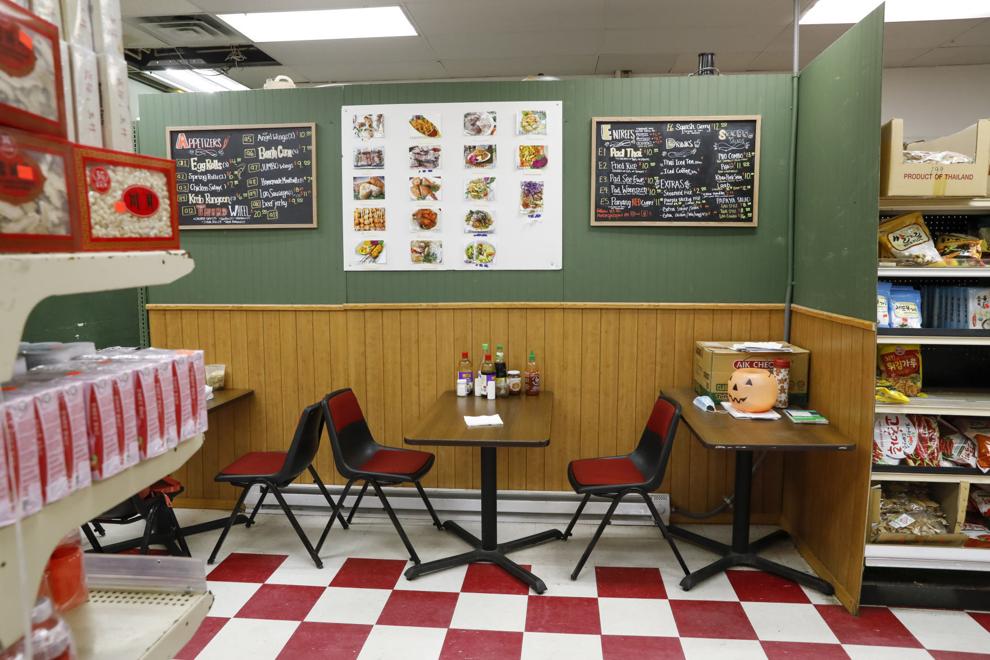 'I think we can make this work'
Hot n Spicy opened on October 18, 2018. It was a decision made in a week, when Phothiboupha drove up to Madison from Rockfield, Illinois, where he lives and owns a nail salon.
Phothiboupha had checked a few places in Madison for his mother, who had also been running a nail salon for years and was looking for a new spot. It was not an easy hunt. He almost gave up, but a casual visit ignited a fire of inspiration. At Viet Hoa, a South Asian grocery store in Monona, Phothiboupha examined the food-prep counter and talked with the landlord about rental terms. He decided he and his mom should open a quick-serve Laotian food counter.
Over dinner that night, Phothiboupha encouraged her to take the leap: "Mom, if you can be patient with me, I think we can make this work." 
Phommachanh was ready to change careers, and wanted to support her son giving all the love and support that had been missing in her childhood and teenage years. "He does everything for me, and I do everything for him," she said. "I want to help my kids, because in my life, my mom and my dad separated ... my dad remarried, my mother was far away from me." 
Growing up in Laos, Phommachanh lived with her paternal grandparents after her parents divorced. At the age of 8, she started cooking for her extended family. In 1987, when she was 17, Phommachanh came to the United States. She vividly remembers the journey, crossing the Mekong River, spending two years in a Thai refugee camp, then another year in the Philippines learning English as a second language.
Phommachanh's eldest is her "baby boy." Born in Iowa, Phothiboupha moved to various American cities with his parents, then accompanied his mother after her divorce. In Orlando, Phothiboupha's uncle runs two Thai restaurants, where he worked as a cashier. He found himself having more fun chatting with people. That's also where his mother honed her cooking skills.
"I'm really lucky to have him as my boy. I cannot complain," Phommachanh said with a laugh.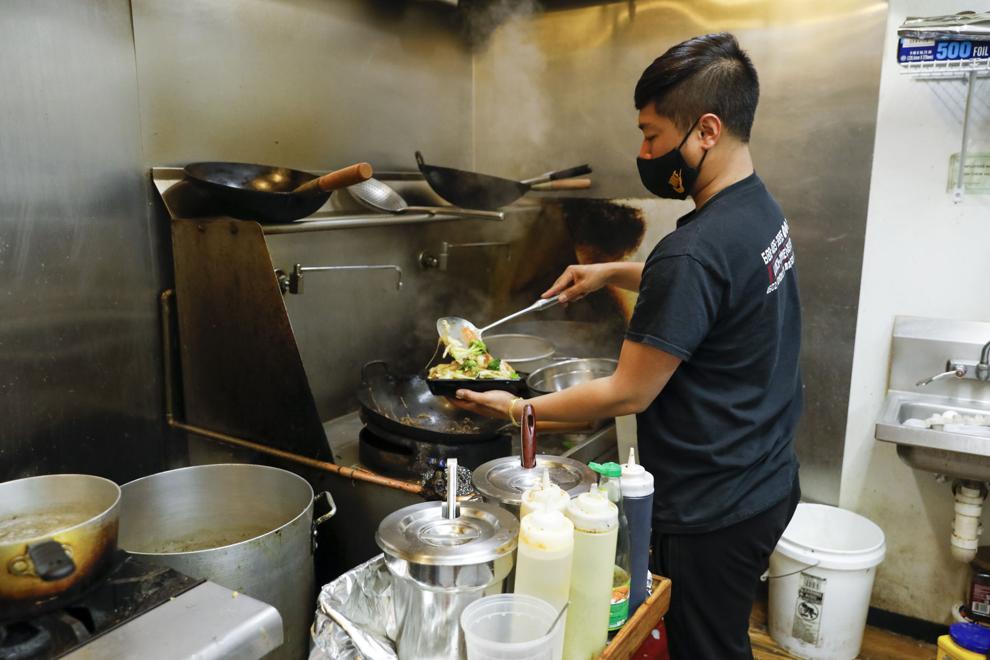 Funky, spicy, bitter, earthy
Laotian restaurants are less visible than Thai spots in the United States, though many Thai restaurants are run by Laotians, Phothiboupha said.
He explained the invisibility of Lao cuisine in the country. "I would say it's unfiltered…it's not Americanized. Thai food has been made lighter to please the palate, (while) Lao food has a lot of favors."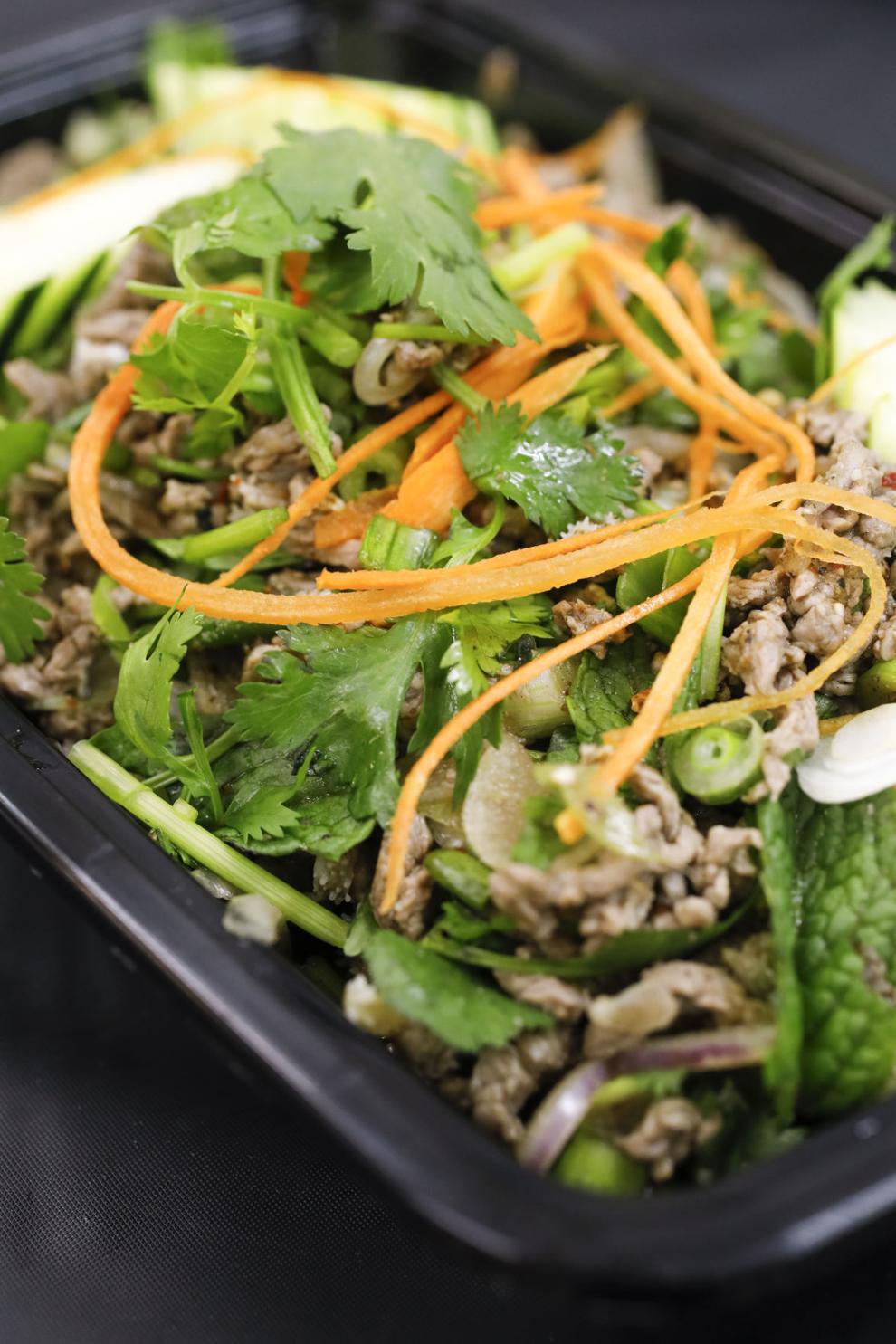 What Phothiboupha means is that Lao cuisine is packed with funk, spice, bitterness, and earthiness, which may not have as broad appeal. On the menu, he presents two versions of papaya salad ($8), a Lao version and a Thai version, to show the distinction. A balance of spicy, sweet, and sour flavors are present in the Thai style, while the Lao papaya salad is more sour, funky and slightly bitter.
Papaya salad "is a side dish we always have," he said. "It's just like kimchi for Koreans."
For him, the food also symbolizes love and a feeling of comfort. Phothiboupha wrote a small menu, with "homemade" appearing in the short introduction to almost 17 appetizers. "We're taking the time and the effort and the love, and that's something we hope people can take," he said.
On the weekend menu, Phothiboupha added a special dish to salute his mother. namkhao tod (crispy coconut curry rice salad, $13) is one of his favorite dishes his mother made at home. It comes with crumbled crispy rice balls, green onions and cilantro ("a texture thing," he said).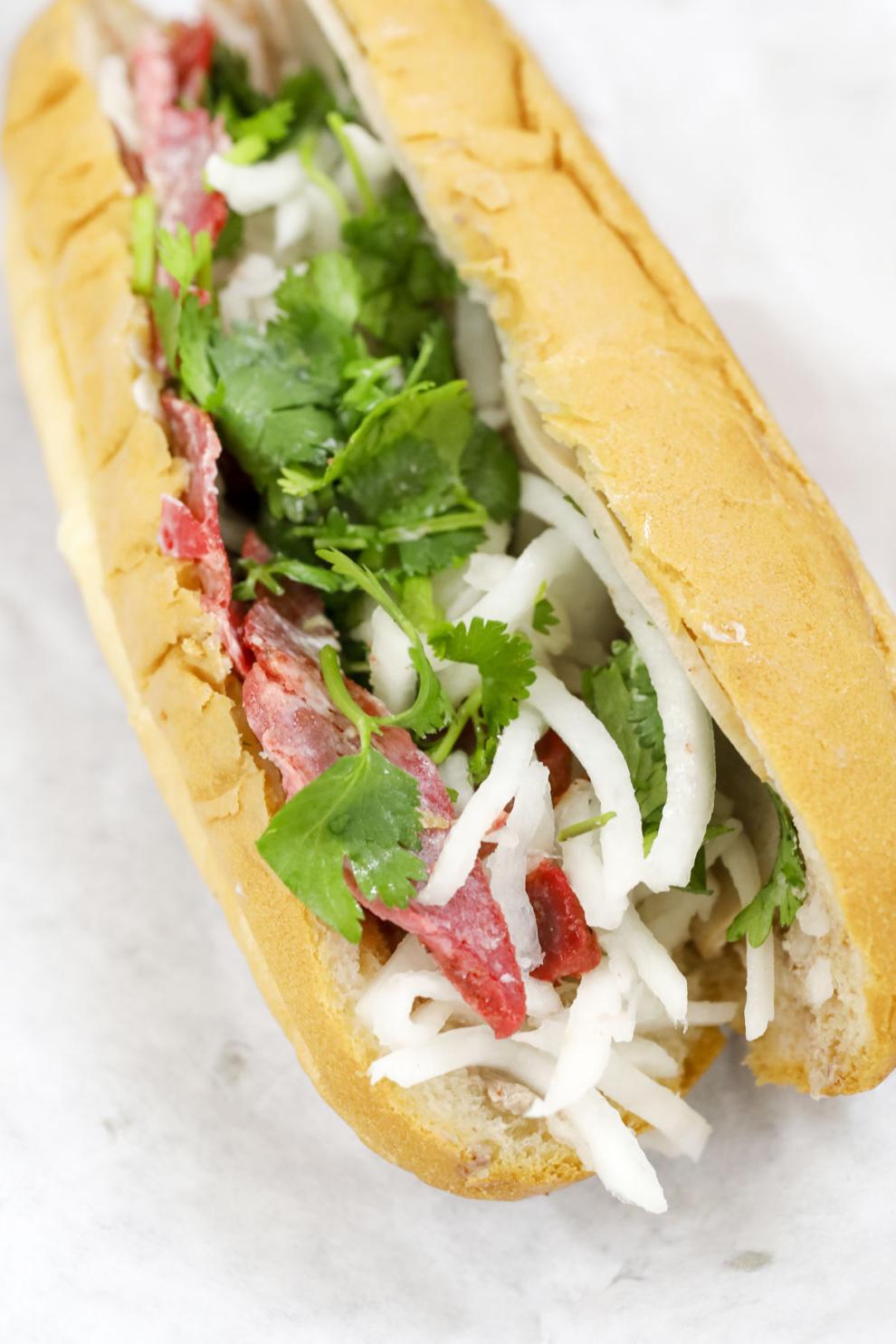 Other Laotian favorites include Lao sausages ($8 for two, $11 for three), homemade seen savanh (beef jerky, $9), banh cuon (steamed rice rolls, $8) and khao piek sein (chicken noodle soup, $11).
While Hot n Spicy explores his Laotian roots, Phothiboupha has also added popular Thai and Vietnamese grab 'n go goodies like banh mi sandwiches ($6) and pho (noodle stew with beef and meatballs, $11). 
He speaks candidly about their bestselling dish, pad Thai ($10-$13), despite his efforts to present Laotian dishes. Over the past two years, the mother and son team has refined and standardized their recipes. Phothiboupha knows that consistency is essential to maintain high-quality dishes and that it is more accessible for another staffer to replicate his mother's homemade recipes.
The grab and go business has been growing and profitable during the pandemic, and now Phothiboupha has come up with a new plan to expand the presence of Laotian cuisine in Madison. He has begun looking for a second location for Hot n Spicy.
Phommachanh says she will support her son in five more years. Afterward, she hopes to visit her extended families in Lao and Thai.
For now, the mother and son team work just fine. 
Share your opinion on this topic by sending a letter to the editor to tctvoice@madison.com. Include your full name, hometown and phone number. Your name and town will be published. The phone number is for verification purposes only. Please keep your letter to 250 words or less.