As a co-owner and chef of Madison's most celebrated fine dining restaurant, Tory Miller is no newcomer. Yet his latest concept, Miller Family Meat & Three, acts like a start-up. When Miller posts a video about the brisket, get it while it's hot or don't get it at all.
"It's just me cooking," said Miller, who serves a personal take on soul food Tuesdays through Saturdays out of the Estrellon bar space at 313 W. Johnson St. "It's still a pretty big learning process for me. I've never been part of a restaurant that only preps a specific amount of food."
In many respects, Miller Family Meat & Three behaves like a food cart. Ordering opens each day at 4 p.m. for the day's proteins — perhaps fried chicken, bulgogi beef tips and blackened catfish — with a choice of three sides, all for $22.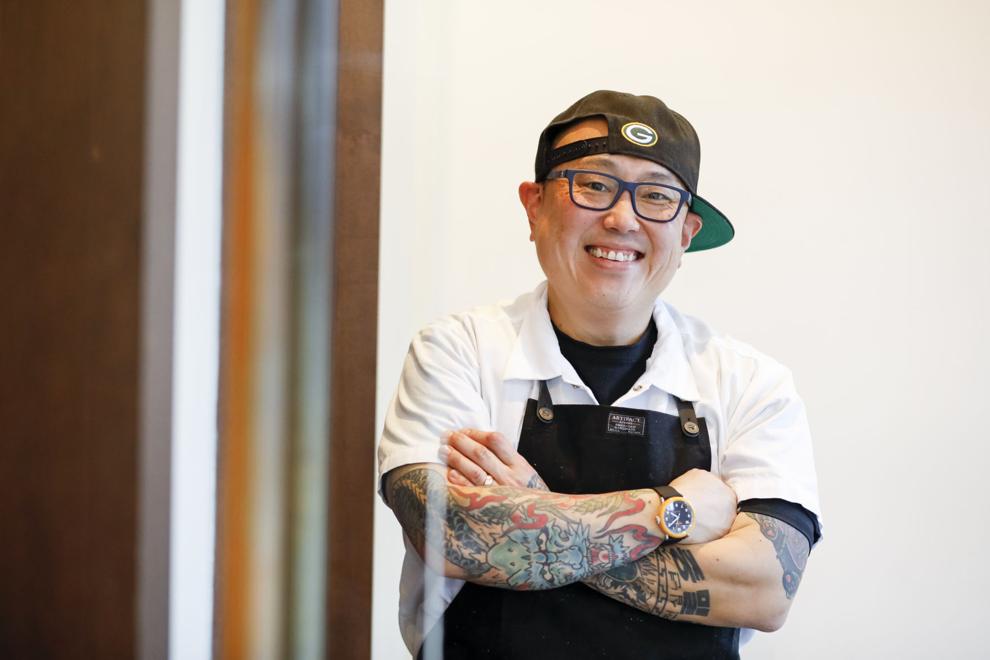 The pick-up window is always right now, 20-25 minutes from when you hit "pay" in the online ordering system. This matters if you want to eat Kristine Miller's warm 7-Up biscuits with honey butter at 6:30 p.m. They might be gone by then.
Heck, everything might be. On a recent Tuesday, the chicken, fish and rib tips had sold out by 6:15 p.m., and the proteins drive the bus. Sorry, folks, please come back tomorrow.
"I've definitely thought about doing pre-orders, so I know I need to prep 70 of something," Miller said. "But I'm not in a position to do that much stuff right now. It's just me, and I'm super old."
Estimating ratios of tater tot casserole to fried chicken is a new kind of calculus for Miller. As the co-owner of L'Etoile and Graze as well as the Spanish-inspired Estrellon, he's accustomed to working with sous chefs and line cooks who prep in quantity.
He started the Meat & Three as a new revenue stream and is working with a very small team. Kristine, Miller's wife and the pastry chef at Estrellon, makes the flaky biscuits and (excellent) fruit cobblers. Director of operations Helene Palau-Tejeda helps with the front of house. The bookkeeper is also the delivery driver.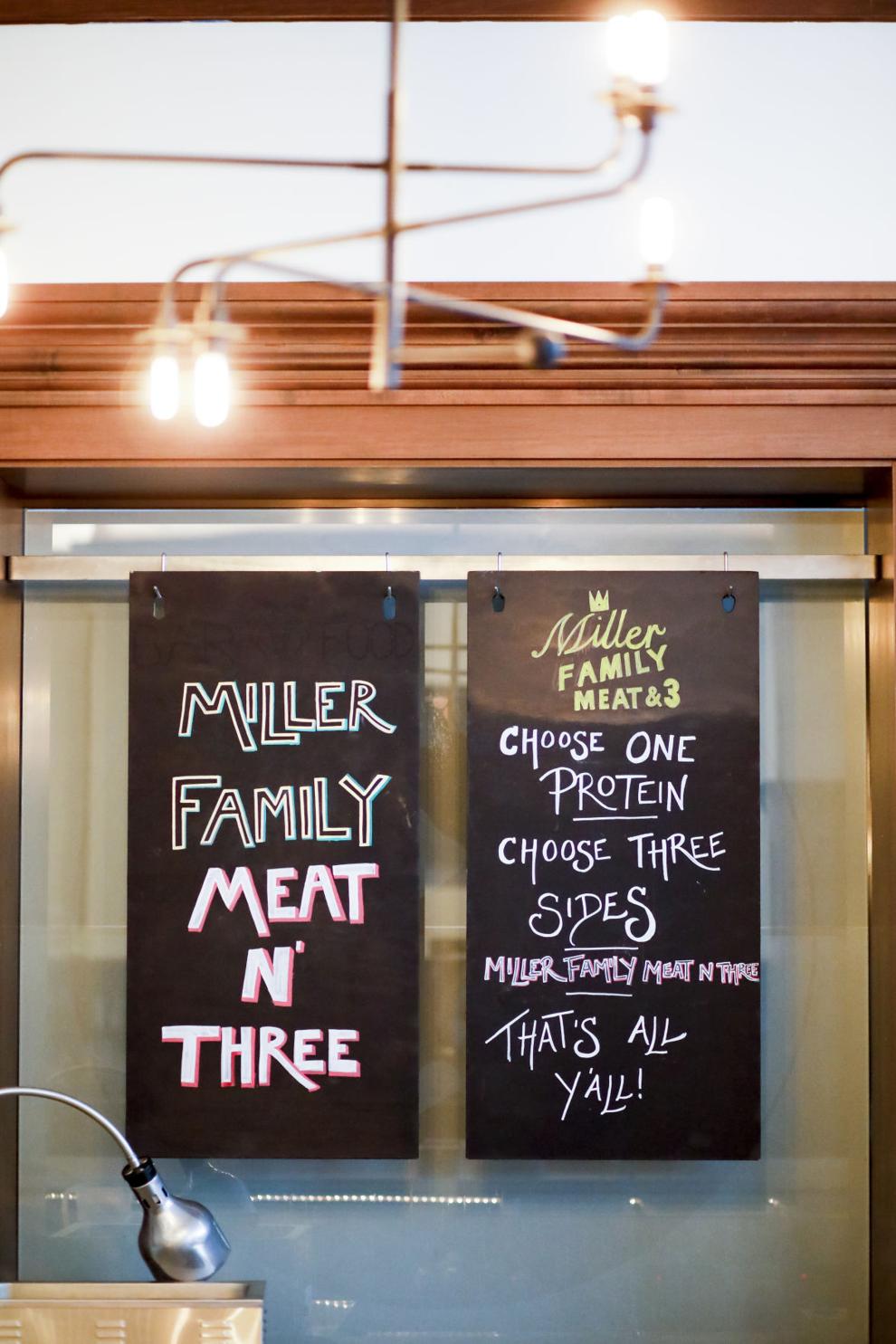 With pandemic safety precautions keeping restaurants in a state of financially devastating stasis, income is down drastically at all of Miller's businesses. 25% is generous, he said.
Still, the Meat & Three, with its focus on relatively inexpensive meats and comforting, carb-y sides, isn't exactly a cry for help. He thinks of it more like an awareness move.
"Every day we're in the same boat, 'Do we stay open, do we shut down, how long can we remain shuttered and come back?'" Miller said. "People think, 'They must be making it if they're still open.' That's not the case. We're all exhausted. Bills are piling up.
"Instead of a GoFundMe, I opened a meat and three."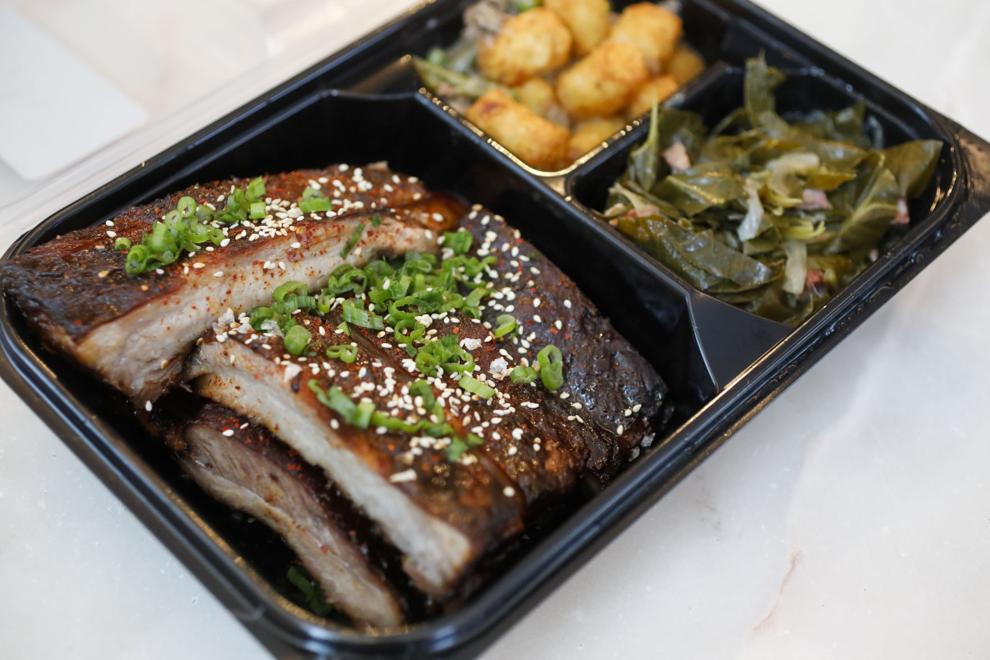 There's a mac and cheese (add-on sides cost $5) made casserole style, unlike the blue box-style mac at Graze. This one has Emmi Roth Grand Cru, Hook's 1-year aged cheddar, American and SarVecchio cheeses. Don't tell anyone, but even without the Hook's 10-year cheddar, I liked this one (a lot) better.
Miller nods to the south with barbecue baked beans and mashed potatoes with gravy that will soothe what ails you. Collards were soupy and perfectly salted. Candied yams with peanuts tasted like Thanksgiving. There's Duke's mayo in the sauce for the chicken, and the coleslaw was so creamy, it felt like the cabbage and kohlrabi were melting into it. It made me think fondly of the banchan at Sujeo.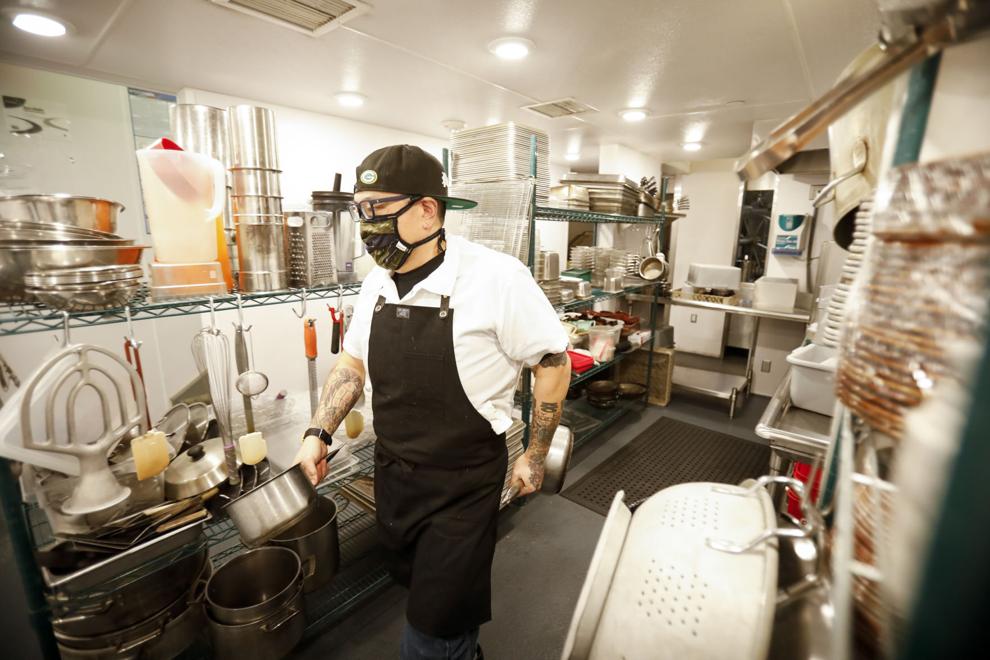 Miller defines this food as being from his soul, differentiating it from the southern tradition. He brings in his Racine background with the coleslaw and his Korean heritage with a bulgogi marinade on beef tips. We missed bacon green beans and German-style cider-braised cabbage, but the summery sweet corn casserole was so wonderfully cheesy, I stole it off my partner's plate.
There's not much for vegetarians right now, a symptom of shorter prep lists, resources and time. Miller starts cooking at 2 p.m. each day, and has started to think about what might happen when Overture Center reopens and Estrellon is rocking 200 covers on a weekend night again.
"It's hard to see past February at this point," he said. "We're slogging it out until we aren't."
As for the other restaurants, Deja Food Group (of which Graze, Estrellon and L'Etoile are a part) plans to apply for the next round of Paycheck Protection Program grants. The team will likely come together soon to start talking about what reopening L'Etoile could look like.
Meanwhile, Miller and his family keep cooking.
"It's always made me happy to cook and make people happy with what I'm making," he said. "I always want to have a restaurant where I can be myself, and hopefully people dig it."
Share your opinion on this topic by sending a letter to the editor to tctvoice@madison.com. Include your full name, hometown and phone number. Your name and town will be published. The phone number is for verification purposes only. Please keep your letter to 250 words or less.