If it looks like a bao, tastes like a bao and is plated Korean-style with kimchi and scallions, why would anyone call it a taco?
This is one of many puzzles at Tin Fox, the new American restaurant open since May 4 on Monroe Street. The Neal family — chef Justice Neal, his parents Marissa and Greg Neal, and his wife Berenice Fragoso-Ayala — want their restaurant to be "a little different" than those nearby, according to the chef.
It's worth remembering that "different" may not mean "better."
When the Neals turned the key on Freiburg Gastropub at 2616 Monroe St., they changed very little save signs and a few art pieces that rotate and are posted for sale. The dining room is still an open, comfortable space, with a long wooden bar on the south side of the room, a window into the kitchen and a mix of dark wood high-tops and dining tables up front.
It's the people who are new. Chef Justice Neal grew up in southern Wisconsin and built his culinary resume at restaurants in Chicago (Bill Kim's BellyQ, Hopleaf) and Milwaukee (Blue Jacket, Black Sheep, University Club).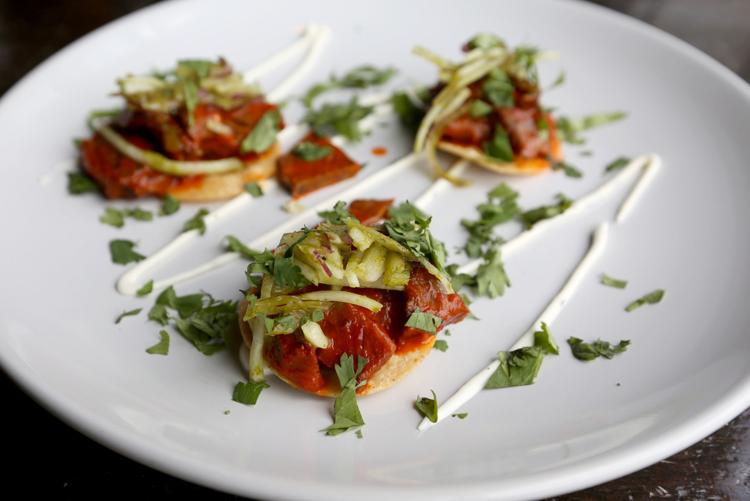 Neal's menu at Tin Fox reads a little like a greatest hits list of the 2010s, populated by shareable boards ($16-$25), fried cauliflower (undercooked and bland, $9) and lots of gluten-free options.
Tin Fox makes fried cheese curds but not the usual breaded kind, swathed instead in pancake batter and drizzled with maple syrup ($10). It's a savory-sweet combination that works for the same reason chicken and waffles do.
Those curds were, by decent margin, the most interesting and successful of Tin Fox's appetizers. Beneath a protective layer of fat, duck liver mousse ($5) was so buttery and mild, it would be hard to pick it out of a blind taste test. 
Fried chicken skin ($3), golden jagged sheets that looked like a promising cousin to chicharrones, burned with salt, shatter-crisp in the centers but still chewy at the edges.
The mini beef tostadas ($10), each about the size of a silver dollar, got soggy on the bottom almost immediately. They reminded me of the individual nachos they serve at Americanized Mexican restaurants in the rural Midwest, except fancy.
Those beef buns ($9), er, "tacos," had a better build, with good texture and flavor from the short rib and assertive seasoning. They should have the right name. At lunch, a hard, crusty baguette was wrong for a crab cake po'boy (at $16, hardly po'), an otherwise decent and well-stuffed sandwich with a tangy remoulade.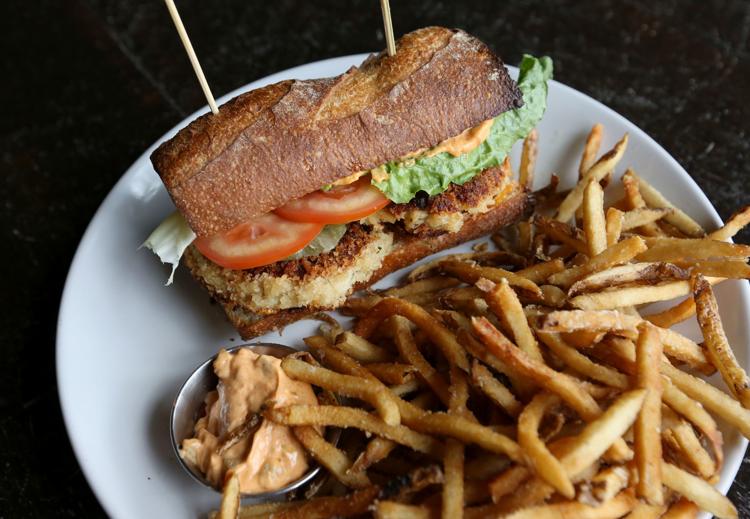 But then, a lot of things at Tin Fox felt overpriced. Despite a cute wooden "farm to fork" sign propped on the bar, those weren't a local farmer's greens on a $10 salad of romaine and chickpeas, made with both feta cheese and Vietnamese fish sauce. ("For umami," Neal said.)
So far, Neal has been focusing more on sourcing protein locally. To his credit, those proteins were cooked with confidence and skill.
A New York strip ($30) appeared crusted in cocoa, draped with foie gras butter and perfectly medium rare inside. Halibut cheeks ($27) were simply beautiful, more than an inch thick and melting all the way through.
They were undermined by careless plating, a pile of fingerling potatoes, green beans, corn and cucumber underneath in various stages of lukewarm, and a handful of fiery red chilies on top that obliterated the nuance in anything they touched. (A garnish of crispy artichoke, forgotten, came out later on a separate plate.)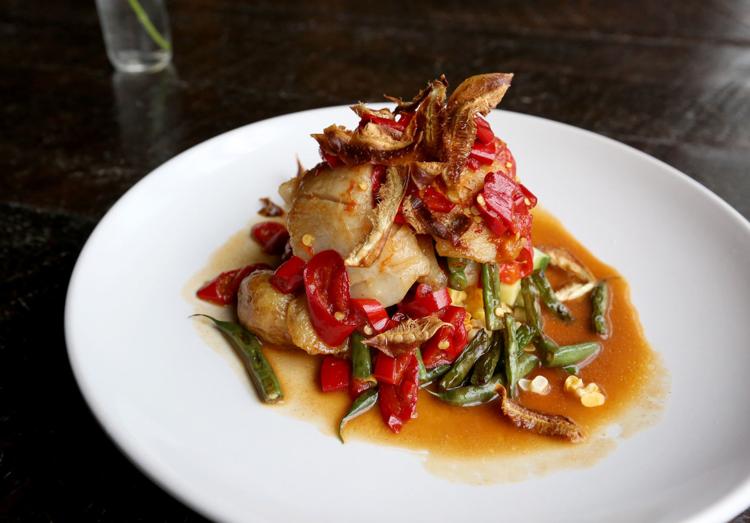 When it first rolled up to Monroe Street, Tin Fox had a bit of a tin ear with its city applications. Its business plan outlined local competition, calling Jacs, Tin Fox's direct neighbor across the street, "not memorable." The application criticized the food ("average") and the "too open" décor at the Food Fight restaurant Everly ("urban industrial ... has a warehouse vibe").
The Neals implied that Freiburg Gastropub, its immediate predecessor, was unsuccessful because "the bar was not woman friendly," with too much "heavy black German beer." I can think of a few people who might object to that characterization.
Tin Fox does have a very long beer list, recently a mix of local and regional names (Central Waters' Mudpuppy Porter, New Glarus' Totally Naked) and IPAs from Coronado in San Diego. A Dogfish Head SeaQuench gose ($6/pint) and Colective Arts Mash Up the Jam ($7) indicates the sour trend isn't over yet (yay!).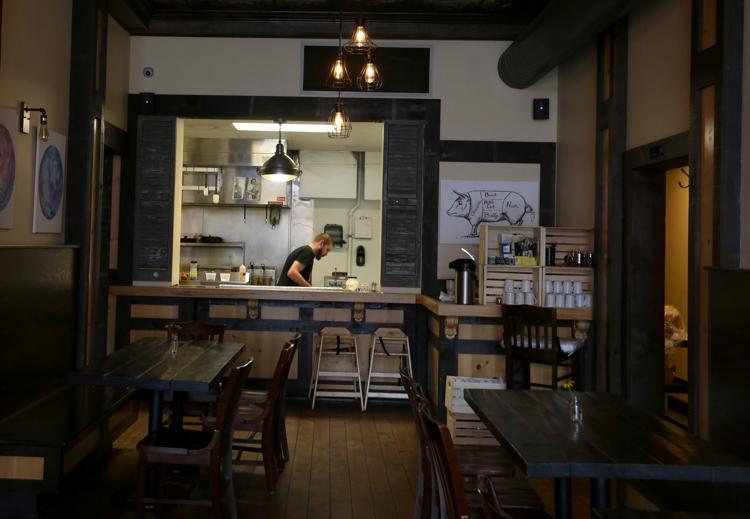 Maybe it's ironic that where Tin Fox does best is where it overlaps with its tavern-style neighbors. The Tin Fox house burger ($15) was solid in every sense, from tender and well-seasoned beef to perfectly melted smoked cheddar and a buttery golden bun from Batch Bakehouse. On the side were perfectly good, skin-on, bistro-style fries. Zero complaints. 
Pork tenderloin from Fox Heritage Farms ($25) stayed nice and juicy, served over browned spaetzle (better than what I remembered at Freiburg) and a fruity bacon jam.
The cocktails were good, too, created and curated by Brandon Golber. The bar did well by classics — the bitter citrus of a Negroni ($9) is so ideal right now — and keeps sweet, sour, boozy and bitter all in play on the originals.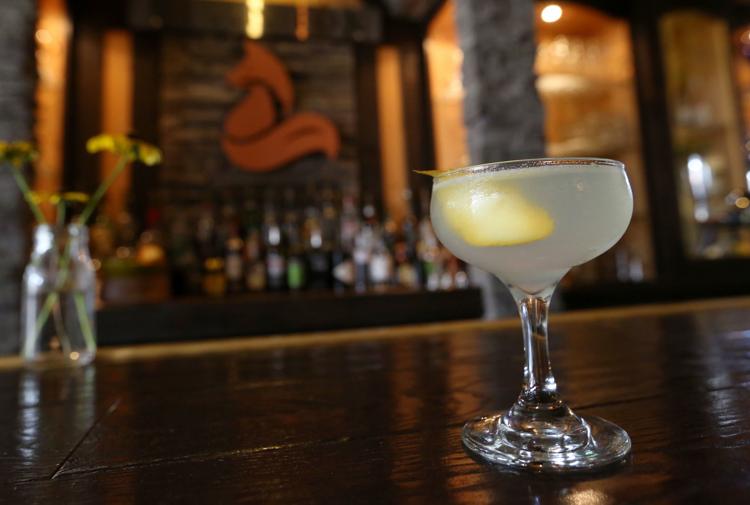 Right now I'm into the For Fox Sake ($8), a fresh, lightly vegetal cocktail built with gin, cucumber and orange flower water. As soon as a single leaf turns from green to yellow, the Fantastic Mr. Fox ($10) with bourbon, vermouth and cherry bark vanilla bitters will be as comfortable as an old sweater.
It must be challenging for a new restaurant to figure how much food to bring in during a slow season, not to mention the street construction throwing everyone off. That could explain why so often, the thing we wanted to order was out, as well as the presence of a root beer float ($7), which has ingredients that last for weeks and requires little more than assembly. At least it's bubbly and nostalgic, and not that much more expensive than Michael's Frozen Custard.
When the backhoes clear out and Monroe Street is passable again, Tin Fox wants to be well positioned to draw people south.
"One of the biggest challenges is going to be staying current," Chef Neal said, "finding new trends that our competitors are not offering, consistently being different."
Tin Fox's bar is comfortable, and the windows let in lots of ambient light. There's a decent beer list, some good cocktails, a burger with character, crispy curds.
That's not what Tin Fox wants to be known for, though. And renaming things isn't the same as reinventing them.