Noah and Julie Przybylski were having lunch at Athens Grill, a Greek-American place north of town, when they landed on an idea for a new course.
Let's put a gyro on the menu, they said.
The Przybylskis' new fine dining restaurant, Nook, does five- and nine-course tasting menus. Their gyro couldn't just be a gyro. So they deconstructed it, pressing roasted lamb loin, cured lamb and lamb sausage into a brownish-pink puck that, when sliced, evoked the swirls of the Pepsi logo.
Surrounding each round were pickled cucumbers and tomatoes and pita wedges fried in lamb fat, all artfully arranged with a smear of tzatziki and a smattering of smoky, sweet-hot bishop's crown pepper.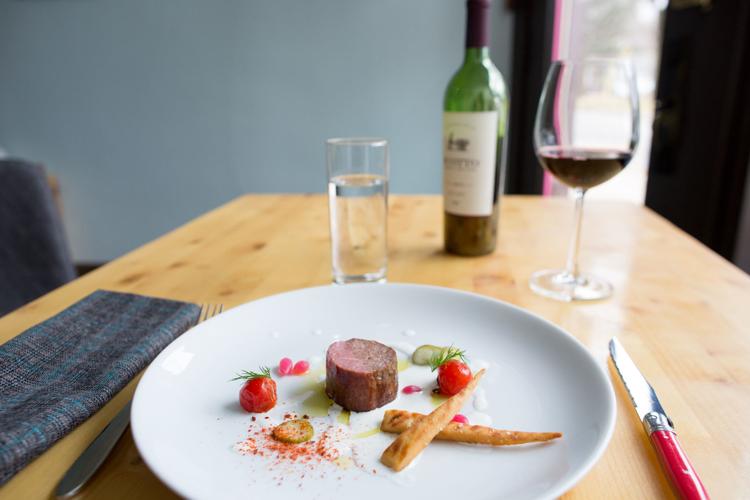 Charmed by this kind of culinary flexing? Or rolling your eyes and heading out for a real gyro? Your reaction is a good way to tell if a trip to Nook will fit your style.
The east side's newest restaurant is both homey and experimental, with good beer, marginal wine and close-to-communal seating. It also has the potential for sticker shock. Dinner for two including nine courses, beverage pairings, gratuity and coffee ran about $325.
The concept is refreshing and the people are delightful. But I'm still working out whether that was a worthy splurge.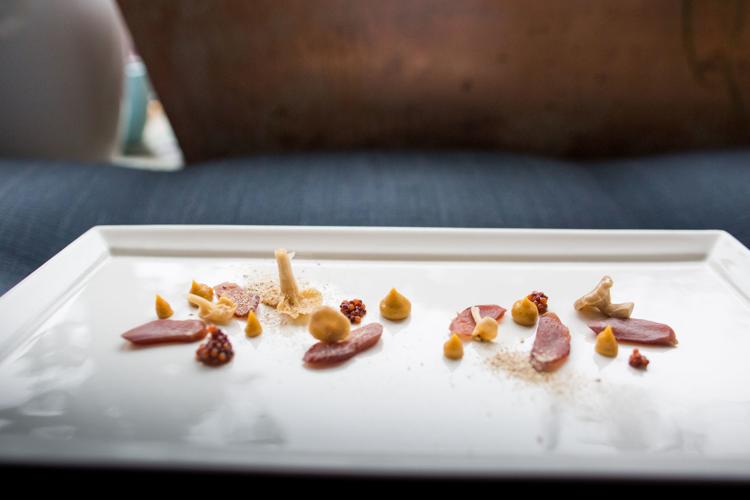 Nook has been open for about six weeks on Atwood Avenue, slipped in between an optometrist and a barber shop. It's a part of the city that, while not an inexpensive place to live, is known more for sports bars and family-friendly Asian spots.
That was part of the plan, Julie said, when the restaurant was announced in April.
"The east side doesn't have any fine dining, really," she said. "I feel like it would be something new and bright to add to the east side."
Nook is a passion project for the Przybylskis, who spent a decade of of dreaming and months of negotiating with the city to put a tiny, 12-seat restaurant into what was, at one time, a business called Doggy by Nature. They serve the same menu for two seatings four nights a week, Wednesday through Saturday at 5:30 p.m. and 7:30 p.m. 
Few restaurants feel as personal to the people running them as Nook does to the Przybylskis. Noah's art is on the walls and deployed as a serving piece for changing varieties of dessert "bark." Even their 4-year-old son, Bruce, had a hand in the design (look for the T-Rex on the cushion near the window and the soldiers by the couch downstairs).
Dinner at Nook feels like you've been invited over to a friend's house, a friend with a large collection of high-end, cheffy cookbooks and a childlike affection for junk food. 
Informed by classic techniques but not beholden to a single style, the Przybylskis menu lets them experiment. The most successful result, a reimagination of a late-August caprese salad of tomatoes, mozzarella and basil, popped up on Nook's nine-course menu earlier in December.
Dried summer tomatoes steeped into a tomato-water tea bathed a trio of cherry-sized (ciliegine) mozzarella balls, like broth with cheese dumplings. It was the last savory course of the menu and the first time my eyes popped open — a real surprise.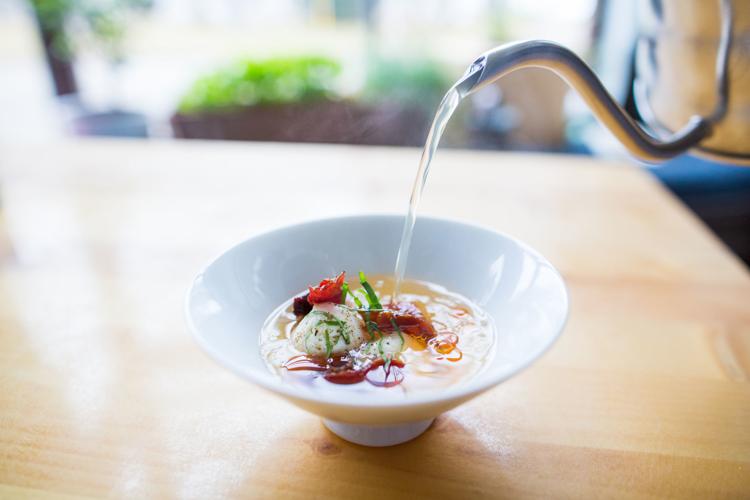 Every dish at Nook has some technical, textural flourish. For a cute riff on "shrimp cocktail," the lemon component was Jell-O and the parsley was fried. Tempest Oyster Bar should look into this idea for its Tower of Fish.
A dessert listed as pumpkin seed crème brulee with raspberry jam looked like an abstract oil painting in sage green, magenta and pumpkin-orange. On top, a thin layer of clear sugar made bubbled textures in the custard when we pressed down with our forks. Nutty, creamy and not too sweet, it felt both refined and homey.
Nook's menus in recent weeks have been veggie- and fish-forward, with just one dish needing a swap if red meat is not your thing. For "cow and tail," a chili variation, the Przybylskis paired a poached tenderloin of "old dairy cow" from Pritzlaff Meats with braised oxtail and lima beans. It was one of several dishes at Nook that were simply fine, not unpleasant, but never more than the sum of their parts.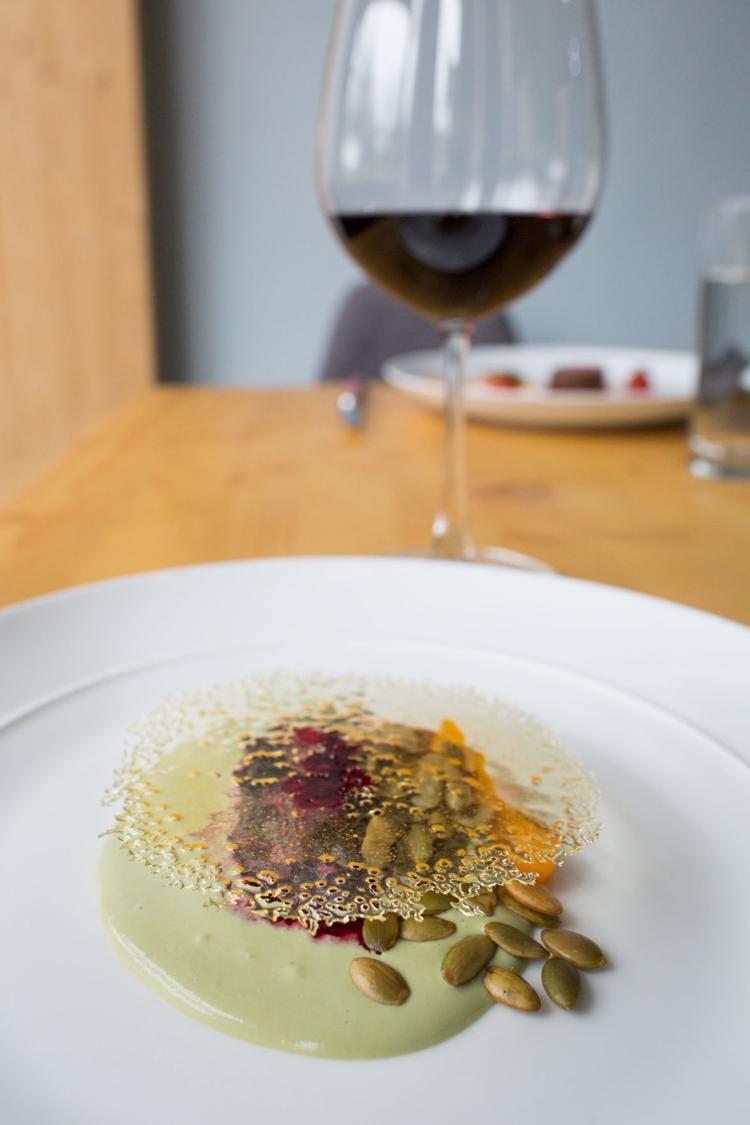 A trout belly crudo was like this, a pretty pink dish with tiny balls of quince and too much vinegar. It was the same with a dish of beets, both cooked and spiralized raw, served with sorghum two ways. The latter may have needed an edit rather than a full rewrite, but the tannin from the raw beet and gummy sorghum did not come together.
Nook's menu had lots of playful elements. There were fried Fig Newton croutons on a baby kale salad with "blue balls" of gorgonzola, blitzed sweet pea crisps as a garnish on steak and, on top of creamy mac and cheese, crumbles of toasted panko tossed with aged cheddar powder. It looked like crumbled Cheetos. 
Few dishes packed the flavor punch of that caprese broth, but only a couple were a full swing and a miss. A starter snack of corn puffs mimicked the appearance and chew of styrofoam packing peanuts. Frozen sesame bark, the last bite of a recent 5-course menu, was inedibly salty.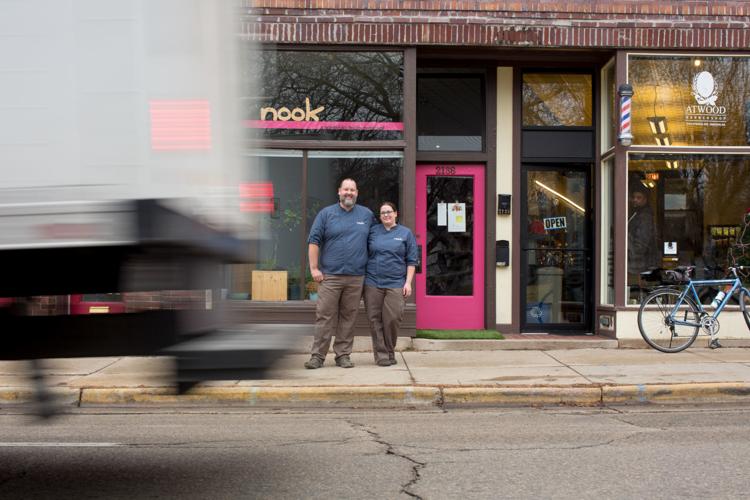 Despite months of planning and prep, Nook gives the sense of feeling its way along. For an early soup course, the Przybylskis separated cream from a root vegetable bisque and whipped it into a topping. With sunchokes, the textures were too similar.
But with pureed celery root and the weird and wonderful addition of raisins, cooked celery and toasted peanuts, heavy and light found harmony. This version, Noah explained, was inspired by the preschool "ants on a log" snack. Brilliant.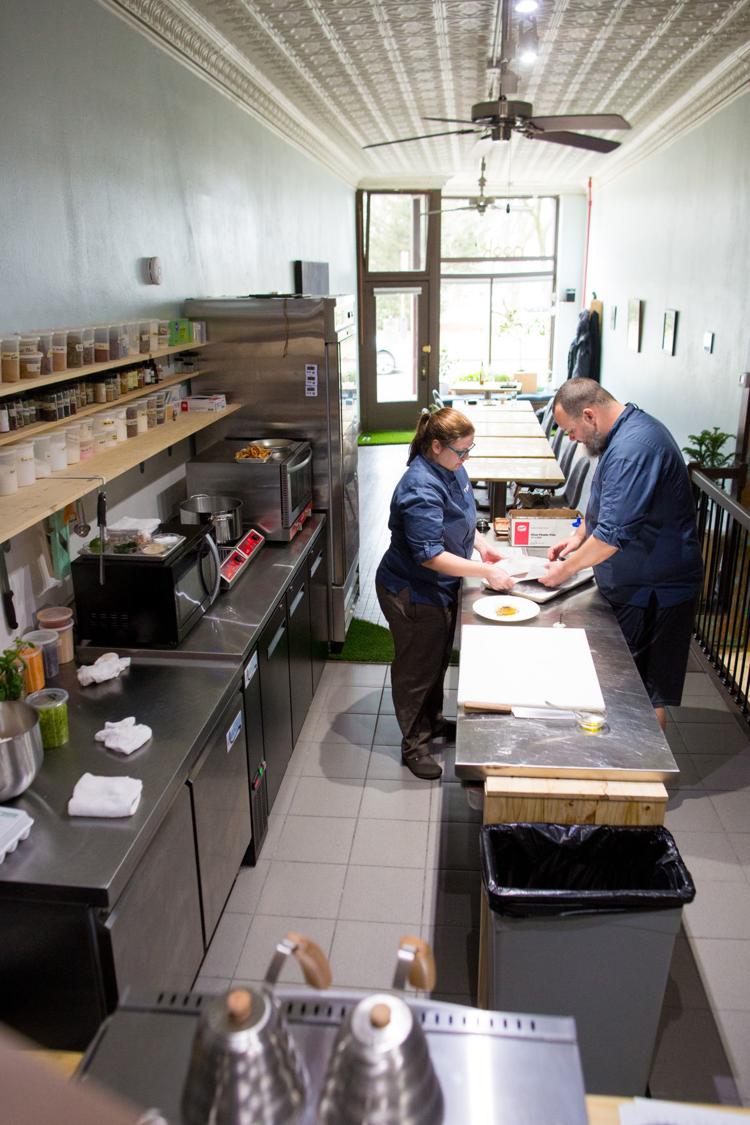 The obvious thing about paying $325 for two people for dinner in Madison is that, for most of us, that's a lot of money. The five-course menu costs $40/person with $20 beverage pairings (so $150 for two). The nine-course option recently took a small jump to $80/person, with beverage pairings at $45 respectively.
I don't love tying a creative experience to a dollar amount, because this is not Consumer Reports and we all value things differently. But for context, dinner for two at Zuni Café in San Francisco two months ago cost $282.90. Five courses at a Harvest special dinner, including wine pairings and tip, costs about $165. Granted, at L'Etoile, seven courses for two with wine pairings and 20 percent tip would cost more than $500.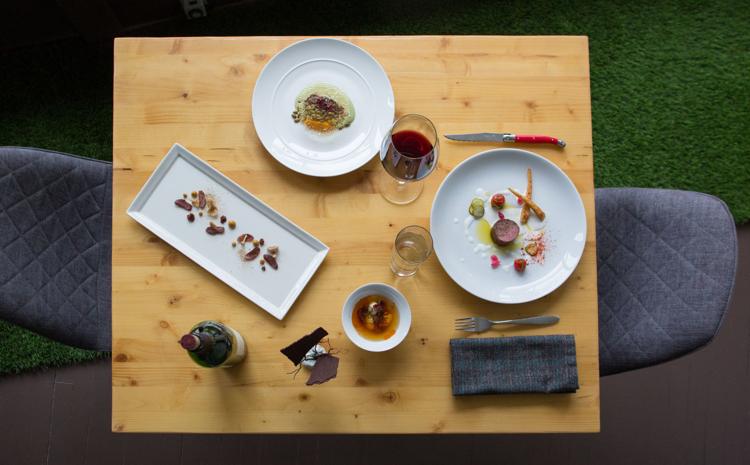 Nook is not at that level. The price of service makes it harder to overlook occasionally awkward pacing, or the fact that the (very friendly!) waitress doesn't know anything about the wine she's pouring, or that the wine itself is not very good. One, a Mendocino cabernet, was such a flat, jammy dud with the steak, we swapped it out for an Old Chub Scotch ale. It was worlds better.
Nook is such an intimate operation, it feels churlish to complain, especially when the people who prep every sorghum puff and place each flower petal are standing just feet away. Dinners there are warm, creative and fun. It appears to be a two-person-with-a-little-help operation, as small scale as it gets, with a seating plan that encourages sharing with a neighbor. (Thanks for the Delirium Tremens Belgian, new friends!)  
Even with my reservations, it is absolutely refreshing to see the Przybylskis try a restaurant that's not "a twist on tavern food" or watered-down "global" cuisine. This week, deconstructed gyros; next week, maybe, marvels with mushrooms. Dish by dish, Nook is finding a niche.