Chilly Madisonians, take heart. The remedy is dumplings, soup and soup dumplings.  
The place to find all of these things is Dumpling Haus, where the xiao long bao, or soup dumplings, are so aromatic, rich and steamy, a person could block out everything else. The polar vortex. The sheets of ice, the burst pipes, the gusts of wind.
Soup dumplings demand care and delicacy. Take a tiny bite, blow gently, inhale and slurp. It's all the comfort of soup in a cute little package.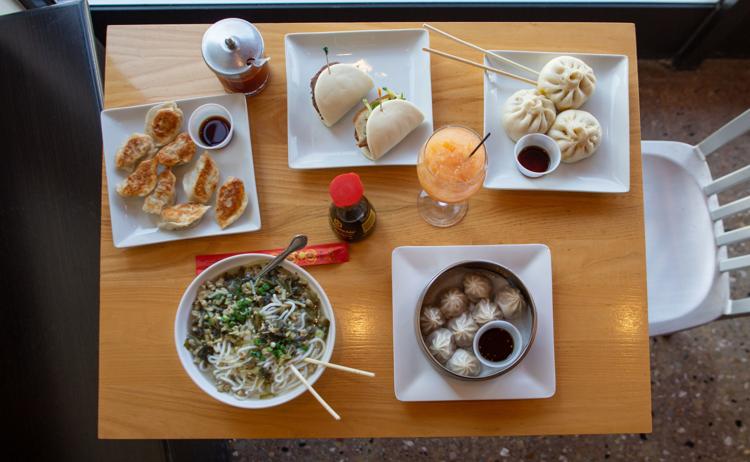 Jenny Yin opened Dumpling Haus in Hilldale Shopping Center in 2011, near the cinema then called Sundance 608. The casual noodle bar became a favorite stop during the Wisconsin Film Festival, and it was a short film — Domee Shi's "Bao," a computer-animated Pixar short nominated for a 2019 Oscar — that led me back recently, to see how the restaurant has grown since moving to a larger space in 2016.
Dumpling Haus makes Chinese home cooking, bowls of noodles and many-pleated dumplings as well as aromatic soups and a few basics, like ma-po tofu and steamed Chinese greens with oyster sauce. Ginger, garlic and scallions make an aromatic baseline for jiao zi (boiled dumplings, $10 for 10) and potstickers ($10 for 10), accented by sesame oil and aromatic Chinese cooking wine.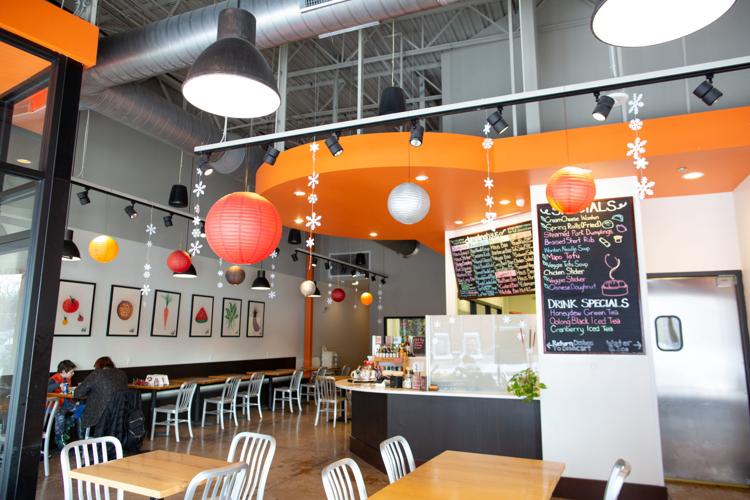 Yin herself is from Beijing, and said she first learned to cook from her mother. In her early 20s, she outlasted her colleagues while working with a particularly demanding chef in China.
"I was a sous chef for a very tough cook," she said. "Everybody left after three months. I was the only one to stay with him … to clean up his utensils, his wok. If he liked me, he'd teach me more. That was long before I came to the states."
In Madison, Yin opened Yen Ching Chinese Restaurant in 1990 and ran it for more than 20 years before opening Dumpling Haus in 2011 with her husband, William Wang.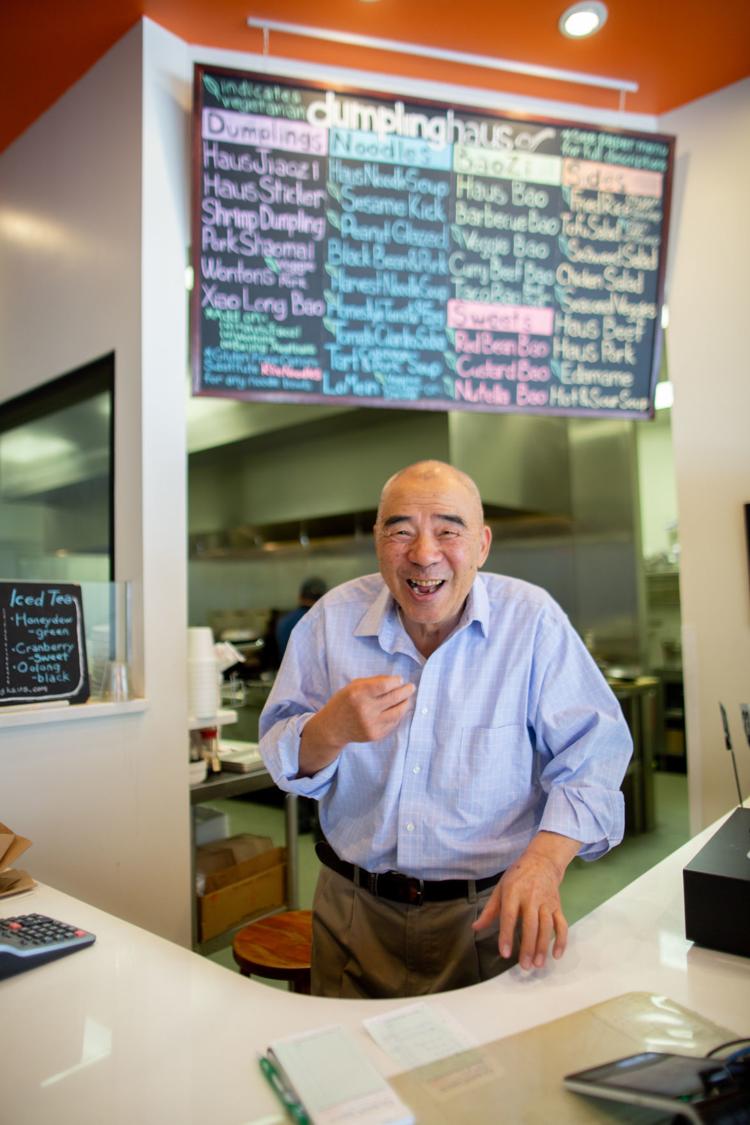 Yin knew when Dumpling Haus moved from inside the mall to the former Flat Top Grill space that she wanted to keep the open kitchen. It was always part of the appeal, she said.
"Everybody can watch us cooking," said Yin, who herself is behind the window shaping baozi more often than not. "Kids have fun, people have fun watching what we're doing. They know exactly what they're going to get, handmade."
Yin and her team make the baozi, or steamed buns, 120 at a time in a three-layer steamer. The dough for the pork-filled haus bao ($7 for 3) and another stuffed with ground beef (also $7 for 3) tasted a little sweet, which is also a clue to how Dumpling Haus can make so many.
Yin uses sugar as well as baking powder to help the yeast along and make the dough rise faster, an hour in summer and 90 minutes in winter.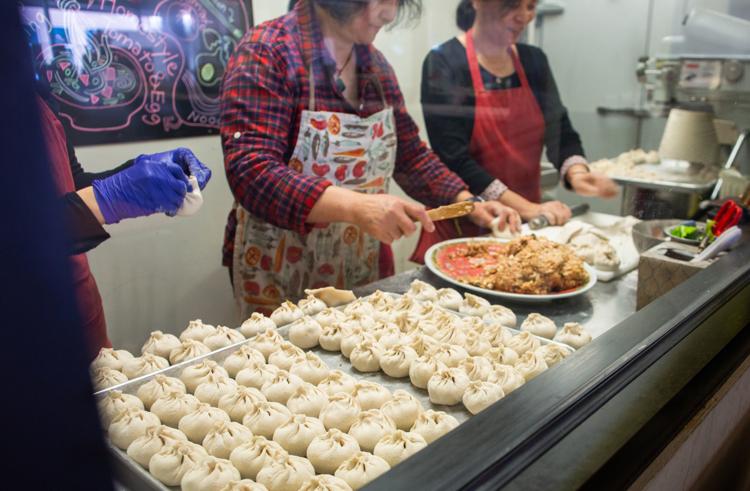 "It took me 20 years to update my recipe for these buns," Yin said. If she allowed for the usual double rise, "it would take me all day to make those buns."
Sweetest among the buns was the torn-looking BBQ bao ($7 for 3), a fairly traditional version of char siu with slow-roasted sweet pork. Most filling were the taco-style pork belly bao ($7 for 2), tender, fatty pork sweetened with sticky hoisin sauce, and pork shaomai ($8 for 8), compact, intensely flavored meatballs wrapped in open-top wontons.
The flavors at Dumpling Haus are straightforward, rarely spicy and almost never greasy. The one exception, veggie lo mein ($8), had an off flavor of cooking oil that no other dish did.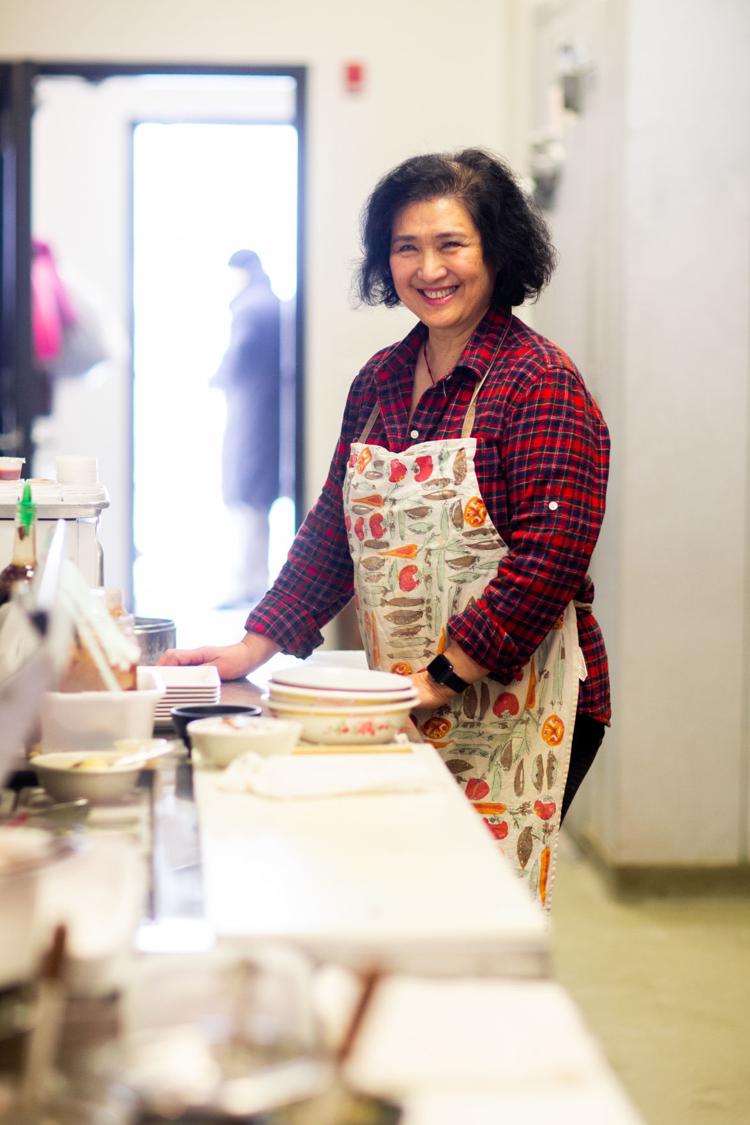 Some dishes seemed a bit blah in their simplicity, like a black bean and pork noodle dish ($9) and a tart cabbage soup ($9) that called for more toothy mustard greens and fewer starchy noodles. 
Other times, simplicity made the dish sing. Who knows why fresh tomatoes, cilantro and soba noodles ($9) tasted so good, given that it's not exactly tomato season and the only sauce on it was soy sauce. The heartiness of the wheat noodles with the acidity in the tomatoes just worked.
The soup dumplings ($8 for 8), each with nine delicate pleats, were sometimes a little leaky, but they were also an instant favorite. The secret, according to Yin, is the high-collagen broth becomes gelatinized when it's chilled. Cubes of meat jelly get folded into the ground pork filling, and when the dumplings are steamed the broth liquefies and turns back into soup.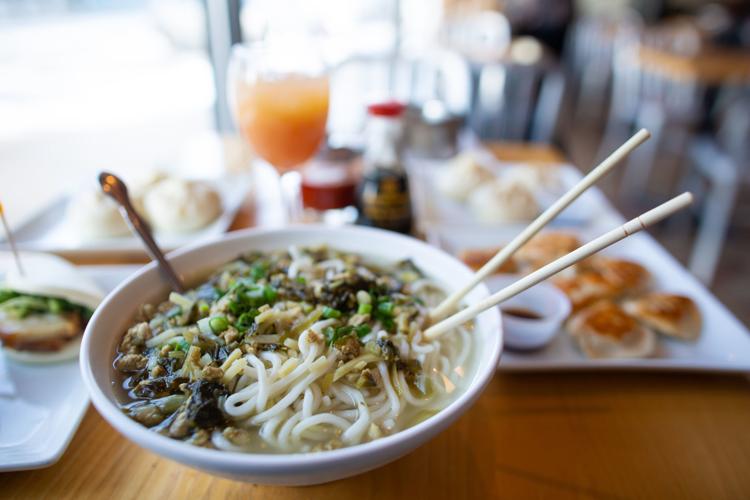 Yin has probably made thousands of baozi over her 30-plus year culinary career. This week, "Bao" is playing just across the street at AMC Madison 6. Did the filmmakers get it right?  
"Everybody talks about that," Yin said with a laugh. "It's funny. Actually I haven't gotten the chance to watch it yet, but everybody tells me it's kind of cute."