To describe Surya Café as indulgent in the context of a restaurant review seems to misunderstand the idea. There are no plates of pasta here, no pork belly mac and cheese or fried ice cream.
Yet that's the word I kept coming back to as I scribbled my 2020 intentions in a quiet corner of the revived Garver Feed Mill, sipping a smoothie that tasted like an Orange Julius. I'd just come from a challenging noon yoga class at Surya's sister business, Perennial. I felt warm all the way to my toes.
What a treat, I thought. Do some people feel this good all the time?
Surya, owned by Perennial's Meg Sirchio and run by chef Lauren Montelbano, opened in Fitchburg in spring 2017 and walked gently onto the east side of Madison last fall.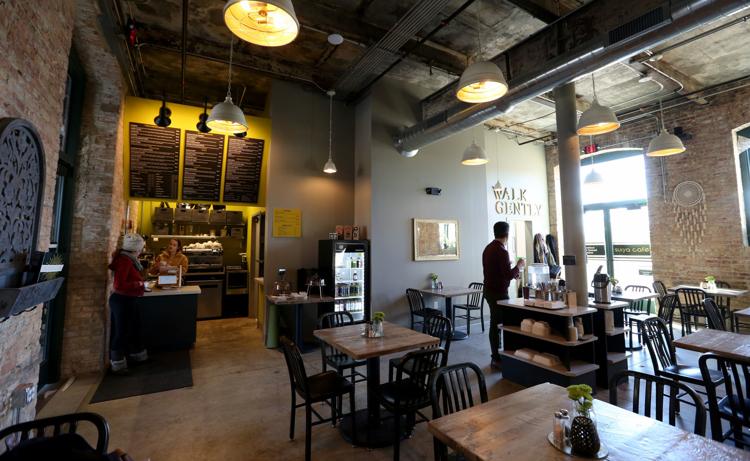 Surya means "sun" in Sanskrit. The menu at both cafés is vegan and gluten-free though they don't use those words, describing the cuisine as "conscious" and "plant-based."
Surya's opening brought the number of vegetarian restaurants in Madison to two. Isthmus reported in December that The Green Owl, open since 2009 on Atwood Avenue, was recently purchased by longtime staffer Erick Fruehling.
The challenge of running an all-veggies-all-the-time restaurant in a smallish Midwestern city is mostly mental. Will I feel full? What about protein? What's in tempeh, and why are they calling cashews "cheese?" I love nutritional yeast and grew up with wheat germ in my cookies, but I get squirrelly when I see "wings" and "meatballs" on a vegetarian menu with no further clarification.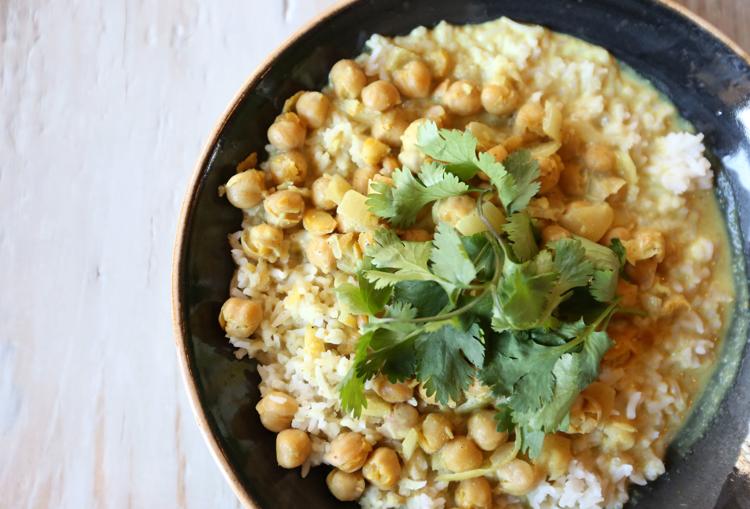 Surya backs away from meat substitutes, relying on cuisines that are already more vegetable-centric. The kitchen builds flavor with spice blends, herbs and nuts, with the occasional boost from miso and liquid smoke.
Montelbano studied cooking in India and Thailand, and a pan-Asian element runs through Surya's menu. There's a warming, seasonal Thai-style curry ($13), recently with chickpeas and squash, and kitchari, a traditional Ayurvedic stew ($10) made with mung beans and basmati rice. These can be a little bland, but they're hearty and the portions are generous.
Surya roots through its Midwestern identity with maple syrup to sweeten a wonderful little bowl of brussels sprouts ($7.50). Microgreens from Vitruvian Farms in McFarland dot snack-sized toasts ($7.50) in surprising, creative combinations. Try the "wild card" — spicy peanut butter is a little sweet and salty, with pickled red onions and bok choy as well as thinly sliced apples for crunch.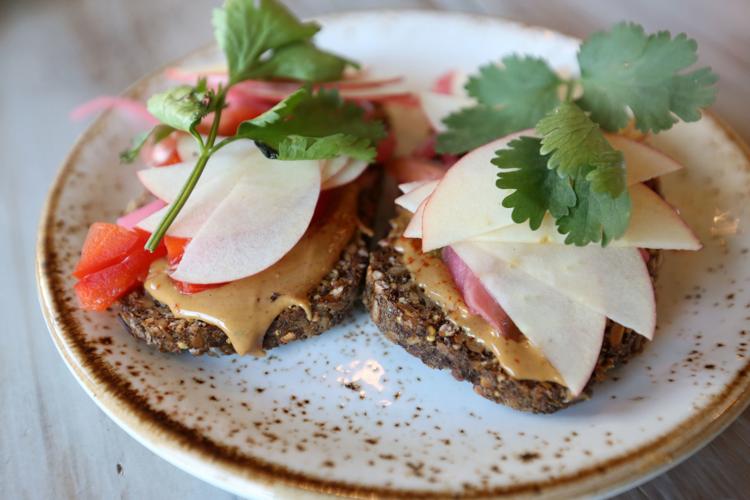 The toasts are in competition for my favorite thing at Surya, like an after-school snack for adults. After a few bites of Christian's toast, a savory variation with herbed cashew spread, I flipped the bread over. Dark and dense as Irish soda bread, the seeds and nuts appeared held together by force of will. (The magic ingredients? Chia seeds, flax seeds and psyllium husks.)
There's a lot of love in this menu, and a lot to love. Roasted red pepper sauce — flavors of which were echoed in a bell pepper/carrot soup ($3.50/cup) — lifted the earthy notes in quinoa. King oyster mushrooms, sliced horizontally and seared, looked and tasted like vegan scallops ($14.50). I hunted for thin strips of shiitakes, plumped with liquid smoke, tamari and maple, in a sushi bowl of forbidden rice ($13.50).
It was rare for dishes at Surya to trigger that "health food" response in my lizard brain, but when it happened, texture did it. Sweet potato/chickpea tartlets ($7.50) in a cornmeal cauliflower crust mimicked the flavors of an Indian samosa without the flaky pastry edges, making the texture very samey. A cowgirl cookie ($3) was dry, too crumbly to dunk into a lovely housemade chai with oat milk ($4.50/12 ounces).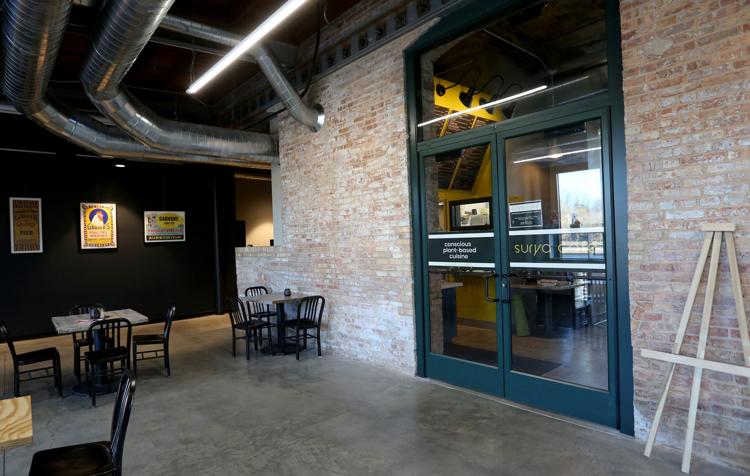 About a dozen folks recently wrapped Surya's start-the-new-year juice fast, a three- to five-day regimen of juices, many of which are on the daily menu. That's where health claims come in, about immune support (hello, flu season) and metabolism (don't we yoga for this?) and anti-inflammation.
I cannot say with certainty if the bright red-purple "immunity" juice ($8.50) with beets, kale, fennel and citrus helped me fend off my partner's post-holiday cold. I can say it was complex, chewy in a not-unpleasant way, and satisfyingly sweet.
I would never have known there were hemp hearts or turmeric in the "anti-carcinogenic" Surya sumie ($9, a smoothie/juice hybrid, the internet says). It tasted like the Orange Juliuses of my childhood, with a teensy bit of nuttiness from almond milk.
After the new year, I picked up a two-week class pass to Perennial ($39) and paired vinyasa with veggies. This chilled me out enough that if service at Surya was slow or the water pitcher was empty, I didn't really mind. Surya has the feel of a neighborhood place, a sunny spot for a refreshing weekend brunch or a cozy chat over an almond milk cortado ($3.25).
Every time I left Surya, I felt better than when I came in. It's a place I wanted to linger, to indulge, not in calories but in time. I felt grateful. May we all feel a little better this year.