'Tis the season for patio drinking, and the coziest place to sip a Sazerac in downtown Madison this summer might just be Boar & Barrel on the corner of North Hamilton and East Mifflin.
As curated by bar manager Tyler Clausen, few cocktail lists on the Square have such a solid lineup of classics. It's whiskey forward — Boar & Barrel's back bar has hundreds of bottles, some accessible by ladder — so start with a well-made Manhattan ($10) or an overproof Gold Rush ($11). 
A little time in barrel takes the bitter edge off the Campari in a pre-batched Boulevardier ($15). A Wisco-style Old Fashioned deploys Copper & Kings brandy ($10) and Bittercube bitters, glowing orange as it goes by.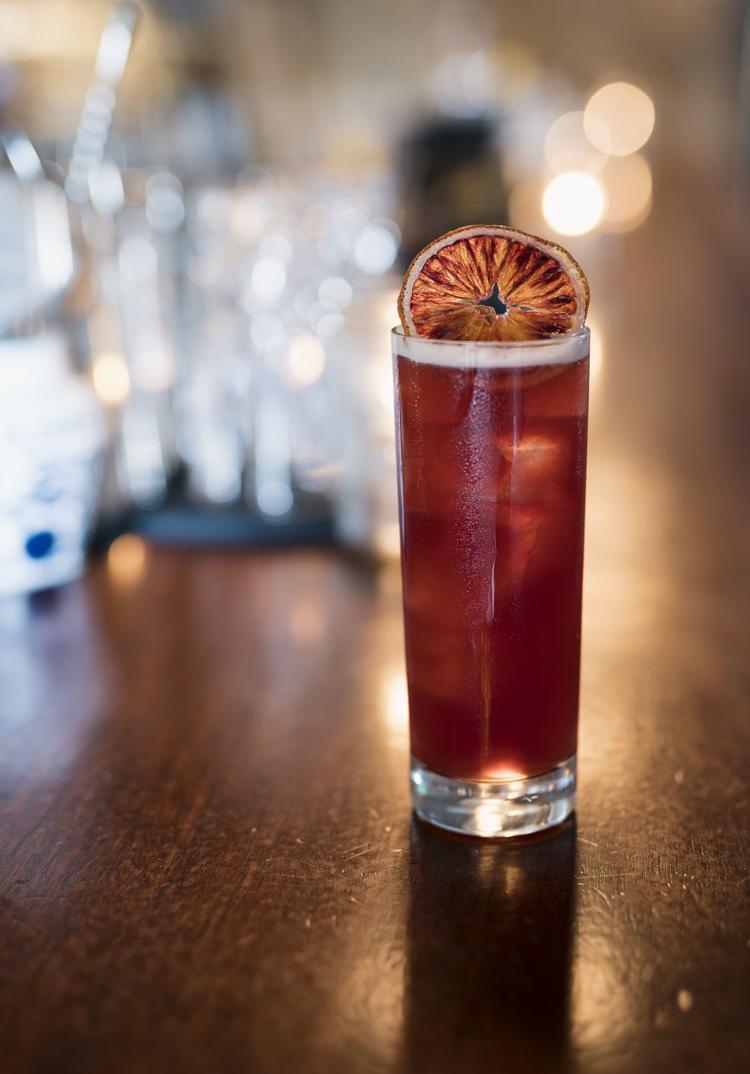 Or maybe temperatures that tip toward 70 call for clear spirits. In that case, the Tangawizi Skies ($11), with tangerine-infused gin, Lillet Rouge and ginger beer, drinks like a punchy Moscow mule. Aromatic crème de violet turns a gin-based Hummingbird ($10) the pastel purple of a little girl's Easter dress, set off by lemon and maraschino. A French 75 ($10) in a flute feels sophisticated, made with Madison's own Stateline gin and a spritz of cava.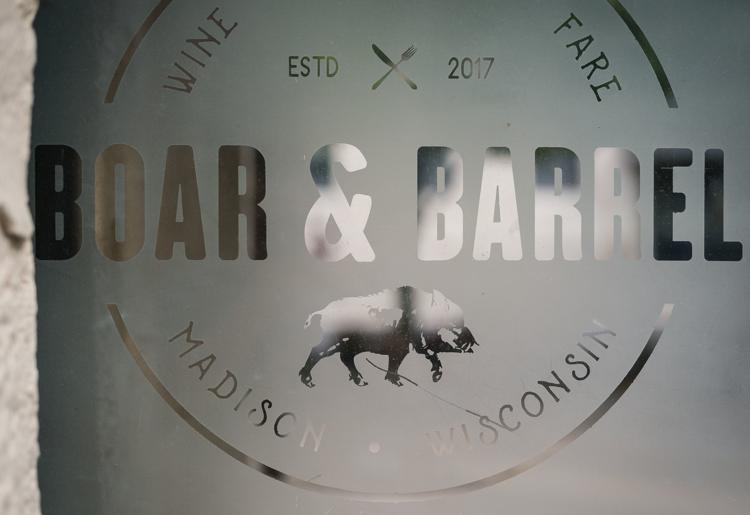 Josh Jiru opened Boar & Barrel in spring of 2018 but got off to a "shaky start," according to some early reviews. The kitchen, Isthmus wrote, "struggled with everything from timing to temperature to basic food preparation."
Heading up the kitchen now is chef Nick Jones, an alum of Salvatore's Tomato Pies and Brasserie V. The menu remains pork-forward, with jowl on the flatbread ($12) and a pork patty on the signature burger ($16).
Yet cocktails are still what Boar & Barrel does best. Go for a Diamonds on the Soles of her Chartreuse (ha! $12) and one of the cheese/charcuterie/sausage boards ($17-$24).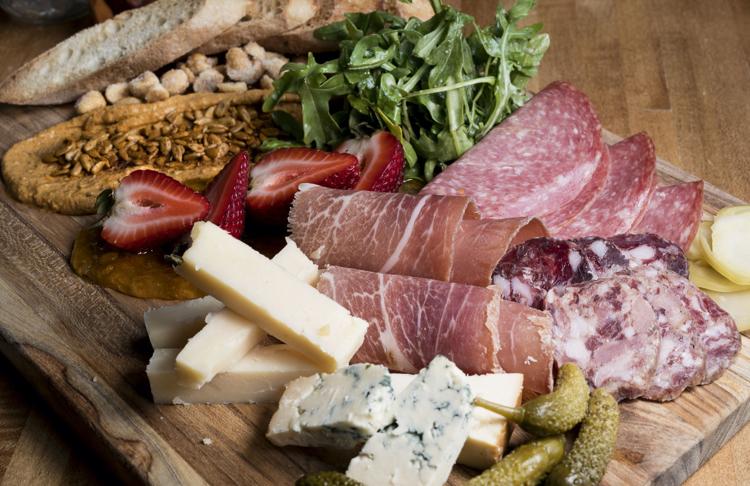 The boards are elaborate affairs with marmalade and honey, pickled veggies, grainy mustard and fruit. They're fussy but fun, and I can't think of anyone else serving up sausages stuffed with pheasant and venison.
Yet on the rest of the menu problems remain, both with consistency and concept.
Who knew confit of chicken leg ($17), a preparation that involves cooking low and slow in fat to retain moisture in an already juicy part of the bird, could be as dry as buffet chicken breast? And yet.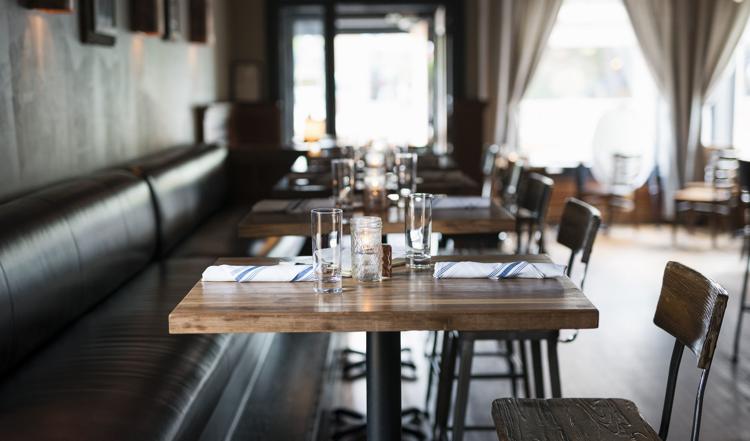 Cheese and wilted greens blanketed sweet potato gnocchi ($16) with pesto and summer squash, a fine idea. But the dumplings themselves, each the size of a thumb tip, were chewy as the crust of a Pizza Hut pan pizza.
A cold puck of steak tartare ($16) begged for seasoning. So did garlic brussels sprouts ($7), which tasted somehow less like themselves. They were half undercooked, without any of the caramelization that makes these little cabbages tasty.
It's like someone in the kitchen grabbed a big flavor dial and turned it down. Dressing on a Caesar salad ($11) was a bland vinaigrette, nothing like the rich, salty dressing the salad is known for. Buttermilk dill dressing ($11) on pretty gem lettuces tasted watery.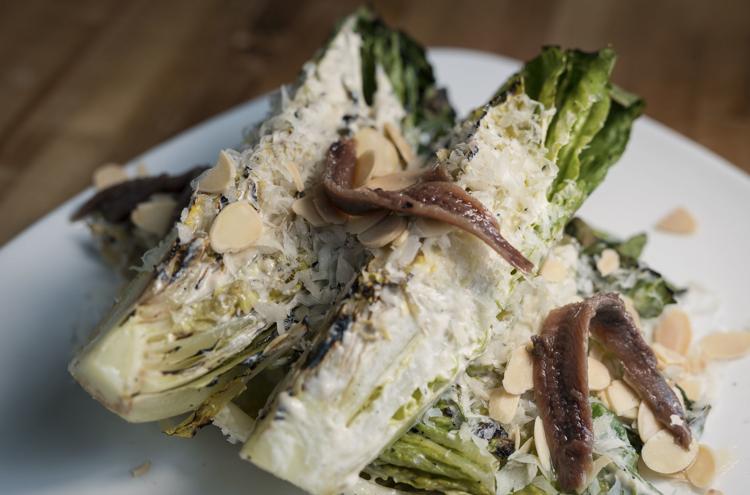 The menu often aims for decadent, for better and worse. Good: sweet-salty barbecue pork belly burnt ends ($14), wrapped into corn tortillas with crunchy slaw. Not great: a rib-eye ($34) as big as a man's glove that tasted more like fat than meat. At least the sauce, an unspicy piri piri, tasted strongly of vinegar. (Want more beef fat? See also: bone marrow, $12).
Presentation on the bronzini ($22), also known as European sea bass, was unbeautiful. The skin had shrunk and curled up on the fish fillets, each laid over partially undercooked potatoes. Sweet snap peas and mildly smoky mango sauce played off each other, but the overall effect was messy.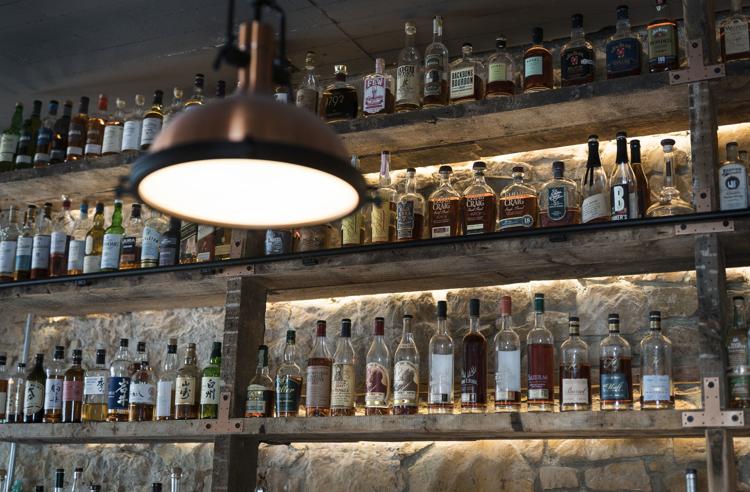 Also messy were desserts ($4-$7). Deconstructed cannoli was built on ricotta that sometimes had sugar and sometimes did not, with curls of fruit leather and freeze-dried berries like the kind that used to come in Special K cereal. Cannoli does not deserve this.
Better was a simplified, Napoleon-inspired dessert with chocolate mousse, berry sauce and ice cream between fried puff pastry (made in house! Mary Berry would be delighted). Rustic is fine if it tastes good.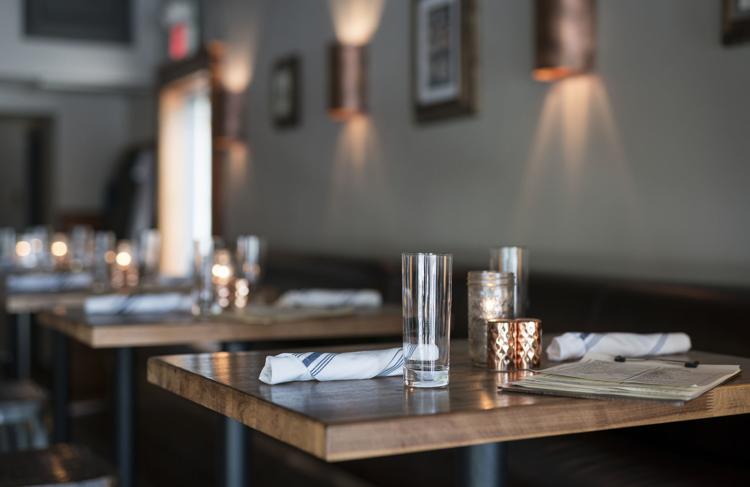 Historically this location at 101 N. Hamilton St. was the seafood spot Blue Marlin (1990-2015) and, briefly, Hamilton's on the Square. Boar & Barrel feels like a throwback. The bar restaurants like this one had to clear was lower before the elegant flourishes of Heritage Tavern and delicate small plates at Graft, before Rare Steakhouse's dry-aged steaks and Mad Men martinis. 
Staff at Boar & Barrel, many of them industry veterans, could not be friendlier. One staffer comp'd a dessert and a pour of a new-to-the-menu South African dessert wine on one of our return visits. The bar is cozy, the banquettes comfortable.
Weeknights it's often quiet at Boar & Barrel, until it's very much not. The space has a masculine vibe, with a toothy boar (Bob!) on the wall and low-lit rock walls, like a cave. With the Bucks game on a flat screen television and a phalanx of buddies at the bar, an intimate room becomes deafening.
All the better to snag a seat on the tiny triangular patio, Boar & Barrel's most charming feature. People-watching is Madison's best warm weather sport, and Boar & Barrel's location — and cocktails — are prime for summer.