Adapted from tapas (which Estrellon serves in earnest), the small plates trend is one Midwestern chefs have embraced slowly since it started gaining national traction more than a decade ago.
It's an entertaining way to eat, if usually more expensive than one expects. As restaurant critic Pete Wells wrote in last week's New York Times, the almost-tapas style "has spread far and wide, leaving in its wake a trail of cluttered tables, unpredictably sequenced dishes, and diners reduced to asking pathetically, 'Will that be enough food?'"
Graft, an ambitious new restaurant that opened in mid-July at 18 N. Carroll St., has some of that to answer for. The restaurant serves beautifully plated, smartly composed dishes, though despite fawning service, their order and (slow) pace still needs attention. 
And for better or worse, those plates are really, truly small.
A play on cheese curds ($6) was three dainty nuggets of fried chevre, sprinkled with pepper and drizzled in sherry vinegar caramel sauce. Briny sea scallops with fennel and grapefruit ($15), succulent and flawlessly cooked, came three to a plate. Divide carefully.
With few exceptions, these weren't plates that more than two people could easily split. Depending on how one feels about sharing very tasty things (spoiler: I am for it), that could be good or bad.
Take the grits with a fried egg ($8). Like breakfast for dinner, the punctured yolk ran past wilted leaves of kale into creamy, buttery cornmeal. It was so simple, so decadent, an appetizer for one.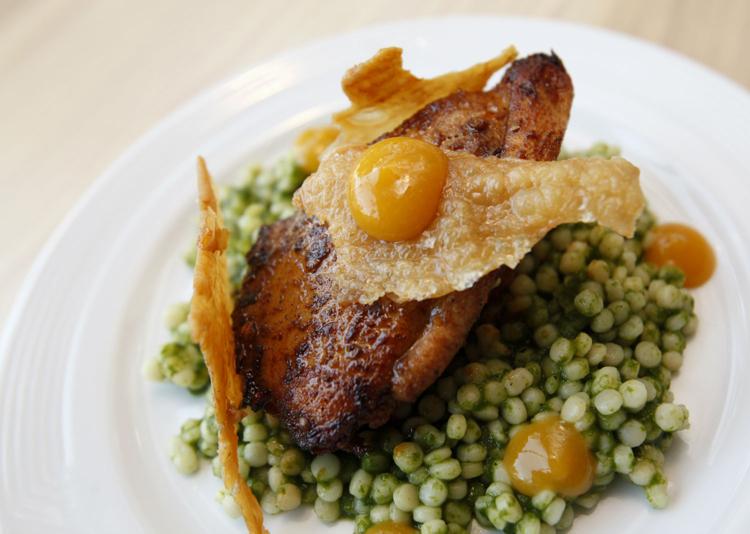 It would be worth ordering two of Graft's perfectly seared chicken thigh ($9), served on bright green Israeli couscous and offset by shards of fried chicken skin. Dabs of apricot puree on top looked like tiny egg yolks. It was an understated dish, subtle enough to pair with a crisp, citrusy white.
Because each dish is meant to pair with wine, chef Phillip Rodriguez focuses on subtle flavors—rice chips that dissolve in your mouth like cotton candy, tiny yellow broccoli flowers, willowy fennel fronds, nasturtium leaves.
Rodriguez's puck-shaped tuna tartare ($13), dotted with sesame seeds and nubbins of cucumber, was meaty enough to go either with a glass of bracing white Godello (2012 A. Coroa, $10) or a light red.
The same was true of a cute little jar of smoky trout rillettes ($14), summery and light with addition of crème fraiche. Get extra bread, and it's an app for two.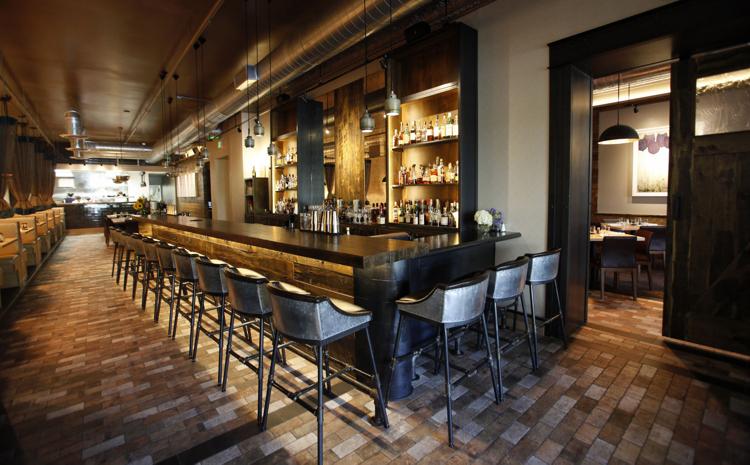 Graft "mac and cheese" ($7) offered about six delicious bites of buttermilk spaetzle baked in a twee miniature cast iron skillet. A little creative yet familiar, it's one of the few dishes Graft will likely not rotate off the menu as autumn ingredients displace tomatoes and summer squash.
Among more substantial dishes, melted raclette beneath a jumble of "al dente" broccolini ($7) was so delicate it felt whipped, set off by sweet raisins and toasted hazelnuts.
Pheasant ($19), on one of three "large" plates, had a hard, golden outside sear, set off by mild celery root puree and chunks of kohlrabi, with their mild cabbagey flavor.
For the biggest dish of all, Graft does a wonderful medium rare rib-eye steak ($34). In late summer, it came layered over thin strips of zucchini and a thin horseradish aioli with just a hint of heat, topped with fingerling potatoes. Steer hearty eaters this way, and they'll be more than satisfied.
One happy side effect of small plates is that when a dish fails, it matters that much less.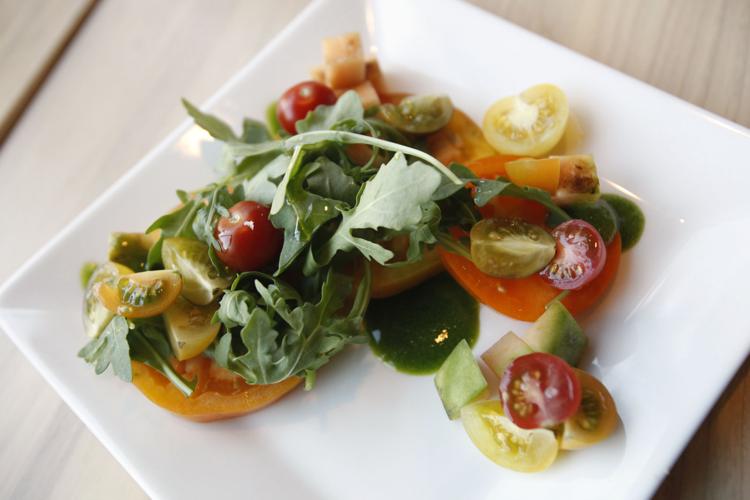 So, sure, the bread plate ($3) was boring. Heirloom tomatoes with cantaloupe and arugula ($8), though incredibly gorgeous, needed some acidity for lift.
Don't dawdle, then; just move on to the next thing.  
Maybe make that thing pork belly ($11) in a sweet soy glaze, with potatoes, tender fall asparagus and mustard. No one will judge if you make it a lovely little dinner, paired with a few glasses of pinot noir ($12-18 glass) or an aromatic, lightly sweet rum cocktail (By Any Other Name, $11).
Another benefit of the small plates style is you'll almost certainly have room for dessert. Co-owner Erin Bemis' financier with strawberries and cream ($8) made for a sweet, buttery conclusion, as did her delicate, well-balanced lemon cream ($8).
Graft is co-owned by Lucas Henning, a gregarious sommelier who will be happy to find you a great wine you've never heard of. Bemis, Henning's wife, makes the desserts. The third owner is Sam McDaniel, also a sommelier.
Drawn from their love of grapes (that's where the name comes from, "grafting" vines), the wine list at Graft is substantial. Prices are accessible—many glasses fall in the $7-$10 range, with lots of bottles less than $50 — and there are interesting finds, notably in Germany and Italy. The list is currently a bit stronger on the white side than red, something that may change as the leaves do.
While summer lingers, don't miss the 2014 Donnhoff Estate Riesling ($10), a juicy, elegant white with a dry finish, or a glass of barely sweet non-vintage Domaine Collin Crémant de Limoux bubbles ($10).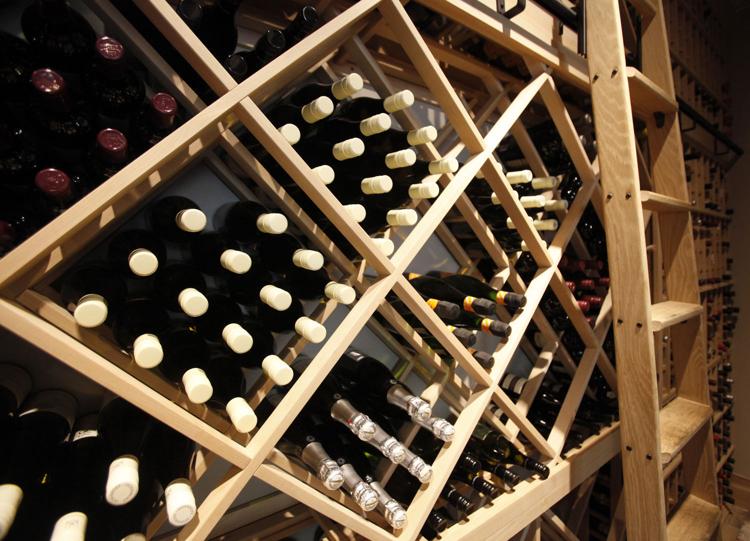 Or make like you're at Merchant and roll the dice. When I asked Henning to bring me whatever white he found most interesting at the moment, he brought over a blend I'd never heard of, made from a mix of Viennese field grapes. 
It's a mouthful, but if you can remember the 2013 Wiener Gemischter Satz from Stift Klosterneuberg ($9), grab a glass — it's fresh and full of stone fruit flavors.
Designed as a wine bar within a restaurant, Graft wasn't originally going to have much in the way of liquor. That changed when the team brought on Scott Anderson, whose résumé includes L'Etoile's stylish, experiment-friendly bar.
Over several visits, cocktail after cocktail showed Anderson's gift for balancing sweet, smoke, acid and bitter. The Bracht Show ($11), for one, brought out the smokiness of rye on the end of the cocktail, offset by lemon, housemade raspberry syrup and Cynar, a bitter amaro liqueur.
Graft's long and narrow spaces, formerly a clothing store and J. Taylor's antiques, are quite beautiful, with brick floors, low lighting and a reclaimed barn door separating two dining areas. The soundtrack, like an Amy Winehouse vinyl album played on Graft's record player, gives a boost of energy without skewing the vibe too young (read: college age). 
Ultimately, Graft feels like the kind of place a couple might go on a date or before a show. He can show off his knowledge of Willamette Valley pinot and she won't have to share her scallops.
There are only three. No shame in hoarding them.