I recently heard a theory from a local architect about how Madison dines out. People go out either in pairs, she said, or as groups of six or more. The classic four-top is less of a thing around here.
This led me to a related hypothesis. Perennially popular small plates spots are designed for pairs. Order seven little things, have a few bites each. Create your own tasting menu!
On the other side, tavern-style restaurants like the new Tipsy Cow in Sun Prairie were designed with groups in mind. Seating 150 inside with cozy booths and bench seats, the new Tipsy Cow in the Prairie Lakes shopping center has a big parking lot and ample bar area.
It's moseying distance from the 4-year-old Marcus Palace Cinema and next to a board game store where diners can browse the latest Pandemic expansion packs while waiting for a table.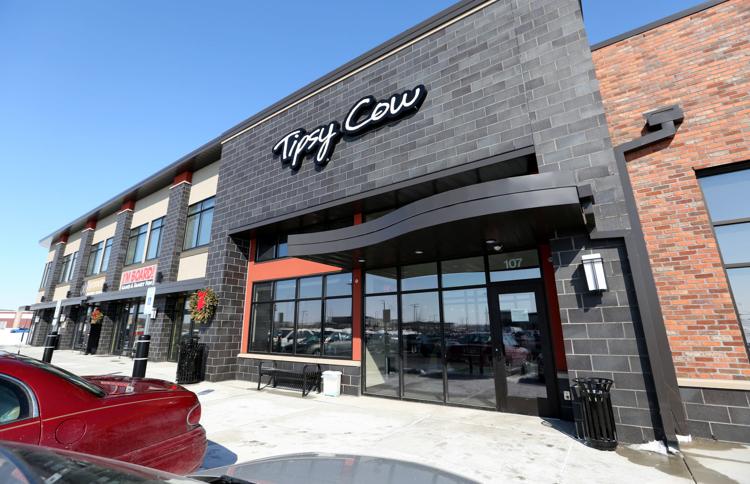 The food follows suit. There's no postgame Frisbee team that wouldn't go for a basket of the Tipsy's loaded fries, blanketed with ground lamb and tzatziki ($12) or Korean-style bulgogi beef and spicy cheese sauce ($12).
Grab your book club, shove a few tables together, and recapture your childhood with chicken tenders ($7/three) or tater tots ($3.50/$6). The Tipsy has no fewer than nine creamy dips for all of its tasty, crunchy things, onion rings and alligator bites heaped in plastic baskets on black-and-white checkered paper.
Tipsy Cow opened in 2011 on a prominent corner of King and Main streets downtown. A reinvention of the short-lived King and Mane, the Tipsy built its brand on burgers, truffle fries and local taps.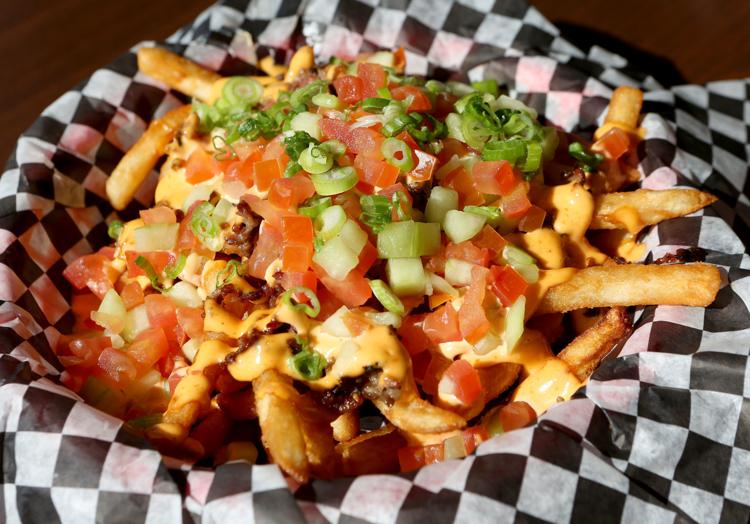 Any roundup of cheese curds between then and now had to include the Tipsy's Spotted Cow-battered basket ($8), often both the cheddar and mildly funky goat cheese curds ($10) — a personal favorite.
One local newspaper called the PBR tilapia tacos ($3.50/per on Thursdays) the best fish tacos in Madison. Andres Martinez, chef at King Street, gets credit for those.
In mid-December, Tipsy owners Patrick O'Halloran, Michael Banas and Sue Kirton took the tacos to Sun Prairie. Despite the usual headaches around finding and keeping staff and icy, customer-repressing weather, the place is buzzing.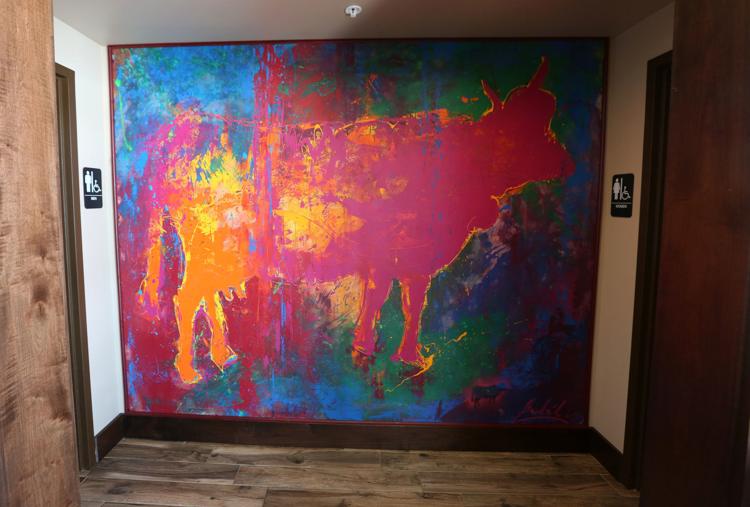 "We started it as a corner bar, but we can see how it works as a family restaurant," said Banas, who said the Tipsy team has been looking to expand for years. "When we came out here we knew we were going to be dealing with a different crowd, more family oriented."
O'Halloran and Banas also own Lombardino's. What the two restaurants have in common is an interest in comfort and an investment in ingredients — Knoche's beef, ground pork from Stoneface Farms, radishes and carrots from Elderberry Farms.  
Tipsy traffics in better than average tavern food with little flourishes, like fried pickled jalapenos on "Baja" mac and cheese ($15) and Roth Kase gruyere on a lamb burger ($9). Vegetable sides, currently broccoli, cauliflower, corn and asparagus, will change when things are growing again around here.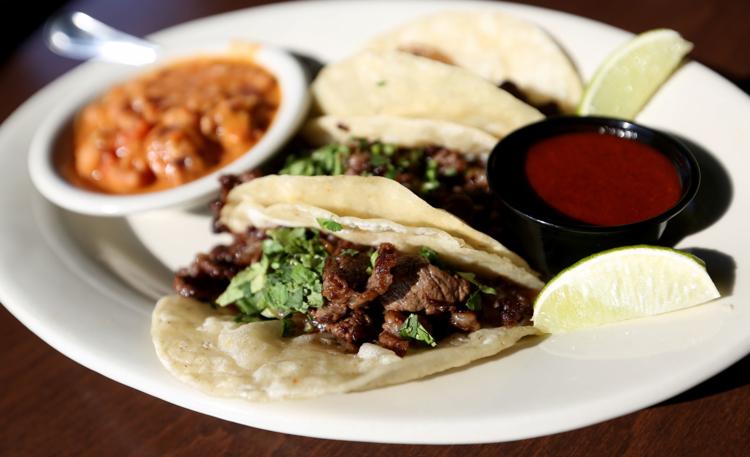 During a few swings out to the suburban Tipsy, I was most enamored of the loaded fries. It was near-impossible to choose among crispy double-fried potatoes doused in blue cheese and Nueske's bacon ($9), tangy sour cream and scallions ($7), or slow roasted pork and pico ($12).
At present I'm team gyro fries ($12) because anything with lamb and feta has a direct pathway to my heart, and this time of year the crunch of cucumber and onion feels more than necessary. But people, they're all good. Bring more friends, order more fries.
Aside from fries (with eight options, they should have their own section of the menu), not every share basket was a hit. "Crispy" chicken wings ($8/six) were tender but not crunchy at all, the maple-chipotle sauce pooling at the bottom instead of on the bird. Zucchini chips ($7), a perennial hit on King Street, were thick and soggy when they hit our table.
Entrees in Sun Prairie echo the Madison menu, and many of them should be hits in Sun Prairie as well. Simplicity carried the day in chewy steak tacos with sautéed onions ($13/three) and a basic ham and two-cheese sandwich ($8) with grainy mustard on very good country bread.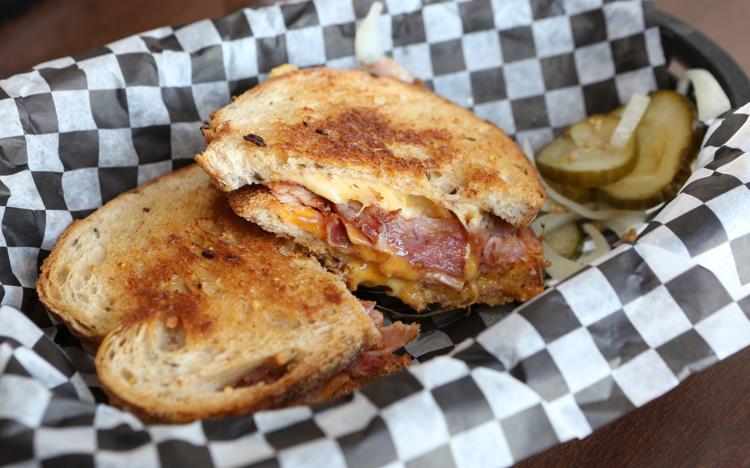 A filet of golden brown, PBR-battered walleye ($12) outswam its bun by three times, requiring careful subdivision to cut it down into lovely, flaky pieces.
Saucy stove top-style mac and cheese ($11) found the sweet spot between flavorful and creamy. A pile of pulled pork ($4) on top felt like a lot for a lunch, but the sweet-smokiness played well with the pasta. It's not a classic combination for nothing.
Burgers, one of Tipsy's calling cards, range from a single ($7.50) up to four quarter-pound patties ($15.50) with 3-year-old Wisconsin cheddar. Unfortunately ours was also very greasy, soaking the paper beneath. Nobody wanted to finish it.
That was one of the things about the new Tipsy Cow that I did not understand. Why, in the year of our Lord 2019, was there still such a pervasive smell of cheap truffle oil in the dining room? The menu only lists it on a couple things — portabella mushrooms and fries — but the funkiness lingers.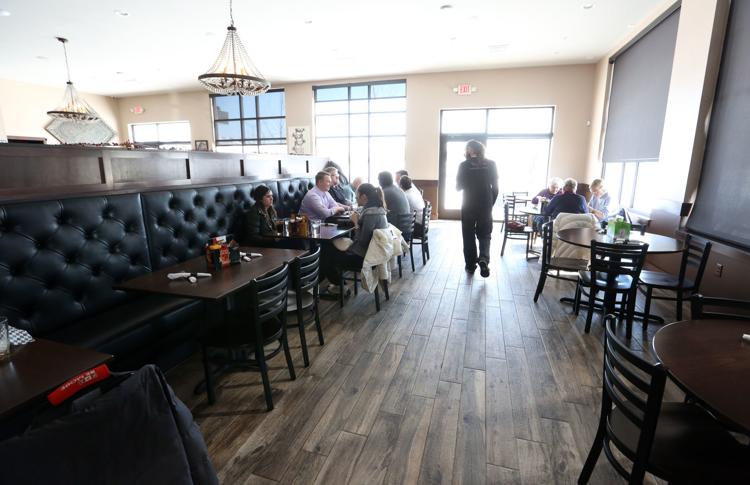 Why add rubbery chopped-up cheese curds to a decent tomato soup ($3 cup/$5 bowl)? Why drench oil-roasted cauliflower ($5) in a lake of butter? Anyone who orders a beet salad ($12) wants to taste a little earth and sweetness. Tipsy's beets tasted like nothing.
Tipsy's taps are approachable, craft-oriented and mostly Midwestern, divided into "hoppy" (Karben4 Fantasy Factory, 3 Floyds Lazer Snake IPA), "not hoppy" (Bells Amber, One Barrel Commuter Kolsch) and "dark" (bourbon barrel stout from Lagunitas). There are a decent number of microbrews in bottle as well, sours and stouts and Scotch Ales to go with those baskets of fries.
Tipsy Cow is close enough to the movie theater for an easy date night, but maybe after the film instead of before. During one two-and-a-half-hour lunch (!), my friends and I spent nearly as much time listening to our server talk about his personal life as we did talking to each other.
I preferred that to another night, when a staffer stepped over the line from awkward to inappropriate.
When summer comes, the 1,000-square-foot patio will about double Tipsy Cow's seats. Banas said his new team isn't quite ready for that yet, but that's OK. No matter what Jimmy the groundhog says, there's still time to work things out before spring comes to Sun Prairie.