Just as Yotam Ottolenghi began to transform kitchen pantries around the country with his cookbooks "Jerusalem" and "Plenty," Madisonians fell hard for Israeli cuisine.
The first Banzo food cart rolled downtown in 2011, as Ottolenghi ushered in a new wave of excitement nationwide about chopped salads, tahini, pomegranate molasses and feta cheese.
Banzo's menu was (and remains) short and focused, with chicken (both grilled and fried), beef kebab, couscous salad and exceptionally creamy babaghanoush.
"I have seen Madison's food cart future, and its name is Banzo," Isthmus food editor Linda Falkenstein wrote in 2011.
The now-married young couple who opened Banzo, Israeli native Netalee Sheinman and Wisconsinite Aaron Collins, are social media savvy. They post mouth-watering pictures of their smooth-as-whipped-butter hummus and pita pizzas on Instagram, and tweet specials from @BanzoMadison.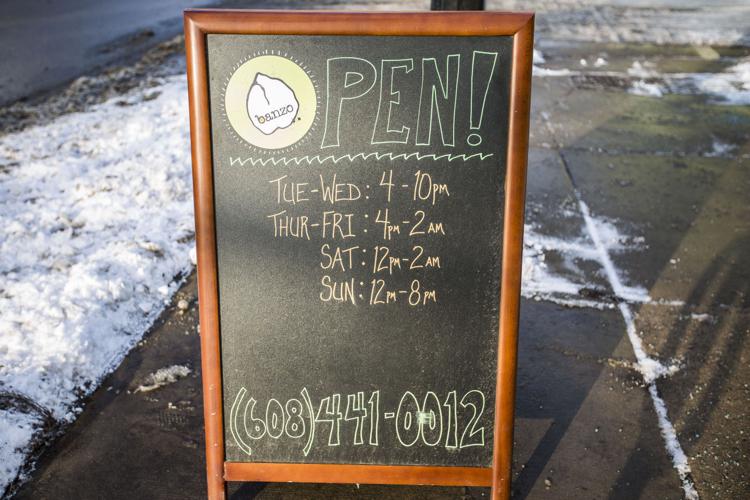 Following close on the heels of the first cart came a second food cart wrapped in verdant green. In 2012, Banzo opened a permanent restaurant on the north side, 2015 Sherman Ave. near Maple Bluff.
Now, there's Banzo Shük, a surprisingly roomy little café and market on Willy Street near Mickey's Tavern. The interior is charming, with hand-drawn chalkboards and rustic chic accents.
And the menu is slightly different, with a short list of protein options available as pita sandwiches or salads.
"Shük" refers to a traditional Middle Eastern open air market. Sheinman eventually hopes to add to the few items for sale: Wisconsin honey made by a friend in Sheboygan, date honey, Israeli olive oil.
For now, the main reason to make a special trip to the newest Banzo is the sweet potato falafel, or batata (the Hebrew word for sweet potato). Like all of Banzo Shük's entrees, these tasty little balls can come in a white or whole wheat pita ($9.95) — never dry, thank goodness — or on top of a generous salad of greens, cabbage, cucumber, chickpeas and olives ($1.25 more).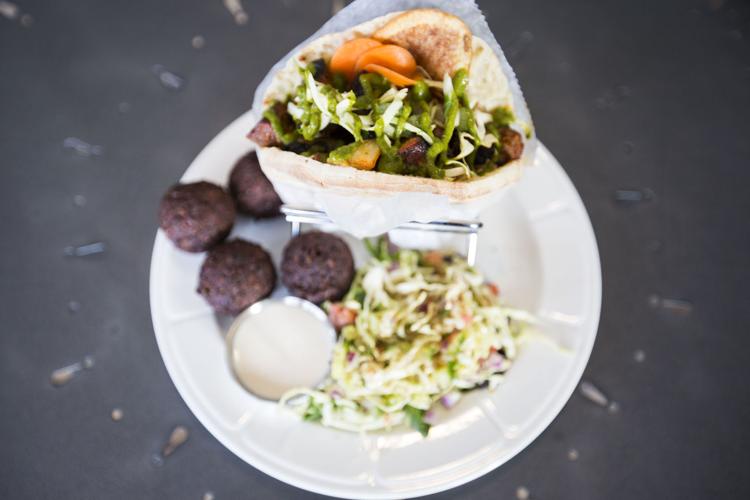 At first glance, Banzo's batata looked like executive chef Dan Schmitz left them in the fryer too long — they were that dark. But Banzo's batata were fantastic, tender inside and richly spiced, bound together with half the amount of chickpeas as the regular falafel. 
Sweet potato made for a lightly sweet canvas for coriander, garlic and cumin. I noticed a bit of a kick the next day, as I ate the leftovers cold for breakfast.
"We put more than double the serranos in it than what we put in the normal falafel," said Schmitz. "It's spicier to balance the sweetness of the sweet potatoes." 
Everything at Banzo was generously and aromatically spiced, like chewy lamb kebabs ($12.50) with a hit of cayenne, garlic, oregano, paprika and cardamom. 
A dry rub of cinnamon, coriander, turmeric and cumin made for an exceptional savory chicken shawarma ($9.50), juicy and crisped by the grill.
Carrot soup ($2.95 cup/$4.95 bowl), offered in early March, glowed orange and tasted purely and deeply of sweet carrots, with a hint of heat from the ginger.
Beef kebabs ($9.95), dense flattened meatballs balanced by a bright cilantro sauce, got extra crunch from potato chips tucked inside the pita. (Those coaster-sized golden brown potato chips were a fine side too, $2.)
The spreads Banzo uses will change, said Schmitz, who's looking forward to do a roasted tomato spread when tomatoes are in season. 
Seasonal vegetables, currently squash, parsnips and sweet potatoes, and the seafood on offer will change too, as will specials.
"It's definitely still based on Mediterranean and Middle Eastern (food)," Schmitz said. "But we are trying to do local stuff, Wisconsin stuff in there.
"I'm a German kid from Wisconsin." 
As a lover of all things tahini and an unrepentant pickle fan, I haven't yet found a way to order poorly at a Banzo establishment, on wheels or not.
I liked how pickled carrots, sliced into paper-thin coins, added crunch to the beef kebab and perked up a roasted celeriac quinoa salad (seasonal, $3.95). 
I loved Banzo's hummus ($3.95) in every iteration, so much richer and creamier than I've ever been able to recreate at home.
I loved how fresh vegetables, particularly shredded cabbage and diced cucumber, were everywhere, from an easily portable, grain-free chopped salad ($3.95) to a seafood pita, recently with flaky fried catfish, white bean spread and a spicy mustard sauce ($11.50).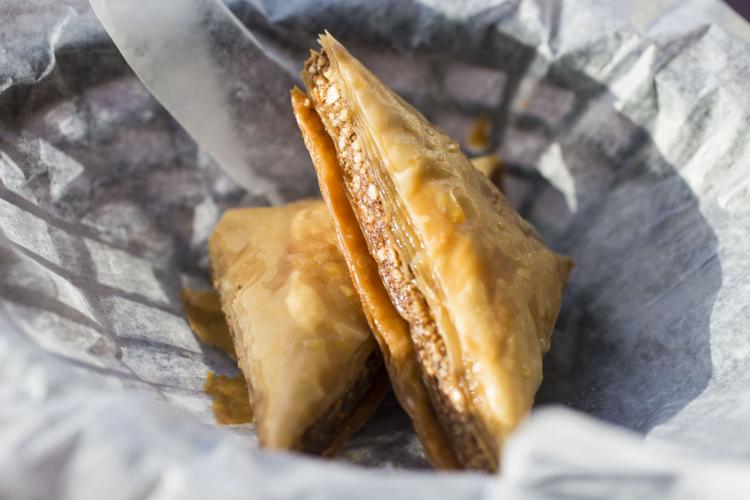 Hopefully their desserts will stick around, though. Banzo Shük makes two delicate, lightly crispy kinds of baklava ($3.95), one with a bit of honey, the other which is vegan, with Earth Balance spread and agave nectar. (Overall, vegans and people who avoid gluten could dine very well here.)
For something less sweet, try Banzo's basbousa, a moist semolina cake made with coconut and yogurt ($2). It had the consistency of an olive oil cake, and it's lovely. Tahini cookies looked like snickerdoodles but tasted nutty, like a milder peanut butter cookie in disguise.
For a real sweet tooth, pair strong, sugary Turkish coffee ($2) with a krembo ($3.50). Krembo is an Israeli treat that, as interpreted by Banzo's baker Ela Mowinski, involves a crisp sesame cookie topped with sweet whipped cream, dipped in dark chocolate (like Magic Shell!) and sprinkled with pistachios. 
Banzo's growth touches on a series of trends: a growing appreciation for street food; using social media to excite young diners; a shift toward healthier dining; and, of course, Israeli cuisine itself. 
As the latest link in the chain, Banzo Shük is a gem, and a fine fit for the self-consciously crunchy near east side. Bring on the batata.