Many of the vegetables on the menu at Mr. Kimchi, a new Korean restaurant downtown, owner Tai Park never saw in his native country.
"There's no kale in South Korea," said Park, who goes by Brian. "When we were growing up, we didn't even know kale. We got to Wisconsin and kale is so healthy and flavorful."
Madison's Mr. Kimchi shares a name and owner with a restaurant in the Chicagoland area, but while the one in Mount Prospect dishes out all-you-can-eat Korean barbecue, Madison is all about the veggies.
Park, working with chef Jaekeun "JK" Kim, has stuffed his menu with spicy pickled baby cucumbers, smashed fingerling potatoes, tender summer squash and pickled daikon. For the bibimbap, the classic rice-and-meat bowl ($17), Mr. Kimchi swapped out stone bowls for sizzling cast iron skillets to get more vegetables in play.
Galbi ssam ($32) starts with sweet and salty thinly-sliced beef, but it's the veggies — purple carrots, mild shishito peppers, lotus roots like little sand dollars — that make it shine. You know you're cooking vegetables right when fried, glazed brussels sprouts vie for pride of place with short ribs.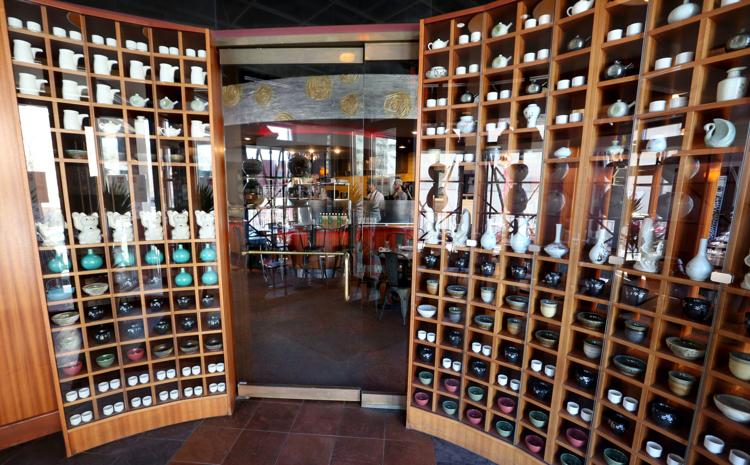 Mr. Kimchi opened at 225 King St. in mid-January, just in time for Wisconsin temps to bottom out at 23 degrees below. At the time, Park told the Cap Times that he appreciated the slow start because it gave his staff time to train.
Still, diners have been slower than they should be to find Mr. Kimchi, whose casual-sounding name belies the sophisticated flavors and comforting atmosphere inside. The former home of Restaurant Muramoto and, briefly, Cuco's Mexican Fusion now plays K-pop on flatscreens behind the bar and brings out pajeon (scallion pancakes with seafood, $12) on a lovely range of ceramic platters.
This is a restaurant where diners may get a surprise at lunch, like a bubbling bowl of egg custard steamed with dashi (ttukbaegi, described recently by Bon Appetit "the crown jewel of banchan") or "corn cheese," sweet corn with kimchi and melted cheese on top.
With Mr. Kimchi, Park knows what he's doing. He spent some 26 years as a chef of sushi and Korean restaurants. He currently owns Zen Sushi & Grill in Beloit and the two Mr. Kimchis, but he also opened Stone Bowl Grill and Kanpai, both in Milwaukee, and Wasabi Sushi Lounge in Brookfield, among others.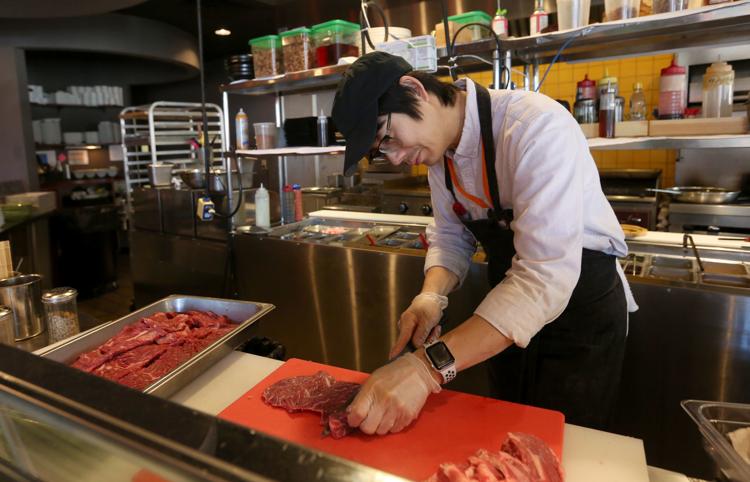 Park said he finds crossover in these cuisines. Potstickers, gyoza and mandu aren't all that different in the kitchen.
Take Mr. Kimchi's spicy tuna bibimbap ($19). Also called hoedeopbap, this mix of raw, seasoned fish, warm rice and raw vegetables like avocado, cucumber, and radish is a recognizable cousin to Japanese sashimi bowls and Hawaiian poke.
The sauce, built on spicy Korean red pepper paste (gochujang) with sweet and sour top notes, has more heat than ssamjang (the usual chili-soy-sesame sauce served with bibimbap). The spicy mayo that may dominate mainland poke is absent. But if you've never had hoedeopbap before and you close your eyes, it's a classic bowl of poke, and a well-made one at that.
Mr. Kimchi calls itself "modern Korean," or fusion cuisine. Tteokbokki ($6) is "school food" in South Korea, Park said, but the chewy texture of the cylindrical rice cakes can be a turn-off for American diners. Here, Kim cuts the tteokbokki into bite-sized pillows and fries them, tossing in gochuang and sprinkling with parmesan. They're a perfect snack, the kind where you'd stab a friend with a chopstick to get the last one.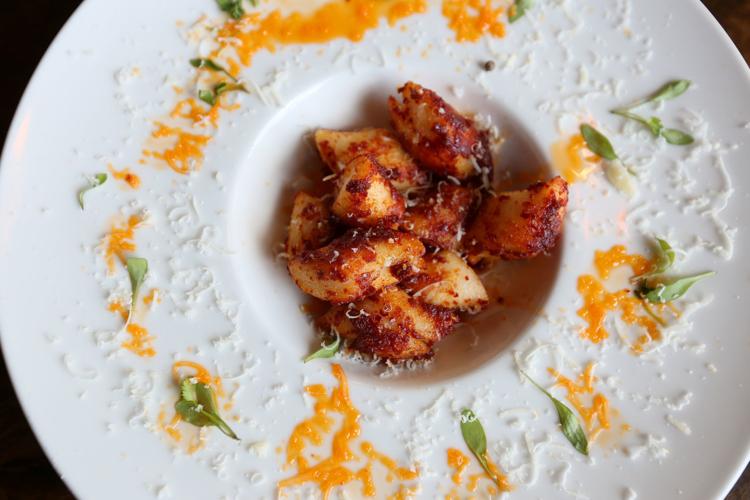 Along the same lines, bulgogi rangoons ($7) are like pizza rolls went on study abroad. Cheesy and slightly sweet from the marinade, these were perfectly fried, just like the honey-glazed, deep golden whole chicken wings ($11).
Park thinks carefully about American expectations for palate and texture. Tiny Korean octopus (nakji) have thinner legs and taste chewier than the Spanish style, for example.
He made a dish called jokbal, pig's trotters braised with ginger, garlic, soy sauce and cinnamon. It was a good dish, he said, but people who might eat ham hock wouldn't order jokbal. He pulled it.
Similarly, it would not be worth the effort to make handcut noodles for the gogi-guksu ($16), a beef noodle dish with brisket that's a relation to both pho and ramen. Spice from the other dishes may have blinded me to nuance in this one, but to warm up on a spring day it could hit the spot (and the soft boiled egg was a bonus).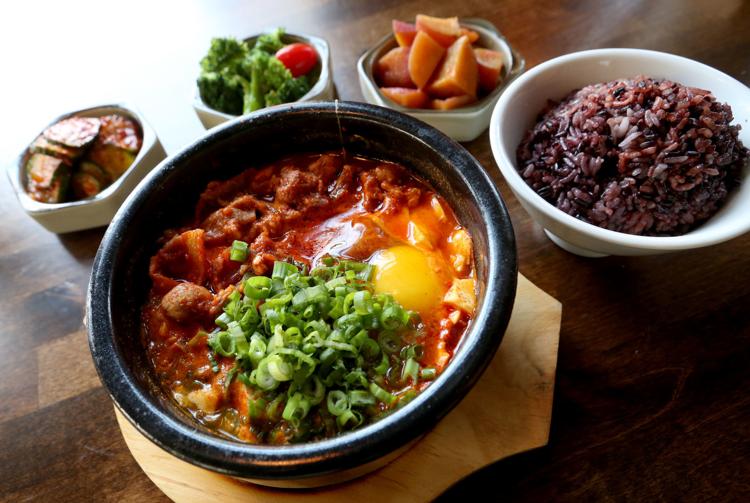 The menu features purple rice, a blend of black forbidden rice, soaked for two hours, and sticky white rice. It tastes like white rice but it's prettier, and it's best when it's warm.
Cold rice was one of Mr. Kimchi's minor missteps. We found undercooked potatoes among the banchan (traditional side dishes, mostly fermented and pickled things) and overchilled tartare ($12) with a muted flavor. Kim flings parmesan on so many dishes, it started to look like it was snowing at our table.
The restaurant has a full liquor license, with a few varieties of soju and a decent list of sake. Given the three cocktails we tried ($10-$15), go for a green tea or Milkis ($3), a Korean cream soda that's quite tasty.  
At $18 for a big, bubbling hot pot with silken tofu and spicy pork, lunch got expensive quickly. Park has since added more $10-$15 mid-day options "so people can come back more than once a week."
On a platter of bulgogi ssam ($26) I noted that a purple-veined leaf of decorative kale was no good for wrapping. That kind of raw kale is just too fibrous. Later on the phone, Park brought it up independently, saying he'd noticed it didn't work and had already pulled it.
"The Wisconsin farmers' market, I can't wait, there's so much choice for the variety of vegetables and wraps I can use," he said. 
"That's what is fun about doing a small restaurant like this. We can do a lot of things."