For its latest venture, Food Fight Restaurant Group has swapped cookie dough egg rolls for chilies and citrus.
It would be reductive and probably unfair to condense 22 years to a single iconic dish. But the exchange of Bluephies, the third restaurant to open in the Food Fight group in 1994, for Everly, a fresher, brighter concept, was clearly meant to move things on south Monroe Street toward the 2010s.
The late Bluephies' menu hit all the highlights of late '90s/early '00s cuisine: pesto pasta, sliders, sun-dried tomatoes, gourmet mac and cheese.
At Everly, chef Scott Harrell sprinkles the menu with Fresno chilies and pickled vegetables. There are Calabrian chilies in the aioli, artichokes fried and on toast, and herbs everywhere.
Bluephies had a "vodkatorium." Everly has an ambitious California-only wine list.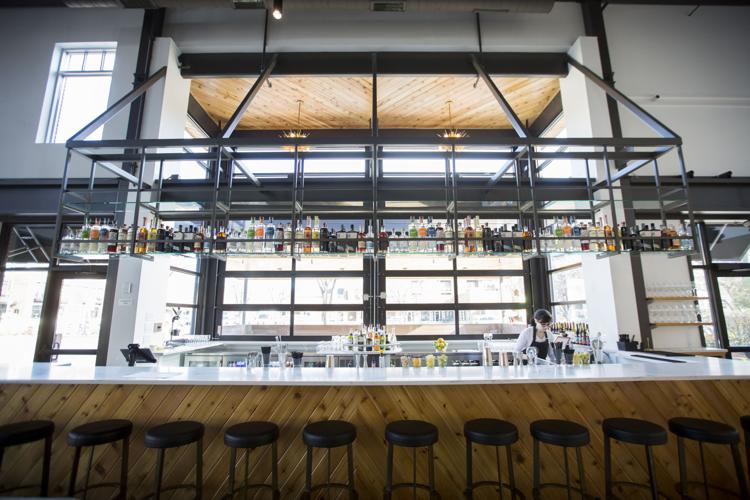 It's easiest to describe Everly's food as "California cuisine," but that might imply more of a lentils-and-granola vibe than Everly actually has.
Yes, there is a grain bowl with quinoa, kale and sprouts ($12) and more vegan options than 99 percent of restaurants in town. Rice pudding is made with brown rice ($8), risotto with farro ($12), pancakes with buckwheat ($7).
But nothing at Everly feels like virtue for virtue's sake. I wouldn't call Harrell a hedonist, but he understands texture and balance.
Where there was kale, there might be a sunny side up egg or a slick of shallot vinaigrette. On the rare dishes when cheese showed up, it might be blue cheese crumbled on a beautiful platter of thinly sliced veggies and blackberries ($11) or shaved Parmesan on artichoke toast ($9).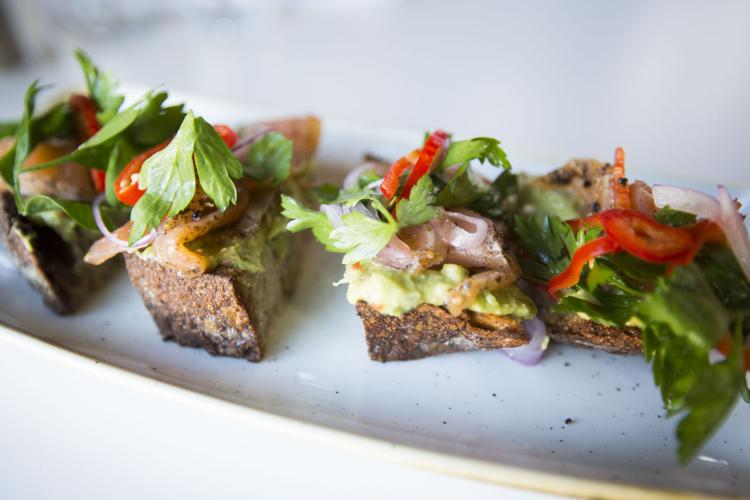 Those toasts, available all day but perfect for brunch, were surprisingly substantial, topped with creamy smoked whitefish ($11), intensely savory mushrooms with marrow butter ($11), or avocado and cured salmon ($12).
Built on either thick Madison Sourdough peasant-style miche or country bread, each one of those open-faced sandwiches was a winner, simple and satisfying.
Everly's own marketing makes much of its veg-centricity, and it's true that to skip a first course from the "vegetables" section would be to seriously miss out.
Try tender roasted gem-colored beets with grapefruit ($7) or roasted cauliflower ($6) cooked barely past al dente. The texture was closer to the pickled cauliflower that was also on top than to the stuff my mom dumped from a freezer bag and steamed to mush on the stovetop.
Most of these starter/sides are fairly rustic, like airy fried artichokes ($6) and pan-roasted Brussels sprouts ($6) tossed with lightly creamy sauce gribiche (like mayonnaise but chunkier, similar to remoulade). For anyone who's suffered through soggy, cabbage-y sprouts on a holiday table, this prep, prickly with lemon, could well redeem them.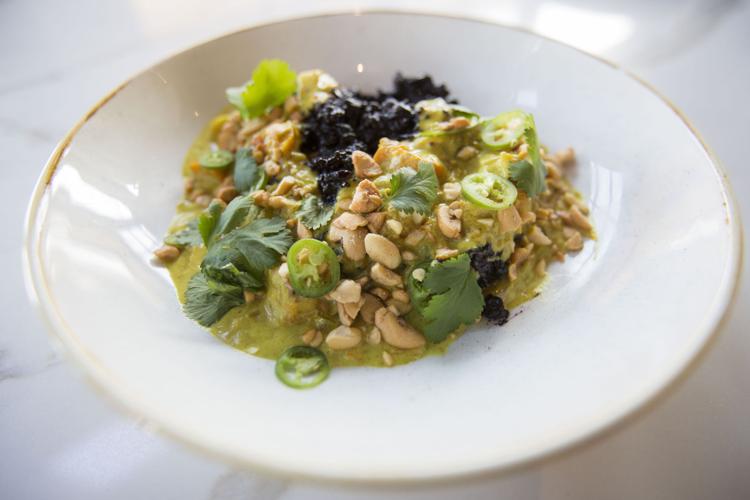 Everly smartly cross-references a few times on this menu. Fall hard for rich coconut curry on an eggplant appetizer ($7), the eggplant soft and melty under the spiky heat of Fresno chili. Then follow it up next visit with an entrée of butternut squash and forbidden rice curry ($13), a similarly sweet and nutty dish with a blitz of chili heat.
Though clearly not Everly's focus, there are concessions to meat lovers on the menu, including an excellent beef tartare with capers ($14) and a hefty braised pork sandwich ($11) balanced with plenty of slaw, pickles and Bibb lettuce.
Pork and white corn grits ($16) are exactly the kind of thing I want in my bowl on chilly winter nights. Only pork meatballs ($10), fat, heavy things, proved a disappointment, victims of exuberant over-salting.
It's tempting to separate a menu like this into heavy and light, "virtuous" and "decadent." More often, though, dishes tread a careful line, like a rich oil-poached tuna sandwich ($12) with sweet roasted peppers and the fresh crunch of cucumber.
While I found little evidence of tahini in the vegan Nor-Cal sandwich ($10), it was still well-constructed and thoughtful, with creamy avocado and pickled veggies for contrast.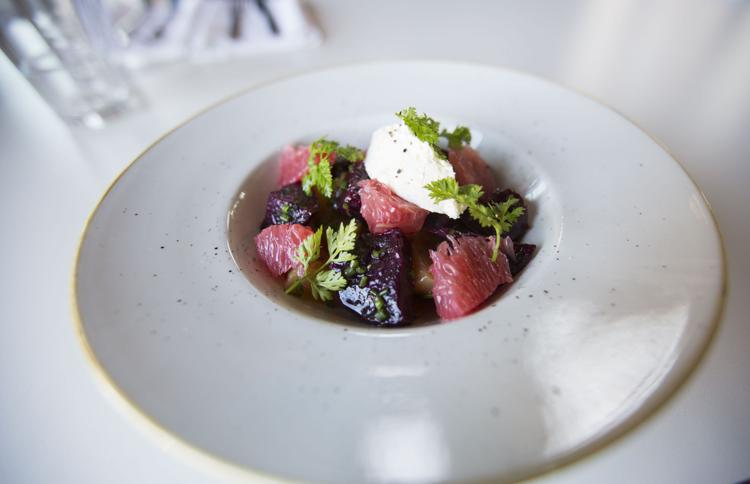 Everly's airy space, accented by wall hangings that look like living plants and windows that can roll up when the weather warms, seems made for brunch. Service begins at 9 a.m. both Saturday and Sunday.
Everly serves a decent bloody mary ($7) and a very boozy whiskey/coffee cocktail called the Night Shift ($8). Brunch also includes dishes like the California classic hangtown fry ($14), a Madison-ready mountain of bacon, eggs, potatoes and fried oysters. (You want this.)
The texture of the rice in a crispy rice bowl ($8) had the compulsive crunch of popcorn, offset by cucumber, scallion and a sunny side up egg. Pair it with something like greens and roasted carrots tossed in a tart vinaigrette ($11) and you have a very good, painlessly vegetarian breakfast.
Everly's chilaquiles ($10) were more accurately breakfast nachos, with an egg on top and black beans, cheese and salsa collecting at the bottom to create a dip-and-scoop situation. These were nothing at all like any chilaquiles I've had before. I loved them unreservedly.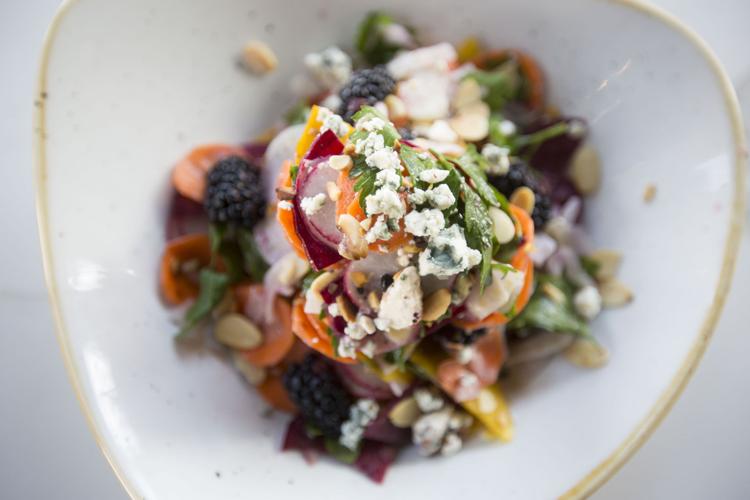 Everly's pretty during the day, but rustic roasted chicken pieces ($17) with crispy skin, lots of fennel and garlic made for a very fine winter dinner. And the wine list is pretty exciting, especially for Monroe Street.
Caitlin Suemnicht, a Food Fight partner and sommelier, curated a forward-looking lineup of natural, sustainable wines rarely seen in Madison outside of specialty shops. As a bonus, the glass prices look about $3 less than they probably should be.
I can't imagine a more vegetable-friendly wine than the crisp, lemony 2014 Field Recordings chenin blanc from Jurassic Park Vineyard ($9/glass), a bone-dry, aromatic white. A rosé of grenache from Donkey & Goat ($8), known for making natural wines from Rhone varietals, had enough juicy fruit and body to make it worth drinking all winter long.
For reds, I was drawn to the Bone-Jolly gamay from Edmunds St. John ($9), a light-bodied wine with lots of red fruit, and the 2015 Wonderwall pinot noir ($9) from Edna Valley.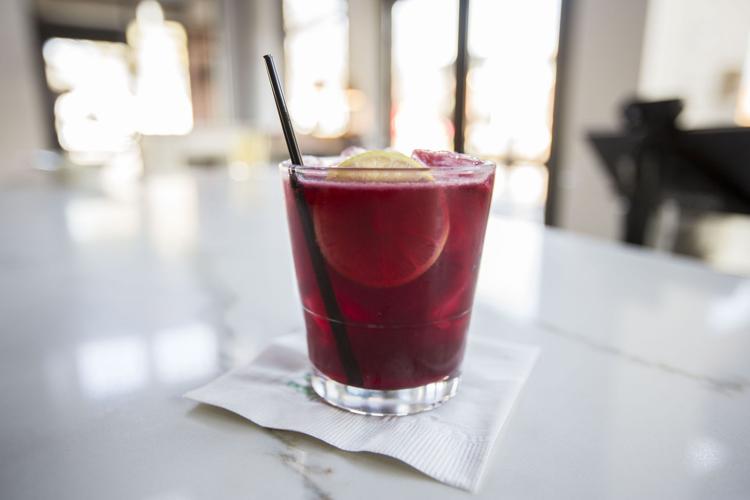 Everly shares both a chef and kitchen space with Miko Poké (poh-KAY), a casual Hawaiian-style fish spot located next door. Hibiscus agave liqueur that Miko puts into shave ice becomes a dangerous cocktail at Everly called Hola from the Other Side ($9), a juicy sweet tequila drink in a magenta shade of a teen girl's lipstick.
Cory Woodfill runs the bar, extending the flavors on the menu with Ancho Reyes chili liqueur in a mezcal cocktail ($10) and lots of fresh lemon. His Bruto-Vardier ($12) makes for a strong, well-balanced twist on a boulevardier with St. George Bruto Americano, a bright red bitter liqueur made in northern California.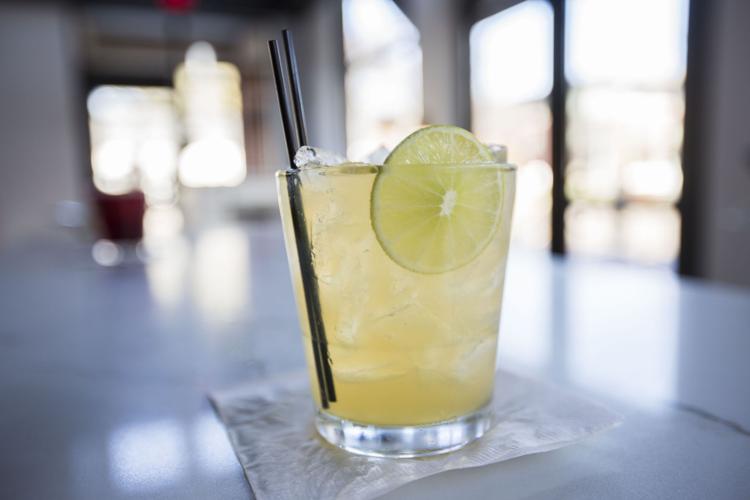 It's a common complaint in the industry here that restaurants must have a burger and cheese curds on the menu or people will complain. Everly isn't immune to that — there is a burger and buttermilk fried chicken among the small plates.
But I'd like to believe we're ready for a nice dinner out without steak. Everly feels like a big step up from similar fast casual spots where veggies are the heart of the food. Maybe only an established, 19-restaurant group like Food Fight could test the waters this way, but hopefully it's just the start.