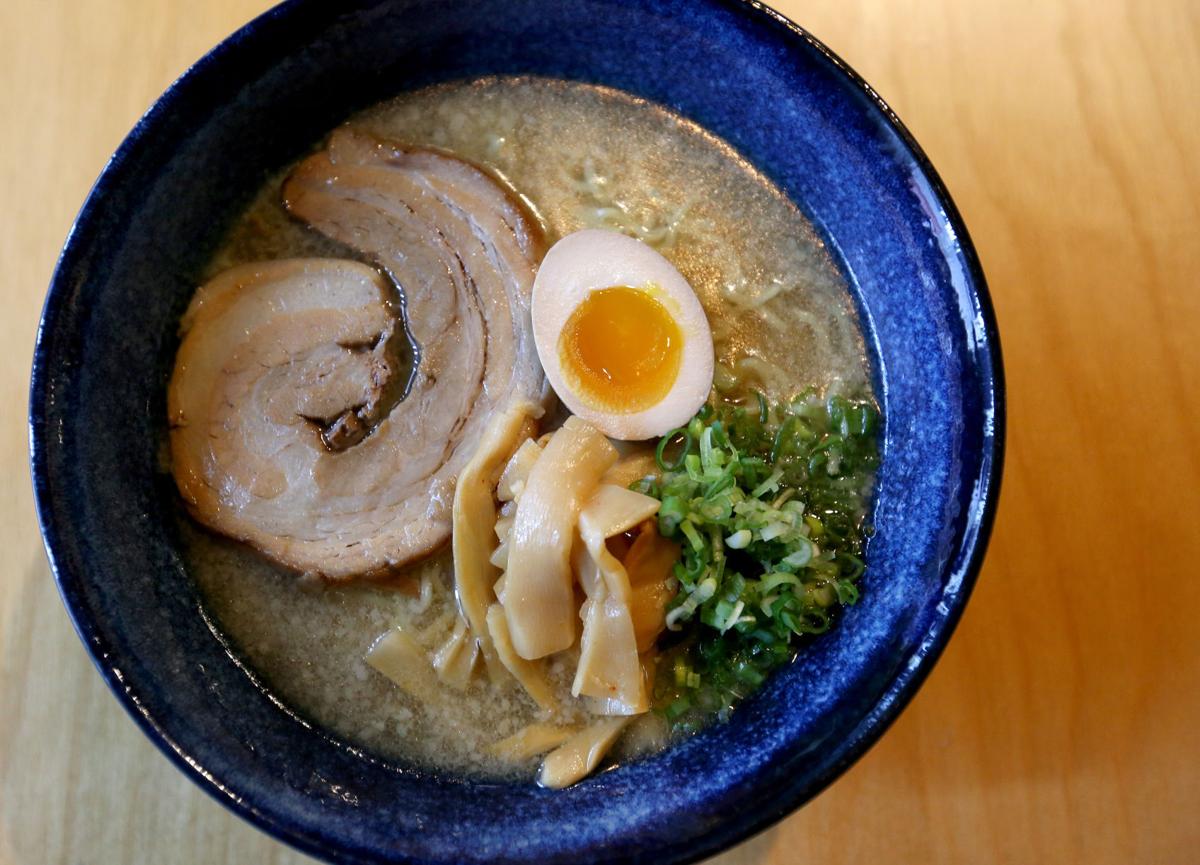 To get the best ramen downtown, have a seat.
Morris Ramen, open since late 2016 at 106 King St., does not offer broth and noodles for takeout. By the time a steaming bowl traveled from Morris' open kitchen to your table at home, the noodles would be but shadows of their former springy selves.
Chef and co-owner Matt Morris compared taking away ramen to taking a bowl of cereal and milk to go. It doesn't work.   
"The noodles we get are fresh rather than freeze-dried," Morris said. "The life on them once they hit the bowl is really, really short. The noodles will absorb all of the soup.
"People aren't going to get the experience we want them to get if they get the food to go."
Morris Ramen, a cozy, 40-seat ramen bar, is the combined passion project of Morris, his wife and fellow chef Francesca Hong, and their mentor, Shinji Muramoto, whose first restaurant opened in the same space some 13 years ago.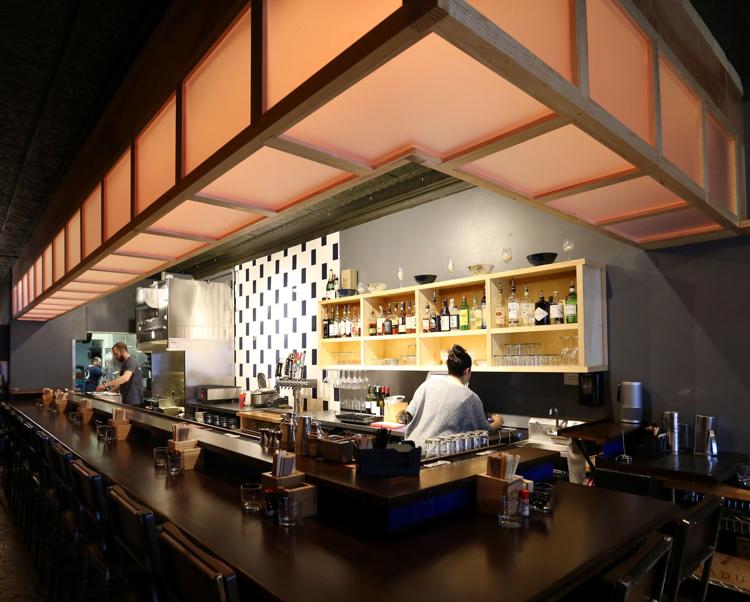 The three share a commitment not to authenticity — a loaded and often misleading term — but to integrity. Matt Morris's ramen was inspired by Japanese techniques, but it's no one's but his own.  
Noodles at Morris Ramen come from Sun Noodles in New York and Sapporo-men in California, according to Hong. They've trained waitstaff on the differences between each sake and how to translate words like moyashi (bean sprout) and kikurage (wood ear mushroom).
The chicken and pork bellies come from Conscious Carnivore, and simmering the bones for ramen broth takes 10 hours.
"We don't cut any corners," Morris said. "The reason (Shinji) didn't open up a place in the past is he said, 'I don't trust anyone else to do it.'
"We don't skimp on anything."
It was at Muramoto's behest that Morris, then a sous chef, went to Japan in fall 2013 to study Japanese cuisine. When he came back, he helped transform Restaurant Muramoto's menu to an izakaya format, with Japanese pub food like snapper head, glazed chicken thighs and skewers.
A nod to that style appears on Morris' menu in the form of hand-cut sweet potato fries ($5.50) served with brightly spicy gochujang mayo.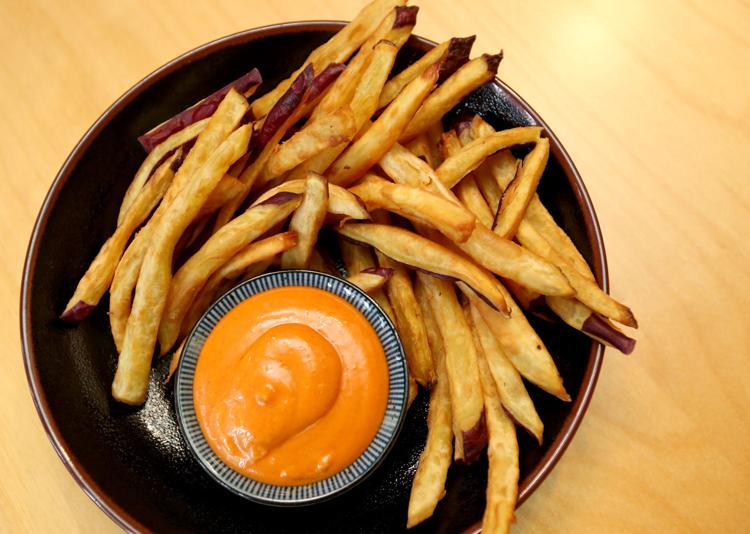 Morris allowed that for awhile, Hong's Korean background began to skew the new restaurant's menu toward the fermented and fishy.
"Shinji was like, 'Are we opening up a ramen shop or are we opening a Korean restaurant that's also serving ramen?'" Morris said with a laugh.
Still, Hong's Korean-inflected chicken wings ($8) stayed on, as did a fantastic short rib steam bun ($4.50) with a smear of ssamjang, the Korean soy-chili-sesame paste.
Unlike the ramen shops that have opened in Madison in the past year or so, Morris has a small, focused menu. Three of the four ramen bowls are built on rich pork and chicken broth with well-integrated fat (no big pools on the surface). Tares, seasonings like shoyu (soy) and miso ($12), give each a different character.
Gloriously fatty chashu pork belly in the Morris ($13), a shoyu ramen, fell apart between my chopsticks beside crunchy, earthy bamboo shoots (menma) and a marinated soft-boiled egg.
Not all ramens come with an egg (ajitama), but add it for an extra buck. The marinade made the white a little salty and almost sweet while the yolk happily slid into the broth.
Noodles in the spicy ramen ($13) were thicker and more substantial than in the Morris, soaking up a base made with shoyu and a variety of hot peppers: habaneros, jalapeños, Thai and Korean chilies. The broth, burnt red-brown in color, warmed my shoulders as I crunched through baby bok choy and wood ear mushrooms with surprising snap.
Chef Morris had a bigger challenge with the veggie ramen ($11), which without collagen could have been a weak vegetarian soup. It was hard to believe there was no meat at all in this surprisingly rich ramen, which combined two tares — miso and a starchy carrot and potato paste — for a full-bodied base.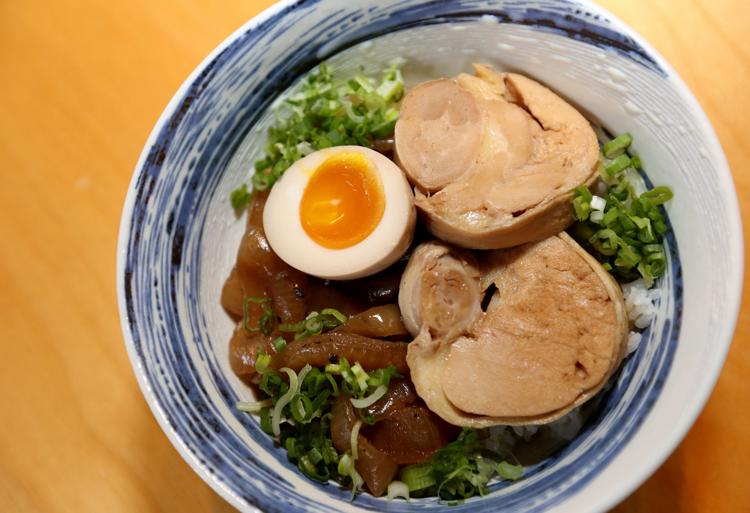 Morris estimated that it takes three days from scratch to table to build these ramen bowls, and the attention shows in the depth of flavor as well as a deceptive simplicity. By not overcomplicating with add-ins and being specific about sourcing noodles, Morris allows the broth itself to shine.
The way Morris makes ramen recalled another Muramoto mentee: Justin Carlisle, whose ramen pop-ups at his high end Milwaukee restaurant recently became a stand-alone project, Red Light Ramen.
Morris and Hong had fun with the rest of the menu, which includes things like spicy radish pickles ($3) and a tangy, lightly sweet seaweed salad ($3). I'm thrilled to see more restaurants working with Brussels sprouts ($7), served here very crunchy with a honeyed miso-sesame glaze.
Morris Ramen's fat, folded-over buns ($4.50) are around twice the size of others around town, and they may be my ideal I'm-not-hungry-for-a-whole-dinner dish.
Chutney and yogurt complemented the sweetness of roasted squash in one bun. Crunchy celery root slaw contrasted tender, slow-cooked chicken with a zip of vinegary hot sauce for balance.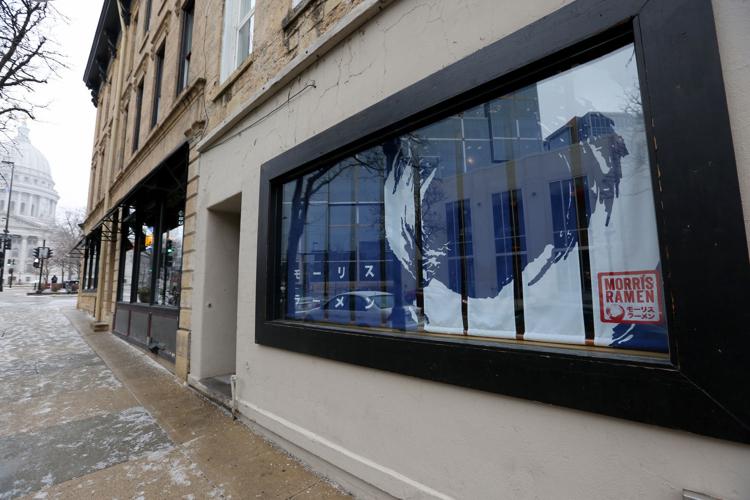 On the pork bun with pickles, hoisin did an impression of barbecue sauce so convincing that it made the whole thing taste like it could transfer to a hamburger bun and settle right in on a Southern menu.
The one non-ramen entrée is donburi ($7-$8), a simple, comforting rice bowl that's customizable with protein (including that marinated egg) and veggies like grilled onion.
Morris does offer beer and cocktails and a couple of token wines. The Lioco chardonnay, $10, is a clean, food-friendly white. But with a sake list this intriguing, I see no reason to order anything else.
If all you know of sake is a memory of burn, let staff help distinguish between the savory, smooth Takehara Junmai sake called "Mirror of Truth" ($8 for 3.5 ounces) and a more delicate, floral Joto Junmai Daiginjo ($13).
Matt Morris was hesitant when Shinji Muramoto suggested he put his own name on the restaurant. But it worked with the Japanese katakana, which spell the name phonetically: MAH-reese. And it seemed more honest than a Japanese name.  
"Before I decided to be a white guy making ramen, I was a white guy making sushi for nine years," said Morris. "I didn't grow up eating ramen. I didn't grow up eating sushi. But I put my time in and my energy in, all my thoughts and care into learning how to do it correctly.
"Morris Ramen is really techniques and styles from different regions of Japan that came together in one bowl."
In its own way, Morris Ramen continues Muramoto's own legacy on King Street. Restaurant Muramoto opened in 2004 at 106 King St. Later this year, it's set to replace 43 North in the building next door.
It's close enough that if Muramoto wants his ramen to go, he can probably take it. 
Editor's Note: An earlier version incorrectly identified the characters in "Morris Ramen." They are katakana.
Stay up-to-date on what's happening
Receive the latest in local entertainment news in your inbox weekly!