The arching, segmented design bisecting RED's sleek new dining room evokes the veins of an autumn leaf, or perhaps the bones of a fish.
It's the first sign of good things to come from both land and sea at RED, which re-launched in late August in an elegant, expansive new space on West Washington Avenue.
RED opened on King Street in 2011. Soon after, fascination with its sushi made for long waits even on weeknights. Encouraged but overwhelmed, RED owners Jack Yip and Tanya Zhykharevich moved the restaurant a few blocks southwest into the AT&T building, the $30 million renovation of which remains underway.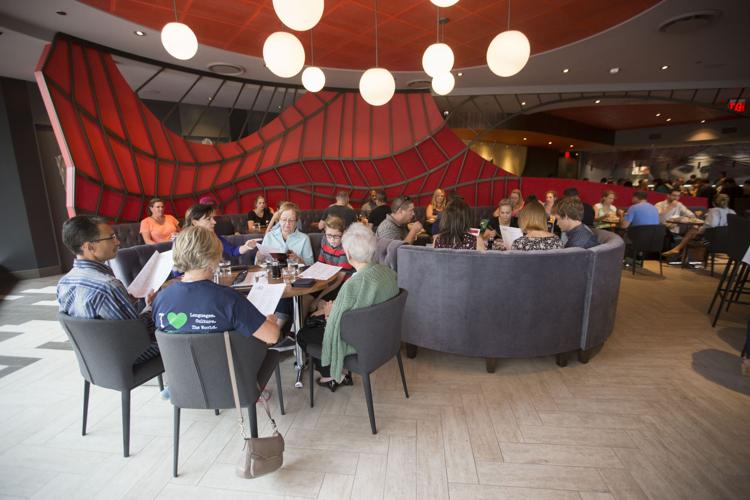 Interior designer Anastasiya Craig and architect Matt Tills filled the 4,000 square foot space with plush chairs, bold red accents and a glamorous sushi bar mural created by Chicago artist Mike McGuinness. In a private room enclosed by a hanging metal curtain, Craig said the contours of lines "were meant to represent fluidity and movement of water," echoing the restaurant's seafood theme.
Though "Dine Lounge" is now RED's tagline instead of "Sushi," the restaurant's name remains, simply, RED (not to be confused with the boutique HotelRED, open since 2012). 
Fish is still the main thing going here, but it's not the only thing.
Under the direction of chef Jed Spink and co-owner Jack Yip, RED hasn't so much shifted attention away from sushi as elevated the vegetables that share space on the plate. It's hard to find a restaurant in meat-centric Madison that shows such deliberate attention to vegan diners.
Our waiter got us humming the "Reading Rainbow" theme as he set down the Vegan Rainbow roll ($10). Like midsummer grilling wrapped into a roll, roasted red peppers stood in for tuna and salmon and grilled asparagus replaced crab meat inside.
It's one of several inventive rolls for veggie lovers. The Smoked Vegan ($14), one of RED's seasonal rolls, deployed fried shallots, smoked rainbow carrots and baby boy choy.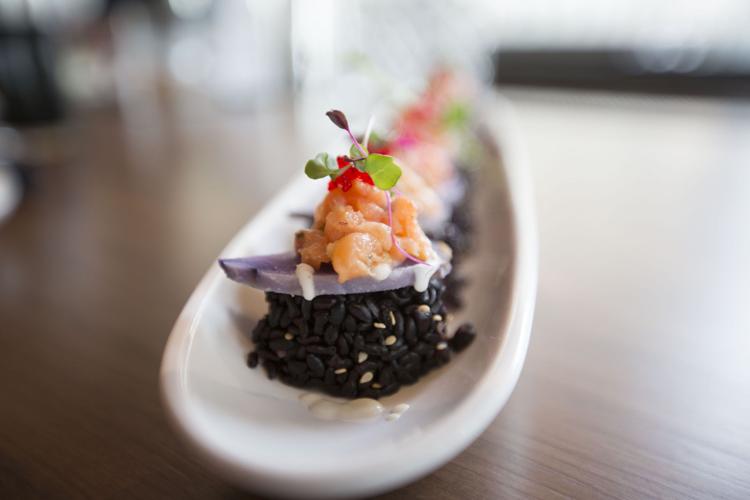 Tofu, that malleable protein, appeared on shareable plates with Brussels sprouts and shiitake mushrooms ($12) and in lunchtime steam buns with hoisin and avocado ($3.50).
The menu showed flexibility in other ways, too. A few appetizers glanced at Korea, with gochujang dipping sauce for steamed edamame ($5) and bite-size cubes of crispy rice with spicy tuna mashed on top ($11) that tasted like the best parts of bibimbap.
Silky wagyu tartare ($16) matched equally smooth, very mild horseradish flan, served with fried wonton crisps. It was a decadent but not overly heavy starter.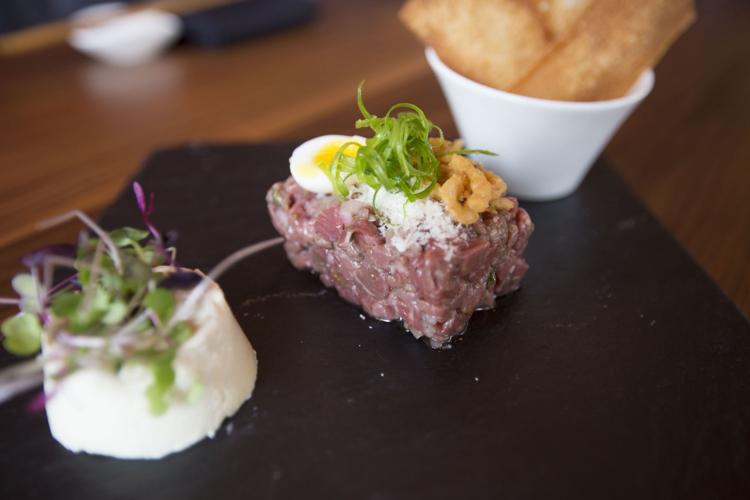 RED's bao, stuffed steam buns, are served at lunch for $3.50-$4.50 each, stuffed with thin-sliced, tempura-fried chicken, pork belly in its own juices and sesame-seared tuna. They, like a crunchy sesame seaweed salad ($6) and cloudy, comforting miso soup ($3), were just fine.
But the sushi rolls — raw, cooked, special and seasonal — are where to find the fireworks. These invite a choose-your-own-adventure, shareable kind of dining and gently encourage experimentation.
Try a roll without rice like the Lollipop ($15), a favorite of mine, with four kinds of fish and lots of veggies that's a holdover from the original RED. Served with a zigzag of sauces, it was more filling than it looked and incredibly fresh.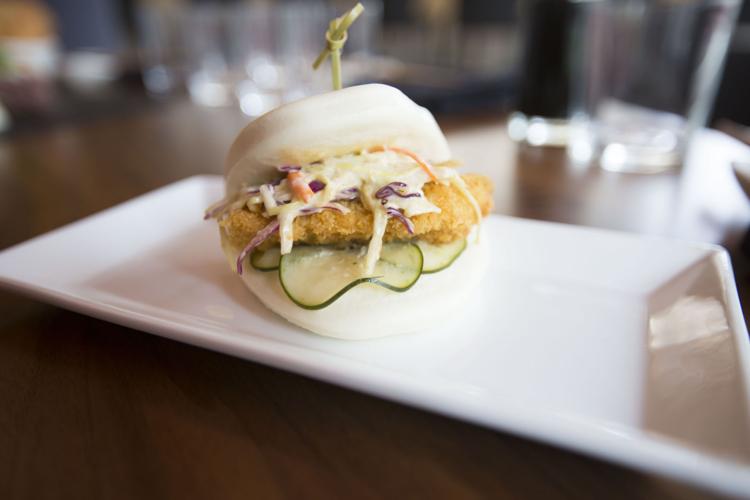 Or try nutty, barely crunchy six-grain rice ($2 extra) on your own favorite roll, just to see how it tastes. Maybe don't do this with unagi ($9), though. As we discovered, sweet eel and its sugary dark sauce work much better with standard issue sushi rice.
Autumn's seasonal rolls offered some of the best contrasts in texture, flavor and sheer dazzle. Black rice gave the Violet roll ($17) a pre-Halloween look, with purple Peruvian potatoes, spicy albacore and smoky salmon tartare on each piece.
Even better: the Autumn Bliss ($16), a stunner of a roll in which hamachi and salmon played off the acidity of lemon chutney, the briny pop of ikura (roe), the spicy kick of Fresno chili and a sprinkling of crispy leeks.
It sounds like too much. It wasn't.
Sweet and spicy, crunchy and soft were all in the mix in the Purple Rain ($16), another seasonal roll with shrimp, tuna and escolar. I don't know if Prince, a reported vegetarian, would have loved it. But I did, from the coconut sweet potato puree to tiny red tobiko and wonton crisps on top.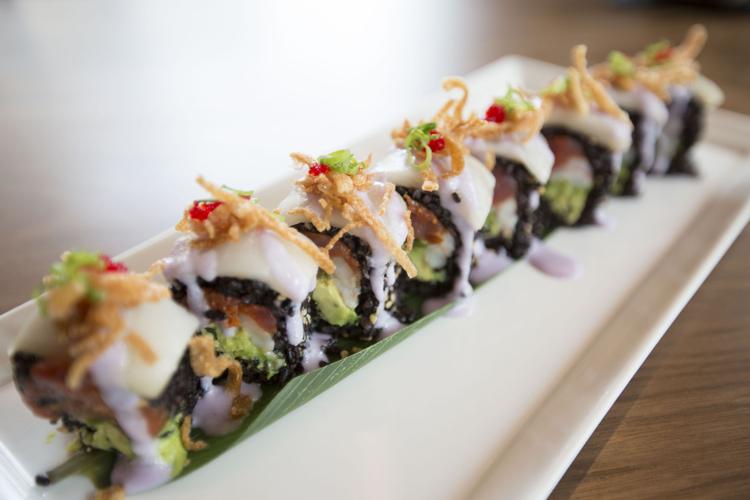 At RED's bustling weekday lunches, diners can pair two rolls — clean-tasting yellowtail with avocado and scallion, maybe, or grouper tempura that tastes something like fried chicken — for $13.
At $15, RED's sushi lunch felt generous. A chef's selection might include tuna, fluke, salmon, Japanese red snapper, seared albacore (meaty!) and striped bass. Each was dotted with colorful tobiko; a few hid nubbins of wasabi.
It was rare for a RED roll to disappoint, but a few did, like the borderline-cloying, fruity Mermaid ($16) in which tempura shrimp suffered under kiwi sauce, strawberries and mango.
On the opposite side, tofu is a culinary blank canvas. That means one should put something on it, a lesson the lunchtime bao needed to learn.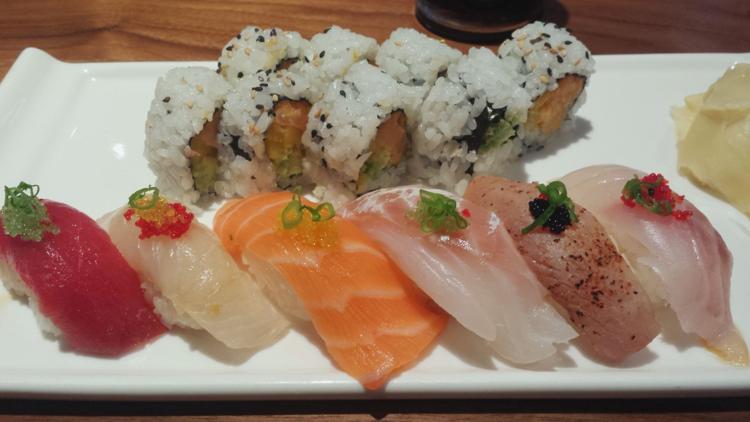 More often, unusual combinations worked, like the Tropic Bintoro, an only-at-lunch roll with tempura mango, spicy albacore and avocado.
With cocktails like a bright, boozy ginger sour ($10) made with Japanese whiskey and the beautifully herbal, not too sweet Jade Empire ($10), RED edged out the Muramoto team for the best sushi bar-bar in the city right now. Sour flavors, in particular, sang. 
A sake list like RED's is also not to be missed. Compare and contrast the subtle, nutty Junmai sake from Black River ($10) with its sweeter unfiltered cousin (Black River nigori sake, $10), or splurge on a bottle of sparkling sake.
To pair with crispy little doughnut balls ($10) and a blueberry "cheesecake" made with cashews ($10), four of us passed around a 9 ounce pour of Mizbasho "Water Lily" ($20), a medium-dry Ginjo sake.
The taste of apples and pears and a hint of nuttiness made for a strong, sweet send-off back into the night.