Cadre, the newest project from local chef Evan Dannells, is a French American bistro that doesn't want to call itself a bistro. 
Cities of a certain size usually have a few of these places — warm, Parisian-inspired dinner spots with antique pitchers and pastoral paintings on the walls and boeuf bourguignon on the menu. 
At its heart, a bistro is a tavern with a touch more technique and fewer (as in no) neon beer signs. But Americans have decided that "bistro" means "fancy." Cadre has technique, but it doesn't want to be fancy. 
Dannells, recently the chef at Merchant and Lucille, took over the menu and assumed part ownership of the former Oliver's Public House on old University earlier this fall. Oliver's opened under chef Patrick McCormick with a farm-to-table focus. After his departure, the restaurant seemed to lose its appeal in this well-to-do near west neighborhood.
Now the attractive space with a wrap-around bar and barn-red banquettes has a new name, new leadership and a thoughtful, carefully sourced menu, highlighting products from farms Dannells has worked with for years. There's a specific spot among side dishes for mushrooms from nearby Vitruvian Farms ($7). Bacon-wrapped Cates Family Farm beef is a regular special, and he's been running a rabbit stew.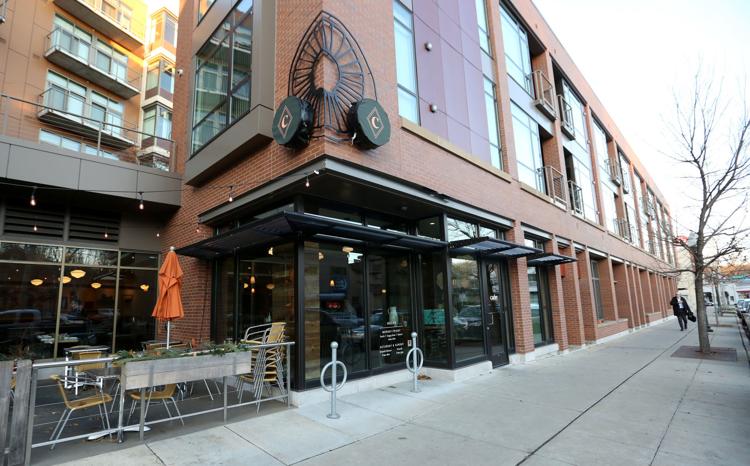 Being special-driven, he said, gives Cadre the flexibility to bring small quantities from smaller farms. It's not quite the same as his work downtown, where Dannells constantly reinvented and tweaked dishes. Here, he aims for comforting, more weeknight dinner than special occasion. 
"I felt like it would be more comforting to reasonably expect the thing you had last time to be on the menu when you come back," he said. 
It's hard to imagine a more comforting dish than boeuf bourguignon ($29), braised beef in red wine, finished with brandy and served with bread for dredging. The classic was rendered here in a rich demi glace, big chunks of browned mushrooms and lots of fall vegetables. If a turnip could aspire, it would dream of this rustic stew. 
One of two dishes is most likely to become Cadre's calling card. First are the steak frites ($30). On a recent Saturday, the steak arrived rosy pink, a perfect medium rare under a shower of crispy-crunchy potato slivers. Each one shattered like the potato nubbins that slip to the bottom of a McDonald's box, also known as The Best Fries. Creamed kale offered color, mushrooms added variety. It was a near perfect plate. 
Cadre's chevre cheese curds ($9) might also pique Madison's curiosité. Softer than the standard but not as melty as mozzarella sticks, Cadre's curds had character just by themselves. With a sprinkle of herbs, pickled radish, chili honey (not just for pizza!) and blue cheese (!), they broke the rules of cheese curdery like a streaker on a football field. I go for curds about as much as I go for ball games, but man, I could not look away. 
An autumn launch was a wise move for Cadre. French flagships like choucroute garni ($27) in all their porkified glory taste best in the fall. Cadre's choucroute could give a person meat sweats — the chanterelle sausage was salty with good snap, the pork belly practically melted. Thick slices of smoked ham made Easter seem much too far away.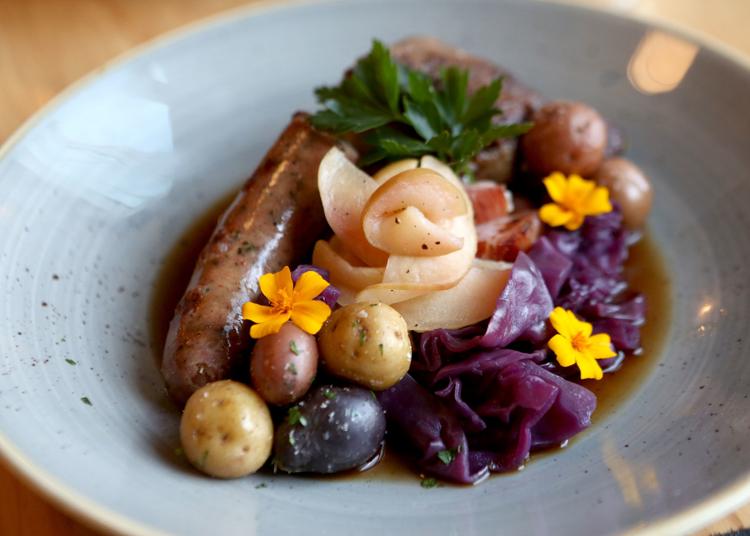 Among the few vegetarian dishes, buckwheat crepes with lentils ($17) felt like an Oliver's callback done better. Earthiness from the legumes and brussels sprouts contrasted with tangy goat cheese in each crepe, but with squash and berries and hazelnuts, this dish could use an edit.  
Bouillabaisse ($23) made another play for stew season, though not quite as sure-footed as the beef. The broth was fragrant with fennel and bay, and the pieces of fish and shellfish included the biggest, heaviest clam I've seen in my life. 
In the moules frites ($12) the mussels were plump and chewy. In the bouillabaisse the mussels were a bit overcooked. A glob of rouille (like mayo) landed mostly on their shells. It was almost there. 
From a pretty kale and squash salad ($11) sprinkled with micro chervil to a marvelous, creamy smoked whitefish terrine ($12), Cadre's plates were almost uniformly beautiful. The kitchen had a free hand with marigold gems, little yellow blossoms that tasted like citrus, and red-veined sorrel microgreens. 
The main thing missing from the menu at Cadre was roast chicken. Local chicken has a difficult price point, Dannells said, so it and other price-sensitive products can find a home in specials. That rabbit stew is set to come back. Cassoulet, a French dish of duck confit, white beans and sausage, will be a regular special after Thanksgiving.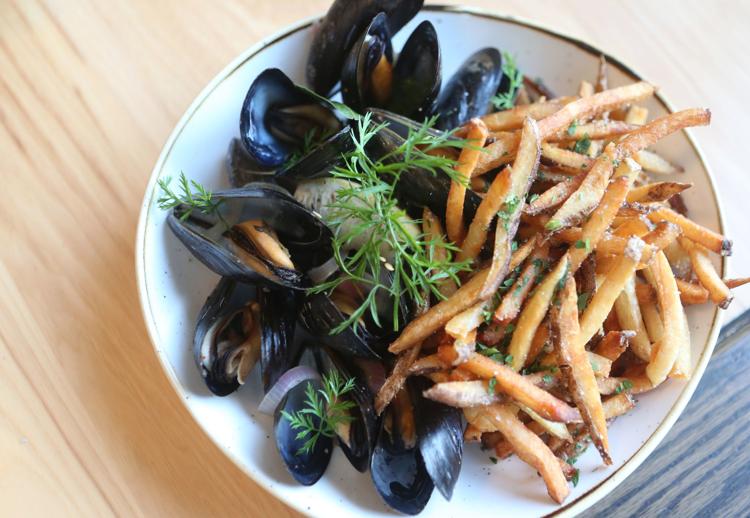 Cadre opens weekdays for lunch, and on weekends, hosts brunch from 9 a.m. until 2 p.m. Mornings brings omelets with cave-aged cheddar ($12), poached eggs, chimichurri and sausage on polenta ($14) and a croque madame ($13) with mornay sauce. 
Mornay — cheesy sauce, the binder in mac and cheese — appears on brussels sprouts ($7) too, a mini cast iron skillet full of them, all browned edges and toasted breadcrumbs. Adapt that for the dinner table this week, and you'd be the belle of Thanksgiving. 
Ricky Pajewski, bar manager and a partner in Oliver's, remains a co-owner at Cadre. As a result, the cocktail program remains tightly curated and reliably strong. There's a plummy, not-too-sweet sangria ($8) and a delicate rendition of a French 75 with cognac and plum juice ($10). Three cocktails are on tap, including the se tromper ($8), a smooth, herbal cocktail made with an aperitif called suze and a bit of fizz. 
The beer list has some weird and wonderful finds, including a brandy barrel-aged kettle sour from Third Space ($8) and a toasty Belgian tripel ($8). Andrea Hillsey of Square Wine Company set up the approachable wine list. There's a tart picpoul ($8) that will cut through any pork dish, some of the best bargain bubbles available in Madison (Mercat cava, $9), and several approachable French reds. 
Desserts at Cadre range from fine to meh. A decadent dark chocolate pudding ($9) had an oily beet chip garnish you can, and should, ignore. A baked apple ($8) was undercooked and too basic, like a sweet version of a hasselback potato. 
To close out a meal at Cadre, order a classic cocktail, like a Manhattan with George Dickel rye. Cadre general manager Colton Schara has been collecting antique serving vessels, like a lovely new cut glass decanter. It's bistro-fancy, sure. But listen to the story of how he found it and this restaurant feels as friendly as a Midwestern tavern. That's precisely what Cadre wants to be.