In his first executive chef job, Kyle Cozine decided that the food he sends out into the lovely, surprisingly secluded Robinia Courtyard this summer should bring the garden onto the plate.
Jardin, where Cozine took over the kitchen about two months ago, means "garden" in French. Cozine's wife grows pansies in their Monona backyard, each bloom no bigger than a 50-cent piece in shades of violet, scarlet and lemon yellow.
Cozine spinkles these blooms on every dish that comes out of his kitchen, from duck breast and steak to lobster salad and strawberry shortcake. Microgreens and pea vines from Vitruvian Farms in McFarland add texture too.
"I like the way they look," Cozine said. "It's pretty. The food should have a sense of time and place."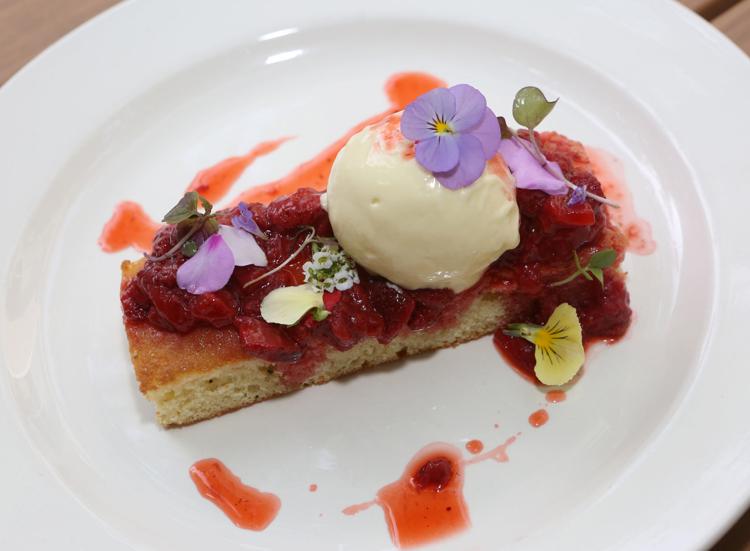 It's true, the flowers are pretty, as well as on trend. But using them indiscriminately makes every dish look the same.
Finding a distinct voice remains a challenge with this attractive spot at 829 E. Washington Ave., which opened as Julep under chef Aaron Mooney and closed after a year.
Jonathan Reske, a developer and one of the original partners in the trio of businesses in Robinia, LLC, has stayed on with co-owner Armando Magaña. Original Barolo owner Brian Haltinner (Maduro) maintains an interest as well.
Reske's team has been actively trying to build buzz with events — weekly live music, storytelling, fundraisers for progressive causes. Jardin would like to open for weekend brunch but adequate staffing, here as everywhere, has been tough to come by. It's not uncommon to see Reske himself behind the bar.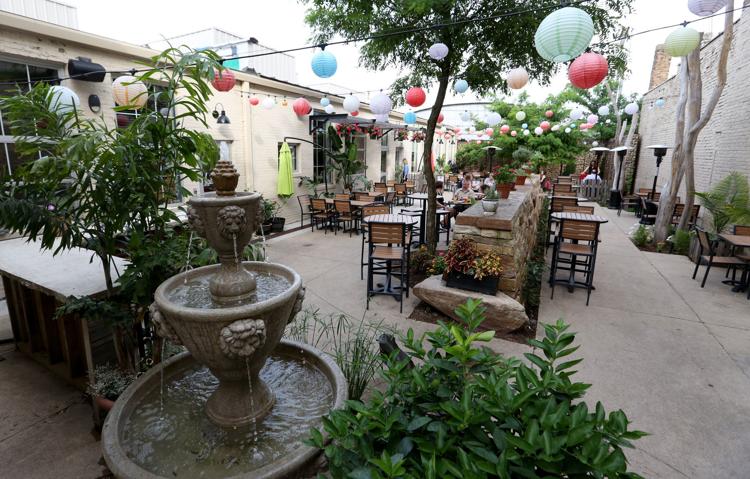 Robinia's longest standing business is the street-facing coffee shop and creperie, Black Locust. The middle space relaunched MadisonTap, a beer bar with a well-stocked game cabinet and rotating cast of breweries. Door County Brewing Co. and its Baileys Harbor sister, Hacienda Beer Co., are sharing taps in July.
After Cozine took over just before University of Wisconsin-Madison's graduation weekend, he redid the menus both at Tap and Jardin. He focused on bar standards at the former (burgers, curds and wings) and New American semi-fine dining at the latter, and Black Locust he mostly left alone.
"I was given some creative freedom," Cozine said. He wants to be "seasonally inspired."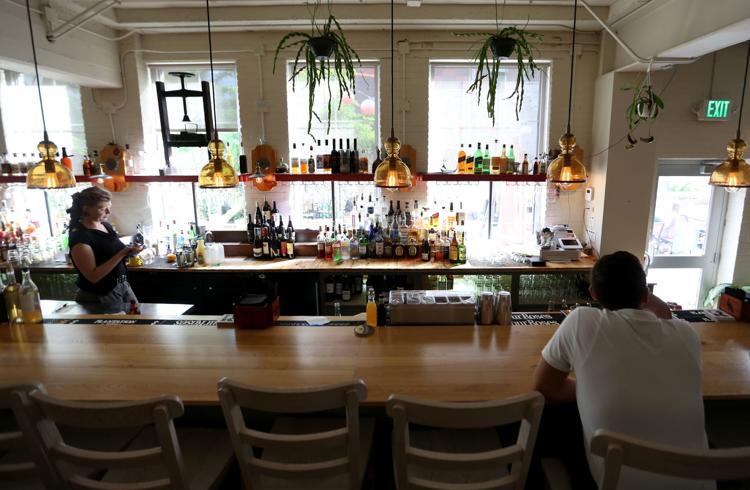 Jardin's best dishes capture that seasonality in specific ways. Two fat fried squash blossoms ($14) joined the earliest summer squash and zucchini, sliced lengthwise into planks and grilled. A twisty pile of local greens and a hazelnut mint vinaigrette made it an ample, perfectly summery plate, one to seek out before those blossoms are gone.
Nearly all of Jardin's small plates ($11-$18) deploy a vinaigrette, sometimes bumped up with truffle oil. Luckily truffle didn't overtake a creamy molded lobster salad ($18), a worthy indulgence that winked toward a Maine lobster roll.  
The breast on half a chicken ($22) was quite salty, but so perfectly juicy and tender all the way through I could have sworn it was sous vide (not so, Cozine said). A Thai basil sauce, much like a pesto, added an assertive kick. A rack of lamb ($32) was also cooked well, offset by nutty wild rice and salty cubes of lamb pancetta.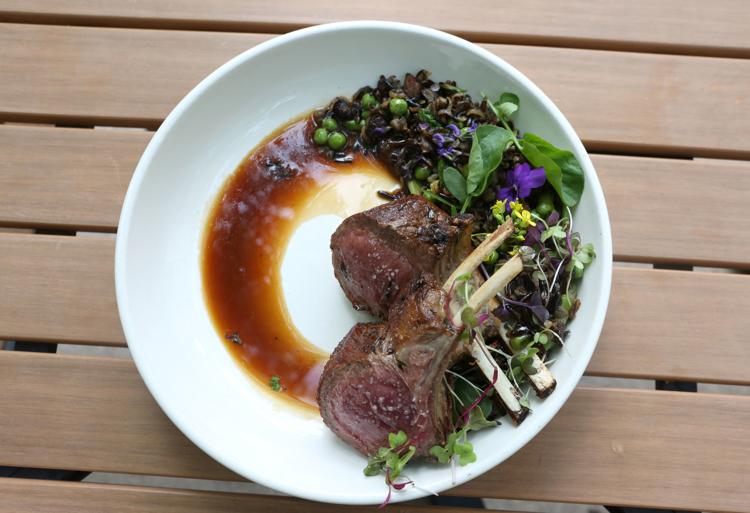 Baby bok choy, radishes and spring onions gave a seasonal spin to dishes like a rather bland pork loin ($21) and better seared duck breast ($23) with a satisfying chew and crispy fat.
Jardin's flank steak ($28), cooked medium and crowned with an onion butter, is one Cozine has already updated since graduation weekend with kale and crushed potatoes. A slice of bone holding a spoonful of roasted marrow made a decadent garnish.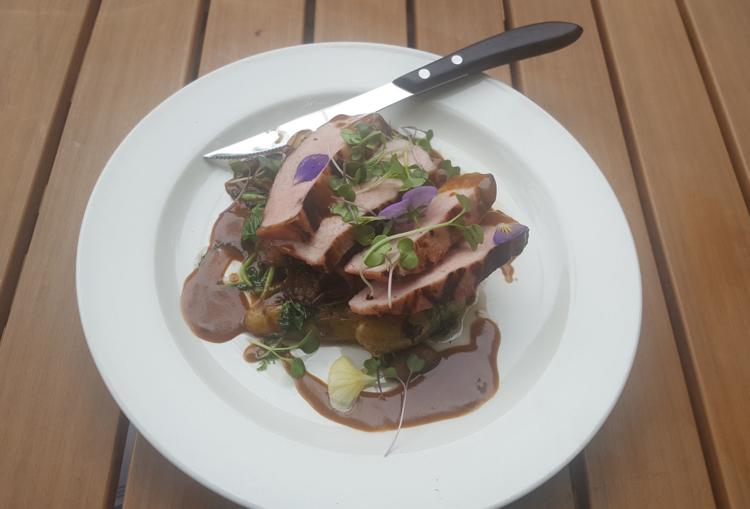 Sometimes just one element threw a dish over, like a sinus-clearing blast of horseradish on an otherwise delicate and refreshing whitefish small plate ($13) or whole peppercorns that snapped inside a biscuit with macerated strawberries ($9).  
Other things needed conceptual work, like a gummy mound of sweet soba noodles ($18) and two slabs of massive heirloom tomato ($14) in an olive-tofu puree. The flavor combination — salty olive, golden raisins in the vinaigrette — nodded to Sicily, but the soupy texture sunk it.
Jardin's cocktail and wine lists could use an edit and a revamp respectively. Cocktails — currently all gin or vodka, with one ancho chili-infused tequila situation — are usually topped with sparkling wine and have a few too many ingredients.
The Scarborough Fair ($11), for example, allegedly used a vodka infused with ginger, rosemary and thyme. Cute name, cute concept, too much sugar to tell the difference.
And for a restaurant with these kinds of menu ambitions, the wine list needs to do better. The Villa Wolf pinot noir rosé, at $6, is the best deal at present, but we cycled through an acidic Beaujolais ($9), a slightly flat torrontes ($8) and a weirdly harsh pinot noir ($10) before finding it.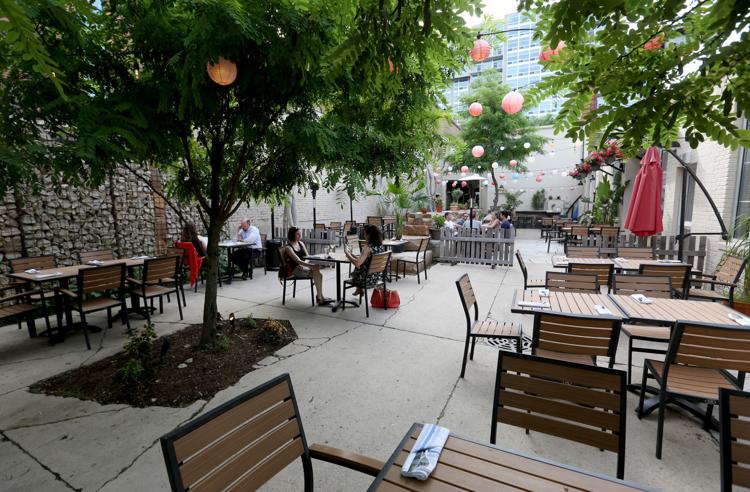 Pastry chef Brianna Hill does desserts for Jardin, just a few at the moment, mostly with strawberries and rhubarb.
Hill's vanilla semifreddo ($10) jiggled happily beneath roasted fruit and crunchy oats, a contrast in texture echoed in her lemon sorbet ($8) with super-crunchy granola and sweet macerated strawberries. Only a dry chocolate cake ($8) with honey ice cream that didn't taste much like honey seemed worth skipping.
Jardin's menu still feels like a work in progress. There's a lot of sameness, both in presentation and repeated ingredients dish to dish — not everything needs a vinaigrette or a jus. And the prices are high enough to make a person skittish about dropping $160 (after tip) on a meal for two.
That said, that courtyard is an oasis, shielded by umbrellas and strung with colorful paper lanterns. Staff is still minimal, but they're unfailingly friendly and fast.
Robinia is looking ahead to the rush yet to come. The courtyard's next door neighbor, The Sylvee, has announced a September opening, and Vintage Brewing Company owners Mark and Trent Kraemer have proposed a new restaurant for the space called Tangent.
"There's never guarantees in this business," Cozine said. "But if a building goes up next door with 4,000 people ... We're trying to get a catering menu prepared, staff up, get ready for that business.
"We are really just in the process of trying to pull it all together."