FOOD & DRINK
Restaurant review: Fetching Field Table dreams up fresh cocktails and inventive plates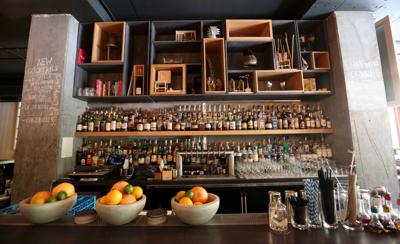 When Field Table rolled slowly open over a series of weeks earlier this spring, a question hummed among downtown diners:
What is it, exactly?
Opened at 10 W. Mifflin St. by owner Patricia Davis and consultant Andre Darlington in early April, Field Table wants to be a lot of things, among them a grab-and-go market, a coffee shop, a bakery and a lunch spot. A wrap-around bar migrates from bourbon and fernet on one side to coffee, pastries and wheels of Roelli cheese on the other.
Dinner is small plates dining for the opera-in-jeans crowd. In summer, Field Table's menu skews about 70 percent local, with ricotta cheese and baguettes ($4) made in house, paired with oysters overnighted from Massachusetts (available Wednesday-Saturday).
So far, Field Table succeeds at a few important things.
It's a fantastic bar with creative cocktails and a killer wine list. Chef Shannon Berry's vegetable-centric menu has a few hiccups, but her farmers' market inspirations and sure hand with seafood make her a young chef worth watching.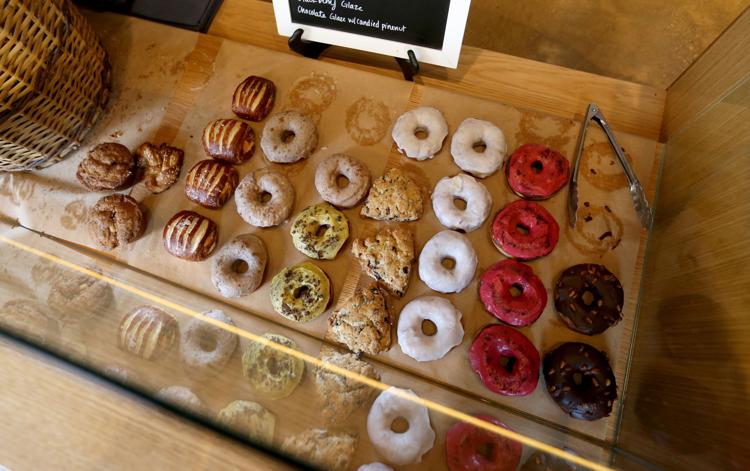 And on weekday mornings, Field Table makes delicate, not-too-sweet pastries ($2-$4) for the downtown office crowd. Berry's Swedish cardamom bun was out of this world, a perfect knot of crunchy, glazed croissant dough. A saskatoon almond scone was moist and airy, dotted with purple berries and whole toasted nuts.
Inspired by a stint at Batch Bakehouse, pastry chef Megan Belle developed a puffy, lightly salted croissant/pretzel hybrid called a cretzel, piped full of beer cheese with the consistency of Velveeta. It's developing a following.
At night, Field Table becomes one of the best bars on the Capitol Square. Bar manager Michael McDonald, recently of several Milwaukee bars and Bittercube Bitters, developed the cocktail list, a wide range of classics and seasonal things. In Wisconsin we proudly session martinis ($10), but do try the low-proof Virtuoso, a sherry cobbler ($8) with blackberry and citrus. It's wonderful, and rare around here.
The classics are spot on, like a Sazerac ($9) that sings with a touch of butterscotch from demerara syrup and a straight up, summer-loving Collins ($8) with gin, lemon and seltzer. Field Table's approachable, well-balanced boulevardier ($10) is made with rye and Cocchi di Torino, a rich and bitter vermouth.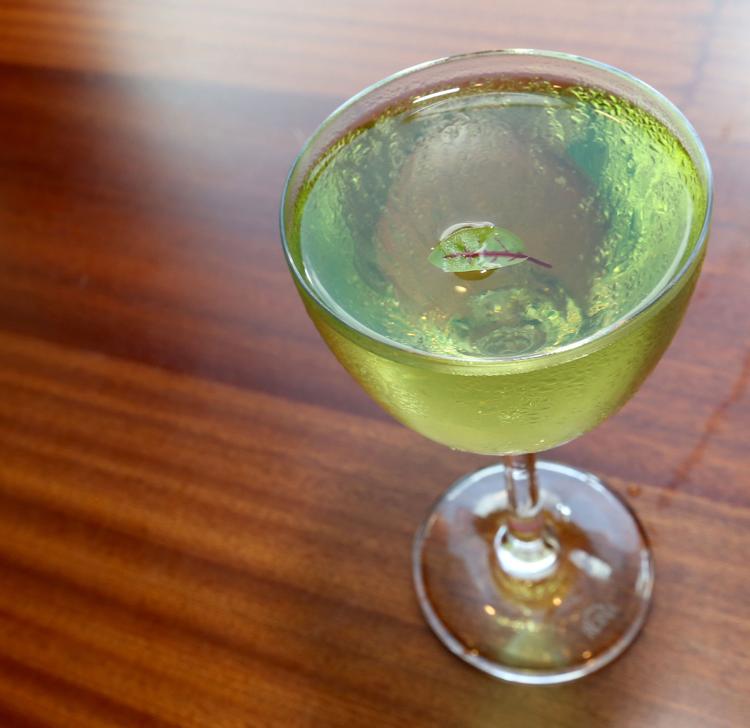 The originals demand attention, too. Field Table's summer list dropped at the beginning of July, with an intensely herbal, emerald green gin cocktail called La Bella Pellogrina ($12) and the tiki-style Rumful Purpose ($11), a refreshing, summery rum-based drink.
Field Table also has one of the most ambitious and thoughtful wine lists in town, crafted by Darlington.
It's a lot to take in, with biodynamic, organic and sustainable designations, flavor descriptions and importers, and it's worth scanning for oddball glass pours and what wine nerds call "serious juice." The bottle list is particularly fun, with txakolina, white Burgundy, Etna Rosso and tasty dark teroldego, all for $50 or less.
Glass pours cost $8-$12, from food-friendly whites like grüner veltliner to bold reds, like Paso Robles cabernet franc. On a warm summer evening, I can't think of anything better than a 2013 Luneau-Papin muscadet ($9/glass).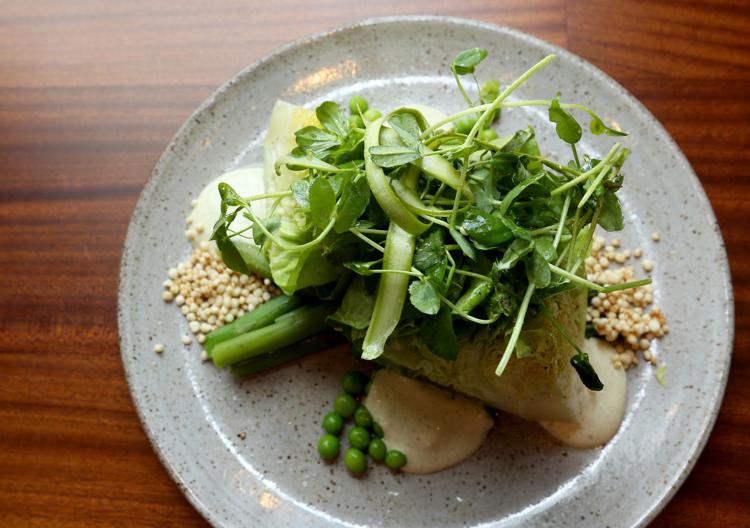 The dinner menu splits roughly into salads, small plates and larger entrees.
In practice, an ample baby gem lettuce salad with shaved asparagus and toasted quinoa ($10) or a "small plate" of sweet-glazed, crispy-skinned pork belly with broccolini ($16) could easily serve as mains.
Chef Berry's background in Nordic cuisine may explain why Field Table's fish dishes were consistently the best thing on the table. One could start with a light and lovely crudo ($12) — raw yellowfin tuna or scallop, sliced translucent, balanced by tea or a touch of spicy pepper — before a main of silky skate cheeks ($16) or arctic char ($23), sleek fillets with cracker-thin skin.
Among small plates, a fan of salmon ($14) was barely cooked through, buffered by rich egg yolk and a maitake mushroom broth that made for a surprisingly earthy bowl.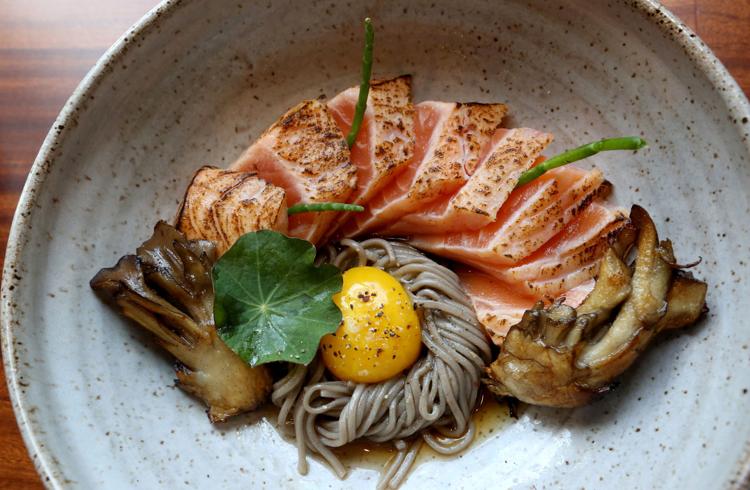 And Berry's kitchen turned out some of the best mussels ($18) I've ever had, based on an Italian seafood soup called zuppa de mare. Chorizo and calabrese peppers in the broth gave it a slow, mildly intense heat, with fresh arugula for crunch.
Not every dish got the flavors so spot on. Underseasoned Israeli couscous undermined a dish of tender grilled lamb ($14). Both watercress and cauliflower soups ($5/$8) tasted more like cream than the vegetables that inspired them.
Grilled lemon was a brilliant addition to Field Table's juicy London broil ($28). Though my friend ordered his steak medium, it arrived on the rare side of medium-rare, rosy pink all the way through.
Thankfully Field Table knows its name, and the season's prettiest vegetables were everywhere. Spring onion and watercress topped a very coastal citrus and avocado salad ($10). French breakfast radishes joined spicy local turnips and rainbow chard in a vibrant vegetarian starter ($12).
Desserts ($9), developed by Berry and Belle, are the kind of deconstructed where it looks like the (vegan!) chocolate cake was dropped onto a plate from high above your head.
Trust that even though goat cheese cheesecake looks nothing like cheesecake, it's divine, tangy and light with raspberry and shortbread elements. Strawberry chiffon was equally beautiful, with airy dollops of crème fraîche, brandy snaps (like tuiles) and whole strawberries, shining like gems in a sugary glaze.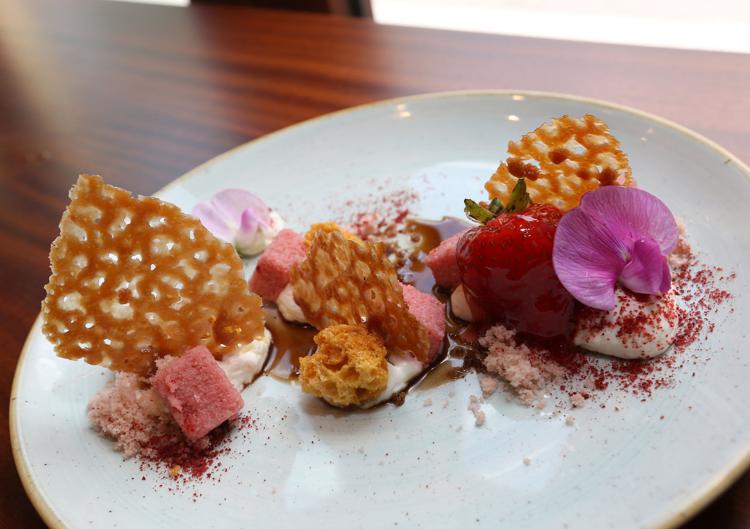 Field Table isn't immune from a staffing problem every restaurant seems to have these days. The staff was young and friendly, but they didn't know the ingredients in the dishes. The wine list baffled them. They misidentified Madeira as port, and one server incorrectly explained that Liquore Strega (an herbal liqueur) was a shrub (a fruit/vinegar syrup).
During the day, Field Table stocks a dimly lit, conceptually scattered market with pantry staples like tomato paste, olive oil and brown rice pasta next to hip snacks like chia bars and purple potato chips. There's local kombucha, and chocolate bars for $9.50.
Grab-and-go forager bowls, squash curry and vegan chocolate mousse seem overpriced at $7-$10 for small containers. I'd cross the Square for better iced coffee.
Still, Field Table serves beautiful food in a striking space. Artist Natasha Nicholson created the sculptures displayed in shadow boxes above the bar. A rustic field table near the kitchen dates back six generations in Davis' South Dakota family.
Field Table takes that table into a new era of Madison dining — perhaps not perfectly, but with intention and grace.