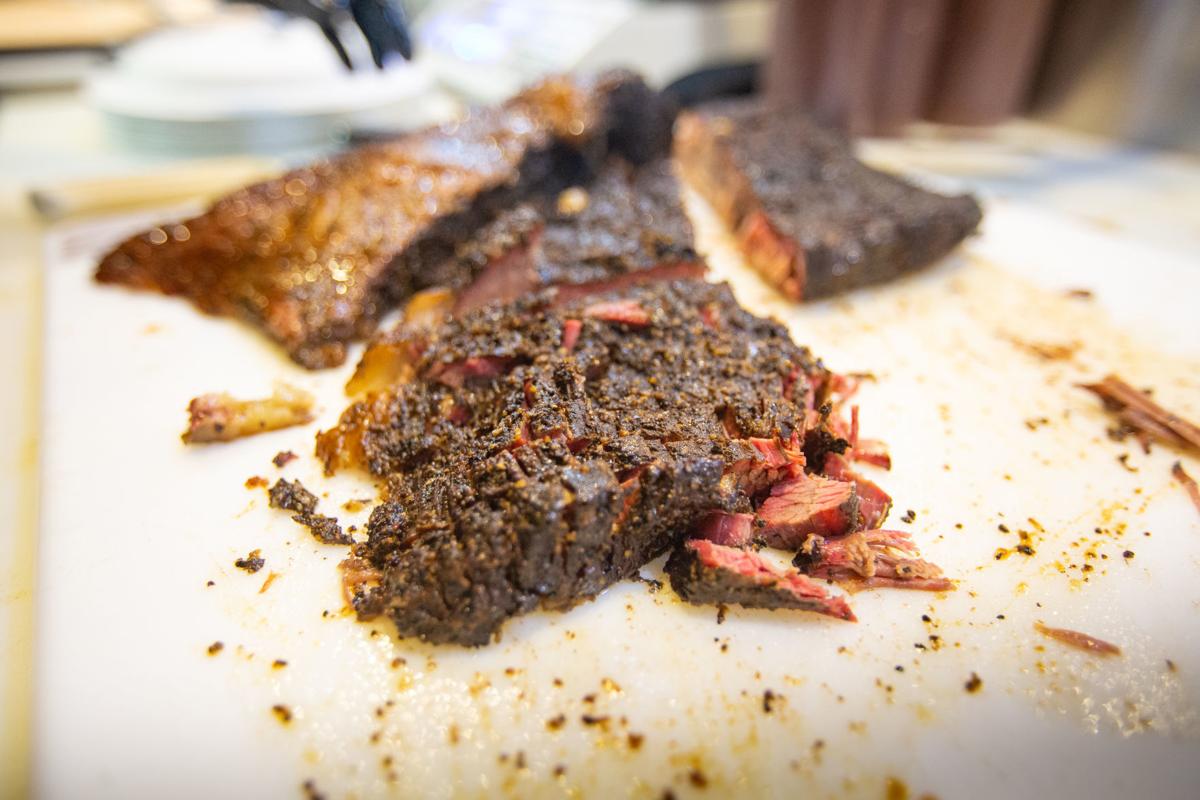 I had pulled pork for breakfast last Thursday morning. Before my coffee, even.
I do not regret this choice.
In related news, Beef Butter BBQ, a love letter to smoked brisket in a north side parking lot, opens its barbecue counter at 10 a.m. on Thursdays. It starts serving that early on Wednesdays, Fridays and weekends too.
On Saturday, should the situation demand, a person could order a three-quarter pound beef short rib with a bone so clean it looks like a handle and gnaw on that thing like a caveperson.
I'm not saying I did this, but you know, a person could. (Ever had one of those giant turkey legs at Disney World? It was like that, but with beef.)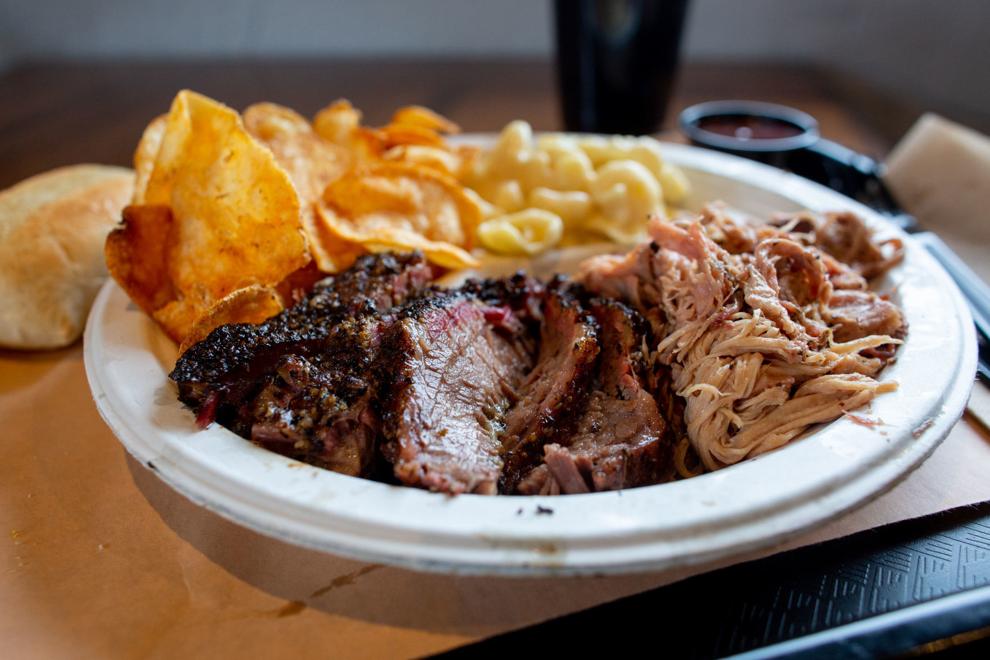 Two months ago the north side, home to the multiple-award-winning Smoky Jon's No. 1 B-B-Q for more than 30 years, got a little porkier. Patrick Riha, Beef Butter's owner, sees his addition to the neighborhood as an "all barbecue boats rise" situation.
"I think of it as expanding the barbecue market," Riha said. "People didn't used to think of having barbecue once a week. We've been open six weeks, and we've had people back 10-plus times.
"After three or four days, they start jonesing for the brisket. They start craving barbecue."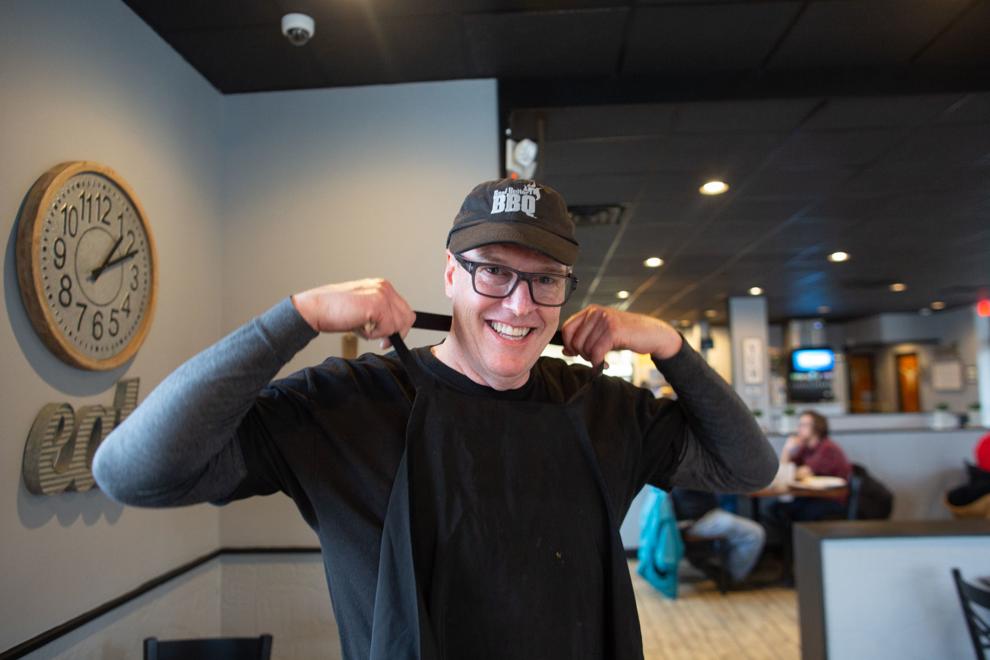 Inspired by a love of Texas barbecue, Riha spent a year and a half honing his smoking skills on the back of the Beef Butter BBQ food truck, which he launched in July 2017. 
Riha continued to work a full-time marketing job at the state while getting his brick and mortar spot ready to open at 3001 N. Sherman Ave. It opened a week before Thanksgiving last year. Riha is planning to retire and do barbecue full-time starting Feb. 1.
Beef Butter serves barbecue from a casual Subway-style counter. Staffers haul metal trays of brisket, chicken thighs and pulled pork out of a stacked warming drawer and chop the meats, piling them onto soft buns from S. Rosen's Baking Company.
I'm not Southern by birth, which somehow seems important to note — as Riha himself pointed out, nobody says, "I'm from Madison and this is great barbecue!" Still, anyone from anywhere could admire the bark and pretty smoke rings on Beef Butter's juicy brisket ($13.25/meal, which includes two sides), sourced from UW Provisions. I'd recommend a chopped mix of lean and fatty bits, all of it lightly smoked, with divine pockets of melt-in-your-mouth fat.
On all the meats the level of hickory wood smoke was very light, despite the brisket spending a total of 12 hours in the smoker. This meant that pork ribs ($12.95/meal) tasted more like ham than they should have, and chicken thighs ($11.25/meal) got a little dry and didn't taste very smoky, either. The latter could have used the boost of flavor from removed bones and skin.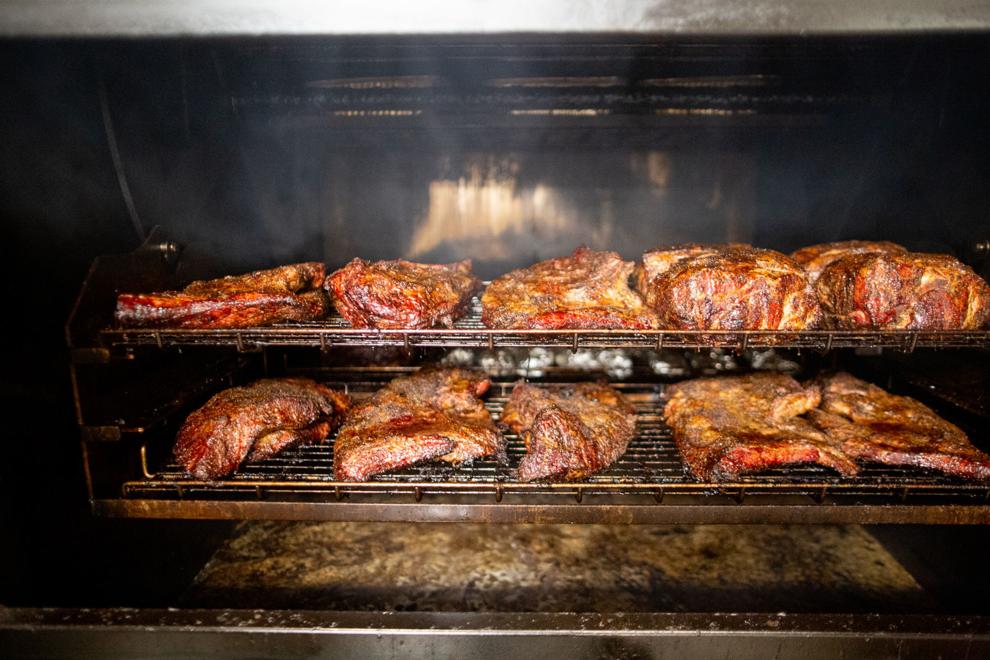 What Beef Butter nailed was the tender but not-completely-disintegrated texture both on the ribs and perfectly shredded pulled pork ($10.95/meal). All the meats took well to sauces, particularly the sweet-smoky Spicy Andrea.  
Those beef short ribs, available by the pound ($17.95) on weekends only for now, edged out the brisket for sheer flavor, texture and fat-to-meat ratio. Massive and beautifully blackened, a single rib weighed nearly a pound and could be pulled apart with bare hands. I do so love messy food.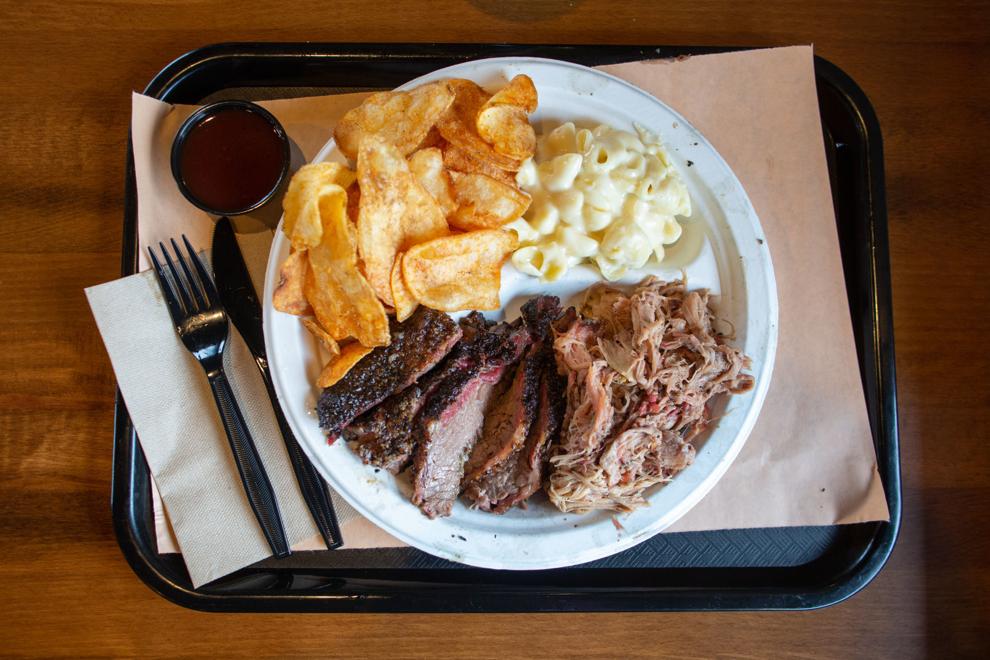 The single best thing we had in three visits came courtesy of John Lehman, who managed the late Jim's Meat Market on the north side for 30 years.
Lehman's "regular" sausages are basic Sheboygan-style brats and are fine in themselves. But the jalapeño cheddar sausages were fantastic, with a snap in the casing, high-melt cheddar that stayed creamy and a masterful blend of spices.
They were also the only truly spicy items on the menu, including a misnamed "Crisis" sauce that I'd rate two alarms at most.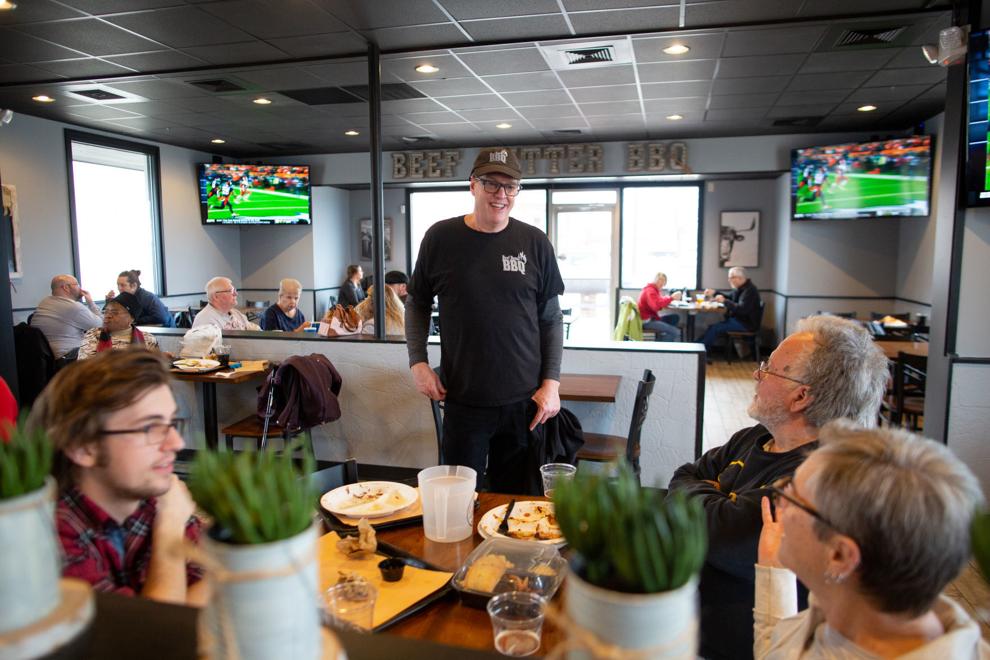 Riha "bought me a brat maker," said Lehman, who used to make 50-plus varieties of sausage and could "hand crank 5,000 a day." His jalapeño cheddar sausage took 12 years of tweaking, and now we get to eat the results.
Best among the sides were a creamy, excellent white cheddar mac and cheese, tangy potato salad with hardboiled eggs, and the best house-fried kettle chips I'd had in ages. The chips were dusted with a mix of paprika, sugar and salt, among other things. I recommend getting an extra carton of them ($2/4 ounces, $3.25/8 ounces) with whatever else you've ordered.  
Everything to eat at Beef Butter, including the sides, slots into a tan-to-dark brown color spectrum. No green here! If you were the type of kid who mashed together your baked beans and applesauce, you'll be into the sticky-sweet apple pie baked beans. The one bastion of vegetables, a gloppy coleslaw, looked like it was more mayo than cabbage.
A quartet of big screen televisions mounted in corners caters to those members of Packer Nation who want blitzes with their brisket. Riha figures sports are "universal" and subscribed to networks for Major League Baseball and the NFL.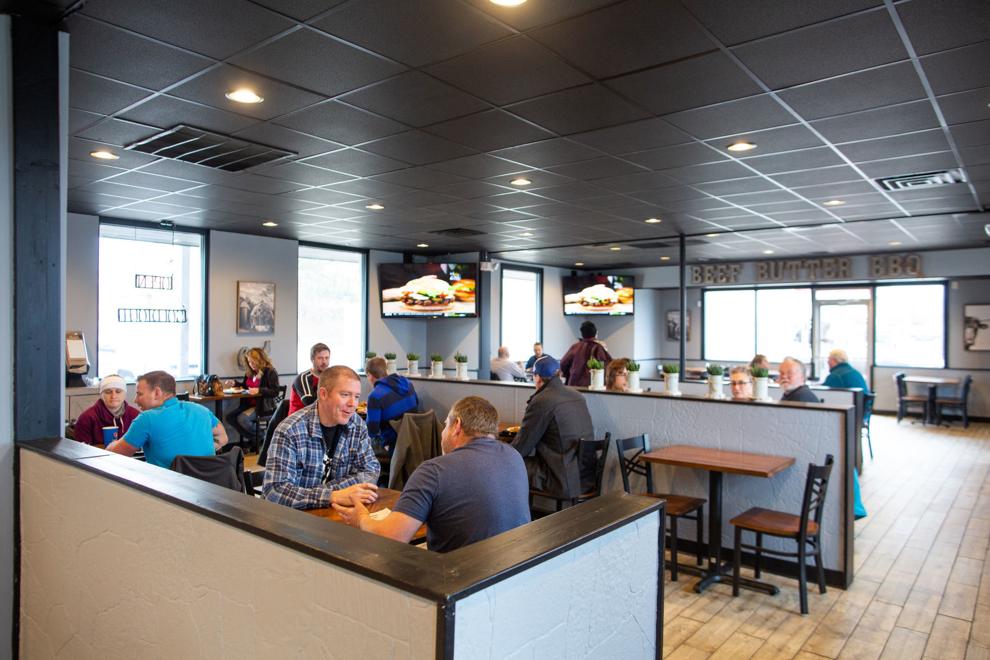 Otherwise, the interior at Beef Butter looks like somebody went to the wall décor section of a big box craft store and bought three of every kitschy cow print and "EAT" sign in stock. That may not be far from the truth — Riha said he opened the place nearly overnight, after months of renovation delays on the building. The building used to house Habanero's Mexican Grill and before that, a Rocky Rococo's pizzeria.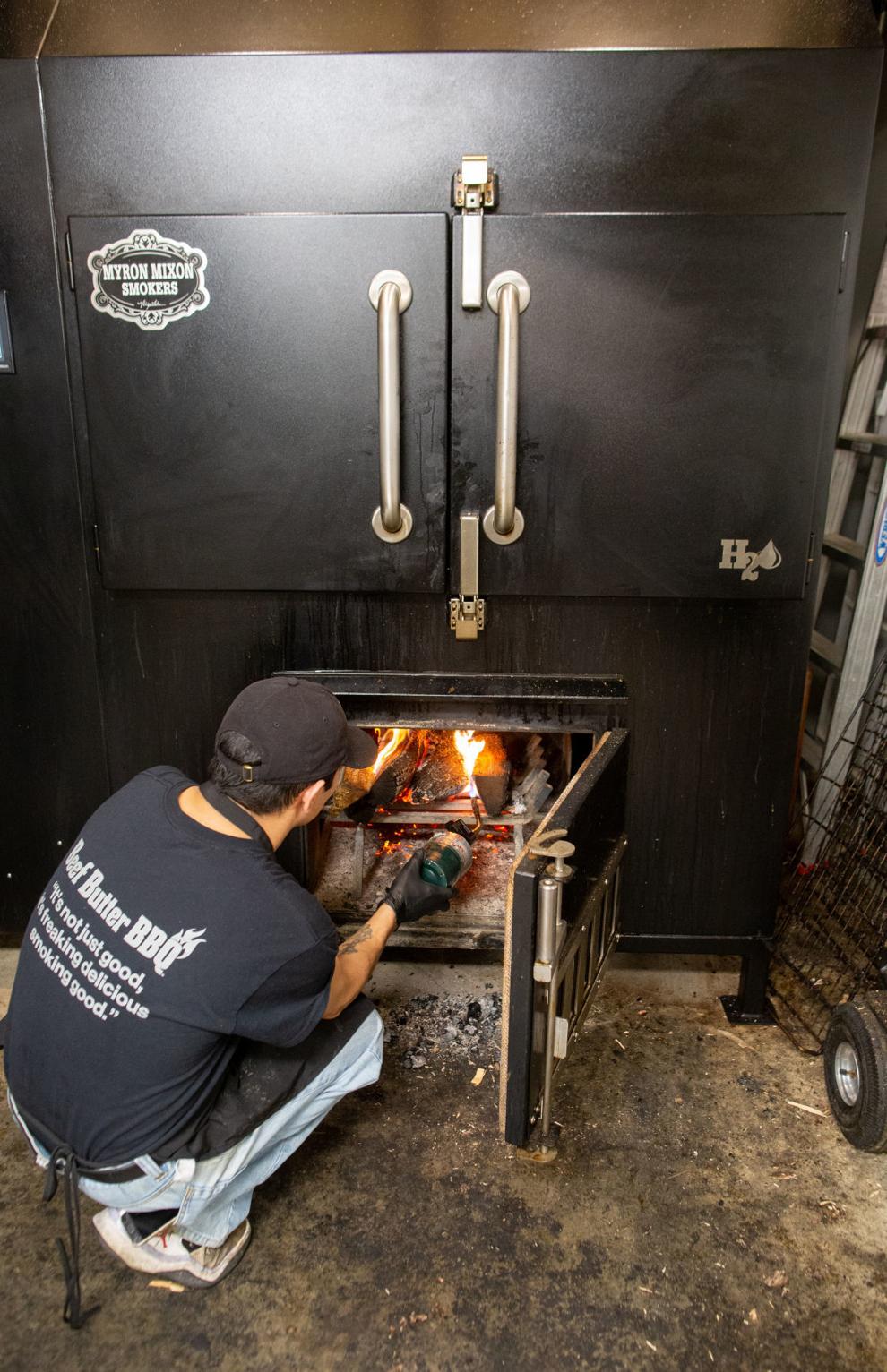 Elsewhere in town, That BBQ Joint has hung on despite neighbor complaints, and Pickle Jar just moved into the former Layla's Persian spot on Butler Street. Also a food cart, Pickle Jar is doing barbecue, too.
"I went to the city of Madison and said, 'I don't want to invest money in a restaurant and have someone complain about my smoke,'" Riha said. "I wanted to be at least 200 feet away from a residential zone, and I didn't want to be in a strip mall next to another building. Barbecue smells great maybe the first day, the first week, but after..."
Some of Beef Butter's young employees are still pretty green, apt to overcharge by accident or serve the wrong sausages. The plates are paper and the drinks are limited enough — soda ($2-$3) and a couple basic beers — to make take out more appealing.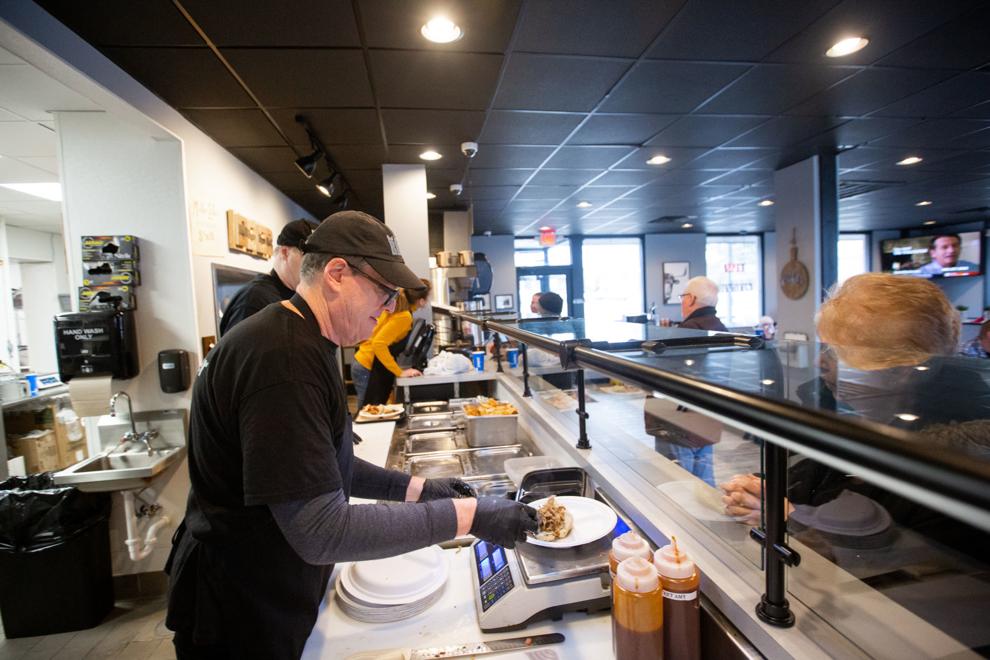 Already, the north side has received Beef Butter with open arms. Lehman's friendly face is familiar to meat-loving neighbors; he said he sees people he knows every day. Most folks are going for dinners, but by-the-pound orders of pork ribs ($14.95) and brisket ($17.95) have done well too, particularly around the holidays. Lehman called burnt ends and chopped odds and ends of brisket "the employee special."
"The north side really supports places that they like," Lehman said. "Even on slow days we've been pretty busy, so it's kind of nice."
"Things are going really well," Riha agreed. "The more we can expand the (barbecue) market, I think it helps everybody. We're going to open seven days a week for the summer, and we'll probably do the short ribs more often because they're so good.
"We can start smoking overnight, and we'll use the smoker on the trailer for catering," Riha said. "That doubles our capacity."