Those with more refined palates than my own take exception to the #drinkofthesummer for 2019. The Aperol spritz, they say, is syrupy and boring.
I say this is a fixable problem. Swap Aperol for Campari, its darker red, more bitter relative. Try herbal Italicus, or sweet white vermouth with a twist of lemon or grapefruit. Add prosecco bubbles and lots of ice — a spritz is summer in a glass.
On humid midsummer afternoons, I predict spritzes are what you'll go back for at Bar Corallini, a new neighborhood Italian place from the Food Fight Restaurant Group. Bar Corallini opened about two months ago on Atwood Avenue, serving dinner most weeknights and lunch and dinner on weekends.
Corallini ("coral" in Italian) is more relaxed than Food Fight's other Italian spot, Cento, but classier than Tex Tubb's Taco Palace across the street. Schenk-Atwood has already been turning out for cozy date nights and drinks with coworkers around a semi-circle banquette by the window.
For the bar's interior, Food Fight tapped Scott Pauli, Drew Garza and Jerry Chapa of Art & Sons, whose previous work includes Madison Sourdough, Forequarter and Robin Room. They gave the space whitewashed brick walls, colorful tile beneath the bar and exposed ductwork — the dining room gets loud, quick.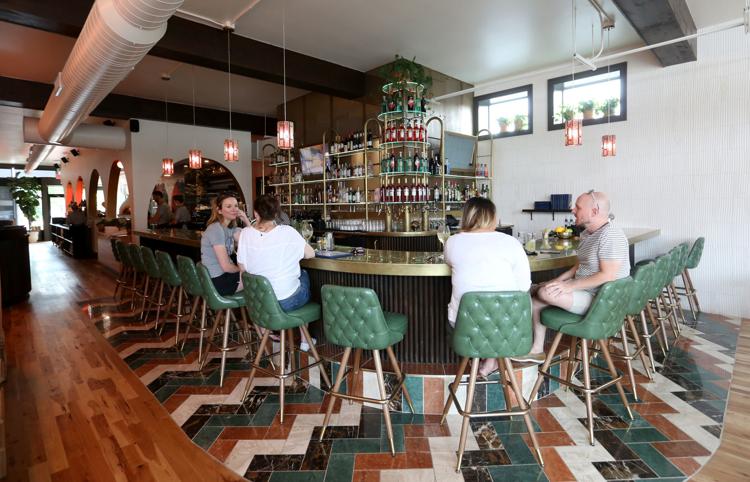 The feel is modern and thoughtful. Bar televisions become glit-edged mirrors as soon as they're turned off. The tight pattern on a bronze-colored screen behind the bar was inspired by a Catholic confessional booth. The font that forms the restaurant's logo looks like tiles on the side of an Italian pool. It echoes all over, edging the menu and the restaurant's big open windows.
"Corallini" is a nickname for residents of Torre del Greco, the Italian hometown of chef Giovanni Novella. Here Novella, formerly of Cento and Fresco, oversees a menu of gently charred, Neapolitan-inspired pizzas, fresh and dried pasta, and generous antipasti.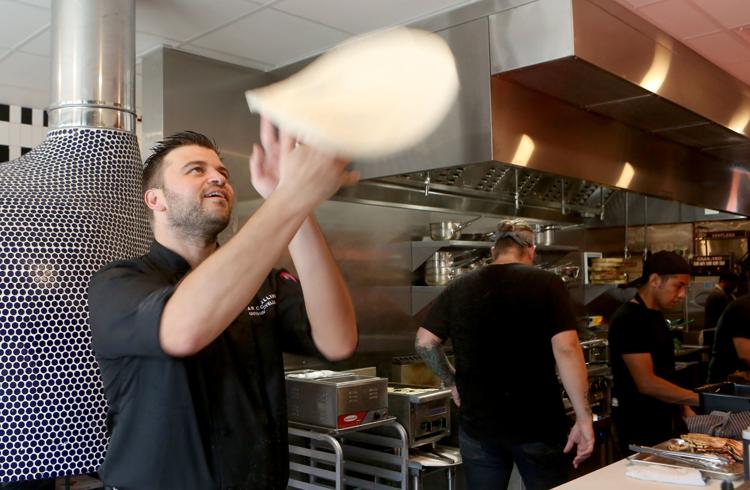 Many of the dishes seem designed for cooler weather, when seared cubes of Roman-style gnocchi with mushroom cream ($17) or rigatoni with beef and onions ($17) could take off an autumn chill. The appetizers are substantial, like a bowl of soft, hearty cannellini beans drizzled with olive oil ($10) and fried mozzarella balls ($10). The antipasti board ($19), crowded with marinated veggies, cheese and cured meat, feeds three to four with ease. 
Even the salads seem designed for long seasons. A now-classic combination of chiffonade Tuscan kale, breadcrumbs, nubby parm and lemon vinaigrette ($9) is perfect in its simplicity. I can't think of a dinner it wouldn't improve.
On a "tricolor" salad ($11), slightly bitter radicchio and pretty butter lettuce get a little sweetness from citrus and snap peas, with toasty crunch from hazelnuts. With a bright lemon vinaigrette and a sprinkle of cheese, this is peak supper salad.
The pizza menu is just six pies, each about a foot in diameter, blasted briefly in Corallini's wood-burning oven. The crust has a nice chew and a little sourness, with bubbles of char and a dry center. Standard combinations are approachable: a four-cheese ($15) with arugula and a spritz of lemon; tomato and burrata ($14); sausage and slightly bitter, toothsome rapini ($15).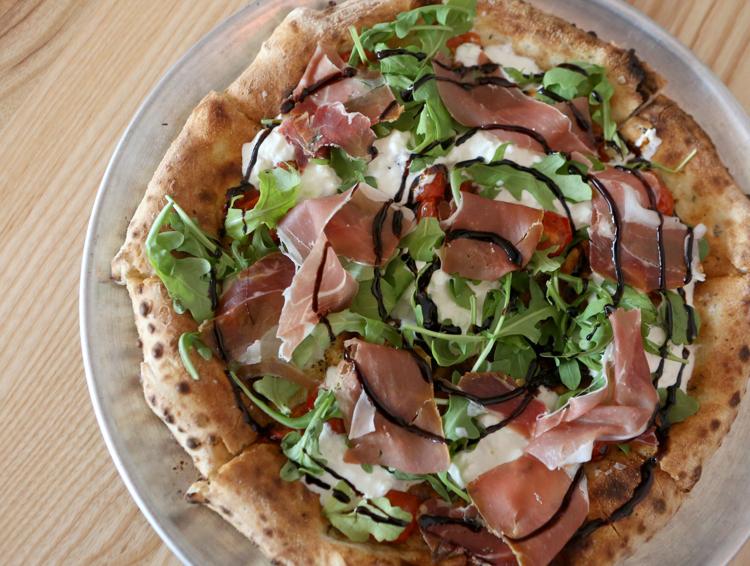 Whenever possible, get one of the special pies. One we had earlier in July with grilled peaches, ricotta, pistachios and honey ($16) was sweet, salty and marvelous, topped with fresh edible flowers.
Bar Corallini signals its desire to be a regular weeknight place with the size and style of pasta, which favor lots of die-cut noodles and strands of fresh linguine to fill up the bowl. Preparations are rustic and deliberately uncomplicated.
Littleneck clams, their shells tilted open like little mouths, give their brine to the linguine ($17), topped simply with breadcrumbs and chili flakes. Homestyle mezze maniche ($16), short, ridged tubes of pasta with sausage, caramelized onions and peppers, tastes like straight comfort food for anyone raised on spaghetti and meatballs.
Toppings create the sauce as you eat the pappardelle ($16), wide, flat noodles swirled with cherry tomatoes and stracciatella (AKA the middle of burrata mozzarella). As the noodles warm the cheese, it melts into the bottom of the bowl with tomato liquid, olive oil and nubbins of prosciutto.
An ample muffaletta ($16) drips spicy red oil from good pepperoni, stuffed in focaccia-like "pizza bread" with olives and crunchy chili tapenade. I told myself not to eat the whole thing (it's massive) but the balance of spicy and salty makes it hard to save some for later.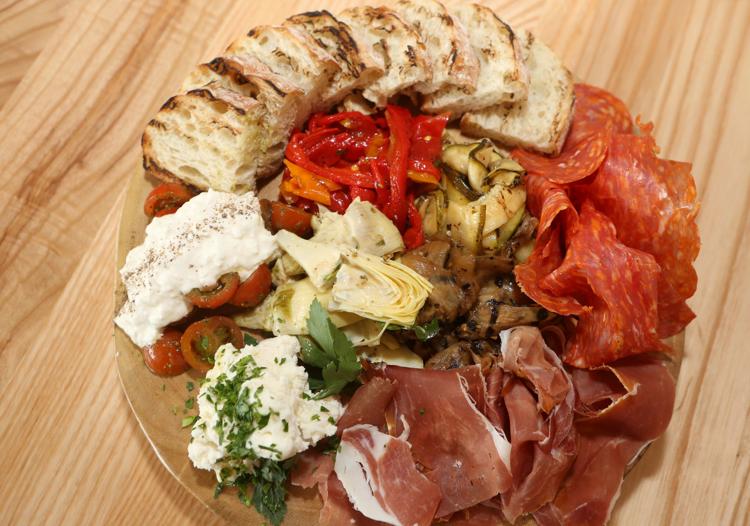 Another favorite dish, this one among the appetizers, is an elegant small plate of octopus, potatoes and green olives ($14). With small wedges of citrus and briney capers, it tastes like something you'd eat on a patio next to the ocean on holiday. 
In the space where Chocolaterian Café used to make "ugly" cookies and Badger Bait, Corallini outsources several desserts to Baron's Gelato in Sheboygan, a company I'm newly smitten with. Pale green pistachio gelato tastes purely and truly of the toasted nut, unlike sugary, almond-y imitators. The flavors in the olive oil gelato ($5) were elusive, almost like vanilla, but cleaner somehow, less fragrant but with a rich backnote.
Affogato ($7) that hot-cold, sweet-bitter magic of espresso and gelato, is simply wonderful, and the gelato doesn't melt too fast. Other things were too one-note sweet (a single tube of cannoli, $4) or saccharine and mushy (tiramisu, $7). This summer, go gelato, or go to Chocolate Shoppe down the way.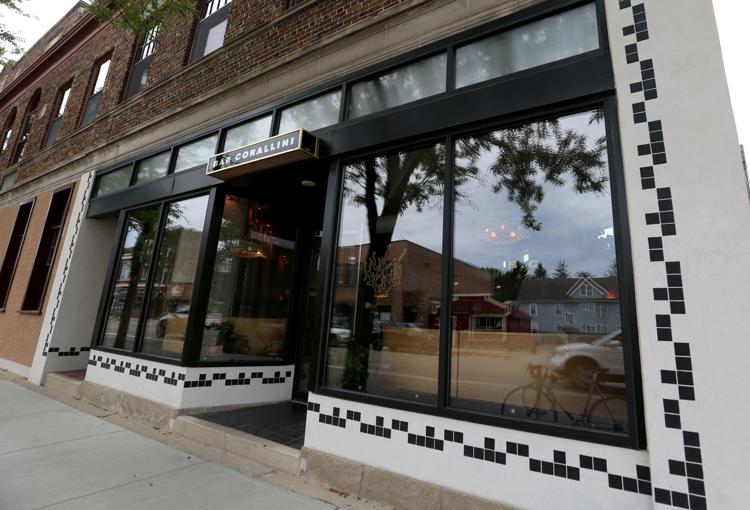 While it's warm the spritz is where it's at, especially during "aperitivo hour" from 4-6 p.m. ($6 Negronis and spritzes). I'd say only that the latter could stand an upgrade on the quality of the prosecco, whose sweetness tends to dominate.
On my return visits, I migrated toward one of Corallini's variations on the Campari-gin-vermouth alchemy that is a Negroni (with State Line gin, on tap, $8). My personal favorite is the sbagliato ($8), with Campari and sweet vermouth.
Come fall I'll swap gin for bourbon in a boulevardier ($8) made with smooth efficiency by bar manager Robert Freeman, who seems to have a sixth sense for empty glasses. (Freeman, a longtime consultant and recent addition to Madison's bar scene, is writing a cocktail book. Ask him anything.)
With Bar Corallini, Food Fight has found a fit with this fairly well-off east side neighborhood. It's not the most creative restaurant in this cluster of streets, but the pizzas and pastas are approachable and consistent, the cocktails balanced, the service quick even as the room fills up. 
What seems simple, like the spritz, is difficult to execute so well. With Bar Corallini, Food Fight continues to refine the formula for success.