One of the most anticipated restaurant openings of the year came not, as they often do, to downtown Madison, but to a suburban street in Middleton.
1847 at the Stamm House, open since mid-May on Century Avenue, is the latest incarnation of a building with deep, fascinating roots.
Though the cooking is a bit inconsistent, the interior of the building has been painstakingly restored, brick by historic brick.
According to JonMichael Rasmus and Nichole Fromm's new book, "Madison Food: A History of Capital Cuisine," the Stamm House's colorful past included "a post office, tavern and stagecoach stop," as well as a hotel and speakeasy.
The Stamm House began serving 25-cent chicken dinners by 1936 and Friday fish fry by 1940. For years, it was a beloved staple of the west side restaurant scene, despite largely unchanging (some might say uninspired) cuisine.
To resurrect the Stamm as a restaurant, building owner Troy Rost tapped chef Nick Johnson, a Restaurant Magnus alum and 2010 James Beard semi-finalist for Best Chef Midwest. 
Johnson aims to change the association of the Stamm House with heavy tavern-style food, but not so much that it's unrecognizable. The building's history informs a menu that includes a half chicken, hefty steak (grass fed, of course) and specials that ring familiar bells: chicken and dumplings, fish fry, pasta Bolognese.
Yet Johnson puts a global, contemporary spin on most of the dishes. He employs newly popular grains like quinoa, farro and "canoe harvested wild rice," as well as sophisticated sauces like mornay and beet/bone marrow butter.
Johnson's interests, informed by pristine seasonal produce, tie the short menu loosely together. One can see Eastern European and French influences in many of the carefully composed plates, but the overall sense is one of balance, in texture and taste.
The execution of these plates, unfortunately, has been hit or miss. Overall, starters — salads and shared plates — present the greatest chance of success.
A lovely beet carpaccio ($10) topped paper-thin, deep red slices with lightly smoked ricotta, radishes, toasted hazelnuts and chewy farro (an ancient whole grain with a flavor similar to brown rice). A healthy splash of vinaigrette brightened the salad, contrasting earthy notes in the beets.
One rarely sees pork belly cooked so delightfully crunchy as it was on top of Stamm House's kale salad ($10). With another tart vinaigrette (aigre-doux) and sweetness from caramelized onions, the salad leveled a one-two punch at the notion that either brassicas or belly are trendy has-beens.
Those with a sweet tooth will find plenty to love at the Stamm House well before the desserts arrive. Caramelized sugars pop in an onion tarte tatin ($10), served cold with a painterly twist of charred garlic scape. Even sweeter was a soupy pool of warm ricotta cheese ($9) drizzled with honey, golden raisins and pistachios.
Johnson keeps Stamm's list of entrees short and focused, often with a substantial main protein like a burger ($12) or crispy pan-roasted lake trout ($20).
Each is paired with something starchy, like herbed spaetzle (my grandma called it haluski), and lots of vegetables, like fresh spring peas or carrots in shades of purple, white and orange.
Unfortunately, during several visits, several of these dishes had one or two elements that brought them down.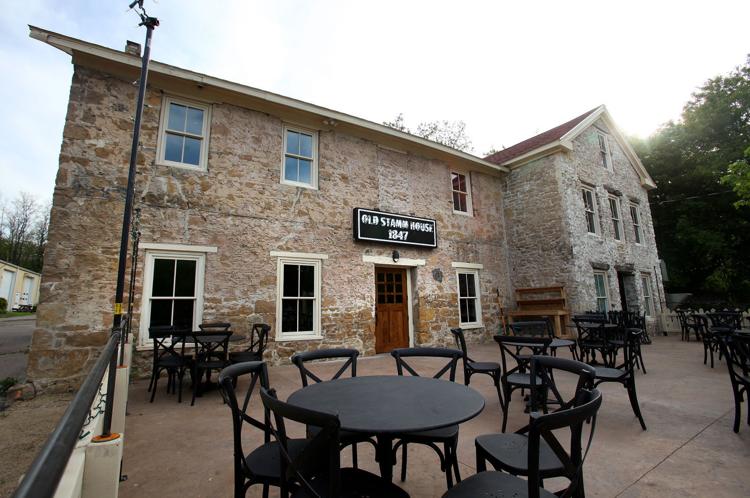 In two-inch thick, juicy, medium rare sirloin steak ($28), we found a ribbon of tendon. Creamy quinoa grits and rainbow chard on a generous pastured pork dish ($21) were flawless, but that couldn't be said for the unevenly cooked pork, which was by turns too chewy and dry.
That said, Johnson does consistently well by vegetable lovers. The summer zucchini pavé ($15) — pavé is the French word for "paving stones" and refers to rectangular food — was a study in textural contrasts, thanks to a sweet zucchini biscuit (the best part) and melted beet greens. 
The pavé also testified to the transformative power of sauce, in this case, a pistachio, lime and ginger combination with unexpected richness.  
Pastry chef Sara Wells handles the short and sweet dessert menu, the recent highlight of which was a dark chocolate malt tart ($7) with pistachios both in mousse and candied form. It was creamy, crunchy, salty and sweet.
That's also what salted white chocolate pudding with pretzels and peanuts ($7) aimed for. It came close. Just eat fast, before the pretzels get soggy.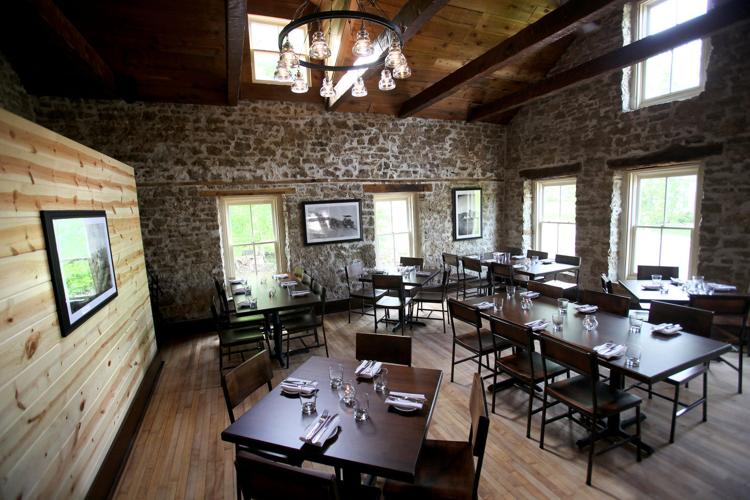 Only the vanilla diplomat ($7), a delicately flavored custard on top of shortbread, seemed to disappear, despite the woodsy sweetness of seedy, foraged black raspberries. It was a wallflower of a dessert, outshone by the others.
During an early trip about four weeks after the restaurant's soft opening, we grabbed seats at the upstairs bar. Starting at 4 p.m. every day but Monday, Stamm serves quality, stiff drinks, best among them a boozy Tarragon Manhattan ($8) with rye and herb-infused vermouth, and a summer Grand Marnier Sour ($8) built with brandy and citrus.
But though the bartender was friendly enough, it seemed ages before we received our drinks and silverware. Sitting with a dirty plate is never fun.
It was also a shame to receive a dish of pickled rhubarb several minutes after it was left off the smoked strawberry and arugula salad ($10).
Service during a later weekend visit proved better, in terms of both attentiveness and knowledge. When a half chicken ($23) came out dangerously undercooked, our server removed it from the bill with profuse apologies.
As with any locally focused menu, 1847 at the Stamm House makes slow changes every few weeks, modifying the prep, adding to the many options on the cheese board ($5 two/ $17 four). As tomatoes, peppers and corn take over market tables in a few weeks, they'll likely do the same at the restuarant.
The Stamm House team clearly knows that, to succeed, even the most historically rich places have to keep things fresh.