To make the blood sausage at Little Tibet, owner Namgyal Ponsar and her brother, chef Thinley Tenzing, don't grind the beef.
"We chop it by hand into really small pieces, so you feel like you're chewing on it," said Ponsar.
Ponsar makes gyuma, Tibetan blood sausage, with blood she gets still in liquid form from UW Provisions. Each sausage is so dark it's almost black, stuffed and seasoned with garlic, oats, yerma (Sichuan pepper) and tsampa, roasted barley flour Ponsar calls "the staple food of Tibet." On the side, a sauce of tomato and chilies makes the sausages taste even more intense and earthy than they do on their own. 
For black sausage, Ponsar said, her customers are mostly Tibetan, like she is. 
"I feel like I'm making sausage mainly for them," said Ponsar, who expanded her Tibetan food cart into a cozy restaurant at 827 E. East Johnson St. earlier this year. "It's heavy, very traditional, very Tibetan."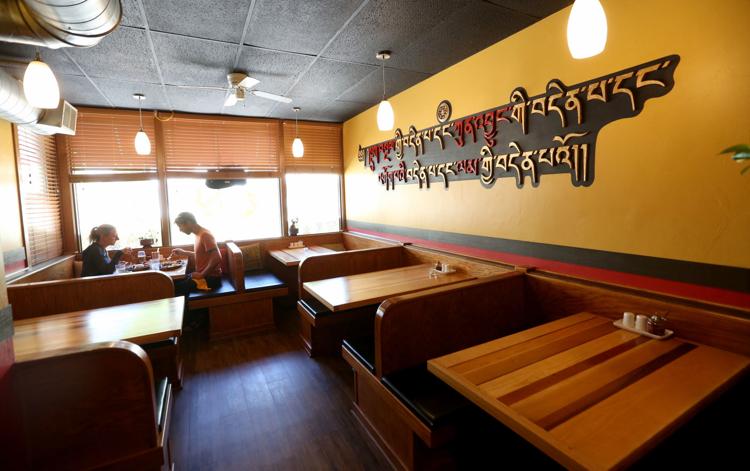 Last spring, Ponsar and her family — another brother, Therten Tsering, oversees the front of the house — turned the former location of La Taguara and The Spot into a home for handcut Tibetan noodles and bone broth, fresh cucumber/tomato salad and meaty dumplings. To widen the restaurant's appeal, they're also making Nepalese thali sampler plates and a little Bhutanese food, namely ema datshi ($9), a chili cheese stew.
Ponsar's brothers sculpted the words in clay that now greet diners who climb the steps and enter the first part of the dining room, tightly packed with wooden booths. Tibetan script spells out the four noble truths of Buddhism, sayings about misery and pain and how to find the way out of it.
Ponsar admits that suffering seemed like an odd theme at first.
"I said, 'Why do you want to put that in the restaurant?'" Ponsar said with a laugh. "But that's the point of the universe. That's the reality."
Little Tibet's food is about comfort and heft. Aside from the blood sausage ($7 for a small plate, $10 for a large), there are bowls of beef bone broth, with an almost gelatinous roundness in the mouth. Some cooks make it clear, but Ponsar likes the flavor of barley in her broth.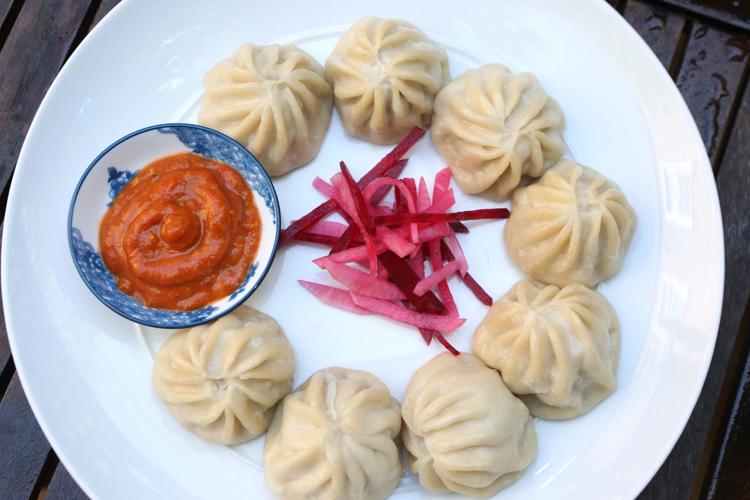 The broth accompanies simple meat momos, round, pinched little packages steamed to piping hot. Madison is short on yak meat, so Little Tibet fills each dumpling with either chopped beef or chicken sausage ($9 for eight). Ponsar shapes vegetarian momos ($8 for eight) into crescents. This helps the kitchen tell them apart, she said. A recent special with mushrooms, paneer cheese and chives makes a satisfying appetizer. 
Ponsar likes to make things by hand. In a bowl of veggie thupka ($10), a broth-based soup with mushrooms, celery and bok choy, homemade egg noodles sprung out of our mouths as we bit into them. The kitchen makes noodles fresh every other day.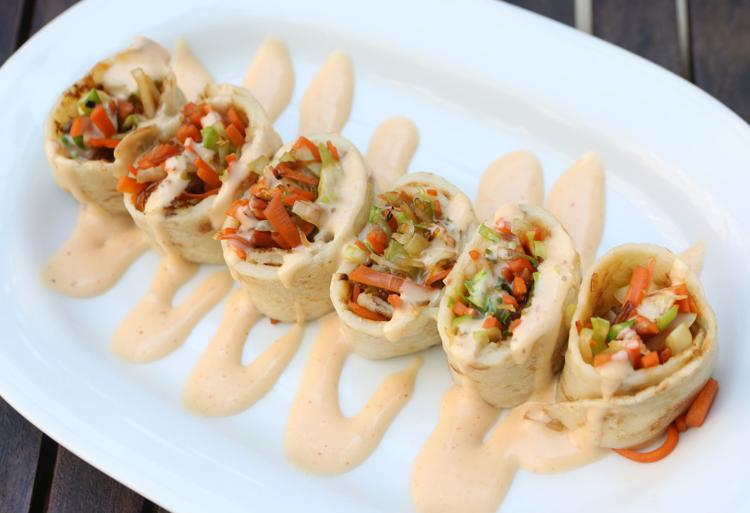 The only ingredients in the batter for ping alla ($6) are egg, flour, water and a little baking powder. The batter has to be made at least three hours in advance, Ponsar said, to have the right, slightly chewy texture. It's presented as a savory crepe, wrapped around mushrooms, cabbage, carrots and bean thread noodles. 
The ping alla reminded me most of banh xeo, a savory Vietnamese pancake made with rice flour. Here the flavor was slightly more sour, contrasting the earthiness of mushrooms and sweet carrots. According to "The Lhasa Moon Tibetan Cookbook," ping alla were born at that restaurant in San Francisco to "satisfy the Western desire for appetizers." At our table they were a universal hit, served sliced into flat rounds like Tibetan American sushi.  
Tenzing trained in India, and the lamb curry on a Nepalese thali platter ($15) had the rich depth of Indian spices with aromatic top notes of ginger and cardamom. Thali, the name of both the platter and the dishes on it, is like getting a bunch of small plates at once. Little Tibet features paper-thin crispy papadum, roti (flatbread), lentil soup, sauteed kale, pickled potatoes and a mound of rice. There's a mildly spicy chutney in the center of the plate and a bowl of cool rice pudding for dessert.
The curry's unquestionably the star, but beyond that, thali a perfectly self-contained, customizable meal. Ponsar said some restaurants make thali bottomless, like a personal buffet, but she wanted to keep both portion size and price in check.
With a less familiar cuisine like this, it was hard to know whether tingmo, a steamed bun that comes with sizzling short ribs ($15) on a metal platter, should be so chewy, almost gummy in texture. Ponsar said no, they're meant to be fluffy, but that lasts only about 10 minutes. Execution, she said, can be tough.
There's also a fine line between comforting and boring. Because Little Tibet aims at a range of palates, spice levels were all fairly low, though they could be brought back up again with a chili condiment on the table.
Still, stir-fried noodles with beef and bell peppers ($12) tasted bland and a touch greasy. Thin-sliced fried potatoes ($5) with curry ketchup tasted almost like French fries. With the rest of the food, it was weight we didn't need.
For some, though, weight is the point. Ponsar said some tables order a whole thermos ($12) of the Tibetan tea, a mix of butter, milk and salt. (As my friend pointed out, it's the things that go into mashed potatoes to make them delicious, but without the potatoes). Little Tibet lightens theirs a touch with steamed milk, but the savory tea is an acquired taste. 
"Some people say it tastes like a soup," she said. "It's supposed to be thick and buttery and dense."
Little Tibet keeps dessert simple, topping bananas and caramelized ginger with scoops of chocolate ice cream ($5) and fruit salad with whipped cream ($5).
That's the whole idea, Ponsar said. Simple food, from home.
"I keep it very traditional, the traditional way of cooking," she said. "None of us are professional chefs or anything like that. We're trying to cook what's in Tibetan homes. That's what we're trying to present."