When a west coast television producer told chef Luke Zahm that not enough people care about the food of the upper Midwest, it was like "pouring rocket fuel on a match."
"As a kid growing up in rural pockets, you look for ways to justify why you should feel good about where you're from," said Zahm, owner of Driftless Café in Viroqua and a native of tiny La Farge.
This summer, the 40-year-old chef steps in as the new host of the PBS show "Wisconsin Foodie," shown Thursdays at 8 p.m. on Wisconsin Public Television. Kyle Cherek hosted the Regional Emmy Award-winning show for 11 years.
While Cherek didn't come from the world of food, Zahm has spent his career promoting the producers of his home state, including working in Washington, D.C., to lobby for sustainable food.
He got a taste for the small screen on Guy's Grocery Games last year and pitched a "chef and the farmer"-style show to the Food Network. The execs didn't go for it — not enough advertising, Zahm recalled.
"I've grown up my whole life feeling like an underdog," said Zahm, who with executive producer Arthur Ircink is now filming episodes that will begin airing in January 2020.
"It generates humility. It generates honesty and sincerity, passion and identity."
Zahm moved back to Vernon County in 2011 after cooking in the Madison area at Lombardino's, The Old Fashioned, Kennedy Manor and Epic Systems, where he spent five years. He and his wife Ruthie bought the Driftless Café in 2013. Two years ago, Zahm and Driftless were long-listed for a James Beard Award for Best Chef Midwest, and the Viroqua-based Edible Madison magazine has twice named him a "Local Hero."
Zahm took a pause from shooting b-roll to chat with the Cap Times about his new gig, what's going on at the café while he's out on location, and why he thinks highlighting the food of rural Wisconsin can help bridge a political divide.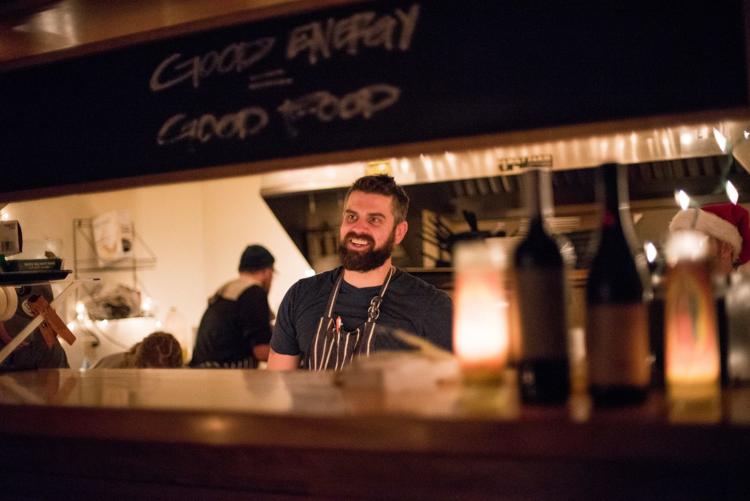 Congrats on the new gig! How did you first hook up with "Wisconsin Foodie?"
I got a call from the executive producer, Arthur. I was at a Chuck-E-Cheese with my kids and it was so cold, in February, on a Sunday. They said, "We're swinging through the area tomorrow and wonder if you'd like to be profiled?" I said, "Of course!" In a town of 4,352, it never fails to surprise and delight me that people are interested in what's happening here.
I assumed it was TV magic, like I start a dish and we would have all the finished components and it would be a quick shoot. When Arthur and Kyle and the crew showed up I had things prepped. Arthur was like, "Push all that to the side. I want you to start from the very beginning."
It helped me tell the story of the producers in the region, and really gave me an opportunity to become acclimated on camera. I had a good time doing the shoot. We had a lot of really positive feedback on it. People came that may have never heard of Viroqua or the Driftless Café. It felt really great.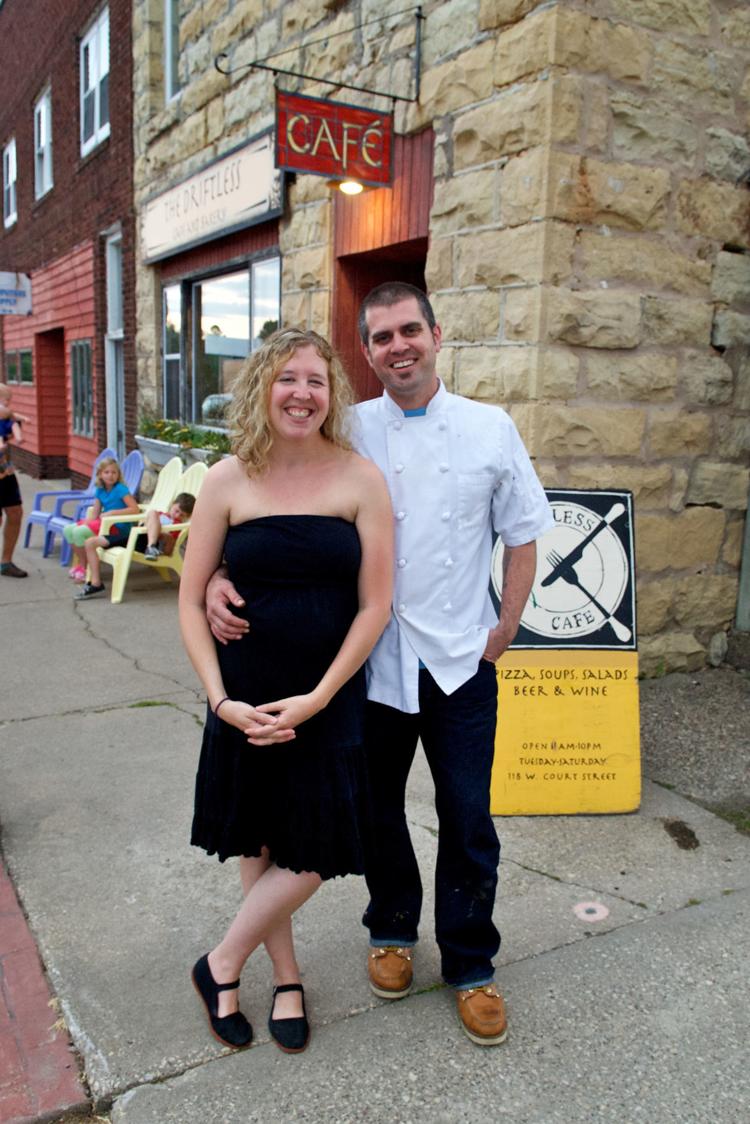 In your transition from chef to TV host, what have been the biggest challenges?
Making TV is hard! It's hard work. To do one episode is one thing. The producers give you some grace — like that's you, that's a nuance, that will translate well on camera or we'll edit this out.
Now, I am trying to steer and guide conversations with characters that maybe aren't as comfortable on camera. I walk them through their story. There's a lot of cues and shoots and reshoots. For me to walk through a door correctly might take 10 takes from 10 different angles. That's a steep learning curve. The producers sent me out on shoots with just a cameraman for me to practice.
And asking good questions, it's a honed skill! You're thinking two steps ahead, how do I make this bridge so this character has all the complete pieces?
Right now I have a problem with the word "amazing." You can only use that word so many times on camera before it loses its pop.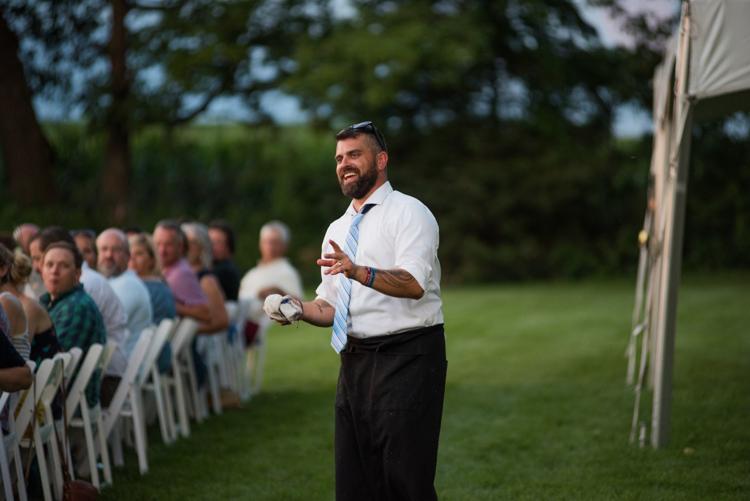 What's going on back at Driftless Café while you're out with the "Foodie" crew?
(Chef) Mary Kastman moved to Viroqua last year, from Sarma and Oleana in Boston. For me that has been a tremendous relief, to have someone who understands food and is interested in putting her imprint on Wisconsin cuisine through the flavor profiles she loves to cultivate. Right now we have this interpretation of Midwestern cuisine with a Middle Eastern twist, which is pretty amazing.
We know we need more people of color and other diversity in food media. How does "Wisconsin Foodie" plan to tell immigrant and indigenous stories?
My concern coming into this show was that people don't need another white male chef telling them what's great about food in the world. There's a ton of examples of that in food media culture. We've been deliberate in trying to find food stories that speak to a different demographic. There are indigenous pieces that are worked into menus here that people take for granted.
We just got done shooting a Oaxacan cheesemaker, Cesar (Luis). We went to his backyard and to his butcher in Campbellsport, this quintessential old school butcher shop. It's this collision of cultures. The family has been in business for 70 years and Cesar told him about cuts he wanted that they'd never heard of using. There's a cultural exchange that happens, that's the beauty.
How will your rural roots inform the future direction of "Wisconsin Foodie?"
Personally, I think Midwestern food has some of the same staying power as our fascination with Southern cuisine. We may not all have the same privilege and opportunity to eat in restaurants in our state that are so high-brow. But man oh man, there's amazing food culture that's rooted here that is simple, that is based in tradition, people passing down stories from generations.
There is definitely a different perspective in rural America. Rural America just feels like it's not being paid attention to. We have the ability to start bridging that gap, to start moving this vehicle forward. We can have meaningful conversations with each other that help us realize we're not so far apart.