NEW YORK CITY — On Monday morning, Tim Gunn wasn't sure what exactly he was doing in a room full of chefs, philanthropists, media and food policy makers.
Gunn, the former chair of the department of fashion design at the Parsons School of Design, is the producer of "Project Runway," an Emmy-winning reality TV show on Lifetime now entering its 19th season.
He knows fashion history, materials and art and style. What, he wondered, could he contribute to the 2016 James Beard Foundation Food Conference?
"I feel like a mongrel at the Westminster Kennel Club," Gunn joked during his opening remarks.
Quickly, though, Gunn began to draw strong parallels between fashion and food. Both are highly entrepreneurial and consumer-driven. Food, like fashion, is a key way we understand ourselves and our culture, and for that reason it can be hard to change.
In both arenas, the people and companies that project trends tend to disagree with each other.
And fashion trends, like food trends, are only good if if they work for you.
"On the subject of trends in fashion, I have become a cynic," Gunn said. "Ask yourself what you need ... and make the decision accordingly."
So much of the food movement lives and dies with consumer choices. That applies to fashion too, even in Madison where people wear jeans to the opera.
"I've lived in Washington, D.C., where there definitely is a uniform," Gunn said in a conversation after the conference. "I believe in the power and appropriateness of semiotics.
"What I mean by that is the clothes we wear, the accessories we wear, the way we groom ourselves sends a message about how we want the world to perceive us. It's a very important responsibility and we need to accept that. I don't care how people, as long as they own it."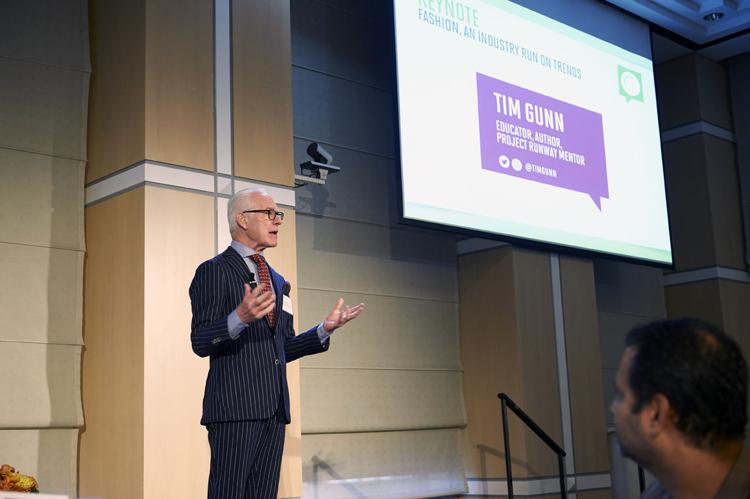 Food and fashion are both "thoroughly regional," Gunn said. "Macy's, they're buying different things for stores in different reasons, based on what they predict the consumer will actually purchase."
This year's Beard conference, the ninth for the food-focused, award-giving nonprofit, brought together people from various backgrounds.
Evan Wolfson, founder of Freedom to Marry, appeared on the program alongside Massachusetts congressman Jim McGovern, Gina McCarthy from the Environmental Protection Agency and Arkansas chef Matt McClure from The Hive. There were fishermen and women from Alaska, magazine editors and food activists from Detroit.
The theme for the event was "Now Trending: The Making of a Food Movement," and discussions were stimulating, lively and sometimes heated.
On Tuesday afternoon, Washington Post journalist Tamar Hespel didn't sugarcoat her questions while moderating a debate between Richard McCarthy, director of Slow Food USA, and former White House food policy advisor Sam Kass.
"The things that people can be made to care about and the things that actually matter in our food supply might not actually overlap," Hespel said. "In fact, they might be mutually exclusive."
Certainly, "there's a lot to fix," Kass agreed. The industrial food system degrades the soil and water it needs to continually exist. The U.S. wastes about a third to 40 percent of all the food it produces, a ridiculously inefficient system.
Food represents the number one cause of preventable death and disease.
Still, "at a certain point you have to get past pointing fingers and figure out, what are we going to do?" said Kass, who now runs an environmental/ public health-focused consulting firm. "This notion that we could get rid of (industrial food), tear it down and replace it, doesn't make sense. People would die.
"My heart is in good food ... (but) we have to start using our heads. Smart, pragmatic strategy is the way forward, and that means dealing with the reality that we face."
Gunn was surprised by "the universality" of the conversations he heard, which touched on everything from food insecurity to farmers using cover crops to making fish oil in Alaska.
"They go well beyond the culture of food," Gunn said. "It's incredibly smart, insightful, innovative, creative group of people.
"The level of conversation and how articulate everyone is about their passions and their issues has just been hugely inspiring."
Though he never would have thought to attend a food conference, by Tuesday, Gunn was ready to call himself an advocate.
"I have never felt more stimulated, more inspired, more provoked," Gunn said. "It's been really electrifying for me."